NEW!

Sweden in Autumn – Migration at Falsterbo
Exciting southbound migration with raptors and more
Destination
Focus
2024 Dates
Duration
7 Days
Guides
2024 Price

£2495 pp

£160 single supplement.

Deposit £400

2026 Dates
Duration
7 Days
2026 Price

Price TBC

Max Group Size
12
At the south-westernmost tip of Sweden, in the county of Skane lies Falsterbo – one of the most iconic migration watchpoints in all of Europe! Every autumn, around 500 million migratory birds pass over southern Sweden, and with a reputation second to none, Falsterbo is the perfect location to enjoy birds on the move. Its location is key, protruding out into the western Baltic Sea and 'catching' migrant birds once they've passed through mainland Sweden and before continuing over the water into other parts of northern Europe. With both variety and numbers, it is one of the very best places to observe active migration in autumn.
September is an exciting time of the year, virtually anything can turn up at Falsterbo and it is one of the very best times to visit. An essential destination for the raptor enthusiast with high numbers and variety, with several thousand individuals of over 20 species recorded annually. Our tour is timed to coincide with traditionally the largest movements of European Honey Buzzard and Eurasian Sparrowhawk, and among them a range of other species from kites, harriers, hawks, eagles and falcons. Migrating White and Black Stork and Common Cranes often occupy the skies too - a superb overhead spectacle!
Mixed scrub, scattered woodland, and fields around the watchpoint offer shelter for migrant passerines and pipits, wagtails, chats, thrushes, flycatchers, finches and warblers will all feature. Wryneck and Red-backed Shrike are likely and our varied bird-list may even contain a rarity or two. Offshore, wildfowl waders, gulls and terns bring further variety and if conditions are less favourable for visible migration then the local forests, inland lakes and coast to the east offer good birding too. Autumn at Falsterbo means birds everywhere, and you will be amazed by their sheer number on this great new holiday to witness the wonder of migration.
Enjoy your complimentary pre-flight overnight hotel before your holiday begins. Full details from our office! Read more about our Pre-flight Service here!
Day 1: Sun 1 Sep 2024 - London to Copenhagen and on to Falsterbo
After relaxing in our complimentary VIP Airport Lounge, we fly from London to Copenhagen, Denmark and should have time for some birding in the afternoon. We have a number of options, with good sites close to the airport or just over the bridge in the Malmo area of Sweden. With many birders living in the cities, rarities are often found and with this tour being migration based, we may choose to follow up on local news. Anything is possible, with Red-necked Phalarope, Broad-billed Sandpiper and even Nutcracker and Northern Hawk Owl examples of recent September sightings. Later, we drive down to Falsterbo itself, settling into our accommodation for the week.
Days 2 - 6: Mon 2 –Fri 6 Sep - Falsterbo, migration at its best!
On this holiday the birds will often come to us, and we visit the point at Nabben daily to see what is on the move. The most southerly part of Sweden, from here we can observe overwhelming numbers of birds migrating south, watching over both land and sea. While each day will be different, our tour has been timed with the traditional peak in raptor passage, with European Honey Buzzard and Eurasian Sparrowhawk the most conspicuous. Of over 20 other raptor species recorded, White-tailed, Golden, Lesser and Greater Spotted, Short-toed and Booted Eagle, Marsh and Montagu's Harrier, Red and Black Kite, Common Buzzard, Northern Goshawk, Peregrine, Eurasian Hobby, Merlin and Red-footed Falcon could feature. It is the spectacle of so many birds in the sky at once which will amaze, the raptors often being joined by Common Crane or White and Black Stork which are also on their way south.
Falsterbo has been recording migrating birds of all types for decades and in the mixed scrub, scattered woodland, fields and around the golf course we look for passerines. Among the likely species we will see are Whinchat, Common Redstart, Northern Wheatear, Tree, Meadow and Red-throated Pipit, White and Yellow Wagtail (several races), Pied, Spotted and Red-breasted Flycatcher, Eurasian Wryneck, Red-backed Shrike, Hawfinch, Common Rosefinch, Brambling and warblers perhaps including Marsh, Barred, Yellow-browed and brightly coloured Wood Warbler.
Offshore and on the coast there will be plenty of birds too, with wildfowl, waders, gulls and terns all on the move and offering plenty of variety to our birding experience. Possibilities include Barnacle and Brent Geese, Pintail, Shoveler, Garganey, Common and Velvet Scoter, Long-tailed Duck, large numbers of Wigeon and Eider, Ruff, Curlew Sandpiper, Little and Temminck's Stint, Spotted Redshank, Green and Wood Sandpiper, Little Gull, Arctic Tern plus divers, grebes and skuas - a feast of birds! If conditions are less favourable for visible migration, we have options inland such as at local forests. Here, roaming flocks of Common (and in irruption years Parrot) Crossbill, Black Woodpecker and the Scandinavian forms of Lesser Spotted Woodpecker, Nuthatch, Willow Tit (borealis) and White-headed (caudatus) Long-tailed Tit will keep us busy.
With such a reputation, inevitably there will be other birders drawn to Falsterbo at this peak time, and rarely will we be birding entirely alone. The abundance of sharp eyes are of course beneficial, with many rarities found and throughout the week we maintain close contact with the observatory team. There is always a great mood around Falsterbo - just imagine the atmosphere at the watchpoint after the shout of "Eastern Imperial Eagle overhead" goes up!
Day 7: Sat 7 Sep - Final birding and return flight to the UK
We should have time for some last-minute birding in the Falsterbo area, perhaps taking a final walk to Nabben. Working back north towards Malmo, we may choose to visit Lake Krankesjön to the east of the city, where wetland migrants may include Osprey, Marsh Harrier, Common and Black Tern plus resident Bearded Tit and Kingfisher. Birding near the bridge and close to Copenhagen itself may also be possible before our tour comes to an end and we fly back to the UK.
Please note: all itineraries are given as a guide only. Actual holiday content may vary according to the judgement of your guide, and elements beyond our control (eg weather).
What's included in your holiday price:
return scheduled flight from London – Copenhagen, airport taxes, baggage and hand luggage up to airline included limit.
airport transfers, ground transportation, accommodation and meals as specified.
the services of Heatherlea leaders.
The Heatherlea Pre-Flight Service offers everything you need at the airport, including hotels, car parking, airport lounges, regional flights, and upgrades. Let Heatherlea take the strain! Pre-flight airport hotel and lounge included free of charge subject to terms and conditions. Read more....
What's not included in your holiday price:
travel to and from departure airport before and after holiday, in-flight meal, baggage above airline included limit.
incidental tips, expenses of a personal nature including drinks and personal insurance.
More Holiday Information:
Accommodation is in a very comfortable hotel, close to the point at Falsterbo. All rooms are en suite.
Food will be traditional Swedish cuisine. Breakfast is continental style, typically consisting of cereal, toast, jam, fruit juice and tea or coffee. Sometimes a hot, cooked option is also available. Picnic lunches will be provided by our hotel, and will include bread, cheese, cold meats, fruit, biscuit/cake and soft drinks. Typical foods in Sweden are black bread, pork, potatoes and dairy products and Mushrooms and forest berries can often feature. Vegetarian and other diets are welcome.
Walking A reasonable level of fitness is required as we will be spending periods of each day on foot. We expect to walk between 3-5 miles per day but will also spend time stationary at the watch-point scanning for birds on the move.
Weather We hope for some mild weather with average temperatures for the region in September of about 15-20°C. Expect a variety of conditions from sun, wind and rain - the latter often being good for bringing in migrant passerines. You should bring good footwear and we also recommend bringing waterproof clothing.
Insects biting insects are not expected.
Group size is restricted to 12 clients maximum.
Flights are by scheduled airline, from a London airport. We may be able to offer flight arrangements from another airport and/or or quote without flights so you can make your own arrangements. If you wish to add an extension either before or after your holiday, please contact us and we will be happy to arrange this for you.
Your Leaders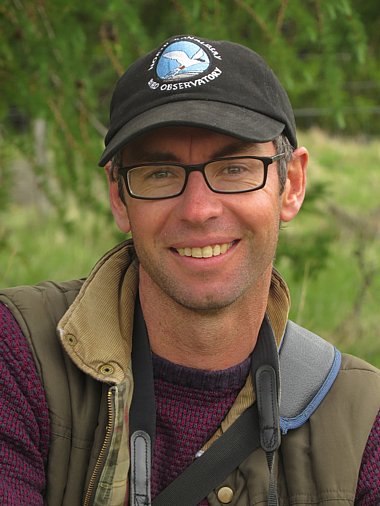 Mark Warren is a dedicated and very experienced birder and tour leader, with extensive wildlife knowledge and boundless enthusiasm. Busy guiding around the world, but with a particular passion for migratory birds and Scandinavia having visited Sweden several times. Mark is very much looking forward to leading this tour and will be joined by another from the Heatherlea team with 7 or more clients.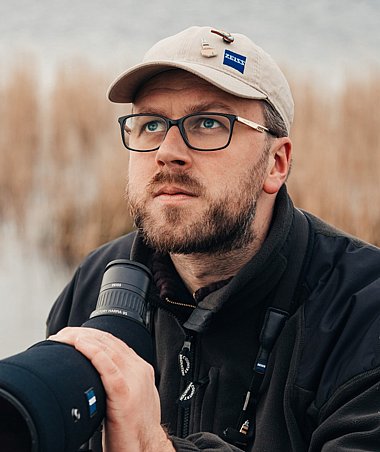 Stephen Menzie: Originally from Liverpool, Stephen now resides in southern Sweden. He is an experienced birder, who has travelled extensively across the UK and the wider Western Palearctic, and an enthusiastic guide, whose philosophy is that tours should be as much about enjoying the experience as they are about seeing every bird. Stephen is lucky enough to have some of northern Europe's finest bird migration on his doorstep and, not surprisingly, much of his autumn is spent enjoying raptor and finch migration at Falsterbo.
Why choose Heatherlea for your birding and wildlife holiday in Europe?
Our overseas holidays are planned with care to offer great birding and wildlife, led by capable Leaders who really look after you. Every holiday is run the 'Heatherlea Way', and we hope our Overseas Adventures remind you of the quality and care so many of you enjoy in Scotland. That means rewarding and exciting days in the field, and good quality accommodation and meals, with a real flavour of the country we are visiting. Heatherlea always seek to include the personal touches that make all the difference.
Heatherlea holidays are not 'dawn to dusk' expeditions. Our less-intensive approach is ideal for those who want to relax whilst experiencing the best wildlife watching, and wherever possible we organise early or late activity on an optional basis. We also take sensible breaks when in very hot places and regular comfort breaks on every holiday whenever possible. All itineraries are planned carefully around the best wildlife opportunities, and you won't miss out on memorable wildlife, whilst enjoying relaxed, informal days that are great fun.
The really important part of any wildlife holiday is the experience for you, our valued customer. Heatherlea invest in many things to offer you the best possible service;
We have been organising birding and wildlife holidays for over 30 seasons, and have a highly experienced and capable office team. We also offer a telephone and email service outside normal office hours.
Heatherlea overseas holidays have a maximum of 12 clients per trip, putting the emphasis on personal service, and helping you get the best possible experience.
Our holidays often include things which others might invite you to pay yourself, for instance Departure Taxes and tips to hotels.
All elements of our holidays are sold under our own licence, ATOL 6113. Under 'Flight-Plus' legislation it is a legal requirement of any tour operator to hold an ATOL licence for the supply of any overseas holiday where a flight is involved, if that holiday includes either overseas accommodation and/or car hire. It can be a criminal offence for an operator to book flights as part of a package without an ATOL licence. Heatherlea also hold full Tour Operator Insurance for your added protection.
Heatherlea is your complete wildlife holiday provider. Our 'Back Office' team can organise all your pre-flight and other travel needs. Our specialists will help you book the right services, at the best price. Book holiday extensions through us, and your ATOL protection is extended further. We don't charge extra for this service.
Heatherlea is a limited company, registered in Scotland, and registered to pay VAT (applies to all holidays within the European Union).