NEW!

Poland
Bialowieza Forest and the Biebrza Marshes
Destination
Focus
2025 Dates
Duration
8 Days
Guides
2025 Price

£2695 pp

£230 single supplement.

Deposit £400

pre-flight airport hotel and lounge are inc.

2027 Dates
Duration
8 Days
2027 Price

Price TBC

Max Group Size
12
More Info

Leader Gerard Gorman, joined by another from the Heatherlea team with more than 7 clients.
A 'must-visit' destination for keen birdwatchers, and our itinerary has been carefully planned to make the most of two fantastic areas in the north-east. Much of eastern Poland is rural and unspoilt and as such, birding can be both fantastic and diverse. Species from different sources will feature, with "Southern" birds such as Roller occurring alongside, "eastern" specialities like Citrine Wagtail and "northern" ones such as Whooper Swan.
We visit Bialowieza, one of the last old-growth lowland forests in Europe, and adjacent forest and boggy river valleys. Later, we enjoy Siemianówka, a huge man-made lake along the Narew River near the Belorussian border followed by two full days in the Biebrza River Basin. Marshes, meadows, pastures and scrubby fens are home to a rich range of breeding and passage birds, and key species include Aquatic Warbler, Three-toed, White-backed, Grey-headed, Black, Lesser and Middle Spotted Woodpecker, Hazel Grouse, both Greater and Lesser Spotted Eagle, Booted Eagle, Honey Buzzard, Whiskered, Black and White-winged Tern, Slavonian, Black-necked and Red-necked Grebe, Marsh Sandpiper, Citrine Wagtail, Red-breasted and Collared Flycatcher, Nutcracker, Firecrest, Crested Tit, Corncrake, Thrush Nightingale and River, Barred, Savi's, Icterine and Marsh Warbler, with chances of Greenish too. Pygmy and Tengmalm's Owl are also present, and we search for them at dusk.
Special excursions to watch Great Snipe, Ruff and Black Grouse at the lek will be memorable, and we might also encounter forest dwelling European Bison, Elk and Beaver. This new tour really does offer an incredible feast of wildlife!
Enjoy your complimentary pre-flight overnight hotel before your holiday begins. Full details from our office! Read more about our Pre-flight Service here!
Day 1: Sun 18 May 2025 - Arrival and first birding
After relaxing in our complimentary VIP Airport Lounge, we fly from London to Warsaw where we meet our local guide. Heading by road eastwards to Bialowieza and its old forest (about 3 hours direct), birding stops by the roadside will likely include nesting White Storks - 25% of the world population is in Poland! We keep an eye open for Black Stork, too, and if time permits visit some sand-dunes where possible birds include Roller, Hoopoe, Tawny Pipit, Woodlark and Ortolan Bunting. On arrival at Bialowieza, we are well placed to explore the areas birding delights, staying in a local guest house for 4 nights, where traditional Polish fare is served.
Days 2 - 4: Mon 19 May - Wed 21 May - Bialowieza
We have three full days around Bialowieza and besides exploring the ancient woodlands, adjacent "managed" forest and boggy river valleys. Bialowieza supports one of the last remaining old-growth lowland forests in Europe, consisting of old oaks, limes, ash & spruce with much decaying and fallen timber. Here Three-toed, White-backed, Grey-headed, Black, Lesser & Middle Spotted Woodpeckers all do well and are prime targets. Hazel Grouse are not uncommon and there are Red-breasted and Collared Flycatcher, Hawfinch, Common Crossbill, Wood & Icterine Warbler, Nutcracker, Redwing, Firecrest and Willow, Marsh and Crested Tit all present too.
Open areas are the hunting grounds of Lesser Spotted and Booted Eagles, as well as Honey Buzzard, Hobby and Goshawk. Corncrake, Thrush Nightingale and River, Barred and Marsh Warbler are fairly common here and there's a chance of Greenish Warbler here too. We will likely hear Common Rosefinch singing its "pleased to meet you" song, and on one evening search for Pygmy & Tengmalm's Owl. Besides the fantastic birding, we might also encounter the forest dwelling European Bison which survives in good numbers at Bialowieza.
Day 5: Thur 22 May - Siemianówka
Today we head to the northwest to our second base in the Biebrza Marshes, pausing at the Bialystok fishponds & the Siemianówka Reservoir on the way. Good birding at Bialystok ponds may include five species of grebe, both Great and Little Bittern, plus Great Reed, Reed, Marsh and Savi's Warbler. Siemianówka is a huge man-made lake along the Narew River near the Belorussian border where White-tailed and Golden Eagle, Citrine Wagtail, Marsh Sandpiper, Whooper Swan and Whiskered & Black Tern all breed. Upon arrival at Biebrza, we check into our guest-house and an optional after-dinner walk to listen for and possibly see Corncrake, Little and Spotted Crake may be offered.
Days 6 & 7: Fri 23 May & Sat 24 May - Biebrza
Our two full days in the Biebrza River Basin will certainly be bird-filled, the marshes, meadows, pastures and scrubby fens home to a rich range of breeding and passage birds. Aquatic Warbler is a difficult bird to see in Europe and Biebrza is one of the best places to try and see it, with several good sites available. We also visit a Black Grouse lek and watch battling Ruff at their lek. Other waders in the flooded meadows are likely to include Black-tailed Godwit, Spotted and Common Redshank, Marsh and Wood Sandpiper and perhaps Temminck's and Little Stint. Common Cranes will be in their breeding pairs and wildfowl should include Garganey, Gadwall, Wigeon, Pintail and Shoveler. Convenient birding towers offer great watchpoints for raptors and fantastic views of the marshes. A key bird of prey here is Greater Spotted Eagle, and while we have every chance, it is Lesser Spotted which is more commonly seen. Montagu's and Marsh Harrier are both common, and White-winged Tern colonies are a major attraction too.
Songbirds are likely to include Great Reed, Reed, Sedge, Savi's, River, Barred and Grasshopper Warbler, Bearded and Penduline Tit, and also perhaps the white-spotted race of Bluethroat. On one evening we visit a Great Snipe lek and at this same place Common Snipe will be drumming, Woodcock roding and there is even a chance of Jack Snipe displaying - a rare sight! As if all this were not enough, we may well come across mammals such as Elk and Beaver in this wildlife rich area.
Day 8: Sun 25 May - Depart
Today we head back to Warsaw for our flight to London.
Please note: all itineraries are given as a guide only. Actual holiday content may vary according to the judgement of your guide, and elements beyond our control (eg weather).
What's included in your holiday price:
return scheduled flight from London – Warsaw, airport taxes, baggage and hand luggage up to airline included limit.
airport transfers, ground transportation, accommodation and meals as specified.
the services of Heatherlea leaders.
The Heatherlea Pre-Flight Service offers everything you need at the airport, including hotels, car parking, airport lounges, regional flights, and upgrades. Let Heatherlea take the strain! Pre-flight airport hotel and lounge included free of charge subject to terms and conditions. Read more....
What's not included in your holiday price:
travel to and from departure airport before and after holiday, in-flight meal, baggage above airline included limit.
incidental tips, expenses of a personal nature including drinks and personal insurance.
More Holiday Information:
Accommodation is in a well-located comfortable guest-house with all rooms en suite.
Food breakfast is usually continental style. Fruit juice and tea and coffee are available. Picnic lunches will be provided by your guide, and will include a variety of local produce plus soft drinks. Typical evening meals are hearty and often contain a lot of meat (though vegetarian diets are catered for). Traditional dishes are: bigos, kotlet schabowy, pierogi and gołąbki. Typical ingredients used in Polish cuisine are sauerkraut, beetroot, cucumbers (gherkins), sour cream, kohlrabi, mushrooms, sausages and smoked sausage. A meal owes its taste to the herbs and spices used; such as marjoram, dill, caraway seeds, parsley, or pepper. Please let us know in advance if you have any dietary requirements.
Walking This is a fairly leisurely trip, and we spend several hours in one location birdwatching. Walking is usually no more than a couple of miles, mainly on flat, level ground. To see owls and Great Snipe we may offer optional evening excursions.
Weather Poland is influenced by a continental climate from the east and a maritime climate from the west. As a result, the weather is changeable, with significant differences from day to day and from year to year. The seasons are clearly differentiated. Spring starts in March and is initially cold and windy, later becoming pleasantly warm and often sunny. When we visit in late May the weather should be pleasantly warm, with cooler mornings and evenings.
Insects biting insects can be expected, particularly for evening activities. We recommend bringing a good insect repellent.
Group size is restricted to 12 clients maximum.
Flights are by scheduled airline, from London Heathrow. We may be able to offer flight arrangements from another airport and/or or quote without flights so you can make your own arrangements. If you wish to add an extension either before or after your holiday, please contact us and we will be happy to arrange this for you.
Your Leader
Gerard Gorman: Born in the UK, Gerard has lived in Budapest for many years. A very experienced birding and wildlife guide, he has led over 500 group tours around the world, and speaks several languages. His main interest is woodpeckers, and he is author of a guide to all the world's species.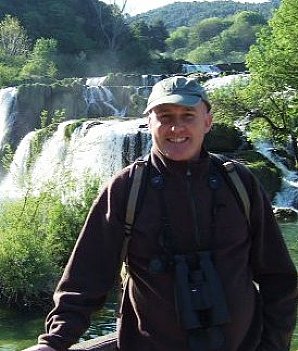 Why choose Heatherlea for your birding and wildlife holiday in Europe?
Our overseas holidays are planned with care to offer great birding and wildlife, led by capable Leaders who really look after you. Every holiday is run the 'Heatherlea Way', and we hope our Overseas Adventures remind you of the quality and care so many of you enjoy in Scotland. That means rewarding and exciting days in the field, and good quality accommodation and meals, with a real flavour of the country we are visiting. Heatherlea always seek to include the personal touches that make all the difference.
Heatherlea holidays are not 'dawn to dusk' expeditions. Our less-intensive approach is ideal for those who want to relax whilst experiencing the best wildlife watching, and wherever possible we organise early or late activity on an optional basis. We also take sensible breaks when in very hot places and regular comfort breaks on every holiday whenever possible. All itineraries are planned carefully around the best wildlife opportunities, and you won't miss out on memorable wildlife, whilst enjoying relaxed, informal days that are great fun.
The really important part of any wildlife holiday is the experience for you, our valued customer. Heatherlea invest in many things to offer you the best possible service;
We have been organising birding and wildlife holidays for over 30 seasons, and have a highly experienced and capable office team. We also offer a telephone and email service outside normal office hours.
Heatherlea overseas holidays have a maximum of 12 clients per trip, putting the emphasis on personal service, and helping you get the best possible experience.
Our holidays often include things which others might invite you to pay yourself, for instance Departure Taxes and tips to hotels.
All elements of our holidays are sold under our own licence, ATOL 6113. Under 'Flight-Plus' legislation it is a legal requirement of any tour operator to hold an ATOL licence for the supply of any overseas holiday where a flight is involved, if that holiday includes either overseas accommodation and/or car hire. It can be a criminal offence for an operator to book flights as part of a package without an ATOL licence. Heatherlea also hold full Tour Operator Insurance for your added protection.
Heatherlea is your complete wildlife holiday provider. Our 'Back Office' team can organise all your pre-flight and other travel needs. Our specialists will help you book the right services, at the best price. Book holiday extensions through us, and your ATOL protection is extended further. We don't charge extra for this service.
Heatherlea is a limited company, registered in Scotland, and registered to pay VAT (applies to all holidays within the European Union).