Skyros
Relaxed Spring birding on an unspoilt Greek Island in the heart of the Aegean Sea
Dates

22 Apr - 29 Apr 2020
21 Apr - 28 Apr 2021

Destination
Duration
8 Days
Focus
Guides
Max Group Size
6 per guide
2020 Price

£1995 pp

£160 single supplement.

Deposit £300. 2021 Price TBC.

pre-flight airport hotel and lounge are inc.
A fantastic destination, ideal for birders who want to enjoy spring migration on an island without crowds of birders and unspoiled by tourism. Comparisons with Lesvos are inevitable; Skyros is situated further out into the Aegean, distant from the Turkish coast so there will be fewer species than an equivalent week on Lesvos (about 90 – 100 are expected), however birds tend to be more concentrated and conspicuous here as the island is smaller with fewer freshwater bodies and less cover.
Highly visible to migrating birds because of its dominant mountain rising sharply from sea level, on Skyros the birds drop into sparse cover and small wetlands where they are bottlenecked and relatively easy to see. Fertile areas are greenest in late April, at peak migration time, so birds rest and feed before moving on. With its location and topography, falls of migrants are highly possible and birding can be very exciting. We visit a variety of interesting habitats including rocky heaths and scrub, farmland, olive groves, wetlands and, of course, the open sea.
Birding will include a wide range of spring migrants with numerous warblers, flycatchers, shrikes, buntings, Bee-eater, Golden Oriole, hirundines, raptors and waders arriving daily. Cretzschmar's Bunting and Eastern Subalpine Warbler are both target species, and the list of raptors we may come across include Marsh, Montagu's and Pallid Harrier, Osprey, Honey Buzzard, Long-legged Buzzard, Bonelli's Eagle and Levant Sparrowhawk, along with 'brookei' Peregrine, Red-footed Falcon and Lesser Kestrel.
Skyros lays claim to the largest nesting colony of Eleonora's Falcons in the world and in April these migrants are just starting to return. We charter a private boat to the south of the island to see them which -always a highlight and an experience to remember! As well as the recently arrived falcons we should also see Blue Rock Thrush, Audouin's Gulls and with luck, Yelkouan and Scopoli's Shearwaters or even Striped, Common or Bottle Nosed Dolphins as we relax on the ocean wave.
Lunches are taken in the field, with a light picnic of local cheese, meat, bread, pastries and olives, except for when we visit our favourite tavernas for a larger meal. In the evenings we eat at a handful of local tavernas on a relaxed itinerary which will give you time to explore (or keep keep birding!) as you choose.

Possible highlights of the week:
Marsh, Pallid and Montagu's Harriers hunting newly arrived migrants
Eleonora's Falcons in territorial squabbles above the boat
Watching five or six different races of Yellow Wagtail in a single flock
Exciting birding following a "fall" of migrating birds
An email received following our Skyros holiday in April 2017
Hi All,
Just had to email about our fabulous holiday to Skyros with Phil and
Scott. Yet again another wonderful weeks birding with a nice group and
dedicated and knowledgeable guides who never stopped trying to find us
the best birds even during the lunch break.
The Hotel is a very welcoming place with rooms that are spacious and clean. The swimming pool was great to relax in during "siesta" time! Food was good at all tavernas and the picnics bought by Phil and Scott were tasty too! Chrysanthi was a wonderful asset to the holiday being so friendly and helpful and she was a mine of information about history and traditions - a delightful person. Beautiful flowers were everywhere, the birds were just amazing, and wall to wall sunshine was the icing on the cake! Hopefully the Skyros trip will be running for a long time, we definitely want to go back in the not too distant future!
Ms JT
Enjoy your complimentary pre-flight overnight hotel before your holiday begins. Full details from our office!
Day 1: Wed 22 April - Arrival and Ferry to Skyros
After relaxing in our complimentary airport lounge, we fly from London Heathrow to Athens, transfer to our ferry point. The journey itself is beautifully scenic, as is the ferry to Skyros - a superb pelagic voyage! Viewing from the upper deck, we can hope for Yellow-legged and Audouin's Gull, Caspian and Sandwich Tern, Scopoli's and Yelkouan Shearwater and perhaps even dolphins before we arrive on Skyros.
Day 2: Thur 23 Apr - The Kalamitsa Valley
A gentle introduction to birding will begin around the fields and wetlands at Kalamitsa, a gently sloping valley separating the two halves of Skyros. One of the best birding spots on the island where anything is possible in the fertile fields, hedges and gardens. Birding will be from tracks and quiet roads and walking is gently paced on flat ground with many stops to enjoy the birdlife. Being migration, what we see is very much dependent on the prevailing weather, but likely species include Whinchat, Redstart, Woodchat and Red-backed Shrike, Golden Oriole, Nightingale, Yellow Wagtail (of multiple races), a variety of warblers, Spotted, Pied, Collared and perhaps even late to move Semi-collared Flycatcher. In wetland areas, species such as Little Egret, Glossy Ibis, Purple, Night and Squacco Heron, Little Egret, Greenshank, Wood, Green and Common Sandpiper, Little Stint, Little Ringed Plover, Ruff, Black-winged Stilt, Little Crake and hunting Marsh Harrier may be seen. A great first day, with lunch at a local taverna during the middle part of the day when birds are quieter.
Day 3: Fri 24 Apr - Palamari and Trachy, the Jewel of the Fertile North
We spend the whole day birding around the fields and wetlands of Palamari and Trachy, in the north of Skyros. With a huge range of habitats in this low-lying area we enjoy brilliant birdwatching in the scrub, fields, groves and wetlands. By the close of play we should have a healthy list which may include species such as Marsh, Montagu's and Pallid Harrier, Short-toed Eagle, Hoopoe, Stone Curlew, Turtle Dove, Crested and Short-toed Lark, Tawny, Tree and Red-throated Pipit, Great Reed and Savi's Warbler, Corn and Ortolan Bunting, Red-rumped Swallow and more.
Day 4: Sat 25 April - The Rugged South
A complete change of scenery as we explore the rugged southern half of the island. The rocky heaths and scrub seem barren at first glance, but once investigated reveal a wealth of bird life, with Cretzschmar's Buntings singing from the bushes, recently arrived Eleonora's Falcon hunting overhead and perhaps Bonelli's Eagle cruising the ridges. The gnarly and twisted oaks and maples in the valleys also hold a good array of breeding birds, and being the only cover on the mountain, funnel migrants into pocketed areas; with patience, and a little luck, we may unearth some surprises.
We shall also visit the site of war poet Rupert Brooke's grave, a poignant spot, but also good for birding. Walking is at times on uneven rocky paths, but we take these slow whilst birding. Among other targets on this day are Sardinian, Eastern Subalpine, Eastern Olivaceous, Eastern Bonelli's and Wood Warbler, Eastern Black-eared and Northern Wheatear, Blue Rock Thrush, Cuckoo, Little Owl, Alpine and Common Swift. Always a great day, topped off perhaps by raptors overhead such as Honey Buzzard, Levant Sparrowhawk, Long-legged Buzzard, Red-footed Falcon, Hobby and brookei Peregrine.
Day 5: Sun 26 April - Kareflou, Magazia and Island Cruise
The morning shall be spent birding in a couple of sheltered valleys. There are a few options, the thick bushes growing beside any trickle of water forming good cover and attracting migrants. Rocky slopes on the sides of the valleys are good for Little Owl and we will try and see the few remaining Chukar on the island.
In the afternoon we enjoy a leisurely cruise (c.4 hours) on a bespoke, inshore coastal boat trip. We will see the island and all its rocky islets from a new perspective but will specifically look for Scopoli's and Yelkouan Shearwater, Audouin's Gull, roosting herons, waders and terns on the rocks, with chances of dolphins, turtles and, the critically endangered, Monk Seal. Our experienced skipper will plan to take us below the cliffs on which the Eleonora's Falcons breed, where we may well witness the spellbinding aerial antics of these dynamic predators. Two colour morphs exist (a sooty dark and a paler breasted form, the latter being the commoner here) and Skyros boasts the largest, single breeding population of these critically endangered Falcons. It will be a joy and undisputed highlight to spend some time with these speedy hunters as they return to their colonies. A full afternoon on the open water, though please be aware, the exact itinerary of the cruise may change depending on conditions, though our team will plan the trip in order to maximise wildlife encounters and passenger comfort.

Day 6: Mon 27 April - North-West Corner, Atsitsa and surroundings
Birding along the coast and among pine forest and open wood pasture, this day in denser cover and a new habitat should produce some of the scarcer breeders of the island. Likely species include Bee-eater, Golden Oriole, Turtle Dove, Cuckoo, Little Owl, Cirl and Black-headed Buntings, shrikes, warblers, flycatchers and often swarms of hundreds of hirundines and swifts as they gather to migrate north. In the afternoon we may return to hotspots such as Palamari or Kalamitsa to check for new arrivals.
Day 7: Tue 28 April - Central Skyros
We start with a visit to the new wetland reservoir behind the main town to search for waders, wildfowl and anything else on offer. If fitness and weather allow we shall walk on a good path up to Panaghia Lympiani (church) through open pine and scrub to look for raptors and for an amazing view of the island. A series of shorter walks on well-maintained paths in the Magazia area may follow to mop-up on any missed species and enjoy the wonderful birdlife of Skyros one last time. There may also be opportunity to visit the old-town on this day, or perhaps in the evening – local life and history is all part of the Heatherlea Skyros experience!
Day 8: Wed 29 April - Departure Day
Breakfast and departure, on the morning ferry with birdwatching from the upper deck possible again before transfer to the airport and our flight home.
Please note: all itineraries are given as a guide only. Actual holiday content may vary according to the judgement of your guide, and elements beyond our control (eg weather).
What's included in your holiday price:
scheduled return flights between London—Athens, airport taxes, return flight/ferry to Skyros
ground and boat transportation as outlined
accommodation and all meals as specified (from evening meal on arrival to breakfast on the day of departure)
the services of your leader/s.
tips to hotels and restaurants.
The Heatherlea Pre-Flight Service offers everything you need at the airport, including hotels, car parking, airport lounges, regional flights, and upgrades. Let Heatherlea take the strain! Pre-flight airport hotel and lounge included subject to terms and conditions. Read more....
What's not included in your holiday price:
personal insurance, drinks and other personal expenses, and any other costs not specified as 'included'.
lunch on the day of arrival and departure is not included and a supply of euros is recommended.
More holiday information:
Accommodation is a modern hotel close enough to the beach and town to be convenient, but the location is very sheltered and quiet. It is the best hotel on the island and was handpicked by Heatherlea guide Phil Knott. The hotel is situated a stone's throw from the best beach on the island. Sea temperature will be between 17-19 degrees, comparable to Cornwall in September. For those not brave enough for the sea, there is also a swimming pool for the exclusive use of the hotel guests! There is wi-fi available, and all rooms have a hair dryer. Porterage is available.
Food Cold meats, cheese, eggs, bread, jams and preserves, fruit, pastries and even cake are available for breakfast. Your guide will purchase picnic lunches on days where we don't visit a taverna for lunch, and will include a variety of local produce and dishes alongside the bread, meat and cheese. Taverna lunches will feature fresh dishes as available, though you can usually expect Greek salad (feta, tomatoes, onions and lettuce), fresh greens and other vegetables and several meat, poultry or fish dishes. Evening meals will be mostly taken at the nearby taverna, which we have handpicked as the best having tried all of them on Skyros! Vegetarian and other diets are welcome.
Walking is generally light/moderate. The holiday is not strenuous. Leisurely walking, occasionally over moderately rough terrain, is the only physical requirement. The hotel is situated down a flight of steps from the car park.
Weather Typically, temperatures will range from 50F (10c) in the early morning to perhaps 80F (25c) in the heat of the day. Sunshine should be plentiful, but wind, cloud and rain are very possible. Cold weather, with temperatures as low as 40F (5c), are very rare but possible, so please ensure you have some warm clothes to protect yourself from the wind if it blows from the north and for the morning and evening.
Insects Biting insects could possibly be encountered, but are not usually a problem.
Group size is restricted to 12 clients maximum.
Flights are with British Airways from London Heathrow. We may be able to offer flight arrangements from another airport and/or or quote without flights so you can make your own arrangements. If you wish to add an extension either before or after your holiday, please contact us and we will be happy to arrange this for you.
Topography Skyros is essentially two equal sized islands, joined by a narrow, low-lying causeway. Each island is geologically different. The south "Vouno – the Mountain" is a hard resistant rock. No fertile land, wild and rocky mountain scape with pockets of hardy native woodland. There are very few people living in the south, mainly goats and ponies. The north "Meroi – the Tame" is much more fertile and dominated by pine woodland and agriculture. The bulk of the 3,000 people live here.
Your Leaders:
Scott O'Hara is a popular Heatherlea Leader and having lead our Skyros holiday for the last few years. Scott is looking forward to your company on Skyros again in 2020!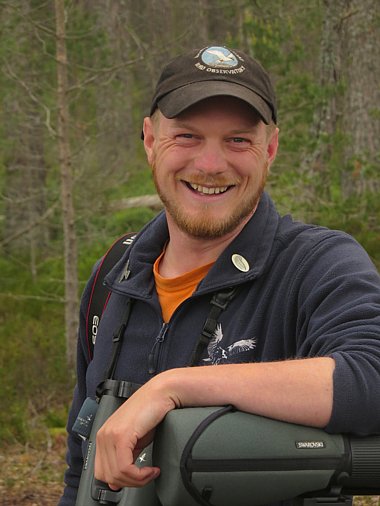 Scott O'Hara
Thank you to Heatherlea client David Boorman for the use of a few of his photographs taken on Skyros during our 2013 holiday.
Why choose Heatherlea for your birding and wildlife holiday in Europe?
Our overseas holidays are planned with care to offer great birding and wildlife, led by capable Leaders who really look after you. Every holiday is run the 'Heatherlea Way', and we hope our Overseas Adventures remind you of the quality and care so many of you enjoy in Scotland. That means rewarding and exciting days in the field, and good quality accommodation and meals, with a real flavour of the country we are visiting. Heatherlea always seek to include the personal touches that make all the difference.
Heatherlea holidays are not 'dawn to dusk' expeditions. Our less-intensive approach is ideal for those who want to relax whilst experiencing the best wildlife watching, and wherever possible we organise early or late activity on an optional basis. We also take sensible breaks when in very hot places and regular comfort breaks on every holiday whenever possible. All itineraries are planned carefully around the best wildlife opportunities, and you won't miss out on memorable wildlife, whilst enjoying relaxed, informal days that are great fun.
The really important part of any wildlife holiday is the experience for you, our valued customer. Heatherlea invest in many things to offer you the best possible service;
We have been organising birding and wildlife holidays for over 30 seasons, and have a highly experienced and capable office team. We also offer a telephone and email service outside normal office hours.
Heatherlea overseas holidays have a maximum of 12 clients per trip, putting the emphasis on personal service, and helping you get the best possible experience.
Our holidays often include things which others might invite you to pay yourself, for instance Departure Taxes and tips to hotels.
All elements of our holidays are sold under our own licence, ATOL 6113. Under 'Flight-Plus' legislation it is a legal requirement of any tour operator to hold an ATOL licence for the supply of any overseas holiday where a flight is involved, if that holiday includes either overseas accommodation and/or car hire. It can be a criminal offence for an operator to book flights as part of a package without an ATOL licence. Heatherlea also hold full Tour Operator Insurance for your added protection.
Heatherlea is your complete wildlife holiday provider. Our 'Back Office' team can organise all your pre-flight and other travel needs. Our specialists will help you book the right services, at the best price. Book holiday extensions through us, and your ATOL protection is extended further. We don't charge extra for this service.
Heatherlea is a limited company, registered in Scotland, and registered to pay VAT (applies to all holidays within the European Union).
Trip Reports