Heatherlea - an Employee Owned Company
We are pleased to announce a major step forward for Heatherlea!

One of the UK's best-known names in wildlife tourism, Heatherlea has entrusted its staff to take the reins after adopting an employee ownership structure.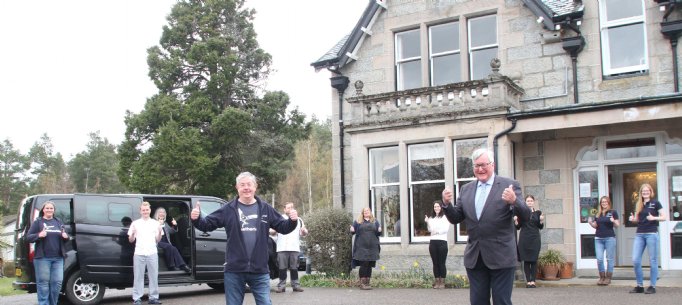 Kevin Shaw, Fergus Ewing (Minister for Rural Tourism), and members of the team celebrate the move!

Originally formed by Kevin and Caryl Shaw in Boat of Garten in 1991, Heatherlea moved to Mountview Hotel, Nethy Bridge in 1998, growing to run holidays throughout the Scottish islands, and overseas from 2003. Heatherlea has gradually expanded due to customer demand, and growth accelerated by an average of more than 10% in each of the five years up to April 2020.
Managing Director Kevin Shaw said: "During 30 years enjoying birding tours in Scotland and worldwide, we sought to make Heatherlea a friendly company giving exceptional personal service. Heatherlea is unusual among birding tour operators in that the company owns its hotel in Nethy Bridge, and this makes us financially strong. We wanted to secure this valuable asset, and also reward each member of our team with the chance to thrive in their employment. We decided that employee ownership is the best choice for our clients, staff and suppliers in Scotland and around the world. I'm delighted to put a succession plan in place which benefits everyone associated with Heatherlea".
While Kevin will continue in his role as Managing Director for the foreseeable future, the new Employee Trust also features both an employee representative and an independent trustee on its Board. Trustee Ralph Leishman, director of 4-consulting, said: "It was great to see everyone in the business able to plan for the future with confidence, based on the innovative five-year holiday planner that was put onto the Heatherlea website during lockdown, helping to give a clear view of clients' future holiday intentions."
Heatherlea recently resumed operations in Scotland, and all guides, hotel and office team members are looking forward to a successful season. Fergus Ewing, local MSP and Minister for Rural Tourism, congratulated Kevin on this innovative move; "All over Scotland, people like Kevin have been working flat out to reopen and restart, but also observe the Covid rules and protect their guests. I warmly welcome the restart of tourism after a long and difficult year, and I hope we see the public taking a staycation to enjoy the magnificent experiences Scotland has to offer".
Kevin chose employee ownership after consulting with others who had benefited from a similar course. "I was impressed that everyone inside these companies had a vested interest in their collective future. We all work hard for each other, and employee ownership is just one more step forward on a successful journey for this lovely little company, which is looking forward with confidence as we enter our fourth decade."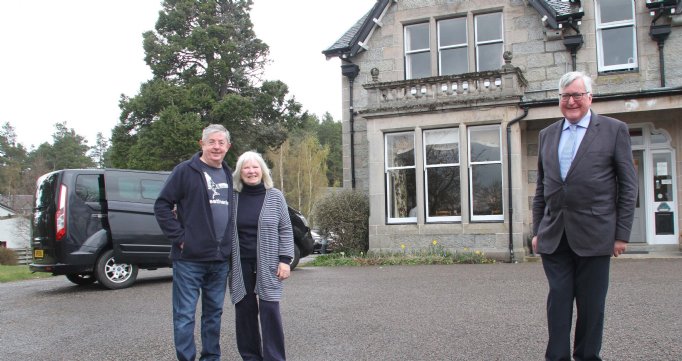 Kevin and Caryl welcome MSP Fergus Ewing to Heatherlea
AT A GLANCE – A few key questions
What is an Employee Ownership Trust (EOT)?
An EOT enables a company to become owned and managed by its employees, and is usually set up by a company's existing owners as part of their succession planning strategy. Created by the Finance Act 2014, the formation of an EOT was seen as a way to encourage more companies to become employee owned.
How does it work?
An EOT is run by its Trustees. Their role is to ensure that the company is being well led, and in a way which maximises employee engagement and commitment.
Does that mean employees own shares in the company?
No, the shares are owned by the Trust, though there are schemes which will enable employees to become shareholders at a future date.

How many people are on the Heatherlea Trust Board?
There are three Board members. These are the Managing Director, an Employee Representative, and an Independent Trustee.
What about day-to-day running of Heatherlea?
This remains with the existing management team, who will manage all strategic and operational affairs.

Who are all these people?
Officers of the company are;

Trust Board Directors
Ralph Leishman (Independent)
Holly Page (Employee)
Kevin Shaw

Heatherlea (Scotland) Ltd Directors
Kevin Shaw (Managing)
Emma McBride

What are the advantages?
The main advantage is that Heatherlea is no longer owned by a single private individual. This is a commitment to the longer term which helps to secure the business, its jobs and its culture. All existing assets of the company (including Mountview Hotel, Nethy Bridge) are secured within the Trust, which means we have a more resilient and adaptable business, making us stronger going forward.
A second advantage is that employees become even more engaged and committed, because they benefit from a clear, shared purpose. An Employee Owned Trust also has the option to award bonus payments depending on successful performance of the company, and these currently benefit from an income tax exemption up to a maximum of £3600pa.
Did you say that Mountview Hotel is now owned by the Trust?
Yes. Heatherlea is somewhat unusual among wildlife tour operators in that we own our Hotel, free of any mortgage or other debt. This is a very valuable asset, and by placing the Hotel inside the Trust, we have helped secure the financial position of the company, giving confidence to employees and customers alike.
Were there any redundancies at Heatherlea as a result of this change?
No. We were delighted to include all existing employees in the new company, and look forward to expanding both our guiding and office teams when circumstances allow. We are fortunate that many team members have been with Heatherlea for many years, and we look forward to many more years together!
What happens next?
For our clients and suppliers, very little! The change in ownership took place on Monday 5th July 2021. The existing office team continue to run the company, and all holiday bookings will proceed as planned. We will expand our product by using our new strengths, and by further expansion of our team.
These are exciting days for everyone connected with Heatherlea, including our valued clients.
We look forward to taking you birding around the globe!
......................................................
UPDATE December 2022
Heatherlea Announces First Annual Staff Bonus!
Heatherlea (Scotland) Ltd, based at Mountview Hotel in Nethy Bridge, has announced its first annual Staff Bonus payment since becoming an Employee-owned Trust in July 2021. The Trust Board has agreed a Bonus to all employees, including all freelance guides working in the UK. Bonuses were paid in November 2022, and for payrolled staff are made with zero Income Tax liability.
Managing Director Kevin Shaw said...

"I'm delighted to announce our first full-year Staff Bonus, which underlines the advantages of our Employee-owned Trust status. This has been a very challenging year, with just about everything seemingly going against us, but our team have been dedicated, determined and thoroughly professional in dealing successfully with difficult times.' Kevin added, 'I'm particularly pleased to announce a flat-rate element to the bonus. Some team members don't earn a huge amount, but everyone is equally important at Heatherlea, so we are proud to take a progressive attitude towards rewards. We already pay more than both National Minimum Wage and National Living Wage, and this is just one more way of recognising the invaluable contribution made by each person".
Looking forward, Kevin is upbeat about Heatherlea's prospects, though realistic about the current tourism market.

"We live in an anxious society, and holidays are often not the top priority for many people at the moment. At Heatherlea we are working hard to give even greater value to our clients, and we are confident as we enter our 33rd season, that the future holds further progress for this lovely little company".
.........................................................................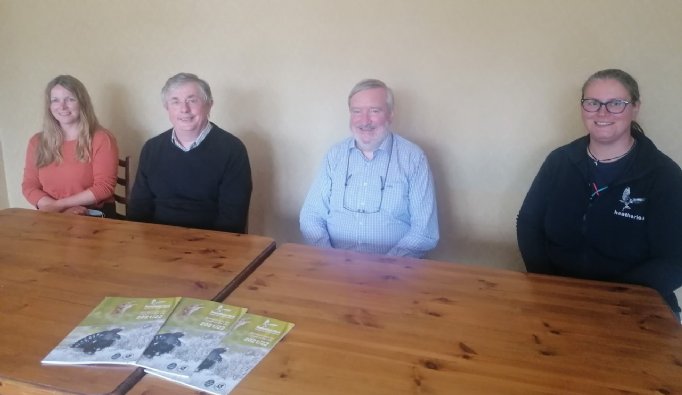 UPDATE August 2021
Heatherlea Trust announces first Employee Bonus!
At the first Board Meeting of the new Employee-owned Trust, Managing Director Kevin Shaw was delighted to announce its first employee Bonus, which will be due in November 2021. Paid to all employees, the Bonus is a fixed sum paid as salary, and free of Income Tax in line with HMRC regulations for this type of business.
Independent Trust Director Ralph Leishman said; 'Companies such as Heatherlea are prime examples of visionary leaders prioritising sustainability and stability for their business. In 2021 they have extended their Staff Bonus payment to include freelance guides who are not on the company payroll, another important innovation'.
Managing Director Kevin Shaw said 'As we know, the last eighteen months or so have been very challenging for many organisations, particularly in the travel and tourism sector. I'm really proud of our team, who have returned to work with enthusiasm and dedication, showing exceptional service to our many valued clients. I'm delighted to announce our first Staff Bonus, which will be paid to all employees irrespective of job title, and we also decided to extend the Bonus to include our independent Wildlife Guides, who have already resumed tours around the Highlands and Islands, showcasing Scotland's wonderful wildlife. Together we all look forward to the future with great optimism!'
Pictured Above: Heatherlea Directors Emma McBride, Kevin Shaw, Ralph Leishman and Holly Page