Austria
Brilliant summer birding with an optional Vienna extension
Dates

10 Jun - 16 Jun 2020
09 Jun - 15 Jun 2021

Destination
Duration
7 Days
Focus
Guides
Max Group Size
7
2020 Price

£1895 pp

£160 single supplement.

Deposit £300. 2021 Price TBC.

pre-flight airport hotel and lounge are inc.
Austria is simply superb for both birds and birdwatchers. There are several 'eastern' specialities that are rarely, if ever, seen in the west of Europe, very diverse habitats including iconic Lake Neusiedl with its lowland wetlands and grasslands, vast old conifer and broadleaved forests, flowery pastures, and of course the famous Alps. The scenery is often stunningly beautiful, and with clean air, rushing streams and montane views, the first few days offer a refreshing contrast to the climate at home!
We will visit all the key habitats in the company of local experts who know this territory and its birdlife extremely well. This gives us the opportunity to maximise our birding by finding many species which otherwise wouldn't be available to the casual visitor.
This holiday will be ideal for those who want to see a good range of key Central European breeding species at a leisurely pace. Our key targets will include Great Bustard, Eastern Imperial Eagle, Golden Eagle, Montagu's Harrier, all ten European woodpeckers including Three-toed, White-backed, Black, Syrian, Middle-spotted, Grey-headed and Wryneck, Nutcracker, both Collared and Red-breasted Flycatcher, Citril Finch, an impressive list of warblers including Moustached, Savi's, Great Reed, River, Marsh, Barred and Icterine, both Bearded and Penduline Tit, Bluethroat (white-spotted), chances of Eagle Owl, colourful and always welcome species including Bee-eater and Hoopoe, and a wide range of wetland birds including herons, bitterns, waders, terns and many more.
The pace will be mostly moderate (we will ensure the odd stop for some authentic apple or cherry strudel!), with some optional hill walks. We visit in June when the mountains are free of snow and hence more accessible.
We hope that Heatherlea clients who have joined us in Camargue, Hungary, Czech Republic, Croatia and even Mallorca will find this a welcome addition to our holiday range. Full of excellent birding, with non-intensive days and good food and accommodation in three traditional Austrian 'gasthauses'. A destination developed by local experts, we feel that Austria will soon become a firm favourite with many of you.

Finally, this is a seven-day, six-night birding holiday, followed should you wish by an extension in romantic Vienna, which we can arrange for you under the protection of our ATOL Licence 6113.
Day 1: Wed 10 Jun Arrival and Transfer
After relaxing in our complimentary VIP Airport Lounge, we fly from London Gatwick to Vienna. We meet up with local guide Gerard, and head to the south-west through the region of Niederosterreich (Lower Austria) and into the foothills of the Alps. A leisurely drive of around one hour, we pass through quaint villages and by rushing rivers, to our base for the first two nights in a pleasant small town with a hinterland of Alpine scenery. Birds on the way may well include Red-backed Shrike, Dipper, Grey Wagtail, Black Redstart, Fieldfare and Black Stork. We stay here in the first of our 'gasthaus' style accommodations, family run places with good standards, which we prefer to larger hotels throughout the birding part of this holiday.
Day 2: Thu 11 Jun Mountain and Forest Birding
Our first full day will be spent looking for montane and forest birds. We visit several birding spots in the foothills off the beaten track, where we will probably be the only birders in sight among superb scenery in mature mixed forest very different from that in the UK. Many sites here will be exclusive to our holiday, because they are known personally to our Guide and his local contacts. Species such as Western Bonelli's and Wood Warblers, Crested, Willow, Marsh and Coal Tits, Common Treecreeper, Firecrest, Goldcrest, Tree Pipit, Collared and Red-breasted Flycatchers, Common Rosefinch, Citril Finch, Hawfinch, Cuckoo, Nutcracker and Stock Dove will be in our sights. Austria is home to ten species of woodpecker, and in this area Middle Spotted, Lesser Spotted, Grey-headed, Black, White-backed and Three-toed are all found. Whilst it is unlikely we will find all Europe's woodpeckers during our holiday, you have a reasonable chance of the difficult species, including Three-toed and White-backed. Although sometimes difficult to pin down, Eagle Owl are also here, and we have chances. There are also Red Squirrels, which are not always red, some being decidedly black in colour!
Days 3 and 4: Fri 12 Jun and Sat 13 Jun Steiermark
Today we move a short way southwestwards into the higher mountains of Steiermark (Styria), where above pleasant grassy and flowery pastures and meadows, spruce forest, including some old-growth, dominates. Dwarf pine and then impressive rocky crags and peaks take over at the highest levels, and the views can be impressive. Birds we seek in this truly scenic Alpine landscape include Golden Eagle, Alpine Chough, Common Redpoll, Ring Ouzel and Water Pipit. Mammals we might encounter include Alpine Marmot, families of which will be out of their winter burrows at this time, and Alpine Chamois. Weather permitting (remember we will be in the mountains) we will take a chair-lift or ski-lift to get us up to the top of one of the higher peaks. We spend two nights here high in the Alps, again in a comfortable 'gasthaus'.
Days 5 and 6: Sun 14 Jun & Mon 15 Jun The Lowlands of Burgenland
After four nights in the Alps, we head eastwards and down to the lowlands of Burgenland. Great Bustard is an important target for us here. At this time of year we expect birds to form flocks, and our chances are excellent; we hope to obtain very good views of this key European species with hardly any walking.
The Austro-Hungarian border region of the Hanság hosts a cross-frontier National Park, and as we bird this region we'll see some remnants of barbed-wire topped fences (the so-called Iron Curtain) in former "no man's land". The fact that the region lay on the east-west frontier meant that it remained relatively under-populated and was thus good for wildlife. After the political changes of 1989 many of the key areas were protected under the National Park.
Lake Neusiedl is Europe's largest and westernmost steppe lake, situated on the Austro-Hungarian border. The lake covers about 320 km2, more than half of which is reedbed. This is one of the warmest and driest parts of Austria, with hot, dry summers and cold winters with little snow. Smaller, shallow, saline lakes dot the adjacent Seewinkel area, and the whole National Park hosts a rich diversity of species. More than 150 birds breed, and another 150 use the area around the lake during migration.
Birding here may produce White and Black Storks, Eastern Imperial Eagle, Black Kite, Marsh and Montagu's Harrier, Short-eared Owl, the blue-headed race of Yellow Wagtail, Whinchat, and a range of warblers including River, Marsh, Barred and Icterine. Saline-lakes, salt-marshes, and traditionally managed pastures and meadows host shorebirds such as Kentish Plover, Black-tailed Godwit, Common Redshank, Eurasian Spoonbill, Avocet and Black-winged Stilt. Ducks include Red-crested Pochard and Garganey, and there are Whiskered Tern, and both Yellow-legged and Mediterranean Gulls. Huge reed-beds are a haven for nesting Bittern, Little Bittern, Squacco, Purple and Night Herons, egrets, grebes, Moustached, Savi's and Great Reed Warblers, Bluethroat (white-spotted race), and both Bearded and Penduline Tits. We will also watch out for Pygmy Cormorant, which are now spreading into Austria from more easterly locations.
There are also Crested Lark, Serin, Hoopoe, Golden Oriole, Bee-eater and Syrian Woodpecker, the latter often in villages and orchards. Our third 'gasthaus' is in the Neusiedlersee-Seewinkel region.
Day 7: Tue 16 Jun Departure
After breakfast we head to Vienna Airport, where we catch our return flight to London Gatwick.

WHILE IN VIENNA ….

... why not continue your adventure with a personalised city break? You can decide how long to stay, choose your hotel from our wide selection, and fly home under the protection of our ATOL Licence 6113.
THINGS TO DO
Walk in the footsteps of the Habsburgs, visit the splendid baroque Schönbrunn and Belvedere Palaces, and stroll along the magnificent Ring Boulevard to take a look at the Imperial Palace. Get a sense of the glory of the old empire by visiting St. Stephen's Cathedral, the Spanish Riding School, or the Giant Ferris Wheel at the Prater.
Use your 'Vienna Card' to travel on the trams, subway and buses, enjoy the extensive shopping opportunities, and visit one of the famous Viennese coffee houses, which offer a wide variety of coffees, pastries, and pies and cakes. Look out especially for Bundt cake and Sachertorte!
Vienna is famous as the 'City of Music', and its concert halls and stages offer a wide choice, with music festivals seemingly running continuously. In the city of Mozart and Strauss, there is always a choice of concerts, opera and ballet.
Please note: all itineraries are given as a guide only. Actual holiday content may vary according to the judgement of your guide, and elements beyond our control (eg weather).
What's included in your holiday price:
scheduled return flights between London Gatwick and Vienna, airport taxes,
ground transportation as outlined including all transportation in Austria in a modern and spacious air-conditioned vehicle,
accommodation and all meals, including breakfast, lunch and dinner.
the services of your leaders.
entrance fees to parks and reserves, and tips to hotels and restaurants.
The Heatherlea Pre-Flight Service offers everything you need at the airport, including hotels, car parking, airport lounges, regional flights, and upgrades. Let Heatherlea take the strain! Pre-flight airport hotel and lounge included free of charge subject to terms and conditions. Read more...
What's not included in your holiday price:
personal insurance, drinks and other personal expenses, optional tips to the driver and local guide, and any other costs not specified as 'included'.
More Holiday Information:
Accommodation is in comfortable hotels or guest houses with all rooms en suite. These are family-run establishments, rather than big hotels, with good standards. We feel this type of accommodation is just right for our clients!
Food Breakfast is continental style. Fruit juice and tea or coffee is usually available. Picnic lunches will be provided by your guide, and will include a variety of local produce plus soft drinks.
Walking is generally light/moderate. There may be some uphill track and road walking, though generally an average level of fitness is required.
Weather Austria has a temperate climate, with cold, cloudy, humid winters and warm summers. The weather will most likely be quite warm, but chilly mornings and nights are possible. Rain is quite likely at this time of year.
Insects There may be biting insects, a good mosquito repellent is recommended.
Group size is restricted to 12 clients maximum.
Flights are by scheduled airline, from London Gatwick – regional departures may be possible, please ask for further details.
YOUR GUIDE
Gerard Gorman: Born in the UK, Gerard has lived in Budapest for many years. A very experienced birding and wildlife guide, he has led over 500 group tours around the world, and speaks several languages. His main interest is woodpeckers, and he is author of a guide to all the world's species.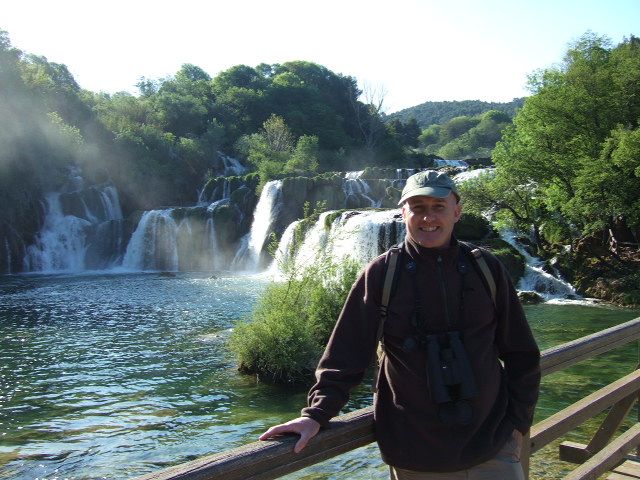 Why choose Heatherlea for your birding and wildlife holiday in Europe?
Our overseas holidays are planned with care to offer great birding and wildlife, led by capable Leaders who really look after you. Every holiday is run the 'Heatherlea Way', and we hope our Overseas Adventures remind you of the quality and care so many of you enjoy in Scotland. That means rewarding and exciting days in the field, and good quality accommodation and meals, with a real flavour of the country we are visiting. Heatherlea always seek to include the personal touches that make all the difference.
Heatherlea holidays are not 'dawn to dusk' expeditions. Our less-intensive approach is ideal for those who want to relax whilst experiencing the best wildlife watching, and wherever possible we organise early or late activity on an optional basis. We also take sensible breaks when in very hot places and regular comfort breaks on every holiday whenever possible. All itineraries are planned carefully around the best wildlife opportunities, and you won't miss out on memorable wildlife, whilst enjoying relaxed, informal days that are great fun.
The really important part of any wildlife holiday is the experience for you, our valued customer. Heatherlea invest in many things to offer you the best possible service;
We have been organising birding and wildlife holidays for over 30 seasons, and have a highly experienced and capable office team. We also offer a telephone and email service outside normal office hours.
Heatherlea overseas holidays have a maximum of 12 clients per trip, putting the emphasis on personal service, and helping you get the best possible experience.
Our holidays often include things which others might invite you to pay yourself, for instance Departure Taxes and tips to hotels.
All elements of our holidays are sold under our own licence, ATOL 6113. Under 'Flight-Plus' legislation it is a legal requirement of any tour operator to hold an ATOL licence for the supply of any overseas holiday where a flight is involved, if that holiday includes either overseas accommodation and/or car hire. It can be a criminal offence for an operator to book flights as part of a package without an ATOL licence. Heatherlea also hold full Tour Operator Insurance for your added protection.
Heatherlea is your complete wildlife holiday provider. Our 'Back Office' team can organise all your pre-flight and other travel needs. Our specialists will help you book the right services, at the best price. Book holiday extensions through us, and your ATOL protection is extended further. We don't charge extra for this service.
Heatherlea is a limited company, registered in Scotland, and registered to pay VAT (applies to all holidays within the European Union).
Trip Reports