NEW!

Finland and Norway in winter
Winter specialities at Europe's northern limit
| | |
| --- | --- |
| Destinations | |
| Focus | |
| 2022 Dates | |
| Duration | 6 Days |
| 2022 Price | Price TBC |
| 2024 Dates | |
| Duration | 6 Days |
| 2024 Price | Price TBC |
| Max Group Size | 12 |
THIS PAGE IS UNDER CONSTRUCTION - MORE INFO COMING SOON!
If you wish to register an interest by email, we will inform you when the page is complete.
Early spring in Finnish Lapland and Norway offers a unique atmosphere, as increasing levels of daylight and the first returning spring migrants combine for wonderful birding.
The highlights may be good numbers of King and Steller's Eider in stunning breeding plumage, alongside flocks of other wildfowl including Common Eider, Long-tailed Duck, scoter and Smew. Large seabird colonies will be returning to their clifftop breeding sites on Hornoya Island, with Brunnich's Guillemot and Puffin both featuring. Among other key species of the far north are Hawk Owl, Gyrfalcon, White-tailed Eagle, Glaucous and Iceland Gull, Purple Sandpiper, Siberian Jay, Siberian Tit, Arctic Redpoll and Pine Grosbeak there is a chance of encountering the Aurora Borealis too!
A lovely short adventure to the far north, staying at three centres amid beautiful snowy scenery, and perhaps a unique chance to see Puffins in the snow!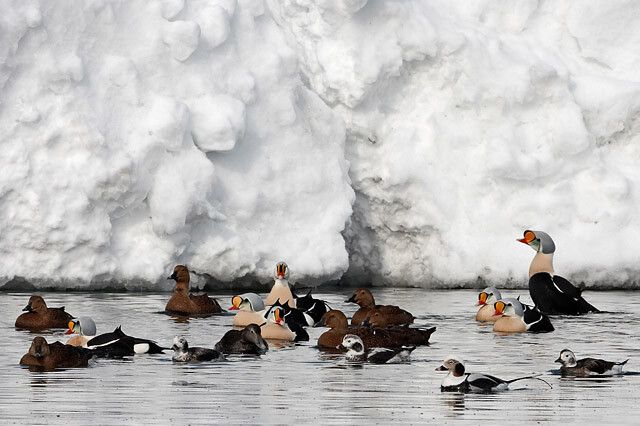 Itinerary
Day 1: Monday 14 March UK - Helsinki - Ivalo
After meeting up from incoming UK airports at Helsinki, we take our internal flight to Ivalo. On arrival, we drive north from Ivalo to Neljän Tuulen Tupa in Kaamanen in Finnish Lapland, for dinner and our first night's accommodation. Throughout the trip, if there are any signs of Northern Lights, we will go out to look for them in the evening.
Day 2: Tuesday 15 March Kaamanen - Båtsfjord
We spend the morning at bird feeders set up behind our lodge. These attract many wintering passerines including Pine Grosbeak, Siberian Tit, Willow Tit, Siberian Jay, Common and Arctic Redpoll and many Red Squirrel. Next we drive towards Norway, and Varanger Peninsula. The wintery landscapes on the way are covered with snow and ice but they might hold interesting birds. The population of Hawk Owl varies from year to year according to vole population fluctuations but both Finland and Norway in the north offer good habitat for them. It pays to scan the wires and tree tops on the way! We cross the snowy highlands and descend to a lovely small fishing town of Båtsfjord. Dinner and accommodation in Polar Hotel in Båtsfjord.
Day 3: Wednesday 16 March Båtsfjord - Vardö
We spend the morning birding in Båtsfjord harbour. This is an important wintering site for King Eider, Steller's Eider, Common Eider and Long-tailed Duck. Other species might include Purple Sandpiper, Black Guillemot, Glaucous Gull and Iceland Gull. Today we drive to the Varanger Fjord itself. The Fjord stays open throughout the winter and is an wintering area for many birds, and we look for more King Eider and Steller's Eider here. Other birds might include Purple Sandpiper, White-tailed Eagle, Goosander and Red-breasted Merganser. Dinner and accommodation in Hotel Vardö.
Day 4: Thursday 17 March Vardö
Weather permitting, we make a half-day excursion by boat to the large seabird colonies on Hornøya island. The Hornøya nature reserve is home to thousands and thousands of Common and Brünnich's Guillemot, Razorbill and Atlantic Puffin as well as Shag and some 25 000 pairs of Kittiwake. In March, these birds return to their breeding cliffs and sometimes engage in fierce fights over breeding spots. At times, Gyrfalcon patrols over the island, causing panic among the breeding seabirds! The air is filled with the cacophony of thousands of birds and there are excellent opportunities for photographing seabirds at close range. Other birds in Vardö area might include Purple Sandpiper, White-tailed Eagle, Goosander and Red-breasted Merganser. Dinner and accommodation for a second night in Hotel Vardö.
Day 5: Friday 18 March Vardö - Kaamanen
Today we make our way back to Ivalo, Finland. Most of the day will be spent traveling but we break up the journey with birding stops on the way. Dinner and accommodation once more in Neljän Tuulen Tupa in Kaamanen.
Day 6: Saturday 19 March Departure from Ivalo
Depending on flight timings we might have opportunity to enjoy birds at the feeder before returning to the airport on our last morning in Finland.
NB This itinerary might change due to weather conditions and birding opportunities. Unfortunately we cannot guarantee any bird species, but our expert local guides do their utmost to ensure the best possible sightings and photographic opportunities during the tour.
Please note: all itineraries are given as a guide only. Actual holiday content may vary according to the judgement of your guide, and elements beyond our control (eg weather).
More information coming soon.
Why choose Heatherlea for your birding and wildlife holiday in Europe?
Our overseas holidays are planned with care to offer great birding and wildlife, led by capable Leaders who really look after you. Every holiday is run the 'Heatherlea Way', and we hope our Overseas Adventures remind you of the quality and care so many of you enjoy in Scotland. That means rewarding and exciting days in the field, and good quality accommodation and meals, with a real flavour of the country we are visiting. Heatherlea always seek to include the personal touches that make all the difference.
Heatherlea holidays are not 'dawn to dusk' expeditions. Our less-intensive approach is ideal for those who want to relax whilst experiencing the best wildlife watching, and wherever possible we organise early or late activity on an optional basis. We also take sensible breaks when in very hot places and regular comfort breaks on every holiday whenever possible. All itineraries are planned carefully around the best wildlife opportunities, and you won't miss out on memorable wildlife, whilst enjoying relaxed, informal days that are great fun.
The really important part of any wildlife holiday is the experience for you, our valued customer. Heatherlea invest in many things to offer you the best possible service;
We have been organising birding and wildlife holidays for over 30 seasons, and have a highly experienced and capable office team. We also offer a telephone and email service outside normal office hours.
Heatherlea overseas holidays have a maximum of 12 clients per trip, putting the emphasis on personal service, and helping you get the best possible experience.
Our holidays often include things which others might invite you to pay yourself, for instance Departure Taxes and tips to hotels.
All elements of our holidays are sold under our own licence, ATOL 6113. Under 'Flight-Plus' legislation it is a legal requirement of any tour operator to hold an ATOL licence for the supply of any overseas holiday where a flight is involved, if that holiday includes either overseas accommodation and/or car hire. It can be a criminal offence for an operator to book flights as part of a package without an ATOL licence. Heatherlea also hold full Tour Operator Insurance for your added protection.
Heatherlea is your complete wildlife holiday provider. Our 'Back Office' team can organise all your pre-flight and other travel needs. Our specialists will help you book the right services, at the best price. Book holiday extensions through us, and your ATOL protection is extended further. We don't charge extra for this service.
Heatherlea is a limited company, registered in Scotland, and registered to pay VAT (applies to all holidays within the European Union).