Iceland Birds, Orcas and Borealis
A short-break to Iceland, featuring Birds, marine mammals, geology and the Aurora Borealis.
Destination
Focus
2025 Dates
Duration
4 Days
Guides
2025 Price

£2295 pp

£160 single supplement.

Deposit £500

pre-flight airport hotel and lounge are inc.

Max Group Size
12
More Info

Heatherlea leader: Andy Jones, joined by another from the Heatherlea team with more than 7 clients.

A tremendous long-weekend in the land of ice and fire in winter. Our base is in Snæfellsnes, west Iceland and we'll spend our days exploring the coastal landscapes of this beautiful area. We have a very good chance of finding Killer Whale (Orca) offshore, White-tailed Eagle patrolling the coastline, Harlequin Duck surfing the rough seas, white-plumaged Ptarmigan in the lava fields and there's a chance of Gyrfalcon too. There are relatively few birds at this time, though we should see white-winged Glaucous and Iceland Gull, Snow Bunting, Fieldfare and more in a very relaxed environment. We hope to find Orca, both from land and also, if weather permits, from an exciting boat trip.
We also hope to see the awe-inspiring aurora borealis, or northern lights, a wonderful experience! At this time of year clear nights often give spectacular auroral displays and we'll keep our fingers crossed for the chance. The volcanic geology of Iceland is not forgotten and we'll explore lava fields and learn of the tectonic forces which shaped, and are still shaping, this amazing country.
The tour is led by Andy Jones, a highly experienced naturalist/Guide in Iceland who has worked with Heatherlea for a number of years!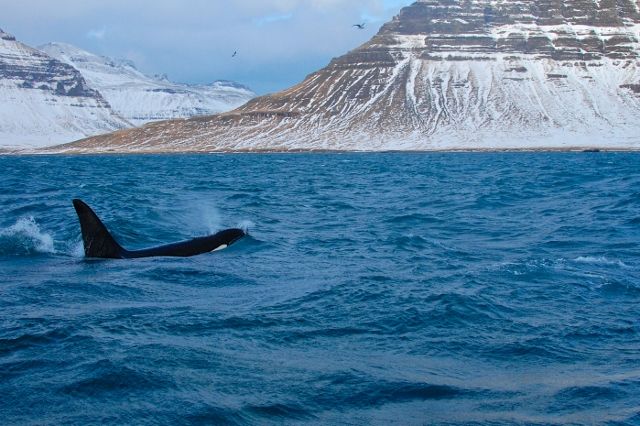 Enjoy your complimentary pre-flight overnight hotel before your holiday begins. Full details from our office! Read more about our Pre-flight Service here!

Day 1:
After relaxing in our complimentary VIP Airport Lounge, we fly to Keflavík airport and start our three hour journey to Snæfellsnes. Have your binoculars handy as we hope to make some birdwatching stops on the way and will no doubt encounter our first Glaucous and Iceland Gulls as we travel. Dinner is at the hotel and there's a possibility of the northern lights during the evening.

Day 2:
With around seven hours of useful daylight we have plenty of time to fill our day. We plan on travelling to the western part of Snæfellsnes today. Orcas are often seen close inshore at this time of year and we'll search the coastline and see what we can find. The landscape is dominated by the bulk of the ice-covered volcano of Snæfellsjökull and in the lava fields we've a good chance of finding Ptarmigan and perhaps Gyrfalcon, too. Depending on the weather conditions there's a chance of taking a whale watching boat trip to see if we can find Orca and White-beaked Dolphin at close range. Harlequin Duck spend their winters on the coast and we should find some surfing in the waves offshore. After dinner we'll again be ready for an aurora.

Day 3:
It's northern and eastern Snæfellsnes today. Again we're on the lookout for Orca offshore and we'll spend time in areas frequented by White-tailed Eagle, Ptarmigan and elusive Gyrfalcon. We'll visit several harbours and develop our gull identification skills as we sort out Glaucous and Iceland Gulls. The volcanic geology of Iceland is not forgotten and we'll explore more lava fields and learn of the tectonic forces which shaped, and are still shaping, this amazing country. Again, there's a possibility of seeing the northern lights in the evening.

Day 4:
We head south this morning on our return journey to Keflavík. There'll be the chance for some birding on the way and we'll make a quick visit to Iceland's capital city, Reykjavík. Flights leave in the middle of the afternoon bringing this splendid short break to a close.
Please note: all itineraries are given as a guide only. Actual holiday content may vary according to the judgement of your guide, and elements beyond our control (eg weather).
More Holiday Information:
Accommodation is in a comfortable hotel or guest house with all rooms en suite,
Food Breakfast is surprisingly good given the limited availability of local produce. Cereals, Cold meats and cheese are usually offered, with ample bread and preserves. Fruit juice and tea or coffee are also usually available. Evening meals are generally local dishes, which are good but often quite simple. Chicken, fish and very lean lamb are common. Picnic lunches are included.
Walking is not strenuous. Leisurely walking, very occasionally over moderately rough terrain, is the only physical requirement.
Weather We hope for beautiful, cold, clear arctic conditions, but be prepared for wind, snow, sleet or rain! We will be spending time on windswept coasts; it is therefore vital to have suitable clothing and equipment. The temperature can change quickly, so layered clothing is recommended.
Insects biting insects are not expected.
Group size is restricted to 12 clients maximum.
Flights are by scheduled airline, from London. We may be able to offer flight arrangements from another airport and/or or quote without flights so you can make your own arrangements. If you wish to add an extension either before or after your holiday, please contact us and we will be happy to arrange this for you.
Your Leader:
Andy Jones is well-known to many Heatherlea clients as 'The Iceland Naturalist'. Based in Iceland for more than 20 years, he has led numerous wildlife holidays and educational field trips here and is a very experienced wildlife guide. We are delighted to welcome Andy to Heatherlea as a Guide!
Andy Jones was a warden on Skomer Island, a ranger with the Pembrokeshire Coast National Park, the RSPB's senior investigations officer and a Wildlife Trust director. He studied geology and is an enthusiastic field naturalist.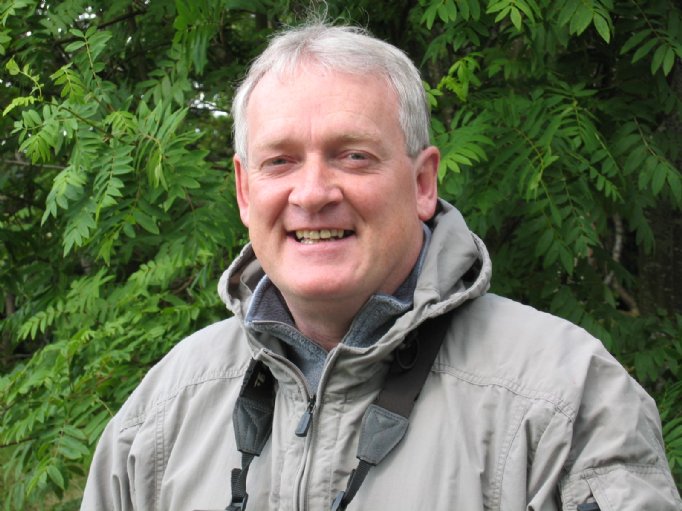 What's included in your holiday price:
* scheduled return flights between London and Keflavik, airport taxes,
* ground transportation as outlined including all transportation in Iceland in winterized 4x4 vehicle,
* accommodation and all meals, including breakfast, lunch and dinner.
* the services of your leader.
* The Heatherlea Pre-Flight Service offers everything you need at the airport, including hotels, car parking, airport lounges, regional flights, and upgrades. Let Heatherlea take the strain! Pre-flight airport hotel and lounge included free of charge subject to terms and conditions.
What's not included in your holiday price:
* personal insurance, drinks and other personal expenses, optional tips, and any other costs not specified as 'included'.
Why choose Heatherlea for your birding and wildlife holiday in Europe?
Our overseas holidays are planned with care to offer great birding and wildlife, led by capable Leaders who really look after you. Every holiday is run the 'Heatherlea Way', and we hope our Overseas Adventures remind you of the quality and care so many of you enjoy in Scotland. That means rewarding and exciting days in the field, and good quality accommodation and meals, with a real flavour of the country we are visiting. Heatherlea always seek to include the personal touches that make all the difference.
Heatherlea holidays are not 'dawn to dusk' expeditions. Our less-intensive approach is ideal for those who want to relax whilst experiencing the best wildlife watching, and wherever possible we organise early or late activity on an optional basis. We also take sensible breaks when in very hot places and regular comfort breaks on every holiday whenever possible. All itineraries are planned carefully around the best wildlife opportunities, and you won't miss out on memorable wildlife, whilst enjoying relaxed, informal days that are great fun.
The really important part of any wildlife holiday is the experience for you, our valued customer. Heatherlea invest in many things to offer you the best possible service;
We have been organising birding and wildlife holidays for over 30 seasons, and have a highly experienced and capable office team. We also offer a telephone and email service outside normal office hours.
Heatherlea overseas holidays have a maximum of 12 clients per trip, putting the emphasis on personal service, and helping you get the best possible experience.
Our holidays often include things which others might invite you to pay yourself, for instance Departure Taxes and tips to hotels.
All elements of our holidays are sold under our own licence, ATOL 6113. Under 'Flight-Plus' legislation it is a legal requirement of any tour operator to hold an ATOL licence for the supply of any overseas holiday where a flight is involved, if that holiday includes either overseas accommodation and/or car hire. It can be a criminal offence for an operator to book flights as part of a package without an ATOL licence. Heatherlea also hold full Tour Operator Insurance for your added protection.
Heatherlea is your complete wildlife holiday provider. Our 'Back Office' team can organise all your pre-flight and other travel needs. Our specialists will help you book the right services, at the best price. Book holiday extensions through us, and your ATOL protection is extended further. We don't charge extra for this service.
Heatherlea is a limited company, registered in Scotland, and registered to pay VAT (applies to all holidays within the European Union).