NEW!

South-East Iceland - birding, volcanoes and glaciers
A gentle tour of geology and birdlife in SE Iceland
| | |
| --- | --- |
| Destination | |
| Focus | |
| 2025 Dates | |
| Duration | 8 Days |
| Guides | |
| 2025 Price | Price TBC |
| Max Group Size | 12 |
A wonderful week's holiday exploring the Southern and South-Eastern parts of Iceland, including a visit by ferry to the Westman Islands. Great birding includes the world's largest Puffin colony and Icelandic specialities, stunning Harlequin and Barrow's Goldeneye! We have numerous opportunities to encounter Gyrfalcon, Snow Bunting, Red-necked Phalarope, Great Northern and Red-throated Diver, as well as waders, wildfowl, gulls and ducks. Ptarmigan are also present, and unlike in Scotland they may be seen at significantly lower altitudes. We expect to record around 60 different bird species and also look out for whales and dolphins, both from the shore and as we cross to the Westman Islands.
Geology will be a major feature of the holiday, and we investigate hot springs, waterfalls, volcanoes and glaciers as we enjoy local wildlife. Sites we plan to visit include the famous geyser at Geysir, the magnificent waterfall at Gullfoss, and the glacial lagoon at Jökulsárlón, where icebergs from the huge ice-cap of Vatnajökull fill the glacial lake. On the Westman Islands we explore the town where a major eruption occurred in the 1970's, and look across the ocean towards Surtsey, one of the world's most recently formed islands. There are huge bird colonies here, and our RIB boat trip takes us close to some of the largest seabird cities in the world!
On this tour, our journey takes us across stunning landscapes; fjords, cliffs, coastal lagoons, mountains, glaciers, and the black-sand beaches of Iceland's wild and awe-inspiring southern regions. This is a relaxing holiday, with most birdlife and geological features readily available, though a little walking may be required to reach some places. We stay throughout in good quality tourist class hotels with private facilities.
Enjoy your complimentary pre-flight overnight hotel before your holiday begins. Full details from our office! Read more about our Pre-flight Service here!
Day 1: Sat 24 May 2025 - Arrival
After relaxing in our complimentary VIP Airport Lounge, we fly from London to Iceland, and transfer to our hotel located in lovely countryside in south Iceland with a great introduction to some of Iceland's breeding waders on the way. Overnight Hótel Hekla for two nights.
Day 2: Sun 25 May - Harlequin and Barrow's Goldeneye
We explore the rivers near Hekla looking for stunning Harlequin and elegant Red-necked Phalarope. The volcanoes and geology of this part of Iceland are spectacular too, and we appreciate the non-avian highlights of the area. We also search in the National Park at Þingvellir for Barrow's Goldeneye and expect to see both Red-throated and Great Northern Diver on our travels. No visit to this part of Iceland is complete without a visit to the famous geyser at Geysir and the magnificent waterfall at Gullfoss, so we plan to end the day with a visit to these sites.
Day 3: Mon 26 May - The Westman Islands
We take the morning ferry to the Westman Islands, watching out for whales, dolphins and seabirds on the way. The crossing takes just 35 minutes and we will no doubt see our first Puffin as we travel. Our exploration of the main island Heimaey will also include a visit to the volcano which erupted here in 1973, and offshore we should see the island of Surtsey, which grew out of a submarine eruption in 1963. The best views of the seabird colonies come from the sea, and on a boat trip using a RIB we look up to see breeding Kittiwake, Fulmar, Guillemot and Razorbill on the cliffs. Groups of foraging Puffin will pass by, dodging the attention of marauding Great and Arctic Skua, and Manx Shearwater and Storm Petrel may also be seen. Please note, the RIB trip is weather dependant. Our return ferry to the mainland departs late afternoon, and we then drive on to our base near Kirkjubæraklaustur passing the notorious volcano of Eyjafjallajökull, enjoying the magnificent scenery of this part of Iceland. Overnight Hótel Núpar for two nights.
Day 4: Tue 27 May - Glaciers, volcanoes, waders and wildfowl
Today we explore the areas near Kirkjubæraklaustur which have been so deeply affected by volcanic eruptions in the past. We'll learn about the enormous eruption of Laki in 1783 which so dramatically altered the landscape of this area. The pools and marshes are now home to large numbers of breeding waders including Whimbrel, Black-tailed Godwit, Dunlin, Oystercatcher, Redshank, Red-necked Phalarope and Golden Plover. Photographers will be delighted at how close the birds may be! We should also see Merlin in this area with a chance of Gyrfalcon, too. The landscapes of this region are dramatic, and so we take time to explore canyons and gorges and learn more about the ice-caps and glaciers of this part of Iceland.
Day 5: Wed 28 May - Great Skuas and Icebergs
Our journey to the South-east corner of Iceland continues to the cape of Ingólfshöfði to see more Puffin and Great Skua. The sand flats and marshes mean we will need a tractor to get there so be prepared to travel on a trailer pulled by a powerful machine - a unique way to travel during a Heatherlea tour! There's a lot of history in this area, such as the trials of Iceland's first settlers and the problems they encountered. After, we continue our journey eastwards and visit one of Iceland's most surreal locations - the glacial lagoon at Jökulsárlón. Icebergs from the huge ice-cap of Vatnajökull fill the glacial lake and we should also encounter Common Seal, Eider and Barnacle Goose in the lagoon. An amazing site, and our day ends as we travel towards the settlement at Höfn to spend the next two nights at Fosshótel Vatnajökull.
Day 6: Thurs 29 May - South-East Iceland
A relaxed day exploring this wonderful corner of the country. We begin the day looking for Snow Bunting near Höfn, before travelling towards Djúpivogur to experience the fjord landscapes of this part of Iceland. There is great birding to be had here, and in addition to the old favourites we expect to find some large groups of summering non-breeding Whooper Swan as well as enormous flocks of Common Eider. We'll also be looking out for Gyrfalcon and Ptarmigan as we travel, as both occur in this area. Few species of passerines breed in Iceland but we should enjoy great views of Redwing, White Wagtail, Northern Wheatear, Meadow Pipit and Raven. Our return to Höfn takes us across stunning landscapes featuring fjords, cliffs, coastal lagoons, mountains and glaciers.
Day 7: Fri 30 May - Heading West
A travelling day, as we retrace our route back along Iceland's southern coast, planning to punctuate our journey with some birding stops. We plan to visit the Skaftafell National Park to see if we can locate the Icelandic race of Winter Wren, a scarce bird which breeds in the area. It will also be a day of waterfalls and glaciers, which so dominate the landscapes of this part of Iceland. We'll end our day where we started at Hótel Hekla for one night.
Day 8: Sat 31 May - Reykjavík and return to the UK
There will be time for a quick visit to Iceland's capital, Reykjavík before heading to the airport for our return flight.
Please note: all itineraries are given as a guide only. Actual holiday content may vary according to the judgement of your guide, and elements beyond our control (eg weather).
What's included in your holiday price:
scheduled return flights between London and Keflavik, airport taxes, ground transportation as outlined including all transportation in Iceland.
accommodation and all meals, including breakfast, lunch and dinner.
boat trips and entrance fees as specified
the services of your leader.
The Heatherlea Pre-Flight Service offers everything you need at the airport, including hotels, car parking, airport lounges, regional flights, and upgrades. Let Heatherlea take the strain! Pre-flight airport hotel and lounge included free of charge subject to terms and conditions. Read more...
What's not included in your holiday price:
personal insurance, drinks and other personal expenses, optional tips, and any other costs not specified as 'included'.
More holiday information:
Accommodation is in a comfortable hotels/guest houses with all rooms en suite,
Food Breakfast is surprisingly good given the limited availability of local produce. Cold meats and cheese are usually offered, with ample bread and preserves. Fruit juice and tea or coffee are also usually available. Evening meals are generally local dishes, which are good but often quite simple. Chicken, fish and very lean lamb are common. Picnic lunches are included.
Walking is not strenuous, though a reasonable level of fitness is required for those who wish to do everything offered. Leisurely walking, very occasionally over moderately rough terrain, is the main physical requirement.
Weather Be prepared for wet weather, but also possibly warm conditions. We will be spending time on windswept coasts; it is therefore vital to have suitable clothing and equipment. The temperature can change quickly, so layered clothing is recommended. Average temperatures in May around 9c.
Insects biting insects are possible in a few places. Please bring a good insect repellent.
Group size is restricted to 12 clients maximum.
Flights are by scheduled airline, from London. We may be able to offer flight arrangements from another airport and/or or quote without flights so you can make your own arrangements. If you wish to add an extension either before or after your holiday, please contact us and we will be happy to arrange this for you.
Your Leader
Andy Jones: Famously known as 'The Iceland Naturalist', Andy has been leading Heatherlea tours here for many years. His comprehensive knowledge of Iceland's natural history and geology is very highly regarded, and makes him the ideal Leader for this holiday.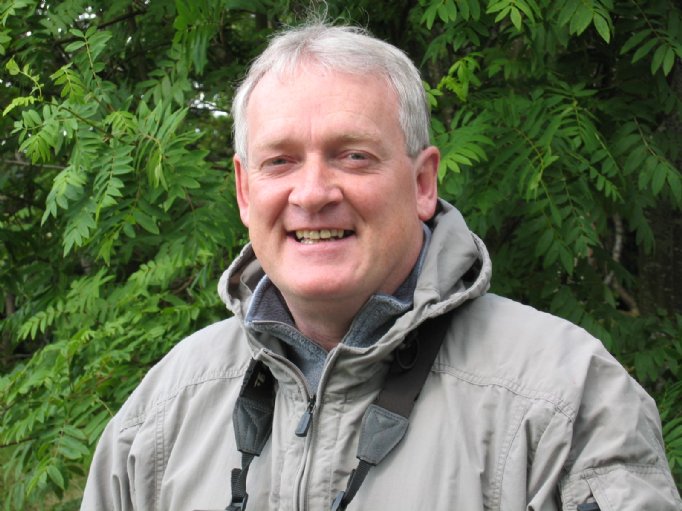 Why choose Heatherlea for your birding and wildlife holiday in Europe?
Our overseas holidays are planned with care to offer great birding and wildlife, led by capable Leaders who really look after you. Every holiday is run the 'Heatherlea Way', and we hope our Overseas Adventures remind you of the quality and care so many of you enjoy in Scotland. That means rewarding and exciting days in the field, and good quality accommodation and meals, with a real flavour of the country we are visiting. Heatherlea always seek to include the personal touches that make all the difference.
Heatherlea holidays are not 'dawn to dusk' expeditions. Our less-intensive approach is ideal for those who want to relax whilst experiencing the best wildlife watching, and wherever possible we organise early or late activity on an optional basis. We also take sensible breaks when in very hot places and regular comfort breaks on every holiday whenever possible. All itineraries are planned carefully around the best wildlife opportunities, and you won't miss out on memorable wildlife, whilst enjoying relaxed, informal days that are great fun.
The really important part of any wildlife holiday is the experience for you, our valued customer. Heatherlea invest in many things to offer you the best possible service;
We have been organising birding and wildlife holidays for over 30 seasons, and have a highly experienced and capable office team. We also offer a telephone and email service outside normal office hours.
Heatherlea overseas holidays have a maximum of 12 clients per trip, putting the emphasis on personal service, and helping you get the best possible experience.
Our holidays often include things which others might invite you to pay yourself, for instance Departure Taxes and tips to hotels.
All elements of our holidays are sold under our own licence, ATOL 6113. Under 'Flight-Plus' legislation it is a legal requirement of any tour operator to hold an ATOL licence for the supply of any overseas holiday where a flight is involved, if that holiday includes either overseas accommodation and/or car hire. It can be a criminal offence for an operator to book flights as part of a package without an ATOL licence. Heatherlea also hold full Tour Operator Insurance for your added protection.
Heatherlea is your complete wildlife holiday provider. Our 'Back Office' team can organise all your pre-flight and other travel needs. Our specialists will help you book the right services, at the best price. Book holiday extensions through us, and your ATOL protection is extended further. We don't charge extra for this service.
Heatherlea is a limited company, registered in Scotland, and registered to pay VAT (applies to all holidays within the European Union).