NEW!

Madeira
Endemic seabirds and passerines in a wonderful Atlantic setting
Madeira is an archipelago situated in the North Atlantic Ocean, in a region known as Macaronesia, just under 250 miles north of the Canary Islands and 320 miles west of Morocco. The islands of Madeira offer great birding and serene scenery, and birding varies even though our species tally will be limited to less than 50!
This is an exciting new holiday 'for Birders...', and endemic and rare seabirds are very much the focus and priority. We have boat trips arranged for three of our four full days on the island, and Zino's Petrel, arguably Europe's rarest seabird, is an important target. By visiting different areas of the western Atlantic Ocean we hope for encounters, with the chance to compare them with similar looking Fea's Petrel. Other likely species include Cory's and Manx Shearwater, Bulwer's Petrel, Madeiran and White-faced Storm-Petrel, while much time on the water gives us chances of less regular species, of which Great and Macronesian (Little) Shearwater, Wilson's and European Storm-Petrel and Roseate Tern are examples. We also hope to visit the Zino's Petrel colony on a night tour. Please note you will need to be a good sailor, and fit enough to complete a strenuous walk to the petrel colony.
Cetaceans are likely, with dolphins (of several species) often performing around the boat, and we have a good chance of seeing Short-finned Pilot Whale, and perhaps a sighting of Bryde's, Fin or Sperm Whale.
Venturing into the famous laurel forests skirting volcanic hills we seek endemic Madeiran Firecrest and Trocaz Pigeon, along with (Macronesian) Plain Swift, Spectacled Warbler, Bertelot's Pipit and a few other land birds. Among more familiar fare with endemic sub-species status, critically threatened Macronesian Sparrowhawk is important given its extensive habitat loss due to fire.
We look for endemic Mediterranean Monk Seal, while the floral display of Madeira can be stunning in June, with the bonus of endemic butterflies on this island spectacle too!
We maintain a flexible approach to the tour, potentially switching days around and bringing our land-based day forward depending on offshore weather conditions. All boat trips and the evening Zino's Petrel colony visit are of course optional, and there will be time for relaxation and private birding in this Atlantic Island paradise too!
Enjoy your complimentary pre-flight overnight hotel before your holiday begins. Full details from our office! Read more about our Pre-flight Service here!
Day 1: Tue 4 June 2024 – Fly UK to Madeira
After relaxing in our complimentary VIP Airport Lounge, we fly London to Funchal and transfer to our comfortable hotel. Depending on flight times, we may have time for some leisurely coastal birding nearby, perhaps encountering our first offshore seabirds and Yellow-legged Gull around the harbour.
Days 2 - 4: Wed 5 – Fri 7 June 2024 – Seabird pelagic and Whale watching boat trips
Endemic and rare seabirds are very much the focus and priority of our tour to Madeira, and we have boat trips arranged for three of our four full days on the island. These take place in the afternoons, departing Machico harbour after lunch, and returning at dusk when darkness falls and shearwaters and petrels return to land and their breeding colonies. Widely regarded as one of the ultimate birding experiences in the Western palearctic, Madeiran pelagics are famous for offering unrivalled views of a number of difficult to see seabirds. Endemic Zino's Petrel is an important target, and by visiting different areas of the western Atlantic Ocean we hope for regular encounters, with the chance to compare them with similar looking Fea's Petrel. Other likely species include Cory's and Manx Shearwater, Bulwer's Petrel, Madeiran and White-faced Storm-Petrel, while much time on the water gives us chances of less regular species, of which Great and Macronesian (Little) Shearwater, Wilson's and European Storm-Petrel and Roseate Tern are recent examples.
It is impossible to give a specific itinerary for these trips, with much dependable on weather and sea conditions. Fishing trawlers may warrant attention as they often attract the birds and feeding frenzies may be investigated for cetaceans – our crew will make all decisions on the day! If our birding targets are met in the first two boat trips, then focusing on Whale Watching may be considered for the third. With over 20 species of cetaceans recorded in Madeira's marine rich, warm waters we have good chances of whales and dolphins on this tour. Bottlenose and Short-beaked Common Dolphin are two of the most likely at this time of year, with Short-finned Pilot Whale, Bryde's, Fin or Sperm Whale also possible. Endemic Mediterranean Monk Seal may also be seen, hauled out on rocky islets. All boat trips can be intensive and are of course optional, with a free morning set aside each day for downtime or leisurely birding close to our hotel. Whatever we see or do, our open ocean experiences will form an integral part and undoubted highlight of our time in Madeira.
Day 5: Sat 8 June 2024 – Madeiran endemics on dry land and Zino's Petrel colony night tour.
Madeira is a very green and lush island, the volcanic nature of the landscape largely hidden beneath its famous laurel forests. We dedicate a full day to exploring its remote interior, with endemic Madeiran Firecrest and Trocaz Pigeon our two most important targets in the forests. Favouring more open, drier ground are Bertelot's Pipit, Spectacled Warbler, (Macronesian) Plain Swift and Rock Sparrow, though the latter can be notoriously elusive and hard to find. A number of scarce sub-species are also present, the Macronesian forms of Kestrel and critically endangered Sparrowhawk especially of note. Waders, gulls and terns may feature on the rocky coastlines and while species diversity is often limited, Nearctic rarities are regularly recorded with Semi-palmated Plover, White-rumped, Spotted and Solitary Sandpiper recent examples.
Another treat for our 'land-based' day will be an evening excursion to Pico de Areeiro, the third highest peak in Madeira and an important colony for Zino's Petrel. Walking at a slow pace as the sun sets, we listen out for the haunting calls of one of the rarest seabirds in Europe, eager to catch a glimpse of a silhouette returning to their breeding burrow. With less than 100 pairs, it will be a unique privilege to spend an hour in their company - an everlasting memory of our time in Madeira!
Day 6: Sun 9 June 2024 – Departure
After breakfast there may be some time for a little birding before transferring to Funchal airport for our flight back to London.
Please note: all itineraries are given as a guide only. Actual holiday content may vary according to the judgement of your guide, and elements beyond our control (eg weather).
What's included in your holiday price:
Return scheduled flight from London - Funchal. Airport taxes, baggage and hand luggage up to airline included limit.
Airport transfers, ground transportation, accommodation and meals as specified.
Three pelagic/whale watching boat trips, and an evening visit to the Zino's Petrel colony.
The services of Heatherlea leaders.
The Heatherlea Pre-Flight Service offers everything you need at the airport, including hotels, car parking, airport lounges, regional flights, and upgrades. Let Heatherlea take the strain! Pre-flight airport hotel and lounge included free of charge subject to terms and conditions. Read more....
What's not included in your holiday price:
Travel to and from departure airport before and after holiday, in-flight meal, baggage above airline included limit.
Incidental tips, expenses of a personal nature including drinks and personal insurance.
More information
Accommodation: in very comfortable hotels with all rooms en suite.
Food: Typically Portuguese food is to a very good standard, and with a wide choice. Being an island, seafood features regularly in Madeira, while Vegetarian and other diets are welcome. On pelagic days we take our main meal at lunchtime, and take sandwiches to be eaten onboard the boat in the evening.
Walking and pace of tour: This is a fairly intensive birding tour. Madeira is a volcanic island, and while we do not plan too many walks these will involve uphill walking. The evening Zino's Petrel tour involves walking up (and then down) c700 steps to get to the breeding colony. All such walks are optional.
Boat trips: our three pelagic/whale watching trips plan to run from early-afternoon until dusk. We often spend several hours, drifting on the tide and 'chumming' at a location, waiting for the birds to come to us. You should bring enough drinking water for the trip (tap water is OK in Madeira), waterproof clothing and adequate protective covers for cameras and optics as there will be some sea spray!
Our vessel: Oceanodroma is a a 12 seater RHIB. When travelling at speed it can be bumpy, and although the seats have shock mitigation technology, it is important that you have a strong back in order to avoid any injuries when riding on rough sea. Seasickness is a possibility so if a regular sufferer, please take preventative measures. You need good 'sealegs' for this activity! Please note, there are basic toilet facilities on board.
Weather: Typically, temperatures will range from 10 - 20ºC in the "heat" of the day. Sunshine should be plentiful, but wind, clouds, and rain are possible being so close to the sea. Cold weather is unlikely but you should bring plenty of layers for boat trips in particular.
Insects: biting insects are not expected
Group size: is restricted to 9 clients maximum.
Flights: are by scheduled airline, from London to Funchal in Madeira. We may be able to offer flight arrangements from another airport and/or or quote without flights so you can make your own arrangements. If you wish to add an extension either before or after your holiday, please contact us and we will be happy to arrange this for you.
Your Leader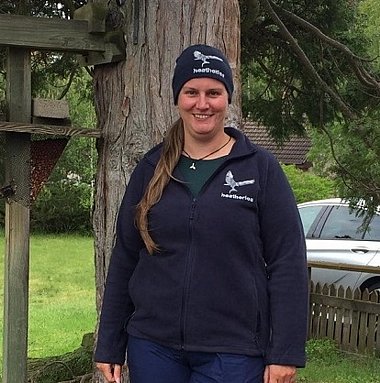 Holly Page: A keen birder from an early age, Holly moved from Lancashire to Strathspey in 2020, where she joined our guiding team. A now experienced guide, Holly is a key member of the Heatherlea team having led many of our tours across the Highlands and Islands including Shetland and the Outer Hebrides, as well as several overseas tours under her belt.
Thanks to our friends at Wind Birds, Lda for many of the images on this webpage.
Why choose Heatherlea for your birding and wildlife holiday in Europe?
Our overseas holidays are planned with care to offer great birding and wildlife, led by capable Leaders who really look after you. Every holiday is run the 'Heatherlea Way', and we hope our Overseas Adventures remind you of the quality and care so many of you enjoy in Scotland. That means rewarding and exciting days in the field, and good quality accommodation and meals, with a real flavour of the country we are visiting. Heatherlea always seek to include the personal touches that make all the difference.
Heatherlea holidays are not 'dawn to dusk' expeditions. Our less-intensive approach is ideal for those who want to relax whilst experiencing the best wildlife watching, and wherever possible we organise early or late activity on an optional basis. We also take sensible breaks when in very hot places and regular comfort breaks on every holiday whenever possible. All itineraries are planned carefully around the best wildlife opportunities, and you won't miss out on memorable wildlife, whilst enjoying relaxed, informal days that are great fun.
The really important part of any wildlife holiday is the experience for you, our valued customer. Heatherlea invest in many things to offer you the best possible service;
We have been organising birding and wildlife holidays for over 30 seasons, and have a highly experienced and capable office team. We also offer a telephone and email service outside normal office hours.
Heatherlea overseas holidays have a maximum of 12 clients per trip, putting the emphasis on personal service, and helping you get the best possible experience.
Our holidays often include things which others might invite you to pay yourself, for instance Departure Taxes and tips to hotels.
All elements of our holidays are sold under our own licence, ATOL 6113. Under 'Flight-Plus' legislation it is a legal requirement of any tour operator to hold an ATOL licence for the supply of any overseas holiday where a flight is involved, if that holiday includes either overseas accommodation and/or car hire. It can be a criminal offence for an operator to book flights as part of a package without an ATOL licence. Heatherlea also hold full Tour Operator Insurance for your added protection.
Heatherlea is your complete wildlife holiday provider. Our 'Back Office' team can organise all your pre-flight and other travel needs. Our specialists will help you book the right services, at the best price. Book holiday extensions through us, and your ATOL protection is extended further. We don't charge extra for this service.
Heatherlea is a limited company, registered in Scotland, and registered to pay VAT (applies to all holidays within the European Union).