About Heatherlea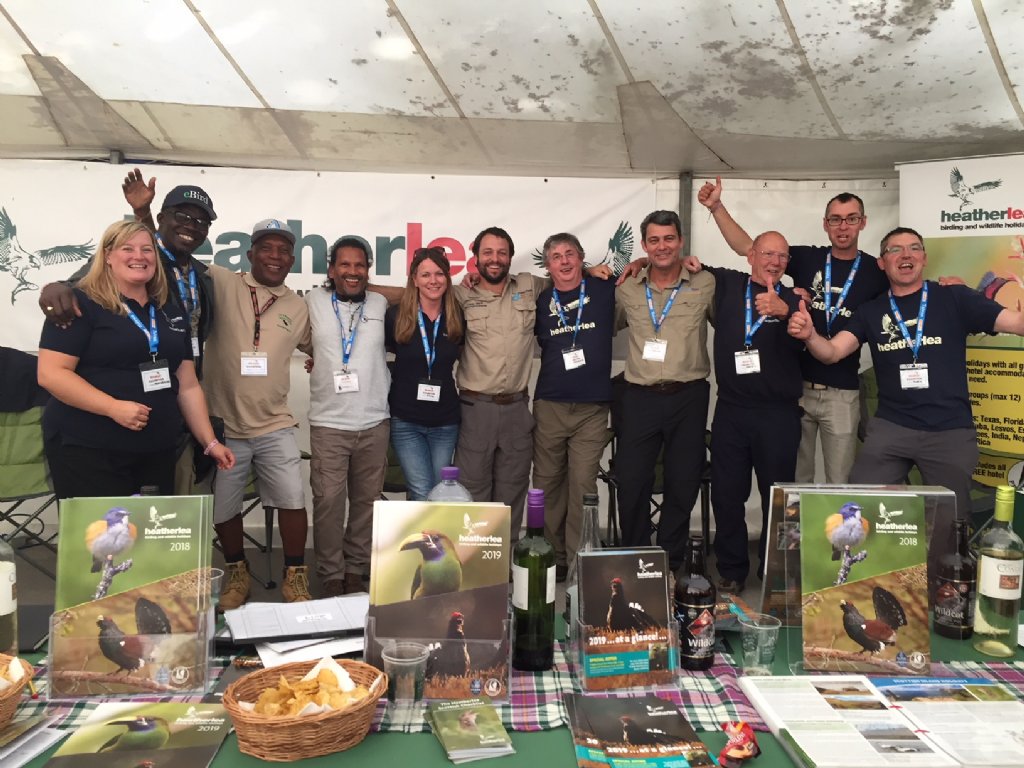 ---
Heatherlea was founded by Kevin and Caryl Shaw in 1991 at Heatherlea Guest House in Boat of Garten, four miles from our current location in Nethy Bridge. We began Heatherlea for the very best reason - we wanted to go birding with you! We have never regretted the move for a minute, it's the best thing we have ever done!
Heatherlea is one of Britain's leading wildlife holiday operators. In 2023 we celebrate our 33rd Anniversary with more choice than ever, both in Scotland and overseas.
Heatherlea is built on a love of wildlife watching, and a real spirit of adventure. There are birds and other animals to marvel at, flora to enjoy and landscapes and culture to savour! We are firmly focused on finding wildlife for you to see, though only in a sensitive and sustainable way, and plan very carefully in advance to give you the best chances, in comfort and safety.
Here at our HQ in Nethy Bridge, our Mainland Scotland groups are small in size, with a high level of personal attention, as we focus on wonderful Scottish birding all year round. Comfortable en-suite rooms, all meals, all transport, access fees and guidance are included, to give you everything you need from our top-rated birding holidays. Many one-week itineraries include brief second-centre destinations, including the Outer Hebrides, Mull or Orkney, giving you great value and the best available use of your valuable holiday time.

Around the Scottish Islands, Heatherlea offer a unique gateway to beautiful, isolated places where wildlife is special, with over 20 fantastic holidays from Islay to St Kilda. Our expert, friendly guides make each experience truly memorable.
Overseas our very popular Pre-flight Service saves you money and makes everything easy. With a maximum of just 12 clients for land-based holidays, the accent is on personal service to you, our valued customer.

---

..............................
"Thanks for your part in the organising of our fantastic trip to Sweden. After Estonia I said that each Heatherlea holiday impossibly gets better than the last and but this is so true this time too. The scenery and hotel were superb. ( I understand Fleur chose it). The breakfast and evening meals were so good and the fresh salad packed lunches made a nice change.
But all credit must go to Toby and Mark for finding us such wonderful birds in quite trying conditions. The round up for our star birds was just impossible with ones like Nutcracker, Siberian Jay, Pygmy owl, Hawk owl, parrot crossbill etc etc. Your guides are all good but these two were just superb. This was no ordinary guiding with the conditions and large distances they found us the star birds safely and with their wonderful good humour. The amount of work involved in taking us down to the site to find the Siberian jays was unbelievable. At all times they checked we were all ok and led down safely. But the experience of seeing the jays along with numerous crested tits and other birds was so memorable."
Mr & Mrs PT - Sweden in Winter
............................
"Can I offer my congratulations to all the team at Heatherlea for hosting reliably good wildlife holidays. This latest one was no exception - in fact it rivalled all the others I have done. Each time I take a Scottish holiday with yourselves it seems like the best though that is probably only because it is the most recent. Well done to you all.
Special thanks go to Jonny and George for their superb knowledge and leadership skills. Jonny's ability to find us birds is outstanding as is (as goes without saying) his knowledge of the area. Many birds were first located by their songs and calls - an admirable skill.
Thank you also for the excellent report so quickly produced."
MS MH - Highlands and Skye
..............................
"Very many thanks for organising such an absolutely wonderful holiday in Kenya. We both thoroughly enjoyed our time there – the wildlife sightings far exceeded our expectations and sorting our photographs will keep us busy for a good few months! Our Kenya guide and drivers were extremely knowledgeable and very caring and were a pleasure to be with. Pete was a great guide for Heatherlea and kept us all on the 'straight-and-narrow'. All-in-all, it was a brilliant experience!"
Mr & Mrs P – Masai Mara Short Break