Sweden for birders in Winter
Winter woodpeckers, owls and other Scandinavian specialities!
Most birders will at some time have dreamt of seeing Scandinavia's specialities, particularly the Owls; here's a brand new birders' trip with a focus on finding them! Exhilarating encounters with these special birds are possible in one of the wildest environments Europe has to offer. Incredible snowy scenes add to the experience, as does the possibility seeing of a host of other top quality species. We will birdwatch mainly in the Taiga forests searching for owls, woodpeckers, raptors and grouse, but also looking for highly sought-after passerines including Nutcracker, Siberian Jay, Great Grey Shrike, Waxwing and Pine Grosbeak. Based centrally not far from Stockholm, we'll also visit the stunning Baltic Coast. Sweden is a vast country with tricky terrain to negotiate at times, so please be aware that lengthy drives and challenging walks requiring a reasonable level of fitness and walking on un-cleared snow tracks are a possibility.

Our top targets will be;
Owls – Pygmy and Northern Hawk are likely, Great Grey, Ural, Eagle, Long-eared, Tawny and Tengmalm's also possible.
Woodpeckers – Six species are readily available – Black, Grey-headed, Green, Three-toed, Great Spotted and Lesser Spotted
Siberian Jay and Nutcracker at feeding stations
Capercaillie, Black Grouse and if we're lucky Hazel Hen
Raptors – Golden and White-tailed Eagles, Rough-legged Buzzard and Goshawk
Great Grey Shrikes, Waxwings and even Arctic Redpolls and Pine Grosbeaks in influx years
Coastal wildfowl including impressive gatherings of Smew
Please note: this is an ambitious list of northern specialities: weather and local conditions will apply as always, and we estimate we might achieve around two-thirds of the key targets.
We won't accumulate a huge bird-list, perhaps 60-70 species (our spring trip offers a much wider range), but the birds we do target are special - Hawk Owl, Siberian Jay and Pine Grosbeak only being available in this region at this time of year. It's definitely quality over quantity, birding in Scandinavia is completely different in winter compared to spring, and at this time, Owls are nomadic and once they find good feeding often become reliable to winter territories. Numbers and species diversity fluctuate, though we stand a good chance of seeing known individuals and also finding our own birds as we explore! We'll divide our time between searching for owls, using the vehicle to drive minor roads, visiting feeding stations and taking forest walks for woodpeckers etc. We'll also spend time on the Baltic Coast where masses of waterfowl gather including Smew and raptors including White-tailed Eagle hunt. Mammals we'll likely encounter include huge European Elk, Roe Deer and Red Fox while a darker variant of our Red Squirrels reside in the woods.
This is one of our 'for birders' holidays, click here to see more!
Day 1: Sat 30 Jan Arrival then Forests of Uppland
Our flight is due in Stockholm mid-morning, and we hope to get into the field quickly and start birding. We'll begin in the nearby forests of Uppland heading straight for target species if available such as owls or Pine Grosbeaks, planning our day around them. This area can also be good for Nutcracker, crossbills, woodpeckers and raptors – a great place to start! Driving forest tracks in these areas will give our first taste of the vastness of the Scandinavian Boreal Forest. Black Grouse are numerous, Capercaillie common, and we could score our first Pygmy Owl here. After time in the forests we make for our hotel, perhaps pausing to take a walk around the Hjastaviken or Arike Fyris nature reserves or maybe Haga Meadows . Both offer great potential, the latter site having supported wintering Great Grey, Ural and Northern Hawk Owls on more than one occasion.
Day 2: Sun 31 Jan Fiby Urskog
Three-toed Woodpecker is our principal target this morning, and we visit nearby Fiby Urskog, a relatively small local forest where we've had good views before. We spend a few hours walking good trails concentrating our efforts on patches of dying spruce trees where Three-toed Woodpeckers forage for their preferred food – the Spruce Bark Beetle. Great Spotted, Green, Black and diminutive Lesser Spotted Woodpecker (of the Scandinavian race minor) are also possible here, as are Common and Parrot Crossbill, Siskin and Crested Tit. The surrounding meadows can be productive too, supporting Great Grey Shrike, Rough-legged Buzzard, Goshawk and eagles. We'll be sure to check any bird feeding stations in and around villages we pass, where many Northern Bullfinch, Greenfinch and Mealy (Common) Redpolls gather, along with smaller numbers of Tree Sparrow, Goldfinch and Yellowhammer with an outside chance of Hawfinch. In the afternoon we relocate to a busy feeding station regularly visited by charismatic Nutcrackers. Black and Grey-headed Woodpeckers are often in the vicinity too and the site offers fantastic, close range photographic opportunities. We might also get our first chance to compare Marsh and borealis Willow Tit – a tricky identification in the UK but no problem here. Crested, Coal, Blue and Great Tit will be common as will Nuthatches (of the white-breasted form europea) and we will be on the lookout for (Northern) Treecreeper and beautiful, white-headed caudatus Long-tailed Tit. Our final few hours will be spent on the hunt for Owls again. The area can be one of the best to search for Great Grey Owl – a number of pairs breed here and are increasingly seen in winter too. We'll try for any known Hawk Owl, and as darkness falls listen out for Tawny, Ural, Pygmy and Tengmalm's Owl calling – the latter being strictly nocturnal but becoming vocal at this time of year.

Day 3: Mon 1 Feb Gastrikland
Today we travel north into Gastrikland, where mile after mile of the almighty Boreal Forest forms an impressive backdrop. It's truly wild here, the snow depth usually greater than in the more populated counties of Uppland and Vastmanland. There's much to do, and we devote time to driving minor roads in the search of our big targets. Hawk Owl are regular (staying to breed in 2016!), and we search for any known birds as well as checking treetops and power lines in clear-fell areas. There's a good chance of Pygmy Owl and we will be on sharp lookout for Ural and Great Grey Owl. Black Grouse are common, gathering in tree-tops to feed, with Capercaillie and Hazel Grouse possible too, though the latter are notoriously tricky to see well. Another reason for coming here is to seek Siberian Jay. Regular birds, likely the most southerly in Sweden, visit a feeding station here and if the track is accessible and news of the bird's attendance is positive, we will attempt to see them. Golden and White-tailed Eagles may be found cruising the skies and Goshawk patrol the forest perimeters. The higher hills here, combined with a habitat of forest and open clearings, can yield Common and Parrot Crossbill and in influx years Pine Grosbeak.
Day 4: Tue 2 Feb Baltic Coast
A change of scenery today as we take our first look at the Baltic Coast. We have a number of good birding options right on our doorstep and taking the ferry to the island of Graso is one of them. We'll be sure to see masses of waterfowl with many hundreds each of Goldeneye, Tufted Duck, Goosander and Long-tailed Duck gathering where the sea remains unfrozen. We'll search for the best ice-free sites with Smew being a top target today. Often in good numbers, stunning white drakes are surely one of the smartest of ducks around! Common and Velvet Scoter also occur in smaller numbers, as do Eider, Red-breasted Merganser and dabbling ducks. Both Steller's and King Eider have been recorded on more than one occasion. White-tailed Eagle and Goshawk patrol the coastline hunting the wildfowl here, so plenty of scope for good birding! It's busy with birds out on the coast and we might well see our only gulls and waders of the trip as pairs return to breeding haunts. As we return to our hotel we take the scenic route, driving minor roads to see what we can find. The local Osthammer region has a strong reputation for Northern Hawk Owl and Pine Grosbeaks in winter - a great, varied day out.

Day 5: Wed 3 Feb Gastrikland/Dalarna County/Garphyttan National Park
Our success thus far with target species (owls, woodpeckers etc) will dictate what we do today. We may choose to re-visit local sites or return north into Gastrikland or perhaps head further afield. We could venture north-west into Dalarna County where an otherwise flat landscape suddenly becomes more mountainous. It's a stunning area at this time of year with vast forests and waterbodies (often frozen) – the view over the massive Lake Siljan being one of the best in Sweden! Hillier ground offers more rivers and these can be checked for Black-bellied Dipper, Kingfisher and possibly Otter. If we've done well with targets there may be a chance to try and find some mountain species such as Ptarmigan or Willow Grouse – a real bonus. Western Vastmanland is another option and here we can visit Garphyttan National Park where a series of easy going woodland trails and feeding stations can yield all of the native woodpeckers! Grey-headed in particular often show well, while a male White-backed Woodpecker (rare in Sweden with just a handful of records annually) was well watched at this site through winter 2017/18. Northern Hawk and Great Grey Owls can take up winter territories in the forest clearings within both regions, while a number of urbanised Eagle Owl pairs are also known.

Day 6: Thur 4 Feb Norrtalje then Deprture
With an evening flight we have time for birding, so drive south-east to the Norrtalje coastal region, another top area, with large gatherings of wildfowl possible from a number of harbours and view-points. Long-tailed Duck in particular can show well, as can Smew, and if time permits we'll take a local ferry out onto smaller islands to explore. A number of international ferry routes operate through this area and help to guarantee largely ice free, open water even when Sweden is at its coldest. Returning inland we'll be on the lookout for ice-free lakes – and more exposed fields. Lake Norrby and its surrounding fields are good places for waterfowl, farmland birds and winter thrushes. We may find Twite and Snow Bunting or even Arctic Redpoll in with the finch flocks or Bearded Tit and locally scarce Water Rail sometimes the reed-beds. Whooper Swan and flocks of European White-fronted and Taiga Bean Geese might be found feeding in the fields. Rough-legged Buzzard will be possible throughout the day as will Great Grey Shrike and Waxwing as we near urban areas. A fine way to finish.
Please note: all itineraries are given as a guide only. Actual holiday content may vary according to the judgement of your guide, and elements beyond our control (eg weather).
Please note: all itineraries are given as a guide only. Actual holiday content may vary according to the judgement of your guide, and elements beyond our control (eg weather).
What's included in your holiday price:
return scheduled flight from London Gatwick – Arlanda Airport, Stockholm, airport taxes, baggage and hand luggage up to airline included limit.
airport transfers, ground transportation, accommodation and meals as specified.
the services of Heatherlea leaders.
The Heatherlea Pre-Flight Service offers everything you need at the airport, including hotels, car parking, airport lounges, regional flights, and upgrades. Let Heatherlea take the strain! Pre-flight airport hotel and lounge included free of charge subject to terms and conditions. Read more....
What's not included in your holiday price:
travel to and from departure airport before and after holiday, in-flight meal, baggage above airline included limit.
incidental tips, expenses of a personal nature including drinks and personal insurance.
More Holiday Information:
Accommodation is in a very comfortable hotel with all rooms en suite.
Food: will be traditional Swedish cuisine. Breakfast is continental style, typically consisting of cereal, toast, jam, fruit juice and tea or coffee. Sometimes a hot, cooked option is also available. Picnic lunches will be provided by our hotel, and will include bread, cheese, cold meats, fruit, biscuit/cake and soft drinks. Typical foods in Sweden are black bread, pork, potatoes and dairy products and Mushrooms and forest berries often feature. Vegetarian and other diets are welcome.
Walking A good level of fitness is essential in order to be able to enjoy this holiday to the full. We will spend a reasonable amount of time walking through the forest and due to the nature of the environment you may be required to walk through un-cleared snow tracks. Walking poles may be useful!
Weather: We hope for beautiful, cold, clear nordic conditions, but be prepared for low temperatures, wind, snow, sleet or rain! We will be spending time in snowy forests and on windswept coasts; it is therefore vital to have suitable clothing and equipment. The temperature can change quickly, so layered, thermal clothing is recommended.
Insects: biting insects are not expected.
Group size is restricted to 12 clients maximum.
Flights are by scheduled airline, from London Gatwick. We may be able to offer flight arrangements from another airport and/or or quote without flights so you can make your own arrangements. If you wish to add an extension either before or after your holiday, please contact us and we will be happy to arrange this for you.
Your Leaders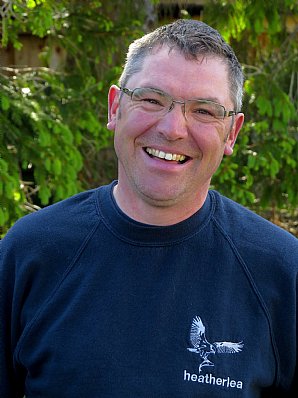 Toby Green
Toby Green is a very experienced birder, both in Scotland and Overseas. Immensely popular with our groups and his fellow guides, Toby is a top birder with a great sense of humour and endless enthusiasm, and we know you will enjoy birding with him in Sweden. Toby will join this group with more than 7 clients on the tour.
Why choose Heatherlea for your birding and wildlife holiday in Europe?
Our overseas holidays are planned with care to offer great birding and wildlife, led by capable Leaders who really look after you. Every holiday is run the 'Heatherlea Way', and we hope our Overseas Adventures remind you of the quality and care so many of you enjoy in Scotland. That means rewarding and exciting days in the field, and good quality accommodation and meals, with a real flavour of the country we are visiting. Heatherlea always seek to include the personal touches that make all the difference.
Heatherlea holidays are not 'dawn to dusk' expeditions. Our less-intensive approach is ideal for those who want to relax whilst experiencing the best wildlife watching, and wherever possible we organise early or late activity on an optional basis. We also take sensible breaks when in very hot places and regular comfort breaks on every holiday whenever possible. All itineraries are planned carefully around the best wildlife opportunities, and you won't miss out on memorable wildlife, whilst enjoying relaxed, informal days that are great fun.
The really important part of any wildlife holiday is the experience for you, our valued customer. Heatherlea invest in many things to offer you the best possible service;
We have been organising birding and wildlife holidays for over 30 seasons, and have a highly experienced and capable office team. We also offer a telephone and email service outside normal office hours.
Heatherlea overseas holidays have a maximum of 12 clients per trip, putting the emphasis on personal service, and helping you get the best possible experience.
Our holidays often include things which others might invite you to pay yourself, for instance Departure Taxes and tips to hotels.
All elements of our holidays are sold under our own licence, ATOL 6113. Under 'Flight-Plus' legislation it is a legal requirement of any tour operator to hold an ATOL licence for the supply of any overseas holiday where a flight is involved, if that holiday includes either overseas accommodation and/or car hire. It can be a criminal offence for an operator to book flights as part of a package without an ATOL licence. Heatherlea also hold full Tour Operator Insurance for your added protection.
Heatherlea is your complete wildlife holiday provider. Our 'Back Office' team can organise all your pre-flight and other travel needs. Our specialists will help you book the right services, at the best price. Book holiday extensions through us, and your ATOL protection is extended further. We don't charge extra for this service.
Heatherlea is a limited company, registered in Scotland, and registered to pay VAT (applies to all holidays within the European Union).
Trip Reports