CANARIES – Tenerife, La Gomera and Fuerteventura
A comprehensive tour of the speciality birds
Dates

22 Feb - 29 Feb 2020
20 Feb - 27 Feb 2021

Destination
Duration
8 Days
Focus
Guides
Max Group Size
6 per guide
2020 Price

£2295 pp

£195 single supplement.

Deposit £300. 2021 Price TBC.

pre-flight airport hotel and lounge are inc.
A new and exciting experience in the Canaries as we explore three of the seven islands of the archipelago. We have a focus on the endemics, interesting subspecies and races, and also focus on seabirds and desert species otherwise found in North Africa. There are also a few Macaronesian species which can be only seen here or in the Azores or Madeira. Besides birds, we will see a rich panoply of flora, reptiles, sea mammals and other wildlife. The islands are all volcanic in origin and offer a spectacular landscape of volcanoes, lava fields and rocky coasts, giving a valuable scenic aspect to our tour as well as the prospect of excellent birding throughout.
Tenerife - We spend the first part of our holiday here, on the largest and most spectacular of the Canary Islands, to find a number of the key species on our list of targets. Tenerife is the best location for the two endemic laurel pigeons, Bolle's Pigeon and Laurel Pigeon, and also of great interest are the unique Blue Chaffinch (one of Europe's rarest passerines), Common Canary, local races of Great Spotted Woodpecker and European Robin, and endemic sub-species tintillon Common Chaffinch, teneriffae Goldcrest, teneriffae Blue Tit and Canary Islands Chiffchaff.

La Gomera - A small island where the original laurel forest remains very well preserved. Crossing by ferry is itself is a good experience, with Petrels and Shearwaters often seen, along with Dolphins and Pilot Whales. La Gomera boasts large populations of the two laurel pigeons, plus other laurel forest birds. we visit on a daytrip from our base on Tenerife.
Fuerteventura – Situated just 100km off of the Moroccan coast, Fuerteventura is essentially an extension of the Sahara Desert in the Atlantic Ocean. It is extremely arid and mainly covered with shrub steppe, sand dunes and other desert habitats. This island is valuable to birders for the endemic Canary Island Chat, and desert species such as Egyptian Vulture, Barbary Falcon, Barbary Partridge, Houbara Bustard, Cream-coloured Courser, Lesser Short-toed Lark, Spectacled Warbler and Trumpeter Finch. An exciting and often very rewarding birding location, and a fitting final place as our final destination!
Day 1: Sat 22 Feb Arrival then Pinewood Birding
We enjoy our complimentary airport lounge before boarding our flight to Tenerife South airport and drive to our hotel. After check-in we will explore the surrounding pinewoods where we hope to see our first Plain Swift, Berthelot's Pipit and Canary Islands Chiffchaff. Overnight for four nights at Villaflor.
Day 2: Sun 23 Feb Teide Mountain Forests and Foothills
This morning we head up to the pine forests below Teide Mountain. In these forests, we will seek out endemic Blue Chaffinch, African Blue Tit and wild Common Canary. Other interesting species present include the endemic sub-species of Great Spotted Woodpecker, Kestrel and Rock Dove. Five of the endemics, Canary Chiffchaff, Canary Islands Kinglet, Plain Swift, Berthelot's Pipit and Common Canary are quite common in the pinewoods and surrounding areas. The foothills around Teide peak are a stunning mixture of sand, stones and semi-desert vegetation, a unique combination of habitats.
Day 3: Mon 24 Feb Anaga Peninsula, Bailadero and Pigeons
We concentrate on the wonderful wild side of Tenerife, away from the resorts and their many visitors. Tenerife holds large areas of laurel forest where we seek the two endemic pigeons, Bolle's and Laurel Pigeons. Today we will explore de Anaga peninsula, to the east, one of the most well preserved native cloud forest in this island. Besides pigeons we will look for Canary, European Serin, Canary Islands Chiffchaff and the endemic sub-species of Common Chaffinch and European Robin. We will also visit the Bailadero view point, another good area for pigeons and for Barbary Falcon.
Day 4: Tue 25 Feb La Gomera
We cross by ferryboat from Tenerife to La Gomera. The crossing offers us the opportunity for sea-watching, and Cory´s and Manx Shearwater, Short-finned Pilot Whale and Bottle-nosed Dolphin could be spotted during the crossing. On arrival we explore the island of Gomera and its Garajonay National Park, a small but attractive laurel forest surrounded by volcanic formations named "puntas" where the endemic Bolle's and Laurel Pigeons occur. We walk along a river in the heart of the National Park where the prehistoric ambience is magnified by the dense laurel forest, the silence only being broken by the song of Canary Chiffchaff and Blue Tit. We return to Tenerife in the late afternoon.
Day 5: Wed 26 Feb Tenerife to Fuerteventura
Today we transfer both hotel and island. We drive north east to the airport Tenerife Norte, though if we have time we will divert en-route to the airport to Mirador de la Grimona and Barranco de Ruiz, for our last Bolle's and Laurel Pigeons. After a 30-minute flight we land in Fuerteventura, the most arid island of the archipelago. After checking into our hotel we will explore nearby dry grasslands for our first Spanish Sparrows, Spectacled Warblers, Lesser Short-toed Lark, Trumpeter Finch and endemic Fuerteventura Stonechat. Check-in to a hotel in La Oliva for three nights.
Day 6: Thu 27 Feb Tindaya Mountain
Today we will explore the desert and shrub-steppes around Tindaya mountain, where we will find interesting species such as Black-bellied Sandgrouse, Houbara Bustard, Stone Curlew, Cream-coloured Courser, Lesser Short-toed Lark and Trumpeter Finch. We may also visit the reservoir at Los Molinos to look for Ruddy Shelduck and other waterbirds.
Day 7: Fri 28 Feb Southwest Fuerteventura's Valleys and Desert
We drive southwest to Betancuria, an hilly area of dramatic landscapes of huge rocks and deep valleys. Here we will seek African Blue Tit, Laughing Dove, Fuerteventura Stonechat, Sardinian Warbler, Southern Grey Shrike, Egyptian Vulture and Monarch butterfly. We will end our day in the sand desert between Costa Calma an La Parede, for more Black-bellied Sandgrouse and Houbara Bustard.
Day 8: Sat 29 Feb Coastal Adventures then Departure
Our last morning, and we visit the Salinas del Carmen and Barranco de la Torre, for waders including Kentish Plover, Turnstone and Whimbrel, and our last Fuerteventura Stonechat. Around midday we will catch our flight home.
Please note: all itineraries are given as a guide only. Actual holiday content may vary according to the judgement of your guide, and elements beyond our control (eg weather).
What's included in your holiday price:
return scheduled flight from London Gatwick - Tenerife - Fuerteventura - Gatwick. Airport taxes, baggage and hand luggage up to airline included limit.
airport transfers, ground transportation, accommodation and meals as specified.
the services of Heatherlea leaders.
The Heatherlea Pre-Flight Service offers everything you need at the airport, including hotels, car parking, airport lounges, regional flights, and upgrades. Let Heatherlea take the strain! Pre-flight airport hotel and lounge included free of charge subject to terms and conditions. Read more....
What's not included in your holiday price:
travel to and from departure airport before and after holiday, in-flight meal, baggage above airline included limit.
incidental tips, expenses of a personal nature including drinks and personal insurance.
More information
Accommodation: in very comfortable hotels with all rooms en suite.
Food: Typical Spanish food to a very good standard, and with a wide choice. Vegetarian and other diets are welcome.
Walking: The holiday is not strenuous. Walking can be described as generally very easy, on roads, paths and tracks.
Weather: Typically, temperatures will range from 16 - 23ºC in the "heat" of the day. Sunshine should be plentiful, but wind, clouds, and rain are possible. Cold weather is unlikely but possible. The Canaries can frequently be windy.
Insects: biting insects are not expected, though there are a few mosquitos at this season.
Group size: is restricted to 12 clients maximum.
Flights: are by scheduled airline, from London Gatwick. We may be able to offer flight arrangements from another airport and/or or quote without flights so you can make your own arrangements. If you wish to add an extension either before or after your holiday, please contact us and we will be happy to arrange this for you.
Your Leaders:
Dave Pullan is a very experienced and dedicated birder who will delight you with his expertise on this holiday. Dave is very much looking forward to your company on this trip.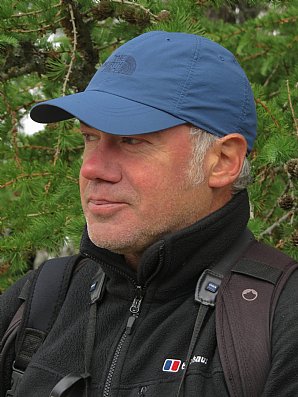 Dave Pullan
Why choose Heatherlea for your birding and wildlife holiday in Europe?
Our overseas holidays are planned with care to offer great birding and wildlife, led by capable Leaders who really look after you. Every holiday is run the 'Heatherlea Way', and we hope our Overseas Adventures remind you of the quality and care so many of you enjoy in Scotland. That means rewarding and exciting days in the field, and good quality accommodation and meals, with a real flavour of the country we are visiting. Heatherlea always seek to include the personal touches that make all the difference.
Heatherlea holidays are not 'dawn to dusk' expeditions. Our less-intensive approach is ideal for those who want to relax whilst experiencing the best wildlife watching, and wherever possible we organise early or late activity on an optional basis. We also take sensible breaks when in very hot places and regular comfort breaks on every holiday whenever possible. All itineraries are planned carefully around the best wildlife opportunities, and you won't miss out on memorable wildlife, whilst enjoying relaxed, informal days that are great fun.
The really important part of any wildlife holiday is the experience for you, our valued customer. Heatherlea invest in many things to offer you the best possible service;
We have been organising birding and wildlife holidays for over 30 seasons, and have a highly experienced and capable office team. We also offer a telephone and email service outside normal office hours.
Heatherlea overseas holidays have a maximum of 12 clients per trip, putting the emphasis on personal service, and helping you get the best possible experience.
Our holidays often include things which others might invite you to pay yourself, for instance Departure Taxes and tips to hotels.
All elements of our holidays are sold under our own licence, ATOL 6113. Under 'Flight-Plus' legislation it is a legal requirement of any tour operator to hold an ATOL licence for the supply of any overseas holiday where a flight is involved, if that holiday includes either overseas accommodation and/or car hire. It can be a criminal offence for an operator to book flights as part of a package without an ATOL licence. Heatherlea also hold full Tour Operator Insurance for your added protection.
Heatherlea is your complete wildlife holiday provider. Our 'Back Office' team can organise all your pre-flight and other travel needs. Our specialists will help you book the right services, at the best price. Book holiday extensions through us, and your ATOL protection is extended further. We don't charge extra for this service.
Heatherlea is a limited company, registered in Scotland, and registered to pay VAT (applies to all holidays within the European Union).
Trip Reports