HEATHERLEA GUIDES
Wildlife watching in Scotland is best in the company of outstanding guides with up-to-date local information. Scotland is a big country with a wealth of open space, and whilst guidebooks can be very helpful, you have much better chances of seeing the key birds with the help of a Heatherlea Guide, the majority of whom live just a short distance away from our hotel and who take personal trips across the region in their spare time. This is no empty claim: we know it's true, because our guests keep telling us!
Take a look at our team, our experience, background and qualifications. We don't think you can do better than a Heatherlea guide.
Enjoy an excellent birding and wildlife holiday with Heatherlea.
Mainland Scotland's FIRST '5-Star Wildlife Experience!'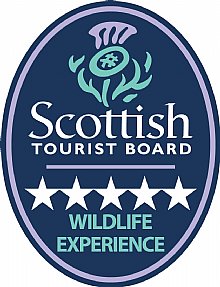 'Exceptional'
Visit Scotland
HEATHERLEA GUIDING – it makes all the difference!