Spain: Picos de Europa Mountains
Birding and Cantabrian Brown Bears in the Somiedo and Picos de Europa National Parks!
| | |
| --- | --- |
| Destination | |
| Focus | |
| Max Group Size | 7 |
THIS PAGE IS UNDER CONSTRUCTION - MORE INFO COMING SOON!
Full details shortly. If you wish to register an interest by email, we will inform you when the page is complete.
This holiday is an exciting wildlife experience, as we target some of Spain's most sought after montane and forest birds coupled with excellent chances of seeing Iberian Brown Bear in the wild.
This is a two centre holiday, with our first base is in the stunning Somiedo Nature Park, where we target Brown Bear and raptors including Egyptian Vulture, Short-toed Eagle and Booted Eagle. Other birds of note might include Blue Rock Thrush, Woodlark, Crested Tit, Short-toed Treecreeper, Golden Oriole, Water Pipit, Rock Bunting, Firecrest and Black Woodpecker.

In the evening and again in the early morning we go bear watching. We are searching for Iberian Brown Bears seen in their wild environment. On this holiday there is no use of hides or maize/honey baiting. This means we may take longer to find them than under artificially controlled conditions, but the genuine natural experience is worth the effort. We use optics to view the bears, and we respect their wild status. Other mammals here will include Red and Roe Deer and Chamois, and could include Wildcat (seen twice in 2015 and 2016!) Wild Boar and Fox.
Our second base is high in the Picos de Europa, where we will be birding for key species including Snowfinch, Wallcreeper, Alpine Accentor, Red-billed Chough and Alpine Chough. The scenery is spectacular, walking relatively easy, and the birding promises to be memorable.
We stay in family-run hotels to experience a real feel of Spain. Your leader Sergi is an experienced birder in this part of the world, with excellent local contacts for birds and bears. Those Heatherlea clients who have enjoyed our Catalonia and Ebro Delta holidays with Sergi should have a feeling of deja-vu on this relaxed and exciting itinerary!
Day 1: Sat 7 September 2024- Arrival, transfer to the Somiedo National Park
Arrive from London to Northern Spain where we will be met by our guide Sergi Sales. We then transfer to a delightful village in the heart of the Somiedo National Park, surrounded by lofty limestone peaks where Griffon Vultures are almost a constant presence. This is our base for the next four nights. We may make some birding en-route in a variety of habitats, though our priority will be to get to the National Park as the weather can be changeable and we need to maximise our wildlife watching opportunities. We stay in a family run hotel within the Somiedo Nature Park.
Day 2: Sun 8 September - Brown Bears and Birds
We start searching for Brown Bears straight away, working in concert with advice given by the Spanish Bear Foundation and local rangers in the area. There are several viewpoints where we might see up to four bears at once, but local, current knowledge is absolutely vital as the bears cover large territories. At this time of year these bears traditionally feed on hillsides above the forestline browsing on berries and fruits which they find on low bushes and small trees. Telescopes will be used to view bears from an undisturbed distance.
Whilst on our bear hunt we will keep an eye open for raptors overhead, and birds of meadow and scree slope. We can expect Short-toed and Booted Eagle, Crag Martin, Hobby and Peregrine Falcon, Raven, Red-billed Chough and Rock Bunting. Depending on recent sightings, we will take a short trip to search for bears either before or after our evening meal. Almost all of our bear hunt excursions are optional, though of course highly recommended!
Day 3: Mon 9 September - Birdwatching in Somiedo
Another day spent in the NP enjoying changes of location near to open rocky hillsides favoured by Iberian Bears. On the craggy peaks and slopes we search for Griffon Vulture, Blue Rock Thrush, Black Redstart, Northern Wheatear and Water Pipit, Booted Eagle and perhaps late-staying Montagu's Harrier, White Stork, Red-backed Shrike and Ortolan Bunting with chances of Hoopoe, Melodious Warbler and Golden Oriole. Please note that many breeding species will now be preparing to move south, so this is an exciting time for early migration with no species guaranteed! After lunch, we drive to another part of the mountains for Brown Bear watching, with Iberian Chiffchaff and Bonelli's Warbler in the rich mixed woodlands, together with other raptors and passerines. Maybe Chamois and Red Deer will be seen on the rocky mountain slopes.
Day 4: Tue 10 September - River Valleys and Mountain Streams
Depending on success to date, we continue searching for bears and also investigate beautiful river valleys and secluded woodlands to explore for more birds, including Woodlark, Red-backed Shrike, Black, iberiae Green and Great-spotted Woodpecker, Golden Oriole, Jay, Melodious Warbler, Short-toed Treecreeper, Crested Tit and Firecrest. Grey Wagtails and Dippers may be spied in the rivers and one of our guides once caught a Desman here (a shrew that dwells in fast mountain streams). Butterflies abound in meadows carpeted with an array of flora still out - this is a naturalists paradise!
Day 5: Wed 11 September - Picos de Europa
Today is a transfer day from Somiedo to Picos de Europa, stopping at some good birding at hotspots en-route, with good chances of Golden Eagle. On reaching Potes we head west along a quiet alpine road to the quaint village of Espinama, aiming to check into our delightful family-run hotel by 6pm, followed by orientation, checklist and dinner with wine at about 8pm. We stay for three nights here.
Day 6: Thurs 12 September - Fuente De Birding
Today we head for the heights with very little road travel. We aim to take the short, swift and spectacular cable-car ride up the mountain of Fuente De. In this beautiful mountain scenery, birding should be relaxing on easy tracks with a really good chance of alpine species such as Wallcreeper, Alpine Chough, Alpine Accentor, all within a small area. Another top target here is the Snowfinch, but sightings are almost entirely dependent on the temperatures at the top. We may be able to add other quality species such as Black Redstart, Rufous-tailed Rock Thrush, Water Pipit, Griffon Vultures and eagles. We might even see a Lammergeier! After dinner in the hotel we can take a stroll nearby to listen for owls.
Day 7: Fri 13 September - Valley Birding
Another gentle day spent in glorious scenery. In the morning we can explore the local area on foot, finding any extra birds which in the village will probably include warblers and flycatchers. Later on we use vehicles to slowly explore some of the tracks and roads locally within the valley. The mixed habitat of river, woodland and meadows increases our chance of finding Dipper, Middle-spotted and Black Woodpecker and overhead we have chances of Egyptian Vulture and Golden Eagles. The limestone crags here are truly stunning, with picturesque mountain villages with a slow and relaxed pace of life. It is often the scenery and landscape that ranks highly in our guests highlights.
Day 8: Sat 14September - Departure
Depending on the flight schedule, it may be possible to have a leisurely drive back toward the north coast. We may stop in La Hermida Gorge, beside a lively river where Dippers can be seen. Check-in at Airport, depart for UK.
Please note: all itineraries are given as a guide only. Actual holiday content may vary according to the judgement of your guide, and elements beyond our control (eg weather).
What's included in your holiday price:
scheduled return flights between London and Asturias, including all airport taxes.
ground transportation as outlined including all transportation in Spain in a modern air-conditioned vehicle,
accommodation and all meals, including breakfast, lunch and dinner.
the services of your leaders and the assistance from various rangers within the National Parks.
entrance fees to parks and reserves, and tips to hotels and restaurants.
The Heatherlea Pre-Flight Service offers everything you need at the airport, including hotels, car parking, airport lounges, regional flights, and upgrades. Let Heatherlea take the strain! Pre-flight airport hotel and lounge included free of charge subject to terms and conditions. Read more...
What's not included in your holiday price:
personal insurance, most alcoholic drinks and other personal expenses, optional tips to the driver and local guide, and any other costs not specified as 'included'.
More Holiday Information
Accommodation is in comfortable hotels or guest houses with all rooms en suite.
Food and drink. Toast, jams and preserves, yoghurts and fruit are available for breakfast, they tend to be rather Spartan (which is typical for Spanish mountain hotels) though each hotel varies slightly with eggs, cheese and cold meat as alternatives. Most days we will take a packed lunch from our hotels to allow as much field time as possible. We will make stops for coffee and formal facilities at least once a day too. Cold, bottled water will be provided. Vegetarian and other diets are welcome.
Walking is generally light/moderate. There will be some uphill track and road walking, though generally an average level of fitness is required. When bear watching we will drive to the locations that offer us the best chances (based on information which we receive daily), but may then need a walk to the numerous viewpoints where underfoot conditions can be variable.
Weather. Temperatures will vary from 6 - 12 degrees C in the cooler mornings when out bear spotting, but will quickly rise as the day goes on. Temperatures between 19-26 degrees C are the norm for this time of year. Hot summer weather in the mountains can lead to thunderstorms and heavy rain, especially in the afternoon and evening, though when we are in the high passes any wind will often feel cold. As we are in the mountains, the weather can be changeable at short notice.
Insects. There may be biting insects at times, so a good mosquito repellent is recommended.
Group size is restricted to 12 clients maximum.
Flights are by scheduled airline, from London.
YOUR GUIDE
Sergi Sales - Sergi is an outstanding birder, specialising in the birds of Spain, Ebro Delta and steppe areas of his native Catalonia. Able to readily identify virtually everything he sees or hears, Sergi is a fount of knowledge about birding in his native country and a valuable addition to our holiday team.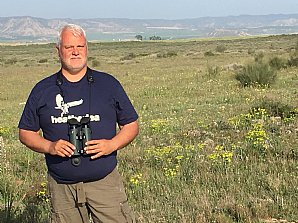 Why choose Heatherlea for your birding and wildlife holiday in Europe?
Our overseas holidays are planned with care to offer great birding and wildlife, led by capable Leaders who really look after you. Every holiday is run the 'Heatherlea Way', and we hope our Overseas Adventures remind you of the quality and care so many of you enjoy in Scotland. That means rewarding and exciting days in the field, and good quality accommodation and meals, with a real flavour of the country we are visiting. Heatherlea always seek to include the personal touches that make all the difference.
Heatherlea holidays are not 'dawn to dusk' expeditions. Our less-intensive approach is ideal for those who want to relax whilst experiencing the best wildlife watching, and wherever possible we organise early or late activity on an optional basis. We also take sensible breaks when in very hot places and regular comfort breaks on every holiday whenever possible. All itineraries are planned carefully around the best wildlife opportunities, and you won't miss out on memorable wildlife, whilst enjoying relaxed, informal days that are great fun.
The really important part of any wildlife holiday is the experience for you, our valued customer. Heatherlea invest in many things to offer you the best possible service;
We have been organising birding and wildlife holidays for over 30 seasons, and have a highly experienced and capable office team. We also offer a telephone and email service outside normal office hours.
Heatherlea overseas holidays have a maximum of 12 clients per trip, putting the emphasis on personal service, and helping you get the best possible experience.
Our holidays often include things which others might invite you to pay yourself, for instance Departure Taxes and tips to hotels.
All elements of our holidays are sold under our own licence, ATOL 6113. Under 'Flight-Plus' legislation it is a legal requirement of any tour operator to hold an ATOL licence for the supply of any overseas holiday where a flight is involved, if that holiday includes either overseas accommodation and/or car hire. It can be a criminal offence for an operator to book flights as part of a package without an ATOL licence. Heatherlea also hold full Tour Operator Insurance for your added protection.
Heatherlea is your complete wildlife holiday provider. Our 'Back Office' team can organise all your pre-flight and other travel needs. Our specialists will help you book the right services, at the best price. Book holiday extensions through us, and your ATOL protection is extended further. We don't charge extra for this service.
Heatherlea is a limited company, registered in Scotland, and registered to pay VAT (applies to all holidays within the European Union).