Estonia
A Baltic Birding Bonanza, superb Eastern breeding birds and thousands of Northern migrants!
Dates
Destination
Duration
8 Days
Focus
Guides
Max Group Size
6 per guide
2020 Price

£2095 pp

£165 single supplement.

Deposit £300. 2021 Price TBC.

pre-flight airport hotel and lounge are inc.
Estonia has become one of Europe's very best destinations for birdwatchers. More than 200 bird species breed, and in spring a heavy passage of wildfowl and waders occurs along the Baltic Sea coast heading north - a real Baltic birding bonanza.
On this well planned adventure, we will stay at three different locations, giving us the best possible chances on finding those northern and eastern specialities, with Red-necked Grebe, Taiga and Tundra Bean Geese, Caspian, Black and White-winged Black Terns, White-tailed, Lesser and Greater Spotted Eagles, Montagu's Harrier, Hazel Grouse, lekking Great Snipe, possibly Broad-billed Sandpiper, Temminck's Stint, Corncrake, Black and White Storks, Pygmy and Ural Owls, White-backed, Grey-headed, Black and Three-toed Woodpeckers, Red-backed and Great Grey Shrikes, Thrush Nightingale, Savi's, Marsh, Icterine and River Warblers, Citrine Wagtail, Red-breasted Flycatcher, Penduline Tit, Nutcracker, Common Rosefinch and Ortolan Bunting amongst our targets.
Estonia is the smallest and least populated of the three Baltic states that achieved independence from the Soviet Union in 1991. About 10% of the country is legally protected for conservation reasons, typified by coast, wetlands and forests. There are thousands of ponds, marshes, bogs and lakes and nearly 1,000 offshore islands and islets. About 40% of the land mass is covered by forest, 20% by bog, and the farmland is often managed in a low-intensive manner with many acres of hand-mown meadows and lush pastures. This picturesque rustic scenery only enhances the charm of this little known country, and we aim to explore each habitat thoroughly to bring you the very best of Baltic birds.
Photo Credits: Thank you to Heatherlea guests Nigel Sprowell and Alan Woodward for providing many of the photos on this page.
Enjoy your complimentary pre-flight overnight hotel before your holiday begins. Full details from our office!
Day 1: Mon 11 May Arrival and transfer to Haapsalu
After a relaxing introduction to our holiday in our VIP Airport Lounge, we fly from London Gatwick to Tallinn. We then transfer to our first base at Haapsalu, making several birding stops en route. Once out of the city the country is very rural and not densely populated at all. We can expect White Stork, Whooper Swan, Greater Scaup, Baltic Gull, Common Crane as well as a few raptors. We are based by Haapsalu Bay which is good for for a range of ducks plus Slavonian Grebe, White-tailed Eagle and Little, Sandwich and Caspian Terns. Overnight Haapsalu.
Days 2 and 3: Tues 12 May and Wed 13 May Matsula Bay and Spithami
An early start, as we head to Pöösaspea to watch migration in the Ramsar recognised Matsula Bay area. There should be thousands of birds on the move here including Red-throated and Black-throated Divers, Dark-bellied Brent and Barnacle Geese, Smew, Long-tailed Duck, Common and Velvet Scoters and waders We spend the rest of the day exploring sites around Matsalu Bay. This is a huge, shallow bay on the Baltic coast, which hosts more than high numbers of ducks, geese and Common Cranes each spring. Raptors include White-tailed Eagle and Montagu's Harrier. Adjacent freshwater wetlands have breeding waders and reedbed species. Deciduous and mixed forests are home to grouse, owls, Black and White-backed Woodpeckers, the rare Parrot Crossbill, Ortolan Bunting and Nutcracker. Woodcock will be roding and Hazel Grouse possible, too. Another excursion will be to the Spithami headland from where Barnacle Geese, Whooper and Bewick's Swans, sea-duck, terns, divers and grebes can be seen. Other sites to visit include Leidissoo for more chances of Hazel Grouse, Crested Tit, Woodlark and Common and Parrot Crossbill and Sutlepa for Bittern, White-tailed Eagle, Spotted Crake, Thrush Nightingale and Savi's Warbler. Other possibilities include Red-breasted Goose, Lesser Spotted Eagle, Ruff, Spotted Redshank, Temminck's Stint, Penduline Tit and Hawfinch. We have two full days in the Matsalu Bay area and there will be plenty of sites and birds to keep us busy here. Overnight Haapsalu.
Day 4: Thurs 14 May Pärnu Bay
Today we have an optional pre-breakfast trip for forest birds, before we drive south towards Pärnu Bay. We pass by lakes, through some the old-growth forests, stopping to bird as we go at various easily-worked roadside sites. In the afternoon we may explore the Audru wetlands if the adjacent large fields are flooded and thus hosting passage geese such as Taiga Bean Goose and Greater White-fronted Goose, with other attractions such as Garganey. We will also look for a real eastern breeding species, Citrine Wagtail. After arrival at our next lodging and dinner, there will an optional evening foray to look and listen for Ural and Pygmy Owl, though these species are increasingly difficult to find in Estonia. We spend the night near Pärnu.
Day 5: Fri 15 May Soomaa National Park
A morning visit to Soomaa National Park will offer us a good chance of grouse and woodpeckers. Potentially Capercaillie, Black and Hazel Grouse, Wryneck, Lesser Spotted, Three-toed, White-backed, Grey-headed and Black Woodpeckers can be seen in this extraordinary region. The peat-bogs, pools and lush mature forest habitats here are also home to European Beaver and Elk, and we have a decent chance of seeing them both. Later we will continue our exploration of what will now be the familiar Estonian bird habitats of old forests dotted with wetlands. Other mouth-watering species found in this region include Goshawk, Golden Oriole, Lesser Spotted, Golden and White-tailed Eagles, Black Stork, Corncrake, Great Reed, River and Savi's Warblers, Penduline Tit and Common Rosefinch. Once more, we spend the night near Pärnu.
Day 6: Sat 16 May Tartu
Today we head inland and eastwards through rural Estonia to Tartu making several birding stops. During the day we hope to see a host of waders plus Black and Grey-headed Woodpeckers, Thrush Nightingale, Grasshopper, Marsh, Barred and Icterine Warblers, and both Red-backed and Great Grey Shrikes. The forests here strongly resemble those of the Fenno-scandic and Siberian taiga belt and offer our best opportunity of the more northerly woodland species such as Three-toed Woodpecker. We spend the night in Tartu.
Day 7: Sun 17 May The Aadrapalu Polder and Ilmatsalu
We spend the morning at the Aadrapalu polder and Ilmatsalu fishponds. Northern waders such as Temminck's Stint, Red-necked Phalarope and Broad-billed Sandpiper are possible here. Then we spend time raptor watching, in particular looking out for Greater Spotted Eagle, another special species and one which our guide has good sites for. There will also be more White-backed Woodpecker habitat to search and Red-breasted Flycatcher possibly, too. There are some fine wild wetland habitats in the area, including bogs and wet meadows where Great Snipe are found. We will go out one evening to observe these birds at a lek - an increasingly rare privilege in Europe as modern intensive farming methods take over. Woodcock, Jack Snipe and owls are again possible in the twilight. We spend our final night in Estonia once again in Tartu.
Day 8: Mon 18 May Departure
Today we return to Tallinn in order to catch our flights home. If time allows, we will make several birding stops on the way to the airport as we head north-west through the Estonian countryside
Please note: all itineraries are given as a guide only. Actual holiday content may vary according to the judgement of your guide, and elements beyond our control (eg weather).
What's included in your holiday price:
scheduled return flights between London (or Manchester) and Tallinn, airport taxes,
ground transportation as outlined including all transportation in Estonia in a modern and spacious air-conditioned vehicle,
accommodation and all meals, including breakfast, lunch and dinner.
the services of your leaders.
entrance fees to parks and reserves, and tips to hotels and restaurants.
The Heatherlea Pre-Flight Service offers everything you need at the airport, including hotels, car parking, airport lounges, regional flights, and upgrades. Let Heatherlea take the strain! Pre-flight airport hotel and lounge included free of charge subject to terms and conditions. Read more...
What's not included in your holiday price:
personal insurance, drinks and other personal expenses, visa costs where necessary, optional tips to the driver and local guide, and any other costs not specified as 'included'.
More holiday information:
Accommodation is in comfortable hotels or guest houses with all rooms en suite.
Food will be traditional Estonian cuisine. Breakfast is continental style, typically consisting of cereal, toast, jam, fruit juice and tea or coffee. Sometimes a hot, cooked option is also available. Picnic lunches will be provided by Gerard, and will include bread, cheese, cold meats, fruit, biscuit/cake and soft drinks. Typical foods in Estonia are black bread, pork, potatoes and dairy products. The Black rye bread accompanies almost every food in Estonia. Evening meals will usually consist of three courses – starter/soup, main dish of meat or fish with salad, rice or potatoes and a dessert. Mushrooms and forest berries often feature. Vegetarian and other diets are welcome.
Walking is generally light/moderate. There may be some uphill track and road walking, though generally an average level of fitness is required.
Weather The climate in Estonia is temperate, characterised by warm summers and fairly severe winters. The weather is often breezy and humid due to the proximity of the Baltic Sea. During our visit, average daily temperatures can range from 5 - 18°C, though nights can still be rather chilly, and rain is possible. Bring light waterproofs in case of occasional showers.
Insects There are biting insects, a good mosquito repellent is recommended.
Group size is restricted to 12 clients maximum.
Flights are by scheduled airline, from London. We may be able to offer flight arrangements from another airport and/or or quote without flights so you can make your own arrangements. If you wish to add an extension either before or after your holiday, please contact us and we will be happy to arrange this for you.
Your Leaders:
Pete Cosgrove
Pete has been leading for Heatherlea around the world for nearly 20 years, and is a very experienced Leader around the world, including eastern Europe. Personable and friendly, Pete loves being a Heatherlea guide and sharing his knowledge of birds.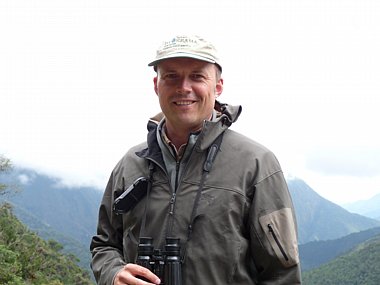 Uku Paal
Uku started birding at the age of 11 and has been interested in wildlife ever since. He is a founder member of the Estonian Birding Club, and has been a member of the Estonian Rare Bird Committee since 2002. He has found four "firsts" for Estonia, and is also involved in bird ringing, field surveys and migration studies. He is also keenly interested in dragonflies, and his photography has appeared in magazines such as Birding World and Birdwatch.
Fluent in English, Uku has travelled extensively in the Western Palearctic, Asia, Australia and USA, but his home, Estonia, remains his priority and Uku regularly guides for Heatherlea here.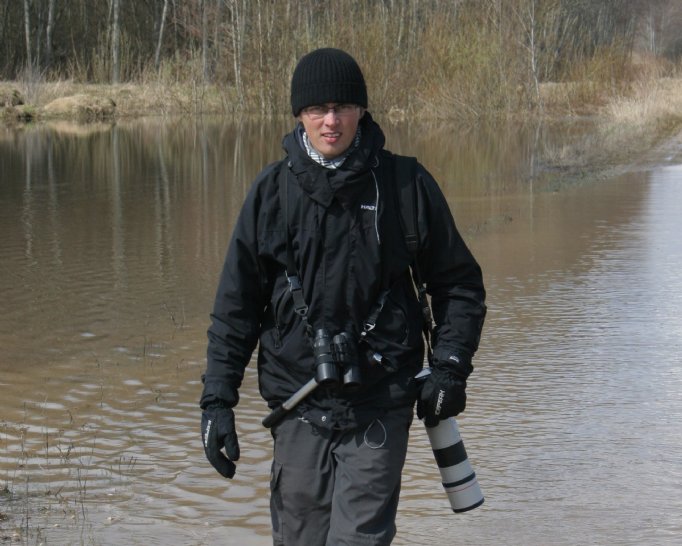 Why choose Heatherlea for your birding and wildlife holiday in Europe?
Our overseas holidays are planned with care to offer great birding and wildlife, led by capable Leaders who really look after you. Every holiday is run the 'Heatherlea Way', and we hope our Overseas Adventures remind you of the quality and care so many of you enjoy in Scotland. That means rewarding and exciting days in the field, and good quality accommodation and meals, with a real flavour of the country we are visiting. Heatherlea always seek to include the personal touches that make all the difference.
Heatherlea holidays are not 'dawn to dusk' expeditions. Our less-intensive approach is ideal for those who want to relax whilst experiencing the best wildlife watching, and wherever possible we organise early or late activity on an optional basis. We also take sensible breaks when in very hot places and regular comfort breaks on every holiday whenever possible. All itineraries are planned carefully around the best wildlife opportunities, and you won't miss out on memorable wildlife, whilst enjoying relaxed, informal days that are great fun.
The really important part of any wildlife holiday is the experience for you, our valued customer. Heatherlea invest in many things to offer you the best possible service;
We have been organising birding and wildlife holidays for over 30 seasons, and have a highly experienced and capable office team. We also offer a telephone and email service outside normal office hours.
Heatherlea overseas holidays have a maximum of 12 clients per trip, putting the emphasis on personal service, and helping you get the best possible experience.
Our holidays often include things which others might invite you to pay yourself, for instance Departure Taxes and tips to hotels.
All elements of our holidays are sold under our own licence, ATOL 6113. Under 'Flight-Plus' legislation it is a legal requirement of any tour operator to hold an ATOL licence for the supply of any overseas holiday where a flight is involved, if that holiday includes either overseas accommodation and/or car hire. It can be a criminal offence for an operator to book flights as part of a package without an ATOL licence. Heatherlea also hold full Tour Operator Insurance for your added protection.
Heatherlea is your complete wildlife holiday provider. Our 'Back Office' team can organise all your pre-flight and other travel needs. Our specialists will help you book the right services, at the best price. Book holiday extensions through us, and your ATOL protection is extended further. We don't charge extra for this service.
Heatherlea is a limited company, registered in Scotland, and registered to pay VAT (applies to all holidays within the European Union).
Trip Reports