Our Location and update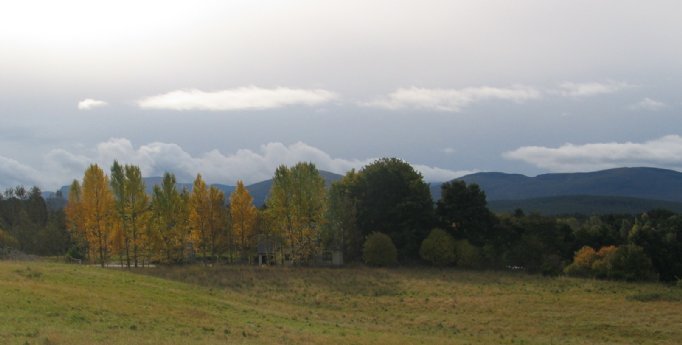 View from the Mountview Hotel towards Cairngorm mountain

Heatherlea Covid 19 Policy - updated November 2020
We know how vital it is for all our guests and staff to feel safe whilst with Heatherlea. The Mountview Hotel is currently in Tier 1 of the Scottish Government Covid19 tier system. Click here to see current guidelines for the tier system in Scotland.
In response to Covid19, we have revisited our practices and procedures to make sure we deliver high standards of service at all times. At Mountview Hotel we have earned the accreditation that 'We're Good to Go' and ready to welcome guests.
This is what you can expect on your Heatherlea holiday: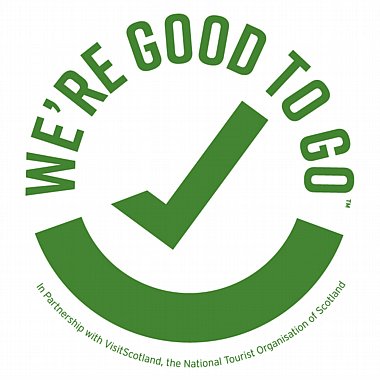 Before your arrival:
* You will receive a copy of our Covid19 Policy and procedures so that you are fully informed and can see the measures we are taking. We will require you to confirm that you are symptom free and have not come into contact with anyone testing positive for Covid19 and have not been contacted by Test & Trace, within 14 days before arrival date.
* We have developed appropriate Risk Assessments for all parts of the Heatherlea and Mountview Hotel operation. This has enabled us to make sure staff are fully trained and up to date on new practices. PPE is available for all staff.
* Your room will be deep cleaned and sanitised to a high standard.
On arrival:
* We will again require you to confirm you are symptom free and have not come into contact with anyone with Covid19 within the past 14 days.
* Housekeeping standards at the Mountview have never been higher with emphasis being placed on high risk areas for extra cleaning and attention. During your stay guest rooms will not be serviced, to reduce risk of transmission. Guests can request a change of towels at any time.
* Room keys will be sanitised and left in your room door prior to arrival.
During your stay:
* Hand Sanitiser is provided in all guest bedrooms and in public areas of the hotel. We request that you also bring your own supply for personal use.
* Dining space in our hotel has been adapted to maintain social distancing whilst allowing guests to enjoy their dining experience. There will still be ample opportunity for a review of the day and birdlist.
* Our hotel and restaurant is closed to non-residents. This maximises your safety within a 'Heatherlea Bubble'.
In the field:
* In our minibuses, we will take a maximum of five clients per vehicle, so each person will travel with an adjacent empty seat next to them and everyone will wear face coverings whilst inside the minibus.
* Our minibuses will be thoroughly cleaned and sanitised at the end of each day.
* As always, lunch will be enjoyed in the outdoors, and you will be given a personal labelled lunch box and cup to use. Hand sanitiser will be available in the minibuses at all times and we ask you to bring your own too.
* When your Heatherlea holiday involves staying overnight away from the Mountview Hotel, we'll provide you with full details of measures our partners are taking with respect to Covid19.
* For the safety of other guests, staff and our local community, we politely request that all guests follow current Scottish Government Covid19 guidelines at all times.
Thank you!
(Please be aware this policy is subject to change and update without notice).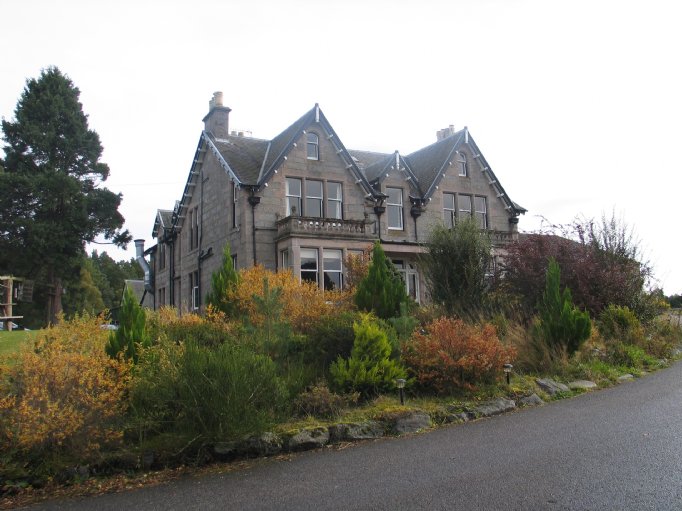 The Mountview Hotel
Heatherlea's 'Mainland Scotland' holidays are based at our own property, The Mountview Hotel, a 3-star Edwardian Country House Hotel, located in the charming Highland village of Nethy Bridge, in the heart of the Cairngorms National Park. The Mountview is certainly well named; glorious views of three ranges include the peaks of Cairn Gorm and Bynack More. Views to the front extend many miles across the Monadhliath Range, and the four Kincardine peaks are profiled to the south of the Hotel. The ancient Caledonian Forest begins behind the Hotel, and the clear River Nethy is just 200 metres away.

The Mountview is set in two acres of attractive grounds featuring native Scots Pine and Silver Birch. Guests are welcome to explore, and in season you will find blaeberry and chanterelle. Our busy bird feeding station attracts a variety of species including Crested Tit, Siskin, Goldfinch and of course our local Red Squirrel population. We have a wildflower meadow which holds Moonwort and Northern Marsh Orchid. You are also welcome to view our highly productive kitchen garden, which in season provides our table with seasonal herbs, salad greens and vegetables.
From the moment you arrive you will be made to feel at home. Inviting public rooms include a welcoming lounge with deep seated, comfortable sofas and open log fire; a peaceful reading room stocked with natural history books and magazines; a private residents' dining room with fresh flowers and a well-stocked restaurant bar with glorious mountain views. Guests enjoy attractive en-suite bedrooms with comfortable beds, crisp white linen and fluffy towels. Freeview TV, hairdryers and a hospitality tray are available in each room. The Hotel is non-smoking, and WIFI facilities are free of charge.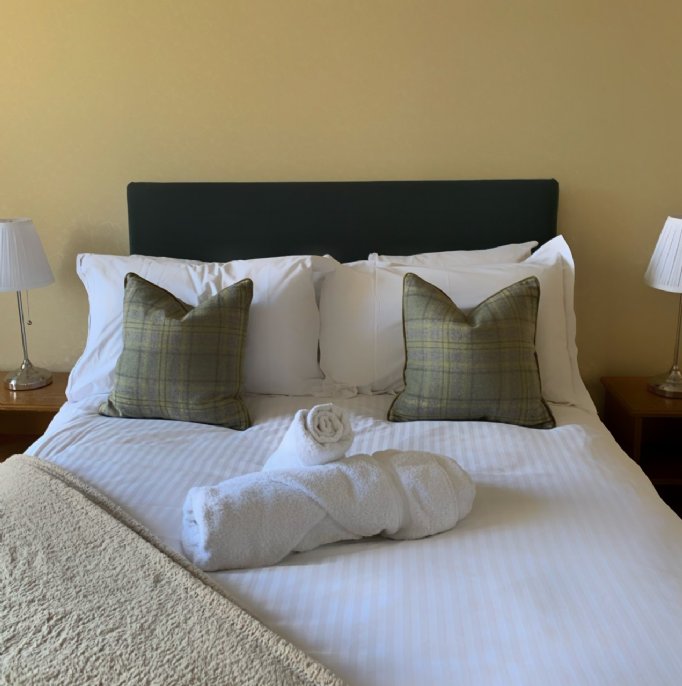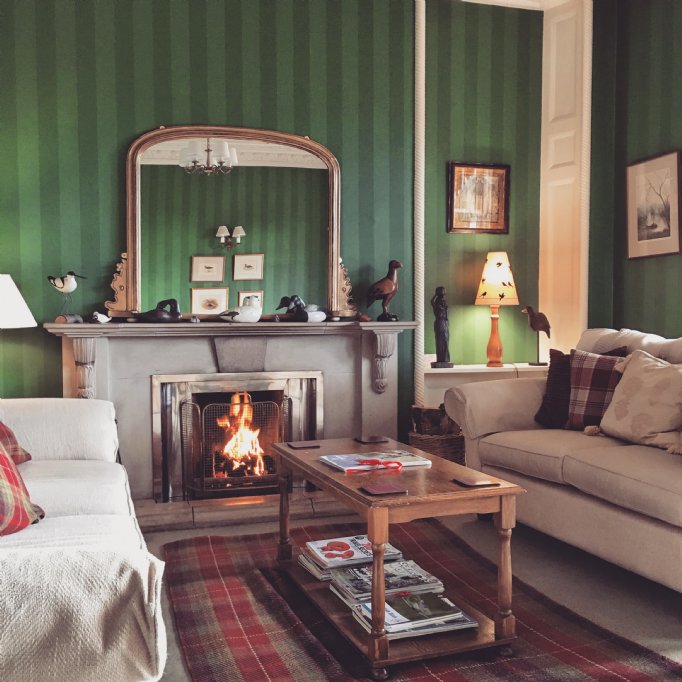 Meals at The Mountview
Our award-winning kitchen team is led by Caryl and highly skilled Head Chef Ettienne Els. Expect a wide selection of fresh Scottish produce, bought locally where possible, and prepared with skill and imagination by highly trained chefs. Our dinners may include venison, salmon, trout, local 'Ballifurth' lamb, and homemade soups, bread, pastries and desserts. If you have special dietary needs we cater personally for you, and offer imaginative vegetarian and vegan dishes. You can expect a variety of traditional food, full of flavour and offering a delicious taste of Scotland. Dinner is usually at 7pm, allowing time to relax after an exhilarating day in the field. To accompany your meal, we offer high quality wines and you can also choose from a wide selection of local beers, malts and other drinks.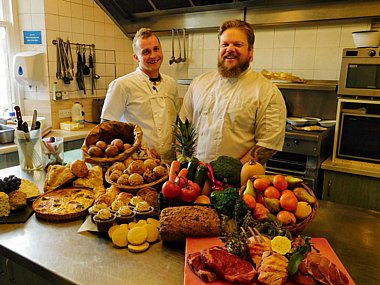 And in the morning … our 'Full Scottish' breakfast gives a choice from bacon, free range eggs (any way you like them), local pork sausage, tomatoes, mushrooms, beans and black pudding. Fill up on porridge, and of course cereals, fruit juice, toast, fruit salad, yoghurt and freshly brewed tea or coffee. You can't beat it!
Our kitchen team also provides a delicious lunchtime picnic. Join us to enjoy home-baked pastries, sandwiches (different every day), soups in cold weather, a mouth-watering variety of homemade biscuits and cakes, fresh fruit and hot drinks.

Click here to find out more about our hotel!
Nethy Bridge
You can't beat Nethybridge as a Scottish wildlife base. Birding is great anywhere in this area, but if you want Capercaillie, Scottish Crossbill, Crested Tit, Ptarmigan and Black Grouse, Nethybridge is perfect. We are on the edge of the Abernethy Forest, and a casual stroll from The Mountview can produce Capercaillie, Scottish Crossbill and Crested Tit before breakfast. Red Squirrel, Siskin and Great Spotted Woodpecker are regular on our newly expanded feeding station, Osprey and Buzzard pass right overhead, and Dipper breed on the clear River Nethy almost within sight of our windows. Kestrel, Hobby, Merlin, Sparrowhawk, Peregrine and even Golden Eagle, Goshawk and White-tailed Eagle are on our 'hotel list'. Woodcock are common in the village in spring and summer, Grey Wagtail, Goldeneye, a range of breeding waders, and even Otter and Pine Marten have all been spotted within a mile or two, especially along the nearby River Spey. In summer we have Tawny Owl and perhaps Long-eared Owl with young in the village. With extensive local walks and trails in this unspoilt and delightful Highland village, and The Speyside Way within 200 yards, early morning and evening birding is an exciting optional extra! When you join us you will find our own short guide to local walks in your information folder.
Nethybridge has a small general store/post office, a lovely cafe and an excellent butcher/farm shop. 'Nethy' is just right - close to services, yet unspoilt and delightful in character. A real Highland village! The Cairngorm Mountains and the Forest of Abernethy frame the landscape, and the famous Osprey hide is nearby. Ideally placed to reach every important habitat, we can easily transfer east or west, to see that special bird which puts the cap on a great week.
Many of our guests become friends visiting year after year, and we take great care to make sure everyone enjoys an unforgettable holiday.
The Cairngorms National Park
Created in 2003, the Cairngorms National Park is Britain's largest, covering 3800 sq kms of the most spectacular landscape in Britain. The Park contains wonderful wildlife habitat, and of course everyone here at Heatherlea is very proud to live and work in Nethybridge, at the heart of the Park. Come and enjoy Britain's largest National Park with Heatherlea!