NEW!

Estonia in Early Spring
Seabirds including Steller's Eider and key woodland species
A novel two-centred short holiday concentrating on sea duck and wildfowl on the Baltic coast, and key species including grouse, woodpeckers and owls on the mainland. We visit Saaremaa Island, the largest of the Estonian islands and home to some of the most famous birding sites in the country, where we search for Steller's Eider.
This is one of the most reliable places in Europe to see this attractive Arctic duck, and in some winters up to a thousand birds can congregate in tight-knit rafts on the ice-free waters. We plan carefully to give you the best chances to see Steller's Eider. Birds are often off the seaward side of the island of Saaremaa, furthest away from the ferry point, which means birders should allow time to take the ferry and transfer to the right places. Weather can be a key factor too, so we stay overnight on the island for two nights to maximise our chances.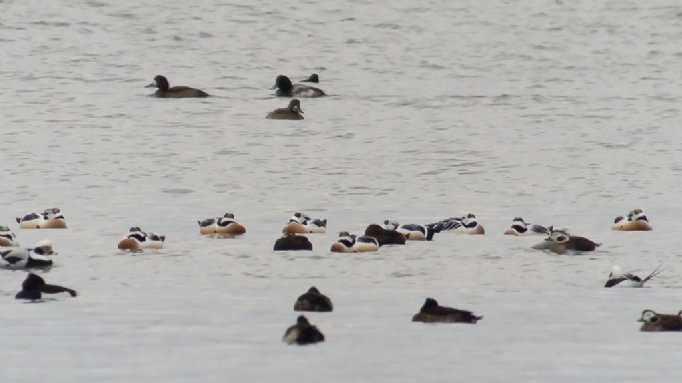 We also hope for other seaduck including Velvet Scoter, Smew and Long-tailed Duck plus divers, grebes, auks and Purple Sandpiper as we explore the coast.
On mainland Estonia, we look for Capercaillie, Black Grouse and Hazel Grouse in forest habitats. Ural and Pygmy Owl are also possible and late-March/early April can also be a good time to hear woodpeckers drumming. In open areas, skeins of Tundra Bean and Taiga Bean Geese may be passing over along with Common Crane, while raptors such as Rough-legged Buzzard and White-tailed Eagle may be seen. Passerines including Crested and Willow Tit, Common and Arctic Redpoll, Hawfinch and Snow Bunting are also likely to feature.
Enjoy your complimentary pre-flight overnight hotel before your holiday begins. Full details from our office! Read more about our Pre-flight Service here!

Day 1: Arrive and transfer to Saaremaa Island
After relaxing in our complimentary VIP Airport Lounge, we fly into Tallinn airport, we meet our local guide and drive south-west for about two hours to the port of Virtsu. From here we cross to Saaremaa Island by ferry, and experience our first taste of Baltic Sea birding with seaduck to the fore. We then continue westwards across the island, birdwatching on the way to Loona Manor Hotel, where we stay for two nights.
Day 2: Baltic Sea birding
We have a full day on Saaremaa Island, our main focus being seabirds on the Baltic coast and freshly arriving migrants of all kinds. A major target is Steller's Eider, not always easy if the weather is poor, but our local Estonian guide's knowledge will be up-to-date, and we visit the best sites. Other ducks should include both Velvet and Common Scoter, Smew and Long-tailed Duck. We will also be on the look-out for Whooper Swan, Red-throated and Black-throated Diver, Great Crested and Red-necked Grebe and perhaps auks and skuas too. Flocks of Purple Sandpiper are to be found on rocky outcrops as we explore the coast, and raptors may include White-tailed Eagle out in the open on the ice. Venturing inland, we may see flocks of Common Redpoll (and perhaps an Arctic Redpoll), Hawfinch, Snow Bunting, Crested, Marsh and Willow Tit.
Days 3 - 5: Soomaa National Park
After returning by ferry to the Estonian mainland, we are based for three nights near the Soomaa National Park. Here, the peatbogs and mixed forest habitats are home to Capercaillie and Hazel Grouse and this is often a good time of year to locate them. Black Grouse will be lekking, and Ural Owl and Pygmy Owl should be calling and holding territories. In some years Hawk Owl are found, and local, up-to-date news may help us strike lucky! This season is also a good time to hear woodpeckers drumming, and Black, Grey-headed, Great Spotted, White-backed, Lesser Spotted, and Three-toed Woodpecker are all very possible. With relatively few leaves on trees, it is also a good time of year to search for vocal forest birds as they establish territories. In open ground Rough-legged Buzzard are hunting, and parties of calling Common Crane returning from further south. Skeins of Taiga Bean, Tundra Bean and Barnacle Geese plus Whooper Swan may also be passing overhead, or pausing to feed in the fields as they make their way north. If the ground is free of snow, other early migrants may also be on the move, and with a touch of spring in the air, Skylark, Lapwing and more may begin to display. A great time of year to enjoy the birdlife of Estonia! Three nights close to Parnu in a comfortable 'holiday house' Klaara-Manni.
Day 6: Return to the UK
Today, after breakfast we head back to Tallinn Airport for our return flights to the UK. Any additional birding will depend on flight times as we have a road journey of about two hours to reach the airport.
Please note: all itineraries are given as a guide only. Actual holiday content may vary according to the judgement of your guide, and elements beyond our control (eg weather).
What's included in your holiday price:
scheduled return flights between London (or Manchester) and Tallinn, airport taxes,
ground transportation as outlined including all transportation in Estonia by minibus.
five nights en-suite accommodation and all meals, including breakfast, lunch and dinner.
the services of your leaders.
entrance fees to parks and reserves, and tips to hotels and restaurants.
The Heatherlea Pre-Flight Service offers everything you need at the airport, including hotels, car parking, airport lounges, regional flights, and upgrades. Let Heatherlea take the strain! Pre-flight airport hotel and lounge included free of charge subject to terms and conditions. Read more...
What's not included in your holiday price:
personal insurance, drinks and other personal expenses, visa costs where necessary, optional tips to the driver and local guide, and any other costs not specified as 'included'.
More holiday information:
Accommodation is in comfortable hotels or guest houses with all rooms en suite.
Food will be traditional Estonian cuisine. Breakfast is continental style, typically consisting of cereal, toast, jam, fruit juice and tea or coffee. Sometimes a hot, cooked option is also available. Picnic lunches will be provided and will include bread, cheese, cold meats, fruit, biscuit/cake and soft drinks. Typical foods in Estonia are black bread, pork, potatoes and dairy products. The Black rye bread accompanies almost every food in Estonia. Evening meals will usually consist of three courses – starter/soup, main dish of meat or fish with salad, rice or potatoes and a dessert. Mushrooms and forest berries often feature. Vegetarian and other diets are welcome.
Walking is generally light/moderate. There may be some uphill track and road walking, though generally an average level of fitness is required.
Weather It would be wise to be prepared for all conditions with low temperatures, wind, snow, sleet or rain all possible! We will be spending time in snowy forests and on windswept coasts; it is therefore vital to have suitable clothing and equipment. The temperature can change quickly, so layered, thermal clothing is recommended.
Insects There are unlikely to be biting insects at this time of year.
Group size is restricted to 12 clients maximum.
Flights are by scheduled airline, from London. We may be able to offer flight arrangements from another airport and/or or quote without flights so you can make your own arrangements. If you wish to add an extension either before or after your holiday, please contact us and we will be happy to arrange this for you.
Your Leaders:
Uku Paal:
Uku started birding at the age of 11 and has been interested in wildlife ever since. He is a founder member of the Estonian Birding Club, and has been a member of the Estonian Rare Bird Committee since 2002. He has found four "firsts" for Estonia, and is also involved in bird ringing, field surveys and migration studies. He is also keenly interested in dragonflies, and his photography has appeared in magazines such as Birding World and Birdwatch.
Fluent in English, Uku has travelled extensively in the Western Palearctic, Asia, Australia and USA, but his home, Estonia, remains his priority and Uku regularly guides for Heatherlea here.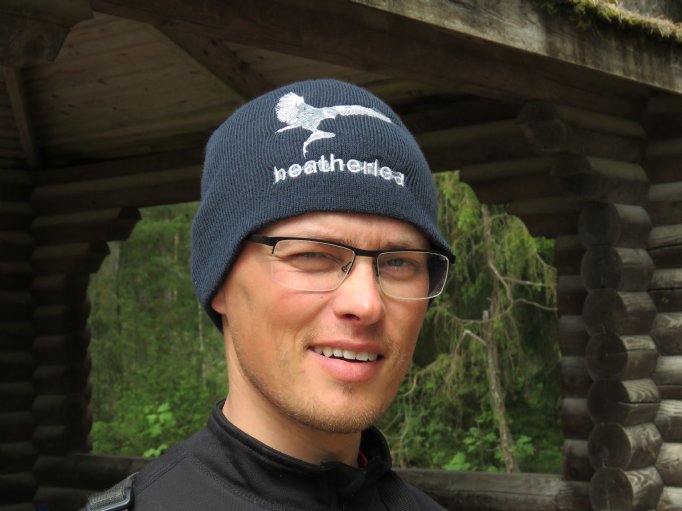 Uku will be joined by another from our team with seven or more clients.
Why choose Heatherlea for your birding and wildlife holiday in Europe?
Our overseas holidays are planned with care to offer great birding and wildlife, led by capable Leaders who really look after you. Every holiday is run the 'Heatherlea Way', and we hope our Overseas Adventures remind you of the quality and care so many of you enjoy in Scotland. That means rewarding and exciting days in the field, and good quality accommodation and meals, with a real flavour of the country we are visiting. Heatherlea always seek to include the personal touches that make all the difference.
Heatherlea holidays are not 'dawn to dusk' expeditions. Our less-intensive approach is ideal for those who want to relax whilst experiencing the best wildlife watching, and wherever possible we organise early or late activity on an optional basis. We also take sensible breaks when in very hot places and regular comfort breaks on every holiday whenever possible. All itineraries are planned carefully around the best wildlife opportunities, and you won't miss out on memorable wildlife, whilst enjoying relaxed, informal days that are great fun.
The really important part of any wildlife holiday is the experience for you, our valued customer. Heatherlea invest in many things to offer you the best possible service;
We have been organising birding and wildlife holidays for over 30 seasons, and have a highly experienced and capable office team. We also offer a telephone and email service outside normal office hours.
Heatherlea overseas holidays have a maximum of 12 clients per trip, putting the emphasis on personal service, and helping you get the best possible experience.
Our holidays often include things which others might invite you to pay yourself, for instance Departure Taxes and tips to hotels.
All elements of our holidays are sold under our own licence, ATOL 6113. Under 'Flight-Plus' legislation it is a legal requirement of any tour operator to hold an ATOL licence for the supply of any overseas holiday where a flight is involved, if that holiday includes either overseas accommodation and/or car hire. It can be a criminal offence for an operator to book flights as part of a package without an ATOL licence. Heatherlea also hold full Tour Operator Insurance for your added protection.
Heatherlea is your complete wildlife holiday provider. Our 'Back Office' team can organise all your pre-flight and other travel needs. Our specialists will help you book the right services, at the best price. Book holiday extensions through us, and your ATOL protection is extended further. We don't charge extra for this service.
Heatherlea is a limited company, registered in Scotland, and registered to pay VAT (applies to all holidays within the European Union).