Hungary in Autumn
Spectacular Crane migration and the best of Autumn birding
Dates

01 Oct - 08 Oct 2020
01 Oct - 08 Oct 2021

Destination
Duration
8 Days
Focus
Guides
Max Group Size
7 per guide
2020 Price

£1895 pp

£140 single supplement.

Deposit £300. 2021 Price TBC.

pre-flight airport hotel and lounge are inc.
Our main focus on this three-centre holiday is the spectacular migration of Common Cranes through the Hortobagy National Park in eastern Hungary, one of Europe's great birding experiences. Each autumn up to 100,000 of these elegant birds from Fenno-Scandia, the Baltic States, Poland and elsewhere in northern Europe congregate here. We will see cranes flying to roost at dusk in large skeins and feeding by day in crop fields. There are also special resident birds including Great Bustard, Saker Falcon, White-tailed and Eastern Imperial Eagle, eight species of woodpecker including White-backed, Middle-spotted, Grey-headed, Syrian and Black, and the first winter visitors such as Rough-legged Buzzard and Great Grey Shrike. The numerous wildfowl present should include fresh arrivals of Greater White-front and possibly Tundra and Taiga Bean Geese. Other birds should include Hawfinch, Black Redstart, Short-toed Treecreeper, Marsh Harrier, Penduline Tit and Stone Curlew. A tremendous autumn feast of birds!
Enjoy your complimentary pre-flight overnight hotel before your holiday begins. Full details from our office!
Day 1 & 2: Thur 1 Oct and Fri 2 Oct Arrival and Transfer to the Kiskunság National Park
After relaxing in our complimentary VIP Airport Lounge, we fly from London Gatwick to Budapest. On arrival we transfer to the Kiskunság National Park. The park extends across the most important nature areas between the Danube and Tisza rivers, including the Danube Plain, Homokhátság and the Tisza Valley. The Kiskunsag National Park is very similiar to Hortabagy in terms of landscapes, habitats and birds, but Kiskunsag is becoming THE area for Great Bustards, Saker and geese. We spend two nights in the area with Great Bustards and Saker our main targets. Other birds should include a variety of waders in the grasslands and marshes. Two nights Kiskunság area.
Day 3: Sat 3 Oct The Bukk Hills
Today we drive to the Bukk Hills (2-3 hours) for a 2 night stay in our well located family-run small hotel. En route to the hills we will break our journey with targeted birding stops for Eastern Imperial Eagle and Saker Falcon. If time allows we will visit a reservoir where we can hope to record some new wetland species too. We aim to arrive in good time to allow for a gentle exploration of the hotel and surrounding village. Birds in the garden here include Hawfinch, Black Redstart and both Lesser & Middle Spotted Woodpeckers. Night Noszvaj.
Day 4: Sun 4 Oct Bukk National Park Birding
Birdwatching in the Bukk National Park. In particular we'll look for Black, Grey-headed, Middle Spotted and White-backed Woodpecker in the area's deciduous woods, all in the company of Gerard Gorman, author of "Woodpeckers of Europe". Syrian Woodpecker is usually found in and around villages in orchards and gardens. Other birds in these scenic hills with their rich autumn colours include Eastern Imperial Eagle, Goshawk, Common and Short-toed Treecreeper and Rock Bunting. As we will be in one of Hungary's best wine regions we may visit a 100 year-old family-run wine-cellar on one evening. Night Noszvaj.
Day 5: Mon 5 Oct The Great Plain
Today we leave the hills and forests and head onto the Great Plain. First we'll stop in the Heves grasslands and see some of our first lowland birds of the tour. A highlight of the trip may well be a Long-eared Owl roost in a village on our route. Finches and buntings are beginning to arrive with the last of the Serins still present. Great Grey Shrike can be seen on roadside wires as we drive through the open country. Later we'll scan the vast waters of Lake Tisza for gulls, grebes and wildfowl, including Pygmy Cormorant. Night Tiszadorogma.
Day 6 and 7: Tue 6 Oct and Wed 7 Oct Hortobágy National Park
During these days we will spend most of our time birdwatching in the famous Hortobágy National Park. Habitats here include fish-pond systems where geese, ducks and Common Crane roost and Marsh Harrier and White-tailed Eagle hunt. Drained ponds host passage waders and the reedbeds Penduline and Bearded Tit. The HNP's grasslands are hunting grounds for raptors such as Saker, Merlin and Long-legged, Rough-legged and Common Buzzard. Flocks of Great Bustard and Stone Curlew also reside here. Little Owl are quite common and Long-eared Owl are often beginning to roost in numbers in this season. Dotterel spend their autumn here, with over 100 together not unusual in traditional places on the drier Hortobágy steppe, though they are notoriously difficult to pin down! These same areas often host parties of Lapland Bunting and Twite if the wind is from the north, with Red-throated Pipit likely too. But arguably the main event of our stay will be the cranes. One evening we'll wait just before dusk at a key spot to see the arrival of noisy flocks of these birds which come in from feeding fields to roost. This event is without doubt one of Europe's great bird spectacles. We can expect to see and hear thousands both in the air in family parties of three and in lines of many hundreds, and in trumpeting groups in surrounding fields. Nights Tiszadorogma.
Day 8: Thu 8 Oct Departure
After breakfast we head for Budapest. If flight times allow we will take a sightseeing tour of Budapest or offer more birding before heading for the airport.
Please note: all itineraries are given as a guide only. Actual holiday content may vary according to the judgement of your guide, and elements beyond our control (eg weather).
Please note: all itineraries are given as a guide only. Actual holiday content may vary according to the judgement of your guide, and elements beyond our control (eg weather).
What's included in your holiday price:
scheduled return flights between Gatwick and Budapest, airport taxes,
ground transportation as outlined including all transportation in Hungary in a modern and spacious air-conditioned vehicle,
accommodation and all meals, including breakfast, lunch and dinner.
the services of your leaders.
entrance fees to parks and reserves, and tips to hotels and restaurants.
The Heatherlea Pre-Flight Service offers everything you need at the airport, including hotels, car parking, airport lounges, regional flights, and upgrades. Let Heatherlea take the strain! Pre-flight airport hotel and lounge included free of charge subject to terms and conditions. Read more...
What's not included in your holiday price:
personal insurance, drinks and other personal expenses, optional tips to the driver and local guide, and any other costs not specified as 'included'.
More holiday information:
Accommodation is in comfortable hotels or guest houses with all rooms en suite.
Food Breakfast is continental style. Fruit juice and tea or coffee is usually available. Picnic lunches will be provided by your guide, and will include a variety of local produce plus soft drinks.
The country's unique cuisine has influences from the Central Asian Magyar founders of the nation, Turks, Germans, French, Austrians, Czechs, Slovaks, Serbians, and Croatians. The simple agrarian and shepherd lifestyles of the Hungarian Plain and mountains have also helped shape the country's unique dishes. Sauces rich in sour cream, delicacies such as goose liver and an emphasis on meats, including game such as boar and venison, are often on the menu. Fish stew or a thick and sometimes peppery fish soup - is also quite popular. Other traditional favourites include veal paprika stew and roast chicken with cottage cheese noodles. Gulyás (a hot dish that usually consists of beef, onions, capsicum and paprika), Halaszle (a Hungarian fish made with extra hot paprikas), Toltott kaposzta (cabbage stuffed with meat and other vegetables and spices) and Porkolt (a hot dish which is almost always made of meat, onion capsicum and paprika powder. Any kind of meat can be used, such as beef, lamb, pork, chicken, liver, offal and sometimes even fish).
Fabulous desserts, served with strong espresso, include strudels, tortes and the legendary Gundel pancakes with chocolate rum sauce.
Walking is generally light/moderate. There may be some uphill track and road walking, though generally an average level of fitness is required.
Weather Hungary has a temperate climate, with cold, cloudy, humid winters and warm summers. The weather will most likely be quite mild but chilly mornings and nights are possible. Rain is quite likely at this time of year.
Insects Biting insects may be encountered near wetlands, a good mosquito repellent is recommended.
Group size is restricted to 12 clients maximum.
Flights are by scheduled airline, from Gatwick.
YOUR GUIDE
GERARD GORMAN: Author of several well-informed birding books, Lancastrian Gerard is the Heatherlea organiser for Eastern Europe. A very experienced leader, we are delighted to have Gerard leading our holiday.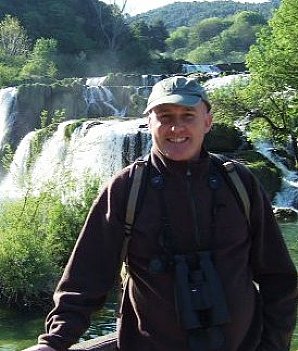 JS says of her 2018 Hungary holiday: ".....thank you for a brilliant trip, the birds were fantastic and your guide Gerard was excellent."
Why choose Heatherlea for your birding and wildlife holiday in Europe?
Our overseas holidays are planned with care to offer great birding and wildlife, led by capable Leaders who really look after you. Every holiday is run the 'Heatherlea Way', and we hope our Overseas Adventures remind you of the quality and care so many of you enjoy in Scotland. That means rewarding and exciting days in the field, and good quality accommodation and meals, with a real flavour of the country we are visiting. Heatherlea always seek to include the personal touches that make all the difference.
Heatherlea holidays are not 'dawn to dusk' expeditions. Our less-intensive approach is ideal for those who want to relax whilst experiencing the best wildlife watching, and wherever possible we organise early or late activity on an optional basis. We also take sensible breaks when in very hot places and regular comfort breaks on every holiday whenever possible. All itineraries are planned carefully around the best wildlife opportunities, and you won't miss out on memorable wildlife, whilst enjoying relaxed, informal days that are great fun.
The really important part of any wildlife holiday is the experience for you, our valued customer. Heatherlea invest in many things to offer you the best possible service;
We have been organising birding and wildlife holidays for over 30 seasons, and have a highly experienced and capable office team. We also offer a telephone and email service outside normal office hours.
Heatherlea overseas holidays have a maximum of 12 clients per trip, putting the emphasis on personal service, and helping you get the best possible experience.
Our holidays often include things which others might invite you to pay yourself, for instance Departure Taxes and tips to hotels.
All elements of our holidays are sold under our own licence, ATOL 6113. Under 'Flight-Plus' legislation it is a legal requirement of any tour operator to hold an ATOL licence for the supply of any overseas holiday where a flight is involved, if that holiday includes either overseas accommodation and/or car hire. It can be a criminal offence for an operator to book flights as part of a package without an ATOL licence. Heatherlea also hold full Tour Operator Insurance for your added protection.
Heatherlea is your complete wildlife holiday provider. Our 'Back Office' team can organise all your pre-flight and other travel needs. Our specialists will help you book the right services, at the best price. Book holiday extensions through us, and your ATOL protection is extended further. We don't charge extra for this service.
Heatherlea is a limited company, registered in Scotland, and registered to pay VAT (applies to all holidays within the European Union).
Trip Reports