Finland
Late spring birding with all of the northern Scandinavian specials!
Prices:
£2795 PP, £270 single supplement. Deposit £500
Dates:
27 May - 2 Jun 2019, 20 May - 26 May 2020 *(£3095 PP, £275 single supplement. Deposit £500)
Guides
Pete Cosgrove
More Info

NEW for 2020! We will offer a 'Grand Tour' of Finland and Northern Norway. The first two elements can be taken seperately or together, with the option to add Helsinki to the spring birding tour.
15 May - 20 May 2020 Finland and Northern Norway
20 May - 26 May 2020 Finland late spring birding (see this page)
26 May - 28 May 2020 Helsinki extension (see bottom of this page)

15 May - 28 May 2020 Grand Tour of Finland and Northern Norway (all three of the above). A tremendous and unprecedented opportunity to see all the key birds of northern Scandinavia on one tour. Full details in spring 2019, Guide price £5995pp ssupp £495.
Overview
This holiday targets all the key bird species of Finland on a relatively relaxed itinerary which should produce a spectacular list of northern European birds, without being too 'intensive' in pace. The focus is strictly on birding, though we will include enjoyable local aspects at some mealtimes, as we visit a traditional restaurant and also a reindeer farm to dine. An exciting and rewarding holiday led by a very experienced local Guide, accompanied by Pete Cosgrove from the Heatherlea team with more than eight clients.
This is a birding trip targetting a wide range of key European species. During our first two days we seek Eagle, Great Grey, Ural, Tengmalm's, Hawk, Long-eared, Short-eared and Pygmy Owl, and also look for Montagu's and Pallid Harriers, Greenshank, Spotted Redshank, Ruff, Citrine Wagtail, Caspian Tern, Black-tailed Godwit and Garganey. Bitterns can be heard booming, and a few pairs of Red-backed Shrikes breed. Other key birds include White-tailed Eagle, Common Crane, Whooper Swan, and both Broad-billed and rare Terek Sandpiper, and forests give our first chances of Three-toed and Black Woodpecker, Black and Hazel Grouse and Capercaillie. 'Night singers' might include Thrush Nightingale, Blyth's Reed Warbler – and perhaps Corncrake. One morning or evening we will make an excursion to birdhides to watch and hopefully photograph lekking Ruff, a memorable experience!

Our second centre is in Kuusamo, Finland's top birding destination. En-route we have a delicious lunch at a Reindeer farm, then begin a feast of birding! Vast forests hold Capercaillie and Black and Willow Grouse, Goldeneye, Wood Sandpiper and Brambling are common, although the real draw is the list of eastern and northern species: Red-flanked Bluetail, Little and Rustic Bunting, Greenish Warbler, Siberian Tit, Dipper and Siberian Jay. Other species might include Bohemian Waxwing, Great Grey Shrike, Red-necked Grebe, Common Rosefinch, Pine Grosbeak, Two-barred Crossbill and Parrot Crossbill. Black and Three-toed Woodpecker, Black Grouse, Willow Grouse, Hazel Hen, Capercaillie and Little Gull all breed here.

Finland is a large country where local knowledge is vital to help us find our key target birds. We have appointed a highly experienced local Leader to give us the very best chances, with a second Guide from Heatherlea to supplement this key local knowledge with more than eight clients. During the holiday we will make use of late nights help us enjoy brilliant birding throughout, though there will also be the opportunity to rest up in the afternoon on some days.
Itinerary
Departure from London Heathrow or Edinburgh
Enjoy your complimentary pre-flight overnight hotel before your holiday begins. Full details from our office!
Day 1: Mon 27 May Arrival
After relaxing in our complimentary airport lounge, we fly from London Heathrow Arrival - Oulu airport (via Helsinki), where we meet our local Guide. Our hotel is nearby, and if time allows after check-in, we will enjoy some local birding. Overnight for three nights at Airport Hotel, Oulu.
Days 2 and 3: Tue 28 May and Wed 29 May Oulu Birding
The next two full days are spent birding in the vicinity of Oulu. This region is best known for its breeding owls, which include Eagle, Great Grey, Ural, Tengmalm's, Short-eared and Pygmy, and most years also Hawk and Long-eared Owl. During this period we also visit Liminka Bay, an internationally important wetland which is a paradise for birdwatchers. Among the many waterbirds we should see Greenshank, Spotted Redshank, Ruff, Little Ringed Plover, Caspian Tern, Black-tailed Godwit, Shoveler and Garganey. Bitterns can be heard booming, and a few pairs of Red-backed Shrikes breed. White-tailed Eagle and Marsh Harrier breed here, many migrants rest, and summering juvenile Common Crane and Whooper Swan are expected. We pay particular attention to rare Terek Sandpiper; Oulu is one of the last places in Finland where this bird still breeds. Citrine Wagtail is another rare breeding bird which we target.
In the Bay of Liminka there are several observation towers providing ideal vantage points. After watching Little and Black-headed Gulls and Common Terns catching insects from the sky we will head to the forests to look for Eurasian Three-toed and Black Woodpecker. Other possible forest species here include Black Grouse, Hazel Grouse and Capercaillie.
Four species of Harrier breed annually around the Liminka Bay area, so with luck we may see not only Marsh and Hen, but also Montagu´s and Pallid Harrier!
Although lying on the threshold of Lapland, some 'night singers' are found in Oulu area in most years. There might be a chance to find Thrush Nightingale and Blyth's Reed Warbler, and perhaps even Corncrake. One morning or evening we will visit local hides to watch and hopefully photograph Ruff at the lek.
Day 4: Thu 30 May Kuusamo
Todays drive eastwards to Kuusamo, an exciting birding destination generally regarded as the best in Finland. Along the way we stop to scan some of the extensive forest bogs and lakes, and also visit the reindeer farm in Iso-Syöte, where we will enjoy a delicious lunch, hear stories about reindeer husbandry and see the private museum. Overnight for three nights: Sokos Hotel,
Days 5 and 6: Fri 31 May and Sat 1 Jun Forest and Hills
In Kuusamo we can expect to encounter a real birding feast in the expansive taiga forests. While Goldeneye, Wood Sandpiper and Brambling are common, the real draw here is the unrivalled list of eastern and northern species: Red-flanked Bluetail, Little and Rustic Buntings, Greenish Warbler, Siberian Tit and Siberian Jay. Other species might include Bohemian Waxwing, Great Grey Shrike, Red-necked Grebe, Dipper, Common Rosefinch, Pine Grosbeak, Two-barred and Parrot Crossbill, Black and Three-toed Woodpecker, Black Grouse, Willow Grouse, Hazel Hen, Capercaillie and Little Gull.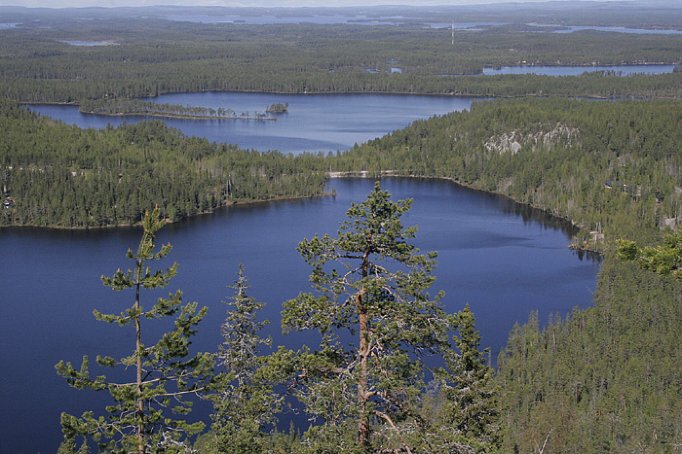 We will visit Valtavaara Hill for Red-flanked Bluetail. The terrain is mostly easy to walk but will involve one or two steep uphill climbs, so a reasonable level of fitness is required for this excursion.

In forests surrounding Kuusamo there is plenty of grouse habitat, and we will make an early morning excursion to the vast forests that extend around Kuusamo, looking for Capercaillie and Black and Willow Grouse. One day we will have lunch in Iivaaran eräkartano http://www.iivaara.fi/en.
Day 7: Sun 2 Jun Departure
After breakfast and some birding we travel back to Oulu to catch our homeward flight.
..........................................................................................
OPTIONAL 2020 EXTENSION in HELSINKI
Price £695pp single supplement £100pp
In 2020 (NB not available 2019) we offer a unique short extension in the Helsinki area. There will be a special focus on late-arriving southern breeders, targeting any species not seen in the first week, plus sightseeing opportunities in the city. Newly arrived migrants should be freshly onto territory, and we'll search and listen out for vocal songsters in local woodlands and wetland sites. Targets include Thrush Nightingale, Icterine, Great Reed, Blyth's Reed, Marsh and perhaps River Warbler and a range of other possibilities. Most of our birding will take place pre-breakfast, through the morning and in the evening when bird activity is at its peak.
Day 7 Arrive Helsinki
From the airport we drive to our hotel on the outskirts of Helsinki, very close to Nuuksio National Park. We'll settle in and have dinner before an evening birding excursion into Iso-Huopalahti, a nearby bushy habitat, to begin our birdlist.
Day 8 Nuuksio and Helsinki
One of Finland's 40 National Parks but one of the closest to the capital, Nuuksio holds a great diversity of species in varying habitat. On walks in the lush mixed forests we look for Black, Grey headed and Three-toed Woodpecker with moderate chances for White-backed also. Red-backed Shrike, singing warblers including Greenish, and Red-breasted Flycatcher might also be found. On water bodies and estuarine habitat, we will find a good selection of waterfowl and migrant waders including Red-throated Diver, and may find Honey Buzzard and calling Corncrake. Birding excursions will continue up to lunch and then we'll take an afternoon tour of the major sightseeing locations in Helsinki, including Parlament House, Central Railway Station, Helsinki Cathedral and Kaivopuisto Seaside Park.
Day 9 Viikki and Departure
A morning visit to Viikki reedbeds close to the city centre may produce sightings of Great Reed Warbler and Caspian Tern. If we're lucky we might come across Citrine Wagtail, Broad-billed Sandpiper, Little Gull or migrant waders such as Temminck's Stint, Spotted Redshank or Wood Sandpipier. Later in the day we'll say our goodbyes and catch our flight back to the UK.
Trip Information
Accommodation is in comfortable hotels or guest houses with all rooms en suite.
Food Breakfast is continental style. Fruit juice and tea or coffee is usually available. Picnic lunches will be provided by your guide, and will include a variety of local produce plus soft drinks. Evening meals are generally local dishes; Finnish ingredients match that of food just about anywhere else. Meat dishes may include beef, chicken and pork and fish figures prominently on Finnish menus – naturally enough for a country that boasts over 60,000 lakes and over 2,850 miles of seashore. Berries and mushrooms, the bounty of the country's seemingly endless forests, are also vital elements. Vegetarian and other diets are welcome.
Walking is generally light/moderate. There will be some uphill track and road walking, though generally an average level of fitness is required.
Weather The weather will most likely be quite warm and summery, but chilly mornings and nights are possible. It should be mainly dry but some showers of rain are possible. Average temperature range at this time of year is 10 – 15°C but may rise to as high as 25°C.
Insects There may be mosquitoes at this time, so a good repellent is recommended.
Group size is restricted to 12 clients maximum.
Flights are by scheduled airline, from London Heathrow.
Photography There may be excellent opportunities to photograph birds, though these are incidental and not guaranteed. At the site for photography of Ruffs and other waterfowl photography is through Stopsol Classic Clear 4mm glass - low angle photography – and a higher position from a chair is possible.
Thanks to Frank Jump for pics of reindeer and hen Capercaillie, taken during our 2017 holiday.
Your Leaders
Tero Linjama:
Tero lives in Jyväskylä, Central Finland, and has been birding since 1971. An active Tour Leader in Finland for many years, Tero has also led groups of Finnish birders in Sri Lanka, Thailand, Poland and Spain. An active member of the Finnish twitchers' society 'bongariliitto', and a member of his local birders' society, Tero is also a nature recordist, artist and photographer.
Pete Cosgrove:
Pete is a very experienced birder and Leader for Heatherlea around the world, and Pete is very much looking forward to your company in Finland.
Tero and Pete
What's included in your holiday price:
• scheduled return flights between London Heathrow and Oulu (via Helsinki), including all airport taxes.
• ground transportation as outlined including all transportation in Finland in a modern air-conditioned vehicle.
• accommodation and all meals, including breakfast, lunch and dinner.
• the services of your leader/s.
• entrance fees to parks and reserves, and tips to hotels and restaurants.
• The Heatherlea Pre-Flight Service offers everything you need at the airport, including hotels, car parking, airport lounges, regional flights, and upgrades. Let Heatherlea take the strain! Pre-flight airport hotel and lounge included free of charge subject to terms and conditions.
What's not included in your holiday price:
• personal insurance, most alcoholic drinks and other personal expenses, optional tips to the driver and local guide, and any other costs not specified as 'included'
Why choose Heatherlea for your birding and wildlife holiday in Europe?
Our overseas holidays are planned with care to offer great birding and wildlife, led by capable Leaders who really look after you. Every holiday is run the 'Heatherlea Way', and we hope our Overseas Adventures remind you of the quality and care so many of you enjoy in Scotland. That means rewarding and exciting days in the field, and good quality accommodation and meals, with a real flavour of the country we are visiting. Heatherlea always seek to include the personal touches that make all the difference.
Heatherlea holidays are not 'dawn to dusk' expeditions. Our less-intensive approach is ideal for those who want to relax whilst experiencing the best wildlife watching, and wherever possible we organise early or late activity on an optional basis. We also take sensible breaks when in very hot places and regular comfort breaks on every holiday whenever possible. All itineraries are planned carefully around the best wildlife opportunities, and you won't miss out on memorable wildlife, whilst enjoying relaxed, informal days that are great fun.
The really important part of any wildlife holiday is the experience for you, our valued customer. Heatherlea invest in many things to offer you the best possible service;
We have been organising birding and wildlife holidays for over 25 seasons, and have a highly experienced and capable office team. We also offer a telephone and email service outside normal office hours.
Heatherlea overseas holidays have a maximum of 12 clients per trip, putting the emphasis on personal service, and helping you get the best possible experience.
Our holidays often include things which others might invite you to pay yourself, for instance Departure Taxes and tips to hotels.
All elements of our holidays are sold under our own licence, ATOL 6113. Under 'Flight-Plus' legislation it is a legal requirement of any tour operator to hold an ATOL licence for the supply of any overseas holiday where a flight is involved, if that holiday includes either overseas accommodation and/or car hire. It can be a criminal offence for an operator to book flights as part of a package without an ATOL licence. Heatherlea also hold full Tour Operator Insurance for your added protection.
Heatherlea is your complete wildlife holiday provider. Our 'Back Office' team can organise all your pre-flight and other travel needs. Our specialists will help you book the right services, at the best price. Book holiday extensions through us, and your ATOL protection is extended further. We don't charge extra for this service.
Heatherlea is a limited company, registered in Scotland, and registered to pay VAT (applies to all holidays within the European Union).
Please note: all itineraries are given as a guide only. Actual holiday content may vary according to the judgement of your guide, and elements beyond our control (eg weather).