Frequently Asked Questions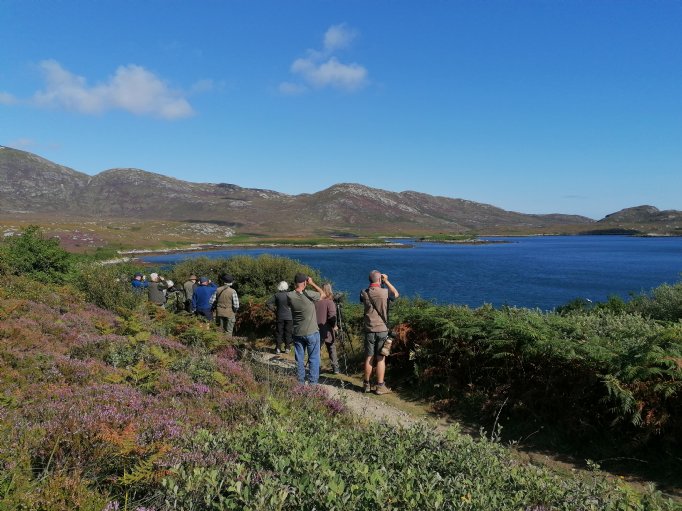 Do I have to join a week long guided programme if I want to stay?
We have short breaks available throughout the year, and most of our Island Adventures are 4-6 days long. You can also stay on a B&B or fullboard on a daily basis and ask the advice of the guides. However, the best value for money and best chances for seeing the wildlife are found on the full week holidays.
I am new to birdwatching, will I fit in?
Yes! Our guides are all knowledgeable birders, but at Heatherlea we do not use jargon or too much technical speak. We are keen that all of our guests get the most out of their holiday both in terms of enjoyment and learning, and we encourage guests to ask lots of questions and to never be too shy to ask!
Is it all birds? I like looking at all wildlife!
Most of our trips are focused on birding, but all of our guides are experienced naturalists and happy to identify flowers, fungi and insects. We always show you the mammals that we encounter. Many of our trips from early June until early September will be excellent for flowers and insects. Our guides frequently run a moth trap too, so make sure you ask the guide on your arrival if you are keen! There is a specific week at the start of July called Highland Wildlife in High Summer that has a very broad remit to look at all wildlife that is particular to the area.
If you wish to see rare mammals such as Pine Martens or Otters then seek out the specific trips designed to look for these animals such as the Highlands & Ardnamurchan holiday and our Birds & Mammals tour.
I have never been on a group holiday, is it right for me?
Groups are usually made up of a mixture of couples and singles who meet for the first time on joining us at Heatherlea. Our holidays are social, fun and relaxed. Guests are of various ages and from all walks of life but we all share a love of the outdoors and its incredible wildlife.
I want to go and seek exciting rarities! Is Heatherlea for me?
Absolutely! For the keenest birders we offer the exciting For Birders range of holidays, featuring spring and especially autumn trips to Orkney, Shetland and the Outer Hebrides. These holidays will feature rarity finding. Your guide will be on hand to help with the identification of all birds, but there is a little less time for watching and more time for finding. These holidays move at a slightly faster pace and if a rare bird is found nearby we may drop everything and go straight there! Here at the Mountview the New Year Birdlist Booster, Highland Winter Birding, Scottish Specials featuring the Burma Bank and Outer Limits Adventure are all good for rare birds.
I am on my own, isn't it all couples?
Around 50% of our guests join as singles, with the rest coming as friends, family or partners. For holidays based or predominantly based at our own Mountview Hotel, there is NO SINGLE SUPPLEMENT.
Which holiday is best for seeing: Crested Tit, Otter, Crossbill etc
Please see our Key Species page. Here you will find a list of the iconic Scottish birds and mammals, with links to the best holidays to see them. Crested Tit, Black Grouse, Ptarmigan, Crossbill and eagles are all resident and can be seen on all of the holidays run from the Mountview Hotel.
How much walking is there on your holidays?
In general, Heatherlea holidays have short walks going at a slow and relaxed pace on good paths. The guide will always advise on the level of walking for the day ahead, and no walks are compulsory. Some guests bring walking poles, and we advise on walking boots and shoes for all activities, this gives us the best flexibility and allows us to react to the wildlife and if necessary wander from the tracks.
Many of our tours include a 'Mountain Day' where we search for Ptarmigan on the hill. This involves a longer more strenuous return walk of 3-5 miles on good paths. In the summer months our walks up to see Dotterel can also require a longer walk and this is a full day activity. Guests can choose to opt out of these more difficult hikes if they wish.
We offer a specific 'Easy Walking' holidays for guests who wish to do very little walking during their holiday.
Weather – isn't it cold, wet and windy in Scotland?!
Did you know that many of the sunniest and driest places in the UK are in the Highlands and Islands of Scotland? While Scotland has a changeable climate, our itineraries are flexible and tweaked daily according to the weather forecast and that allows us to dodge the worst of the weather. We will supply guests with a list of things to bring for your trip so you can pack accordingly.
I have heard lots of horror stories about midges, what's the truth?
Midges peak from mid June to mid September on the West Coast, but our experienced guides (most of whom live locally) will do their best to keep you away from the worst areas at the worst times! Those who are sensitive should consider packing a decent repellent during the summer months.
Do you cater for special diets?
Absolutely! Each week we cater for vegans, vegetarians, coeliacs and many other diets. Just let us know if you have any special requests or specific allergies before your arrival and we will cater for your needs.
How fixed are your itineraries? Can I opt out of a day?
For days that start and end at the same accommodation, it is absolutely fine to opt out or take an easier sightseeing day. Many of our excursions for Black Grouse, Otters and Pine Martens are morning or evening 1-2 hour options to and from our accommodation so if you wish to opt out that is not a problem.
I like to take photographs, can I get closer to the wildlife?
While there will be opportunities to take photographs during our trips we do not offer specific photography based tours. Our aim is to show you wildlife acting naturally in its habitat, and so we are extremely careful not to disturb our targets and our motto is to leave things as we find them. For that reason, it is at the judgement of the experienced guide in charge as to whether the group or individuals are allowed to get closer to the target for observation or photography. Over the course of the week, we find all photographers have a great range of incidental pictures to mark their trip.
Do you advise that I get travel insurance?
We always recommend that people obtain travel insurance to cover all eventualities. This is especially true of those taking ferries and smaller planes to Shetland, Orkney and the Outer and Inner Hebrides which are more liable to cancellation or disruption.
I do not have a car, how do I get to Heatherlea?
It's easy! We offer a free collection from Aviemore train station (where the buses and coaches also arrive) on Satrudays at 16:30pm and 19:30pm, so all you have to do is get the train to and from Aviemore.
If you wish to fly our nearest airport is Inverness. From Inverness Airport you can take a train to Aviemore to join one of our collection times or book a taxi to take you directly to our hotel.
We also offer a courtesy transfer to Aviemore train station on the departure day for trains leaving the station at 8:30am and 10:30am.
The transfer service to/from Aviemore is also available on all our short break holidays based at the Mountview Hotel.
Should I bring my telescope?
Each guide will have a telescope available for the groups use. If you have your own telescope we recommend you bring it so that you can maximise your own personal viewing. Your guides will of course help you line up your own scopes with the target wildlife.

How do I check availability or make a booking?

You can call a member of our friendly office team on the number below to check availability or to make a booking.
You can also make enquiries by emailing [email protected]