Svalbard 2020
Polar Bear, Walrus, whales and Arctic birdlife in an incredible wilderness
Destination
Focus
More Info

A wide range of different departure dates are available, please contact us for details. The next Heatherlea guided tour is in 2021.

Guide price £3995pp, based on twin porthole cabin for a 9-day holiday in June 2020, inclusive of UK flights and overnight hotel. Deposit £800.
Superior, Double 'Window', Triple and Quadruple cabins are also available at different prices, please ask. Singles welcome if willing to share.

The price above does not include hotel or VIP Lounge in london, though these can be added on request, as can car parking and other services.
In 2020 we offer holidays in Svalbard courtesy of our long-time partners, Oceanwide Expeditions. There are a wide variety of dates and vessels to choose, and you can see available cruises here. We have a great deal of experience in Svalbard, and will be delighted to help you choose the right voyage, help select your cabin and add flights and other services you need. Although prices are quoted by Oceanwide Expeditions in Euros, your holiday will be priced in GBP Pounds Sterling by Heatherlea. You can expect to broadly match the cabin prices quoted by Oceanwide on their website. Let us design your entire holiday package!
Book with Heatherlea, and your package could include flights from your selected airport in the UK, and overnight accommodation in either Longyearbyen or Oslo, depending on flight timings. Remember that if you book all elements with Heatherlea, you benefit from the protection of our ATOL Licence (no 6113) and Tour Operator insurance. Availability can be limited, so please book early!
If you prefer a voyage guided directly by Heatherlea, please see our 2021 page here.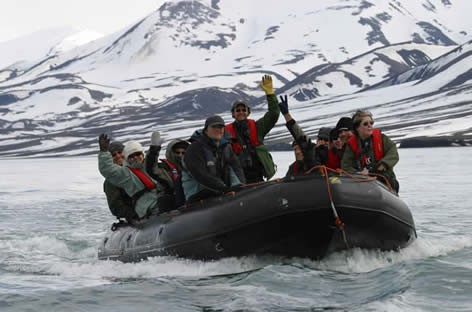 On this holiday you will experience the majesty of these North Atlantic islands, only 800 miles from the North Pole, as we explore one of the last great wildernesses on earth. Spitsbergen is home to countless birds, nesting on spectacular cliffs where glaciers mirror the sunset, seemingly setting fire to the mountain tops. Wildlife encounters are incredible, and nothing can compare with your first sighting of a Polar Bear walking the ice! The undisputed king of the Arctic and a key highlight of this fabulous wildlife adventure, expect prolonged views at close quarters. Time with Walrus can also be unforgettable; these massive animals can be just a few feet away, another great wildlife experience.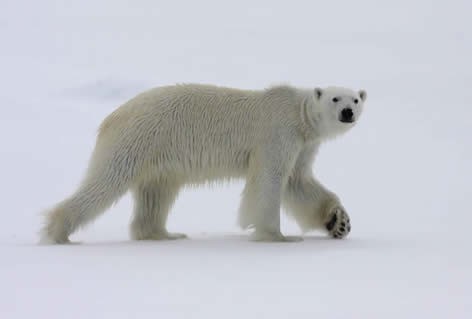 Holiday dates are available throughout the summer, taking advantage of long daylight hours when temperatures are not severe, and coinciding with the breeding season for most bird species. Countless seabirds nest on spectacular cliffs, and there are Little Auk, Ivory Gull, Grey Phalarope, King Eider, Long-tailed Skua and Brünnich's Guillemotplud ducks, geese and seabirds. Sabine's Gull and American vagrants are also very possible, as are Arctic Fox, Svalbard Reindeer, four species of seal, beautiful Beluga and Minke Whale and perhaps other cetaceans including Fin Whale. You will never forget the wonderful wildlife of this harsh, beautiful landscape!
Be sure at the end of the day to spend time outside on deck and marvel at the low sun, lighting the mountains as the sea turns a vivid orange-pink. It may be some time before you make it back to your cabin!
All ships are ice-strengthened vessels ideal for this type of voyage. Their friendly and experienced crew will be anxious to share their knowledge and enthusiasm as we navigate safely through pack-ice and narrow waterways. The itinerary will be flexible, paying close attention to weather and ice, changing course and using inflatable zodiacs amongst the ice-floes, spending as much time ashore as possible. Expect a friendly intimate atmosphere in a cosy and comfortable onboard environment. Join the Arctic wildlife trip of a lifetime!
'The fair breeze blew, the white foam flew, the furrow followed free, we were the first that ever burst into that silent sea'.
Samuel Taylor Coleridge, 'The Rime of the Ancient Mariner'
The Wildlife of Svalbard
You can expect to see most of these;
Red-throated Diver, Great Northern Diver, Fulmar, Pink-footed Goose, Barnacle Goose, Pale-bellied Brent Goose, Common Eider, King Eider, Long-tailed Duck, Ptarmigan, Ringed Plover, Sanderling, Purple Sandpiper, Turnstone, Grey Phalarope, Pomarine Skua, Arctic Skua, Long-tailed Skua, Great Skua, Sabine's Gull, Glaucous Gull, Great Black-backed Gull, Kittiwake, Ivory Gull, Arctic Tern, Common Guillemot, Brünnich's Guillemot, Black Guillemot, Little Auk, Puffin, Snow Bunting.
Polar Bear, Arctic Fox, Svalbard Reindeer, Walrus, Bearded Seal, Ringed Seal, Harp Seal, Common Seal, Beluga, cetaceans including Minke Whale.
A quick note about Spitsbergen and Polar Bears
Polar Bears make their way across the Arctic pack ice to Spitsbergen in winter, and you have excellent chances of seeing them. Frequently the pack ice melts in summer, isolating bears on the islands, and there is an obvious danger to bears if this trend continues. Polar Bears need frozen sea ice to hunt seals, and it seems very possible that the Polar Bear may become much harder to find if the Arctic Ocean continues to warm. If you haven't been here yet, put Spitsbergen high on your wildlife holiday agenda!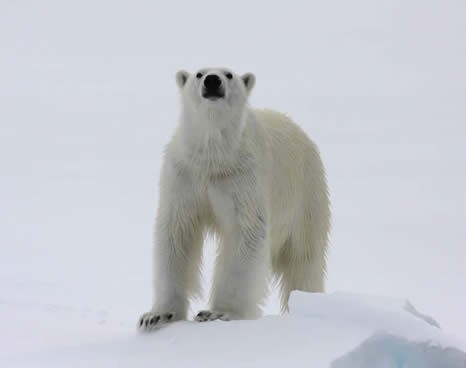 This itinerary is based on a cruise in June 2020. Other dates, including 11-day cruises, can be arranged on request.
Day 1:
Fly via Oslo across the Barents Sea to Spitsbergen, arriving in the capital Longyearbyen. Your first night will be spent either in Oslo or Longyearbyen, depending on availability of flights and vessel sailing schedule.
Day 2:
Longyearbyen is a former mining and scientific centre, named after an American mining engineer. Today you should have some time to acclimatise in this fascinating and picturesque northern settlement of around 2000 people. Birds here include Glaucous Gull, Purple Sandpiper, 'Svalbard' Ptarmigan, Arctic Tern, Snow Bunting, Barnacle Goose, Northern ("borealis") Eider, and also short-legged Svalbard Reindeer, Little Auk, Arctic Fox and Svalbard Poppy close to the town. Red Phalarope may also be possible. Subject to arrival times there may be an opportunity to do some sightseeing, visit the Museum or go shopping. You join the M/v Ortelius late this afternoon, and after our safety drill and briefing, sail north up the west coast in early evening. 'Blue' Fulmar, Little Auk, Puffin, and Brünnich's Guillemot can be expected.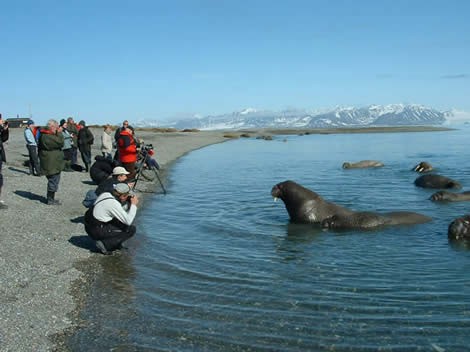 Day 3:
We sail to Raudfjord on the north coast of West Spitsbergen, a beautiful fjord dominated by spectacular glaciers and favoured by Ringed and Bearded Seal. The cliffs and shoreline of the fjord also support thriving seabird colonies and a surprisingly rich vegetation, which flourishes in sheltered spots. Polar bear are often seen here.
Day 4:
Depending on the weather we may sail to the mouth of Liefdefjorden and possibly go ashore for a walk on the tundra island of Andøya. Many Common Eider and Pink-footed Goose nest here, and King Eider may also be seen. We hope to sail into Liefdefjorden, cruising near the 5km long face of the impressive Monaco Glacier. The waters of the glacier face are a favourite feeding spot for thousands of Kittiwake and on previous voyages Polar Bear have been seen on the glacier, providing wonderful opportunities for photography.
Day 5:
Today we sail into Hinlopen Strait, home to Bearded Seal, Ringed Seal, Polar Bear, and Ivory Gull. At the entrance there is the possibilityto see Blue Whale. We'll navigate the ice floes of Lomfjordshalvøya in our zodiacs and explore the bird cliffs of Alkefjellet with thousands of Brünnich's Guillemot. On the east side of Hinlopenstrait, we'll attempt a landing at Palanderbukta on Nordaustlandet, home to reindeer, Pink-footed Goose, breeding Ivory Gull, and Walrus.
Day 6:
We will try to reach our northernmost point at Phippsøya, in the Seven Islands north of Nordaustlandet. Here we will be at 81 degrees north, just 540 miles from the geographic North Pole. Polar Bear inhabit this region, as do Ivory Gull. The ship may sit for several hours in the pack ice, before turning west again.
Day 7:
Retracing our route westwards, our route takes us through and along the pack ice, keeping watch for Polar Bear and the elusive Greenland Whale (Bowhead). About 40 nautical miles west of Spitsbergen we sail along the edge of the continental shelf, where Fin Whale forage in summer in the upwelling's along the Spitsbergen banks. At the mouth of the Kongsfjord we have also good chances to see Minke Whale.
Day 8:
We travel to Forlandsundet at Sarstangen, a haul out place for Walrus. Alternatively we sail into St. Johns Fjord or south to the mouth of Isfjorden and land at Alkhornet. Seabirds nest on its cliffs and Arctic Fox search the cliff base for fallen eggs and chicks, while Spitsbergen Reindeer graze the relatively luxuriant vegetation. The reindeer may seem unbothered by human presence, but this is not really the case. The animals must survive the harsh winter, when temperatures plummet and food is hard to find, so they preserve what energy they can, fleeing only when it is absolutely necessary. In the afternoon we cruise through beautiful Borebukta, following a glacier face before continuing to Longyearbyen.
Day 9:
We disembark in Longyearbyen, the administrative centre of Spitsbergen, for flights south to Oslo and onward home.
Your itinerary will of course depend on weather and the presence of ice, and the above outline is only an indication of your possible route.
Please note: all itineraries are given as a guide only. Actual holiday content may vary according to the judgement of your guide, and elements beyond our control (eg weather).
More Holiday Information:
Accommodation is in comfortable cabins with en-suite facilities.
Food on board is very good, European cuisine, with a choice for most courses. Vegetarian and other diets are welcome, though please check before booking if you have specific dietary needs. There is a well stocked Bar run by the crew's Hotel staff, who are efficient courteous and very helpful.
Walking is generally light/moderate. An average level of fitness is required. On land you will be under the management of the Expedition Leader and their team, and must take note of their instructions, which are there for your safety and benefit.
Weather will be cold, though can be surprisingly warm and pleasant. we travel in high summer, though of course at this latitude bad weather is quite possible. Warm clothing is essential, though your large vessel offers more than adequate cover and heating. Daytime temperatures can be around +6'C .
Biting insects are not expected. There will be flies on the boggy landscape, though little other insect life is expected.
Group size you will be part of a ship's complement of approx 100 people.
Flights are not included in the basic price, though can be arranged for you from any airport linked to Oslo. If you wish to add an extension either before or after your holiday, please contact us and we will be happy to arrange this for you.
Photography opportunities are good, particularly for Polar Bears, Walrus, some birds and above all scenery.
Your leaders You will be attended by resident on-board Group Leaders and naturalists of a very high standard.
What's included in your holiday price:
full-board accommodation during voyage. Includes breakfast, lunch and dinner and all excursions, talks and reports provided by Expedition Leaders.
What's not included in your holiday price:
flights to Longyearbyen, overnight accommodation in Longyearbyen/Oslo, services at your departure airport. All of these can be organised by our team, who will be happy to help you.
transfers to your vessel in Longyearbyen. Locally, a bus to the airport may be provided by the boat company, though this service may not be available, in which case taxi or local bus will be chargeable.
holiday insurance, optional tips to ship's crew/other staff, drinks, and other personal expenses.
Your Leaders
Oceanwide Expeditions has a team of resident onboard expedition staff.
Field Notes
Summer at this latitude features generally settled weather, with light winds and perhaps a little rain. Temperatures should be between minus and plus 5 degrees Celsius. Sea conditions are unlikely to be adverse. Days are long, and you can expect wildlife to appear at any hour. We expect more than one sighting of all key birds and mammals including Polar Bear, so you shouldn't miss anything. You will need waterproof boots, gaiters and wellies, and can expect maximum walking distances of around three miles, over moderate terrain (though of course most of the holiday is spent on the vessel). Biting insects are not expected. Due to the light, the dramatic landscape, and the quality and quantity of wildlife, this is an ideal location for photography.
This itinerary is given as a guide only. Actual holiday content may vary according to the judgement of our captain and crew, and elements beyond our control, especially weather.
Why choose Heatherlea for your birding and wildlife holiday?
Our overseas holidays are planned with care to offer great birding and wildlife, led by capable Leaders who really look after you. Every holiday is run the 'Heatherlea Way', and we hope our Overseas Adventures remind you of the quality and care so many of you enjoy in Scotland. That means rewarding and exciting days in the field, and good quality accommodation and meals, with a real flavour of the country we are visiting. Heatherlea always seek to include the personal touches that make all the difference.
Heatherlea holidays are not 'dawn to dusk' expeditions. Our less-intensive approach is ideal for those who want to relax whilst experiencing the best wildlife watching, and wherever possible we organise early or late activity on an optional basis. We also take sensible breaks when in very hot places and regular comfort breaks on every holiday whenever possible. All itineraries are planned carefully around the best wildlife opportunities, and you won't miss out on memorable wildlife, whilst enjoying relaxed, informal days that are great fun.
The really important part of any wildlife holiday is the experience for you, our valued customer. Heatherlea invest in many things to offer you the best possible service;
We have been organising birding and wildlife holidays for over 30 seasons, and have a highly experienced and capable office team. We also offer a telephone and email service outside normal office hours.
Heatherlea overseas holidays have a maximum of 12 clients per trip, putting the emphasis on personal service, and helping you get the best possible experience.
Our holidays often include things which others might invite you to pay yourself, for instance Departure Taxes and tips to hotels.
All elements of our holidays are sold under our own licence, ATOL 6113. Under 'Flight-Plus' legislation it is a legal requirement of any tour operator to hold an ATOL licence for the supply of any overseas holiday where a flight is involved, if that holiday includes either overseas accommodation and/or car hire. It can be a criminal offence for an operator to book flights as part of a package without an ATOL licence. Heatherlea also hold full Tour Operator Insurance for your added protection.
Heatherlea is your complete wildlife holiday provider. Our 'Back Office' team can organise all your pre-flight and other travel needs. Our specialists will help you book the right services, at the best price. Book holiday extensions through us, and your ATOL protection is extended further. We don't charge extra for this service.
Heatherlea is a limited company, registered in Scotland, and registered to pay VAT (applies to all holidays within the European Union).