Dining at THE MOUNTVIEW HOTEL
your perfect home from home!
'Mainland Scotland' holidays are based at our own property, The Mountview Hotel, a 3-star Country House Hotel in the charming village of Nethy Bridge.
Our kitchen team is led by Head Chef Ettienne Els working alongside highly-experienced Chef Arek Swider. Expect a wide selection of fresh Scottish produce, sourced locally where possible, and prepared with skill and imagination. Dinner is usually at 7pm, allowing time to relax after an exhilarating day in the field, and our groups eat together. You can expect a variety of traditional food, full of flavour and offering a delicious taste of Scotland. If you have special dietary needs, we will cater personally for you, and we offer imaginative vegetarian and vegan dishes. To accompany your meal, our Wine List offers a high quality choice, and we also offer a wide selection of local beers, malts, other spirits (try our range of Scottish gins!) and soft drinks.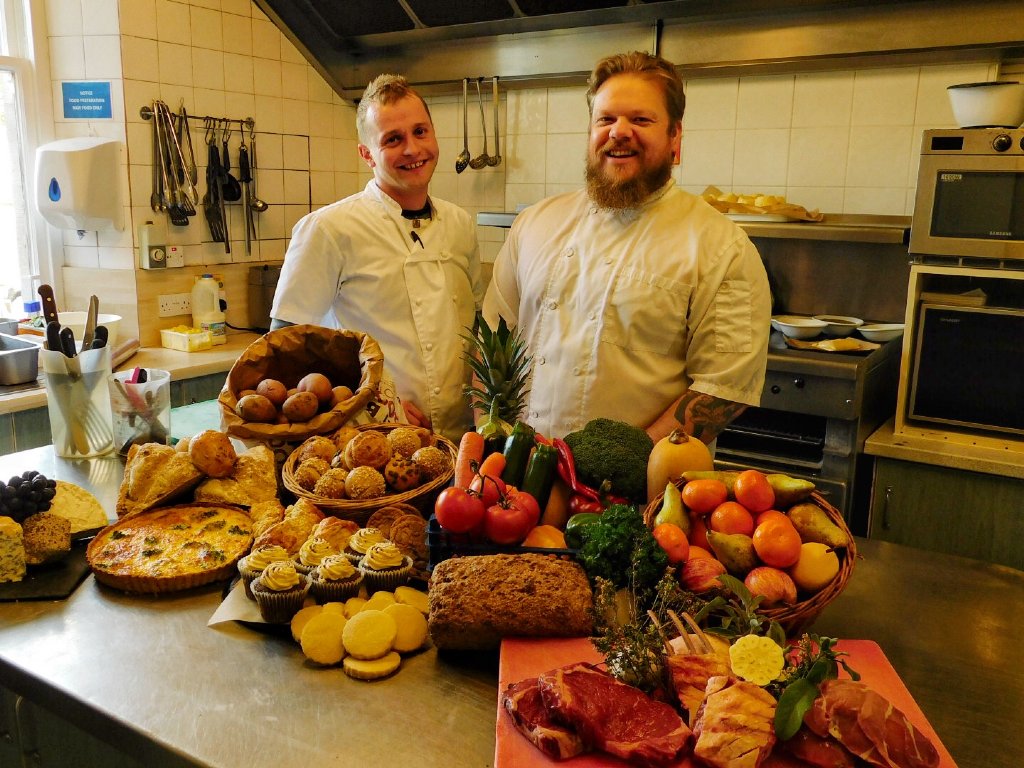 Click above for sample menus currently being served. These are of course subject to change due to availability of ingredients and new developments by our talented Chefs, though they give a good idea of what to expect.
Our kitchen is a hive of activity, and we pride ourselves on the artisanal nature of our Hotel. We offer a three course menu each night with different choices every day. Our evening meals often include venison, salmon, trout, sea bass, scallops, local 'Balliefurth' lamb, homemade soups, breads, pastries and desserts.
Over the years our list of home bakes has become extensive; as well as renowned flapjacks and shortbreads, we also make banana bread, ginger cake, fruit cake, carrot cake and many different sponge cakes. Baskets of homemade bread and rolls accompany dinner, and these may include buttery brioche, wholemeal bread, Italian-style ciabatta, spelt bread, sourdough bread, granary rolls or ale bread.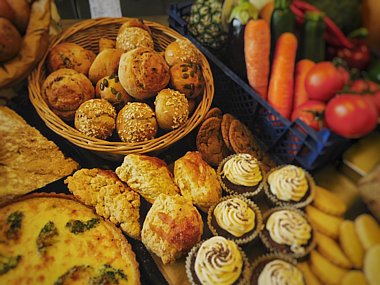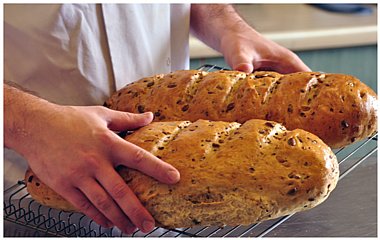 The Kitchen Garden
As part of our policy of using the best, freshest produce, we manage our own kitchen garden, where produce is grown according to organic principles. Our garden provides our table with seasonal herbs, salad greens, vegetables and fruit; almost everything in summer has a flavour from our garden. Expect a selection from mange-tout peas, sugar snap peas, Swiss chard, courgettes, garlic, pak choi, beetroot, broccoli, potatoes, curly kale, lovage, herbs, mixed lettuce, green beans and raspberries. Our own Kitchen Garden reduces food miles and our salads and vegetables taste great too!
We make all jams and jellies ourselves, and source soft fruit from local farms, handpick rowanberries in local woodland and choose just the right fruit for our preserves. Strawberry, damson, worcesterberry and rhubarb Ginger jelly, rowan jelly, apple jelly, marmalade and lemon curd are just a selection.
Caryl enjoys foraging in the local woodland and regularly gathers treats for the hotel including blackberries, chanterelle, porcini, and blewits.
Meals at The Mountview Hotel
During your stay at the Mountview Hotel all your meals are included in the holiday price, from dinner on arrival to breakfast on departure day.
Breakfast - Our 'Full Scottish' breakfast gives a choice from bacon, free range eggs (any way you like them), local pork sausage, tomatoes, mushrooms, beans and black pudding. Fill up on porridge, and of course cereals, fruit juice, toast, fruit salad, yoghurt and freshly brewed tea or coffee.
Packed Lunches - Our kitchen team provides a delicious lunchtime picnic. Join us to enjoy home-baked pastries, choice of sandwiches, soups in cold weather, a mouth-watering variety of homemade biscuits and cakes, fresh fruit and hot drinks.
Dinner - Our menu changes regularly, with a different choice every day. Evening meals often include venison, salmon, trout, seabass, scallops, local 'Balliefurth' lamb, homemade soups, breads, pastries and desserts.

Dietary Requirements?
Vegetarian options are always available and we also cater for Vegans and other special diets on request, including gluten-free and specific allergic needs.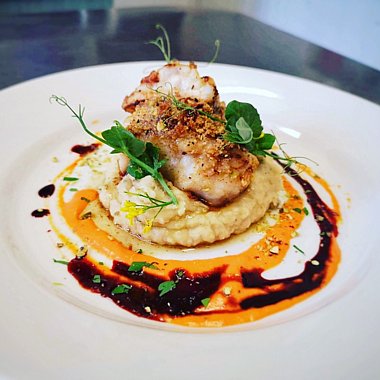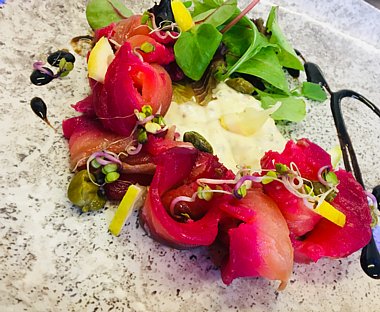 Feedback from our clients...

"I just wanted to say thank you very much to everybody for making it another trip to remember with all the hard work put in by you. The food, as usual, was superb. Many thanks to the Chef!"
Mr H – Highlands & Outer Hebrides 2023
"We were so impressed with the imaginative menus for a small hotel. It was such a pleasure to make our choices each morning for dinner that night. The creme brulée on the last night was one of the best I have had and believe me that is high praise! The lunches were good too and the idea of a snack box each, as well as a lunch box worked really well".
Ms S L - Twenty Scottish Specials, Aug 2021
"The food at the hotel was terrific with great choice, great taste, and great presentation".
Mr T B - Twenty Scottish Specials, Aug 2021

"Many thanks to all the staff at Mountview for all their efforts in making our stay as comfortable as possible. And, of course, I mustn't forget Chef. How he comes up with such wonderful menus day after day is amazing. The food, as always, was outstanding".
Mr K H - Raptors & Grouse, Sep 2021