NEW!

Ireland in Spring
Migrants, seabirds and more on the Emerald Isle
| | |
| --- | --- |
| Destination | |
| Focus | |
| 2025 Dates | |
| Duration | 8 Days |
| 2025 Price | Price TBC |
| Max Group Size | 12 |
Ireland is fast become a popular birding destination, and we are pleased to announce this exciting holiday to the Emerald Isle in spring. On this two centre tour there is huge potential for exciting birding as we seek breeding seabirds, waders in summer plumage, migrant passerines and cetaceans. We explore the south coast, dividing our time between County Cork in the far west, and County Wexford in the east.
We begin in County Cork, where vibrant green fields meet rugged coastline to showcase Ireland at its best. May is a busy time for birdlife as migrant birds flood north and seabirds settle to breed. Attractive hotspots including Mizen Head and Galley Head are great birding locations, and one day we visit Cape Clear Island, taking a boat trip for whales, dolphins, Harbour Porpoise, Grey Seal and perhaps even Basking Shark. We also explore this unique place on foot and visit its famous Bird Observatory.
Rewarding birding can be anticipated in a number of superb wetlands and estuaries in both counties, and we expect to see large numbers of waders, gulls, terns and late-wintering wildfowl, with Chough abundant at many sites. County Wexford reserves such as Tacumshin and Lady's Island Lake hold legendary status among birdwatchers, and we explore the rarely visited Saltee Islands by foot, for close encounters with Puffin, Gannet and other seabirds.
In May, exciting scarce and rare birds from a number of origins can occur anywhere along the Irish south coast. Buff-breasted Sandpiper, Hoopoe, Woodchat Shrike, Red-rumped Swallow, Western Subalpine Warbler, White-winged Black Tern and Red-footed Falcon are just a few recent examples, and if we hear of any we will try to see them, though this tour will run at a relaxed pace (more leisurely than our Autumn '... for birders' tour), as we aim to enjoy all wildlife experiences and the beautiful scenery of the Emerald Isle.
Enjoy your complimentary pre-flight overnight hotel before your holiday begins. Full details from our office! Read more about our Pre-flight Service here!
Day 1: Sat 20 May 2023 - Arrival and travel to Rosscarbery
After relaxing in our complimentary VIP Airport Lounge, we fly to Cork, expecting to arrive just before lunchtime. We begin birding in the afternoon, the estuaries at Clonakilty, Timolegue and Rosscarbery all being en-route to our hotel, or we could detour further south to Galley Head for migrant passerines and our first encounter with Chough. Overnight Rosscarbery area, for four nights.
Day 2: Sun 21 May - Cape Clear Island
Today we take the foot passenger ferry from Baltimore and visit Cape Clear Island, the most southerly point in Ireland. A renowned location for observing bird migration, we explore on foot, walking on good roads and paths. We plan to be flexible, deciding our exact route on the day. Migrants can turn up anywhere, so even the smallest patch of habitat is worth checking though we will pay special attention to well-known locations such as Cotter's and the Post Office garden, 'the Waist' and Lough Errol. Cuckoo, Whinchat, Redstart, Pied and Spotted Flycatcher, hirundines, pipits, finches, thrushes and a variety of warblers are possible as they migrate north, and in the right conditions numbers and diversity can be high. Mediterranean overshoots such as Hoopoe, Wryneck, Bee-eater, Woodchat Shrike, Western Subalpine Warbler and Serin are virtually annual on Cape Clear, and anything can turn up from any direction. Chough and Raven are common, Peregrine are likely too and we should encounter breeding Wheatear, Stonechat, Whitethroat, Meadow and Rock Pipit as we walk. The Bird Observatory has been recording birds here for over sixty years, and we work with its team to make the most of our visit. A great day out to a very special island!
Day 3: Mon 22 May - Seabird and cetacean boat trip
Half our day will be set aside for a dedicated voyage several miles out into the Atlantic targeting cetaceans, seals and seabirds. May is a good time of year for large whales, with Fin, Humpback and Minke the most frequently recorded in these waters. Harbour Porpoise are likely, and we could also see Common, Bottlenose and Risso's Dolphin and perhaps Basking Shark and strange Ocean Sunfish. Seabirds including Gannet, Fulmar, Shag, Guillemot, Razorbill, Puffin, Kittiwake should feature, as should Manx Shearwater, skuas and the first returning Storm Petrels.
Later we visit local estuaries and lakes for Little Egret and Kingfisher. Any late-to-leave wildfowl and summer plumage waders such as Knot, Sanderling, Dunlin, Black and Bar-tailed Godwit are possible, as are Greenshank, Common and Green Sandpiper on passage, terns and roosting gulls, which may contain Mediterranean and Yellow-legged Gull. White-tailed Eagle has also recently returned to County Cork as a breeding species and we might have a sighting in stunning coastal surroundings.
Day 4: Tue 23 May - Mizen Head
The whole area around Mizen Head offers a superb range of birding habitats and is well worth exploring. Driving west, Roaring Water Bay and other sheltered sites at Toormore and Schull can be checked for divers and grebes, perhaps in summer plumage. Lissagriffin Lake is the most westerly estuary, and so is often the first stopping point for many birds arriving into south-west Ireland. A regular site for Green, Wood and Pectoral Sandpiper, the lake boasts an impressive track record for rarities. Gardens, plantations, vegetated gullies and stone walled fields at Mizen Head offer plenty of potential for incoming passerines and we aim to work a variety of habitats for common migrants in the hope of unearthing something special. Southerly winds are preferable, though if the wind is from the west, sea-watching would be worthwhile as birds are pushed closer to land. Chough are abundant, and our guides recently enjoyed the memorable spectacle of over fifty 'kettling' into the sky from a house roof here!
Day 5: Wed 24 May - Transfer from Cork to Wexford
We leave County Cork today, transferring east to County Wexford. Our exact route may be structured around rare bird news, and we will possibly visit one or more key sites on the journey. Old Head of Kinsale, Cobh Harbour, Ballycotton Bay and Youghal Marsh may be considered, or perhaps a detour to Brownstown Head and Tramore, two quality sites in County Waterford. We expect to arrive at our hotel mid-afternoon, and once checked in can take a walk around the grounds to look for distinctive, yellow-toned Irish Coal Tit, or to the banks of the Wexford river for waterbirds. Overnight for three nights at Ferry Carrig, Wexford.
Day 6: Thur 25 May - Tacumshin Marsh
Tacumshin Marsh is one of the most famous sites for birding in Ireland and indeed the British Isles. It's vast wetlands make it attractive to large numbers of birds with many species of wader and waterfowl recorded annually! This is a large reserve, which needs to be covered by foot, and wellington boots are essential to explore properly, and at times to reach the best birding. Wader variety is second to none, and we hope to connect with summer plumaged Curlew Sandpiper, Little Stint and perhaps a rarity or two. Garganey and nearctic species such as Ring-necked Duck pass through regularly and raptors can include Hen and Marsh Harrier, Merlin, Hobby, Peregrine and Osprey. The mild conditions are favourable for Kingfisher, and as we explore different sections of the reserve through the day, we should also see Sedge Warbler, Reed Bunting and much more.
Day 7: Fri 26 May - The Saltee Islands
The Saltee Islands are situated five miles off the south Wexford coast, and this is possibly the most famous seabird sanctuary in all of Ireland. We take a boat out to privately-owned Great Saltee (the larger of the two), home to breeding colonies of Puffin and Gannet. A quiet place with limited access, we explore on foot enjoying close encounters with the seabirds which should also include Razorbill, Guillemot, Kittiwake, Shag, gulls and terns. Grey Seal breed here later in the year and 'The Saltee' are also famed as an important stop-off site for migrants, so we keep our eyes peeled as we stroll about this special place.
Later, we can explore any number of key sites in a small area. There are lots of options, such as Lady's Island Lake for waterbirds, Rosslare back-strand for roosting waders and terns including Roseate, Carnsore Point for migrant passerines and seabirds or the Wexford Slobs which are a good place for raptors and to watch Irish Hare.
Day 8: Sat 27 May - Return to Cork and departure
We may have the chance for some last-minute birding, perhaps visiting a new site before returning to Cork airport, for our flight back to the UK.
Please note: all itineraries are given as a guide only. Actual holiday content may vary according to the judgement of your guide, and elements beyond our control (eg weather).
What's included in your holiday price:
scheduled return flights between London Heathrow and Cork, airport taxes.
ground transportation as outlined including all transportation in Ireland in a modern air-conditioned vehicle. All tolls.
accommodation and all meals, including breakfast, lunch and dinner.
the services of your leaders.
all boat trips and ferry to Cape Clear Island
The Heatherlea Pre-Flight Service offers everything you need at the airport, including hotels, car parking, airport lounges, regional flights, and upgrades. Let Heatherlea take the strain! Pre-flight airport hotel and lounge included subject to terms and conditions. Read more..
What's not included in your holiday price:
personal insurance, drinks and other personal expenses, and any other costs not specified as 'included'.
Your Leaders:
Mark Warren is a dedicated and very experienced birder and Tour Leader, with extensive wildlife knowledge and boundless enthusiasm. Busy guiding around the world, many Heatherlea clients love his tours!
An enthusiast from an early age, Mark's conservation roles included working for the RSPB in Cornwall, for two years at Fair Isle Bird Observatory, and for five years at North Ronaldsay Bird Observatory, serving him particularly well for his present role!
Always keen to take on an identification challenge, Mark's widespread knowledge and background led to his appointment to the Scottish Bird Rarities Committee in 2017 and he also serves on the Orcadian Rarities Committee. He holds an impressive track record of British rarity finding, both privately and while leading for Heatherlea, including a Walrus on Orkney, though the UK's first spring Black-faced Bunting (seventh overall), exclusively seen by our 'Shetland in Spring' 2018 tour, will take some beating!
Mark is a fully qualified bird ringer, holding a BTO license for almost two decades contributing to research projects in both Kenya and Cyprus in the past.
Mark will be joined by another from the Heatherlea team with more than seven clients.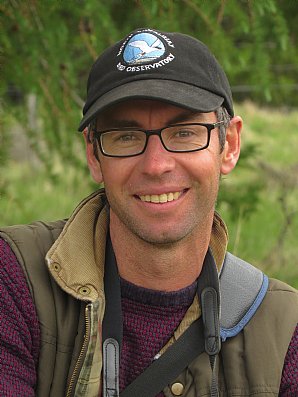 More holiday information:
Group size: Max 12.
Accommodation: Four nights comfortable en-suite hotel accommodation in County Cork, and three nights comfortable en-suite hotel accommodation in County Wexford.
Transport: Will be a 9 seater minibus driven by your Heatherlea guide, with two minibuses for more than seven clients.
Cork Boat trip: An optional trip of around four hours, travelling several miles offshore to known 'hotspots' for whales and other cetaceans. Ferry journeys to Cape Clear and Great Saltee are shorter and (should be) over calmer waters.
Telescope: Your guide(s) will have telescopes for your use, but due to the number of waders, terns and seabirds we recommend bringing a scope if you have one.
Food and drink: A full cooked breakfast will be offered every morning and packed lunches will be in the field. We intend to make coffee stops, though this cannot be guaranteed every day.
Biting Insects: Not likely to a problem, though midges and mosquitoes can occur.
Weather and Clothing: Temperature in May averages 15C -25C, though both warmer and cooler weather are likely. Rain and strong winds are possible, expect a mixture of weather. Exposed headlands and boat trips are often chilly in the wind, so please ensure you have full waterproofs, a hat and gloves. Good footwear is also important and (standard height) wellington boots are required for Tacumshin as we are likely to walk through shallow channels of water to reach the best birding areas.
Walking: Moderate, 3-5 miles per day. There there will be some days when we will be on our feet for the duration, such as when visiting Cape Clear Island, Great Saltee and Tacumshin. There will also be some uphill track and road walking so an average level of fitness is required. Access to Great Saltee is limited and landing can be on rocky ground so good footwear (including wellingtons) is advised. A walking pole may prove useful too.
Flights are by scheduled airline, from London Heathrow. We may be able to offer flight arrangements from another airport and/or or quote without flights so you can make your own arrangements. If you wish to add an extension either before or after your holiday, please contact us and we will be happy to arrange this for you.
Why choose Heatherlea for your birding and wildlife holiday in Europe?
Our overseas holidays are planned with care to offer great birding and wildlife, led by capable Leaders who really look after you. Every holiday is run the 'Heatherlea Way', and we hope our Overseas Adventures remind you of the quality and care so many of you enjoy in Scotland. That means rewarding and exciting days in the field, and good quality accommodation and meals, with a real flavour of the country we are visiting. Heatherlea always seek to include the personal touches that make all the difference.
Heatherlea holidays are not 'dawn to dusk' expeditions. Our less-intensive approach is ideal for those who want to relax whilst experiencing the best wildlife watching, and wherever possible we organise early or late activity on an optional basis. We also take sensible breaks when in very hot places and regular comfort breaks on every holiday whenever possible. All itineraries are planned carefully around the best wildlife opportunities, and you won't miss out on memorable wildlife, whilst enjoying relaxed, informal days that are great fun.
The really important part of any wildlife holiday is the experience for you, our valued customer. Heatherlea invest in many things to offer you the best possible service;
We have been organising birding and wildlife holidays for over 30 seasons, and have a highly experienced and capable office team. We also offer a telephone and email service outside normal office hours.
Heatherlea overseas holidays have a maximum of 12 clients per trip, putting the emphasis on personal service, and helping you get the best possible experience.
Our holidays often include things which others might invite you to pay yourself, for instance Departure Taxes and tips to hotels.
All elements of our holidays are sold under our own licence, ATOL 6113. Under 'Flight-Plus' legislation it is a legal requirement of any tour operator to hold an ATOL licence for the supply of any overseas holiday where a flight is involved, if that holiday includes either overseas accommodation and/or car hire. It can be a criminal offence for an operator to book flights as part of a package without an ATOL licence. Heatherlea also hold full Tour Operator Insurance for your added protection.
Heatherlea is your complete wildlife holiday provider. Our 'Back Office' team can organise all your pre-flight and other travel needs. Our specialists will help you book the right services, at the best price. Book holiday extensions through us, and your ATOL protection is extended further. We don't charge extra for this service.
Heatherlea is a limited company, registered in Scotland, and registered to pay VAT (applies to all holidays within the European Union).