Shetland in Autumn for birders
Rarity hunting at the top of Britain - covering all corners of Shetland from Unst to Sumburgh!
Destination
Focus
2024 Dates
Duration
8 Days
Guides
2024 Price

£1995 pp

£275 single supplement.

Deposit £300

2025 Dates
Duration
8 Days
2025 Price

Price TBC

2025 Price

Price TBC

Max Group Size
7 per guide
Please note this holiday starts and ends in Aberdeen or Sumburgh.
This exciting autumn holiday to Shetland offers you the chance to see a number of rare and scarce migrants amid spectacular scenery. We stay in two centres, with four nights in the extreme south and three nights in North Mainland giving us access to Unst and other islands. Flexibility is key on a migration holiday such as this, and we may also choose to visit Yell, Fetlar, Bressay, Noss, Yell, Whalsay or Outer Skerries to search for our own birds or at moments notice should something rare turn up. With a good ferry service and road network, we birdwatch at known hotspots but also explore lesser-known places enjoying great birding throughout!
Access to most places on Shetland is largely unrestricted, and birding is made easier by the almost complete lack of trees. Each Autumn is different, the weather plays a huge part as does luck! If the wind is in the east, large falls can occur with birds seemingly everywhere. In the right conditions large numbers of thrushes, pipits, chats, flycatchers, warblers, finches and buntings make landfall on the archipelago. Heatherlea groups have seen too many rarities in Shetland to name them all, though Siberian Rubythroat and White's Thrush on the same tour stand out as being especially memorable!
In westerly winds we need to be patient, but the rewards can be higher! We have certainly been lucky in the past and among our recent Nearctic successes have been Swainson's Thrush, Myrtle Warbler, Buff-bellied Pipit and a host of waders and wildfowl! Rare birds can turn up virtually anywhere and any small garden, crop field or even a seaweed strew beach can provide food and shelter for migrants. Birds are often seen out of context, and we expect an exciting and varied birding adventure on one of Scotland's most extralimital group of islands.
Please be aware this is one of our 'for birders' holidays, principally focussed on finding and identifying rare birds in a UK context. We may have some time for cultural, historical and retail requests, but the birding always comes first. At this time of year, migrant species are at the fore and apart for the occasional Red-throated Diver and Great Skua, the breeding season is over and the seabird cliffs empty. For those interested in a more general, natural history tour of Shetland, we recommend our Shetland Island Explorer and also our Shetland Wildlife in Summer holidays.
Flights to/from Shetland are not included in the holiday price. You will need to book these yourself, though we can advise times.
This is an extremely flexible tour, as the migrants and rarities which turn up are different each year and entirely dependable upon the weather! A lot of luck is required to connect with special birds so there can be no guarantees as we search for our own birds and target rarities (if practicable and entirely at the guides discretion) as we travel around. We spend most of our time on the Shetland Mainland, though will certainly plan to visit Unst, the northernmost island and a real rarity hotspot! An expected week on Shetland may look something like the itinerary detailed below, but be prepared for days to be rotated or a last-minute change of plan should something good turn up elsewhere…
Day 1: Saturday – Arrival and transfer to North Mainland
We travel to Shetland via Aberdeen, and with some time for birding once we arrive at Sumburgh may begin by searching for known rarities straight away. There can often be a Barred Warbler, Wryneck, Red-backed Shrike or Common Rosefinch on offer as we work our way north towards our accommodation in North Mainland, where we stay for three nights.
Day 2: Sunday – Unst
From our North Mainland base, we have opportunities to explore a wide area and plan to visit Unst at least once. With a tundra-like landscape and limited cover, the island promises good birdwatching, has a growing reputation for rarities and is well covered by visiting birders despite its large size. Travelling first through the island of Yell, we plan the day around the ferries and take in any special birds there en route, recent delights including Swainson's Thrush, Melodious Warbler and American Golden Plover. Once on Unst we investigate beaches and bays, gardens and plantations for migrants. Birds often seem out of place - we have seen more than one Long-eared Owl, Water Rail and Woodcock in bizzarre circumstances next to a stone wall! All habitats offer potential, and even the smallest patch of cover can provide shelter and food for passerines! In the right conditions we may encounter large numbers of pipits, thrushes, flycatchers, chats, finches and warblers. Heatherlea groups have certainly enjoyed some great days birding on Unst in the past, among our recent highlights we have seen River, Lanceolated and Blyth's Reed Warbler, Richard's, Olive-backed and Red-throated Pipit, Red-breasted Flycatcher, Bluethroat and Woodchat Shrike.
Day 3: Monday – North-west Mainland
At least one day of wind and rain is likely on Shetland, and a day exploring Northmavine offers a good opportunity to find your own birds in less favourable conditions. Less attended by visiting birders due to its remoteness, some of the archipelago's breeding birds can still be present including Red-throated Diver on small lochans. Great Skua often pass overhead, Red Grouse may be seen on the moorland and hunting Merlin can pop up anywhere! Golden Plover flocks are numerous and worthy of attention as they can attract other waders including Ruff or something rarer from the west like a Buff-breasted and Pectoral Sandpiper. On exposed headlands Snow and Lapland Bunting latch onto passing flocks of Skylark, Meadow Pipit and Twite, and we have been lucky with (Horneman's) Arctic Redpoll in this region on more than one occasion. Sea-watching can be rewarding, with skuas, shearwaters and perhaps a Grey Phalarope or Sabine's Gull following storms. There is mammal interest too with Mountain Hare on the moors, Otter and Grey Seal in quiet Voes and chances of cetaceans including Harbour Porpoise, Risso's Dolphin and even Orca.
Day 4 & 5: Tuesday & Wednesday - South Mainland
Today we relocate to South Mainland taking in any rarities on the way. Attracting the highest density of birders, many rare and scarce birds are often found there, and we try and see as many as possible from our base. The best wader habitats are in the south and we will probably scan through the flocks of Ringed Plover, Dunlin, Knot, Sanderling, Bar-tailed Godwit, Redshank, Turnstone and Purple Sandpiper on the Pool of Virkie more than once. Iceland and Glaucous Gull may be present, and we have enjoyed both King Eider and Surf Scoter among the Common Eider on recent tours.
Less rugged than the north and with some lovely sheltered valleys, iris beds and gardens, there is plenty of habitat to explore and we often find our own rarities. Southbound migrants originating in Scandinavia can be numerous in the right conditions and likely are Redstart, Whinchat, Wheatear, Ring Ouzel, Pied and Spotted Flycatcher, Tree Pipit and several species of warbler. On some very special Shetland days Yellow-browed Warbler can be the commonest bird! Over the years our groups have seen too many special passerines to name them all, some highlights from the south and east being Pallid Harrier, Hoopoe, White's Thrush, Brown and Isabelline Shrike, Siberian Rubythroat, Siberian and Stejneger's Stonechat, Melodious, Icterine, Greenish and Western Bonelli's Warbler, Eastern Yellow Wagtail, Short-toed Lark, Rustic and Little Bunting. More patience can be required with a north or westerly airflow but the rewards high, Myrtle Warbler, Swainson's Thrush, Red-eyed Vireo and Buff-bellied Pipit among our recent successes. We stay in South Mainland, usually at Sumburgh for four nights.
Day 6: Thursday – Another Island or even back to Unst
Maintaining our flexible approach, we may select another outpost such as Whalsay, Bressay, Noss or the Outer Skerries, be it to search for a known rarity or explore pastures new in the quest to find our own birds. Venturing further afield and taking a ferry to one of the Northern Isles such as Yell, Fetlar or even Unst again won't be ruled out if there is good birding on offer.
Day 7: Friday – Central or West Mainland and rarity round-up
With some good wildfowl habitats in Central Mainland, Whooper Swan and Greylag and Pink-footed Geese are likely in the fields, perhaps with scarcer Barnacle or Greenland White-fronted in tow. Sea-duck include Long-tailed Duck, Red-breasted Merganser and Eider, while Nearctic possibilities among common wildfowl on freshwater include American Wigeon, Green-winged Teal, Lesser Scaup and Ring-necked Duck. Just like in the rest of Shetland, rare passerines can turn up anywhere and featuring on the recent roll-call from Central and West Mainland are Black-billed Cuckoo, Palla's Grasshopper and Western Orphean Warbler, Red-flanked Bluetail, Citrine Wagtail and Pechora Pipit to name but a few, and some of these have been seen by Heatherlea groups. With it being our last day, we will be sure to try and make the extra effort to see anything special before our tour our comes to an end.
Day 8: Saturday – Departure
We transfer from our hotel to Sumburgh Airport for our flight home.
Please note: all itineraries are given as a guide only. Actual holiday content may vary according to the judgement of your guide, and elements beyond our control (eg weather).
Field Notes
Weather: Expect a wide variation in weather conditions, which can be wild and unpredictable, with temperatures perhaps averaging around 13 degrees Celsius. Sunshine, rain and strong winds are all possible, and you will probably experience a bit of everything. Wind can be fairly constant on many days. Biting insects are not expected.
Clothing: Please bring fully waterproof walking boots or wellies, fully waterproof clothing, gloves, hat and plenty of warm clothes and a small rucksack.
Walking: The holiday will be run at a mostly relaxed pace, though if a rare bird is found nearby or if we need to catch a ferry we may need to pack up at short notice! There will be several short to moderate (1 to 5 mile) walks most days. Chosen walks will be on mostly good ground, but please note that rare birds are often found in inconvenient locations that may involve climbing stiles and gates, or walking over wet or rocky ground in order to see them. All excursions are of course optional!
Please note that this is a group holiday with fixed accommodation points. Large road distances (by road, top to bottom is 90 miles!) and ferry times may mean there can be occasions when we will not go for a rare bird, regardless of the level of rarity. At the same time, if we attempt a twitch, it may require a ferry crossing and several hours in the minibus (with no guarantee of seeing the bird of course!). These are frequently short-notice changes of itinerary based on the information at hand. The guides have extremely difficult decisions to make at times and their decision is final in all of these circumstances.
What's included in your 'Shetland for Birders' holiday price
Seven nights comfortable en-suite hotel/guest house accommodation on Shetland. We choose from our personally inspected shortlist, where birders are welcome and the hospitality is special. Guests are never expected to share. All rooms are en-suite. Full details with your joining pack.
Full Scottish breakfast and dinner from Saturday evening till Saturday morning, packed lunch daily.
All transfers by comfortable minibus. All ferries and other boat trips.
Guidance from a professional Group Leader.
What's not included in your 'Shetland for Birders' holiday price
Flights (or ferry travel) to and from Shetland. You will need to book these yourself, though we can advise on times.
Travel to/from Aberdeen
Insurance, drinks and other items of a personal nature.
WHY CHOOSE HEATHERLEA FOR YOUR SCOTTISH ISLAND ADVENTURE?
Heatherlea is THE company for top quality birding holidays in Scotland, chosen by more and more birders each year. Relax and enjoy first-rate birding with Scotland's best guiding team, as we do all the planning! Our fully inclusive guided holidays concentrate on the real experience, and we take time to ensure that each of our guests enjoys everything we do. Above all, we make it our business to show key wildlife to you.
These popular holidays are carefully designed to explore the beautiful and wildlife-rich Scottish islands and far west coast. Many itineraries are unique, designed to give you the best of island wildlife at the best time of year. All are run at a leisurely pace, though we might move a little faster when rare migrants and vagrants are in our sights!
We have been organising birding and wildlife holidays for over 30 seasons, and have a highly experienced and capable team. We also offer a telephone and email service outside normal office hours.
This holiday has a maximum ratio of 7 clients per guide, putting the emphasis on personal service, and helping you get the best possible experience.
Heatherlea are Mainland Scotland's FIRST '5-Star Wildlife Experience!' This is the highest available grading, classified as 'exceptional' by visitScotland.
Single guests are never expected or invited to share.
Our holidays often include things which others might invite you to pay yourself, for instance packed lunch and tips to hotels.
Heatherlea hold full Tour Operator Insurance for your added protection.
Heatherlea is a limited company, registered in Scotland. We are also registered to pay VAT, which is included in your holiday price as quoted on this page.
Once your holiday is confirmed in writing by us, we promise not to surcharge the price for any reason.
Enjoy an excellent birding and wildlife holiday with Heatherlea.
Mainland Scotland's FIRST '5-Star Wildlife Experience!'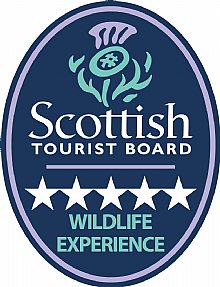 'Exceptional'
Visit Scotland
Trip Reports