NEW!

Wildlife of 'The Minch'
An exciting cruise featuring cetaceans, seabirds, eagles and more!
| | |
| --- | --- |
| Destination | |
| Focus | |
| Max Group Size | 7 |
This is an exciting new tour, specifically focusing on the seabird and cetacean rich waters between north-west Scotland and the Outer Hebrides – 'The Minch'! Our time is divided between land and sea, spending four nights aboard our cruise boat and two on the Isle of Lewis, maximising our chances to enjoy the region's wildlife to its fullest.
Recognised as one of the most important stretches of water for cetaceans, detailed studies of the Minch in recent years have resulted in some fantastic observations, especially of larger whales lingering in the area. By chartering our own cruise boat we have ultimate flexibility to visit known hotspots and favoured cetacean feeding areas. Minke Whale is the most frequently recorded, though Fin and Humpback Whale are becoming more regular while Sei Whale was confirmed here in 2022. Short-beaked Common, Bottle-nosed and Risso's Dolphin are likely with chances of White-beaked and Atlantic White-sided Dolphin too. Harbour Porpoise should be seen and we also have chances of Basking Shark.
While this is a tour with cetaceans to the fore, we also enjoy great birding daily. Seabirds will be prominent, with large flocks gathering on the water as their breeding season reaches its peak fledging period. Great and Arctic Skua, Fulmar, Gannet, Shag, Razorbill, Guillemot, Puffin, Black Guillemot, Kittiwake, terns and gulls should all feature, with Storm Petrel, both Manx and Sooty Shearwater and scarcer seabirds such as Leach's Petrel, Great and Cory's Shearwater, Sabine's Gull, Pomarine and Long-tailed Skua also possible. We plan to visit (and land on) the Shiant Isles, with quiet sea lochs and unspoilt bays available for night-time anchorage.
Lewis and Harris support high densities of Golden and White-tailed Eagle, and we will likely see them both from our boat and on dry land. A few Hen Harrier and Merlin breed, and among the waders we look for rare Red-necked Phalarope and hope to at least hear Corncrake. The machair will be in full flower and at its glorious best and during our week.

We take time out from birding to visit important historical sites, with ample time to relax on the deck of our cruise boat and enjoy a glass of wine! A fabulous new holiday to see some of the most spectacular wildlife in the British Isles. We sail aboard MV Monadhliath, a fully-converted former fishing boat, specifically designed for wildlife observation and adapted for coastal live-aboard cruising. This is the perfect vessel to explore the Minch, with two bespoke viewing platforms above her stern giving an unrivalled viewing experience.
Day 1: Sat 29 July 2023 Transfer to Ullapool and birding on Lewis
Departing Nethy Bridge early morning we drive north to Ullapool, where we take the mid-morning ferry across the Minch to the large island of Lewis in the Outer Hebrides. With majestic mountain scenery and rugged coastlines both in front and behind us, we encounter seabirds and marine mammals for the first time. A range of breeding and feeding species are likely, with Fulmar, Shag, Gannet, Guillemot, Razorbill, Puffin, Kittiwake, Manx Shearwater, Storm Petrel, Great and Arctic Skua some of the first birds in our notebooks.
Arriving in Stornoway, all our 'land based' activities will suit the weather conditions, and we may choose to visit the Butt of Lewis to search for seabirds and cetaceans on our first afternoon. On the Atlantic coast we have chances of passing species such as Sooty Shearwater or a scarce skua. We look for raptors in the peatlands and check quiet lochans for divers, Whooper Swan and nesting waders including a few Red-necked Phalarope - a truly special bird! Overnight Stornoway for 2 nights.
Day 2: Sun 30 July Mainland Lewis/Harris
The majority of the Lewis interior is vast peatland and as such is an internationally important area for breeding species, including divers, waders including Golden Plover and Greenshank and a high density of raptors. With a full day to explore, we scour the hillsides for Golden and White-tailed Eagle, and hopefully Hen Harrier and Merlin too. On the Atlantic side, the landscape changes and working our way down the west coast, empty beaches and bays provide temporary feeding for passage waders, and many are good for Otter too. In boggy ground and isolated patches of Flag Iris a few Corncrake are present, and we pause to listen for their unmistakable calls. The 'Machair' will be at its glorious best, wildflowers and northern orchids offering a vibrant splash of colour which needs to be seen to be believed! In a break from wildlife watching, we also plan to visit key archaeological sites including Dun Carloway Broch and the Standing Stones of Callanish, though be warned wildlife may interrupt – both White-tailed and Golden Eagle can often appear overhead!
A flexible approach will again be important, and if all our birding targets have been achieved on Lewis, we may choose to venture further afield and explore the island of Harris to the south. A scenic gem, rightly lauded as one of the most beautiful islands in Europe, though conjoined with Lewis it is not actually a true island. Harris has a different feel to Lewis, offering a full range of rugged habitats including long sweeping beaches and diverse dune systems. Summering Common Scoter and Eider may be seen in the bays and Harris is a haven for Golden Eagle, a range of high viewpoints amid spectacular granite ridges and hillsides giving us every chance of great views.
Day 3: Mon 31 July Eastern Lewis and the Minch
Our last morning on land may be spent looking for eagles and cetaceans perhaps from Tiumpan Head or another east coast viewpoint overlooking the Minch. Twite, Rock Pipit and Wheatear are all likely on the headlands, and we may have time to explore other habitats to enhance our wildlife-lists. Return wader passage will be in full flow and on unspoilt beaches a range of species are possible including Dunlin, Knot, Sanderling, Black and Bar-tailed Godwit, many of them in smart summer plumage. Sheltered bays can be good for moulting Eider, Red-breasted Merganser, feeding gulls and terns. Sandwich, Common, Arctic and Little are all possible, the latter retaining a small breeding population here.
In the afternoon we board our cruise-boat, sailing north to begin exploring the Minch by sea. We may well see our first cetaceans with Harbour Porpoise, Common and Risso's Dolphin and Minke Whale often numerous within this stretch of the Minch. We stay overnight on our vessel for the next 4 nights.
Days 4 - 6: Tue 1- Thur 3 August Minch Wildlife cruise
We have a flexible itinerary to explore the Minch over the next three days, with every chance of some fantastic wildlife experiences in this wonderful area with a rapidly increasing reputation for cetacean watching. Our skipper knows these waters well and we have plenty of time to go to known hotspots, investigate feeding frenzies ad-hoc and follow up on any news from land-based observations. Harbour Porpoise are likely daily, while commoner species of dolphin include Risso's, Bottle-nosed and (Short-beaked) Common with chances of Atlantic White-sided and White-beaked Dolphin too. Occasionally Orca pass through and it is prime-time for 'larger' whales with Humpback, Fin and even Sei Whale attracted by the abundance of food. Basking Shark may also be seen, and among any feeding frenzies we look out for scarcer seabirds such as Leach's Petrel, Great and Cory's Shearwater, Sabine's Gull, Pomarine and Long-tailed Skua.
During our time cruising the Minch we plan to sail south for the Shiant Isles and its bustling seabird cities. Shag, Kittiwake, Razorbill, Guillemot and Puffin all breed and can be especially abundant in the surrounding waters. We plan to land on these rarely visited islands, enjoying all the sight and sounds (and smells) of the busy colonies. Storm Petrel and Manx Shearwater are also likely, often seen as we head for our anchorage at the end of the day as dusk falls.
We also venture inshore to sheltered sealochs on the Lewis/Harris east coast offering a unique perspective of these dramatic islands. Scanning the ridges for White-tailed and Golden Eagle, we may encounter Red Deer too. Both Common and Grey Seal are likely, and we look out for Otter in quiet stretches of the coast. Stunning Red-throated and Black-throated Diver may be seen, and if time and conditions allow, we plan to land in remote areas to explore on foot.

Day 7: Fri 4 August Return to land and transfer to Nethy Bridge
After a final morning on board our cruise boat, we return to Stornoway in time for the afternoon ferry to Ullapool. From deck we have one final chance to enjoy the 'Wildlife of the Minch' before returning to Nethy Bridge, expecting to arrive at around 7pm when our holiday ends.
This holiday can be combined with:
MAINLAND SCOTLAND
Birds and Mammals featuring Perthshire, Highland Wildlife in High Summer, Highlands and the Outer Hebrides
Please note: all itineraries are given as a guide only. Actual holiday content may vary according to the judgement of your guide, and elements beyond our control (eg weather).
Weather: Expect a wide variation in weather conditions, which can be unpredictable with temperatures perhaps averaging around 15 degrees celsius. Sunshine, rain and strong winds are all possible, and you will probably experience a bit of everything. Biting insects are not expected.
Clothing: Please bring walking boots or shoes, fully waterproof clothing and a small rucksack.
Walking: The holiday will be run at a relaxed pace, with time for photography and botany as well as fabulous birdwatching in a spectacular setting! There may be moderate (up to 3 miles) walks some days over uneven, steep and sometimes boggy ground. Although we take our time during these walks you will need a good level of mobility to enjoy this holiday to its maximum extent. All of our landings are optional, mostly they will be via a small boat on to a beach, jetty or occasionally rocks - You may find a walking pole useful!
A note about sea sickness: Please note that with four days aboard a boat, seasickness is a possibility. Even if you do not usually suffer with seasickness it can take a little getting used to so we recommend bringing a supply of preventative medicine. 'Sealegs' usually develop after a day or two aboard!
Food: All meals are included. Full Scottish breakfast and dinner from Saturday evening till Friday morning and packed lunch daily. Alcohol is not supplied onboard, though you are welcome to bring and consume your own supply!
Our Vessel
MV Monadhliath is a fully-converted former fishing boat, specifically designed for wildlife observation and adapted for coastal live-aboard cruising. It is the perfect vessel to explore the Minch, with two bespoke viewing platforms above her stern giving an unrivalled viewing experience. The upper platform has comfortable 'bucket' seating while the mezzanine platform has two benches, offering adequate space for all to be on deck at the same time.
Fully certified with MECAL (one of the leading certifying authorities, directly authorised by the UK Dept for Transport (Maritime and Coastguard Agency)) to carry passengers up to 60 miles offshore in complete safety, all relevant safety equipment is on board as can be expected and maintained to a high standard. A comfortable saloon lounge, five passenger cabins (2 x double, 1 x twin, 2 x single) and two (shared) bathrooms (plus separate crew quarters, galley kitchen etc) form the interior of the vessel.
What's included in your 'Wildlife of the Minch' holiday price
• Two nights comfortable en-suite hotel/guest house accommodation on the Outer Hebrides. We choose from our personally inspected shortlist, where birders are welcome and the hospitality is special. All rooms are en-suite. Full details with your joining pack.
• Four nights cabin accommodation onboard our boat. Cabins are compact and small, and have a private hand basin. Toilet/shower facilities are shared. Hairdryers not available onboard. Please note single travelers may have to share a cabin with another single passenger for this section of the tour.
• Full Scottish breakfast and dinner from Saturday evening till Friday morning, packed lunch daily.
• All transfers and land based birding by comfortable minibus. All ferries trips. Drivers can leave vehicles safely parked at The Mountview Hotel. We offer a courtesy drop off to Aviemore on the final morning of departure.
• Guidance from a professional Group Leader.
What's not included in your 'Wildlife of the Minch' holiday price
• Extra night in Nethybridge area at beginning and end of holiday. This can be arranged for you if requested at time of holiday booking.
• Collection from rail links in Aviemore.
• Insurance, drinks and other items of a personal nature.
WHY CHOOSE HEATHERLEA FOR YOUR SCOTTISH ISLAND ADVENTURE?
Heatherlea is THE company for top quality birding holidays in Scotland, chosen by more and more birders each year. Relax and enjoy first-rate birding with Scotland's best guiding team, as we do all the planning! Our fully inclusive guided holidays concentrate on the real experience, and we take time to ensure that each of our guests enjoys everything we do. Above all, we make it our business to show key wildlife to you.
These popular holidays are carefully designed to explore the beautiful and wildlife-rich Scottish islands and far west coast. Many itineraries are unique, designed to give you the best of island wildlife at the best time of year. All are run at a leisurely pace, though we might move a little faster when rare migrants and vagrants are in our sights!
We have been organising birding and wildlife holidays for over 30 seasons, and have a highly experienced and capable team. We also offer a telephone and email service outside normal office hours.
This holiday has a maximum ratio of 7 clients per guide, putting the emphasis on personal service, and helping you get the best possible experience.
Heatherlea are Mainland Scotland's FIRST '5-Star Wildlife Experience!' This is the highest available grading, classified as 'exceptional' by visitScotland.
Single guests are never expected or invited to share.
Our holidays often include things which others might invite you to pay yourself, for instance packed lunch and tips to hotels.
Heatherlea hold full Tour Operator Insurance for your added protection.
Heatherlea is a limited company, registered in Scotland. We are also registered to pay VAT, which is included in your holiday price as quoted on this page.
Once your holiday is confirmed in writing by us, we promise not to surcharge the price for any reason.
Enjoy an excellent birding and wildlife holiday with Heatherlea.
Mainland Scotland's FIRST '5-Star Wildlife Experience!'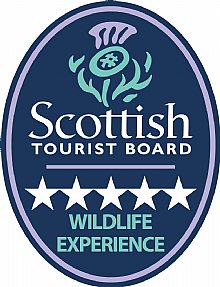 'Exceptional'
Visit Scotland