Orkney in High Summer - July
Wildlife, history and culture throughout Orkney - visit Hoy, North Ronaldsay, Rousay, Westray, Kirkwall, Mainland, Burray and all the key archaeological sites!
| | |
| --- | --- |
| Prices: | £1895 PP, £150 single supplement. Deposit £200. 2020 prices TBC. |
| Dates: | 20 Jul - 27 Jul 2019, 18 Jul - 25 Jul 2020, 25 Jul - 1 Aug 2020 |
| More Info | |
Overview
We will be exploring mainland Orkney and a good selection of the most iconic and wildlife rich islands, offering fantastic birding and some superb cultural experiences and archaeology - there's something for everyone on this trip! There's the opportunity to encounter cetaceans such as Orca as we take the sea crossing across the Pentland Firth. We'll take in some of the spectacular scenery of mainland Orkney before flying in an 8-seater islander plane to the small island of North Ronaldsay at the very top of the Orkney Isles.

Itinerary
Day 1: Saturday – Nethy Bridge to Orkney
Transfer from Heatherlea to Mainland Orkney. We'll travel north with our eyes peeled for Ravens and there's also the chance of birds of prey. Thurso is our first destination where we take the ferry journey across the Pentland Firth looking out for seabirds and cetaceans. This is also a good chance to encounter Storm Petrels feeding at sea. We should pass close by the cliffs of Hoy with the famous seastack 'The Old Man of Hoy'. Once we arrive in Orkney the rest of the day will be spent visiting local sites with a planned stop at the Ring of Brodgar and Stones of Stenness en route to our night's accommodation.
Day 2: Sunday - Westray
Today we take the day trip to Westray, enjoying the scenic ferry ride past Stronsay, Eday and Egilsay. In these sheltered waters we often find fledged seabirds, with Black Guillemot and Arctic Tern in good numbers. Once on Westray we head up to Noup Head RSPB reserve, a bustling seabird colony, mostly comprised of Gannets, Kittiwakes and Fulmar. This is also one of the best cetacean watching points of Orkney, and we may see Minke Whale, Basking Shark, dolphins or maybe even a pod of Orca if conditions allow! Depending on group interest we may look at several of the historical sites and the quaint museum, or alternatively explore the various beaches and coastal walks, birdwatching and botanising as we go. We return in the late afternoon to Kirkwall, completing a wonderful day out on the locally named 'Queen o' the Isles'.
Day 3: Monday - Hoy
Today we head across to rugged Hoy, which differs markedly from the rest of low-lying and fertile Orkney. If weather and group ability allow, we will head to the north, and starting at Rackwick Bay, aim to take the 5 mile return walk to the cliffs at St John's Head, overlooking the iconic Old Man of Hoy seastack, seeing numerous Great Skua as we go. If the weather is looking poor we will head towards the south, with historical sites including the Martello Tower and Scapa Flow museum, and the Scottish Wildlife Trust coastal reserve of the Hill of White Hamars with its maritime heath, featuring a few Scottish Primrose, now in their second flowering of the summer.
Day 4: Tuesday - West Mainland
Our first full day in Mainland Orkney will be a relaxing one and a gentle introduction to the quality birding and historical sites the area has to offer. We'll be hoping to find raptors on the moors as we travel, with Hen Harrier, Short-eared Owl and Merlin and if we're lucky some late breeding Red-throated Divers too. Key cultural and historical sites will be amazing World Heritage Sites of Skara Brae and Maes Howe, which we will enjoy at a leisurely pace. We'll be checking the coastline hotspots for waders, with plenty time to visit Yesnaby, Broch of Gurness and Birsay Moors which are also great birding spots with lochs full of wildfowl. If time allows we will also try to fit in some of the lesser known historical sites, including some of the exciting new excavations.
Day 5: Wednesday - West Mainland and North Ronaldsay
We use today to visit a few more of the Mainland Orkney highlights, with the Brough of Birsay and perhaps a quick visit to Rousay to look at Taversoe Tuick chambered cairn and Midhowe Cairn and Broch.
Our afternoon flight to North Ronaldsay on the 8 seat, Islander plane takes just 15 minutes and offers a unique opportunity to see the Orkney isles from the air. We will get settled in at the comfortable Bird Observatory and enjoy dinner, with the opportunity to perhaps join the Observatory staff in a bird ringing demonstration that evening, with one of our top targets being a nocturnal ringing session for Storm Petrels.
Day 6 & 7 Thursday & Friday - North Ronaldsay
Our daily birding schedule will be dictated by the weather, as will our nocturnal efforts with the Storm Petrels. We'll be working closely with the Observatory staff day and night to maximize our time on the island. Our visit has been deliberately timed with the new moon period as total darkness is somewhat of a rarity in these parts during the summer months. This is prime time for Storm Petrel ringing efforts, and the late July/early August period is always the most prolific with nightly catches of over 100 birds a possibility, with a good chance of also attracting the scarcer, larger Leach's Petrel. Netting sessions are wholly weather dependent and as this is the main purpose of the trip we plan to attend (with the option to sit out) as often as we can. On busy nights we may be asked to join in and may also have the chance to handle the birds as they are released. This is such a unique trip, and these fantastic little birds are such an enigma, making this an unforgettable experience. There's something mythical about Storm Petrels. How do these tiny, "Swallows of the sea" survive at sea in such inclement weathers? How far do they travel? And how do these partners for life find each other after a winter spent apart. We're hoping to answer some of these questions with the help of the dedicated and skilled Observatory staff.
And there's so much more on to see on this tiny island. We will of course be flexible with late breakfast an option for those up late with the Petrels. Black Guillemots, Fulmars and Arctic Terns will all still be nesting on the island and return migration of waders in particular will be well underway. The island is mainly flat with good roads and access to most of the coastal 'hotspots' and beaches. At this time of year, Golden Plovers gather on North Ronaldsay to moult and huge numbers can be found in the fields. As a result it's the best place in the whole country for finding the rare Pacific Golden Plover (below left) and with 10 records in the Observatories 25 year history (including 3 in the last 4 years) we'll be doing our best to find one. There will also be large numbers of birds on the beaches with Knot, Sanderling, Dunlin, Bar-tailed Godwit and Turnstone especially numerous. Other species such as Black-tailed Godwit, Ruff, Curlew Sandpiper and Little Stint can also occur and Red-necked Phalaropes are just about annual at this time. There's also wildfowl, gulls while breeding landbirds such as Wheatears, Linnets and Twite also feature and it's a good time of year for irrupting Crossbills. The island is well placed for sea-watching and passage gets underway in July and there is also the annual build-up of Arctic Terns at this time of year to search through for something rarer. Roseate Tern have been unearthed in 3 of the last 4 years, while other recent rarity highlights have included Balearic, Great and Cory's Shearwater, Spoonbill, Lesser Yellowlegs, several Pectoral Sandpipers, a summering Grey Phalarope in 2014, White-winged Black Tern and Two-barred Crossbill - on North Ronaldsay anything is possible!
There will also be the option to visit and take a guided tour of the Island Lighthouse and/or the wool mill or spend a few hours unearthing North Ronaldsay's fascinating history at the exhibition. Flexibility is prime with this trip and after a busy night of Petrel ringing it's not a problem if you'd prefer to drop out of the days planned activities to relax on the mile long, golden beach just outside the front door or admire the unique feeding and habits of the 3000 odd sea-weed eating sheep. There's also a well-stocked bar, complete with a whisky menu and a variety of local ales at the Observatory with a social atmosphere second to none - be sure to try the local mutton.
Day 8: Saturday - North Ronaldsay, South Ronaldsay and Nethy Bridge.
We return to Kirkwall via the Islander plane again before taking the ferry crossing to John O'Groats and minibus drive back to Nethy Bridge expecting to arrive there in the late evening.
This holiday can be combined with:
MAINLAND SCOTLAND
Highlands and the West Coast in Summer, Highlands and the Outer Hebrides
Trip Information
Expect a wide variation in weather conditions, which can be wild and unpredictable, with temperatures perhaps averaging around 16 degrees Celsius. Sunshine, rain and strong winds are all possible, and you will probably experience a bit of everything. Biting insects are possible, but not expected as a major problem. Please bring waterproof walking boots or shoes, fully waterproof clothing and a small rucksack. Hat and gloves are essential for exposed coastal locations and ferry crossings. There will be moderate (3 to 8 mile) walks every day, often over rough, uneven or soft ground with several stiles to climb over.
What's included in your 'Orkney in High Summer' holiday price
• Four nights comfortable en-suite hotel accommodation on mainland Orkney. We choose hotels from our personally inspected shortlist, where birders are welcome and the hospitality is special. Three nights en-suite accommodation at North Ronaldsay Observatory. Guests are never expected to share. Full details with your joining pack. All rooms are en-suite.
• Full Scottish breakfast and dinner from Saturday evening till Saturday morning, packed lunch daily.
• All transfers by comfortable minibus. All ferries and other boat trips. Drivers can leave vehicles safely parked at The Mountview Hotel. We offer a courtesy drop off to Aviemore rail links on the morning of departure.
• Return flight from Kirkwall to North Ronaldsay.
• Guidance from a professional Group Leader.
What's not included in your 'Orkney in High Summer' holiday price
• Extra night in Nethybridge area at beginning and end of holiday. This can be arranged for you if requested at time of holiday booking.
• Transfers from rail links in Aviemore on arrival.
• Insurance, drinks and other items of a personal nature.
WHY CHOOSE HEATHERLEA FOR YOUR SCOTTISH ISLAND ADVENTURE?
Heatherlea is THE company for top quality birding holidays in Scotland, chosen by more and more birders each year. Relax and enjoy first-rate birding with Scotland's best guiding team, as we do all the planning! Our fully inclusive guided holidays concentrate on the real experience, and we take time to ensure that each of our guests enjoys everything we do. Above all, we make it our business to show key wildlife to you.
These popular holidays are carefully designed to explore the beautiful and wildlife-rich Scottish islands and far west coast. Many itineraries are unique, designed to give you the best of island wildlife at the best time of year. All are run at a leisurely pace, though we might move a little faster when rare migrants and vagrants are in our sights!
We have been organising birding and wildlife holidays for over 25 seasons, and have a highly experienced and capable team. We also offer a telephone and email service outside normal office hours.
This holiday has a maximum ratio of 7 clients per guide, putting the emphasis on personal service, and helping you get the best possible experience.
Heatherlea are Mainland Scotland's FIRST '5-Star Wildlife Experience!' This is the highest available grading, classified as 'exceptional' by visitScotland.
Single guests are never expected or invited to share.
Our holidays often include things which others might invite you to pay yourself, for instance packed lunch and tips to hotels.
Heatherlea hold full Tour Operator Insurance for your added protection.
Heatherlea is a limited company, registered in Scotland. We are also registered to pay VAT, which is included in your holiday price as quoted on this page.
Once your holiday is confirmed in writing by us, we promise not to surcharge the price for any reason.
Enjoy an excellent birding and wildlife holiday with Heatherlea.
Mainland Scotland's FIRST '5-Star Wildlife Experience!'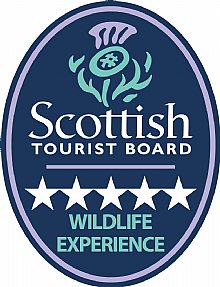 'Exceptional'
Visit Scotland
Please note: all itineraries are given as a guide only. Actual holiday content may vary according to the judgement of your guide, and elements beyond our control (eg weather).