Ultimate Outer Hebrides
A thorough and complete grand tour of the Outer Hebrides: From Lewis to Harris, Berneray, North Uist, Benbecula, South Uist, Eriskay, Barra, Vatersay & Mingulay!
Destination
Focus
2024 Dates
Duration
10 Days
Guides
2024 Price

£2695 pp

£375 single supplement.

Deposit £300

2025 Dates
Duration
10 Days
2025 Price

Price TBC

Max Group Size
7 per guide
This holiday is a complete tour of the Outer Hebrides, from the Butt of Lewis at the northernmost point to Mingulay at the very southern end of the island chain. This is our most extensive itinerary yet to the Outer Hebrides, featuring more islands than any other, and we take our time over ten days (nine nights on the Hebrides). Led by one of our expert guides, this is an absorbing tour through the isles in high summer, with special consideration towards general natural history, including birds, cetaceans, insect life, the abundant flora, and also key historical and cultural sites.
Highlights should include absorbing birding, with young raptors fledging, and pastures full of waders, and the flowers of the machair at their brilliant best. The warmer seas should see us connect with several species of cetacean too, from land and from our boat trips.
NB we offer more birding specific itineraries in spring and autumn that focus on the migrant and rare breeding birds of the Hebrides. Please also consider Outer Hebrides in Spring, Outer Hebrides in Early Autumn for birders and Outer Hebrides in Autumn for birders for a more dedicated birding experience.
Day 1 - Saturday - Nethy Bridge to the Isle of Lewis
We depart after breakfast and head to Ullapool, where we board our ferry to the Outer Hebrides. The ferry is a large, stable ship, which offers an excellent platform for wildlife watching as we leave the northwest Highlands and head out across the Minch. Our journey through stunning scenery gives us good chances of connecting with skuas, Puffin and dolphins before we even reach the Hebrides! We arrive around lunchtime and enjoy a few hours birdwatching. Depending on the weather, this could be to Tiumpan Head for a seawatch, Broad Bay for a search for passage waders or inland to the peatlands for raptors. Overnight in Stornoway, the capital of the Outer Hebrides.
Day 2 - Sunday - Lewis
Lewis is a fascinating island, and a complete contrast to the rest of the Outer Hebrides. The majority of the interior is a vast peatland, an internationally important area for breeding species, including numbers of divers, Greenshank and a high density of eagles and other raptors. We take time to look through these desolate, open environments, and should locate some of the commoner breeders including Golden Plover. On the Atlantic side, the landscape changes, becoming much more rugged, with a narrow semi-fertile crofting strip where most houses are located.
We head to the northernmost point, at the famous Butt of Lewis, with the Atlantic Ocean on three sides. A superb seawatching spot for cetaceans and birds, 'The Butt' is about as rugged and windswept a spot as you can find in the British Isles. We check the local area for passage migrants before working our way down the west coast, calling in at several empty beaches amid stunning scenery. In the afternoon we visit Dun Carloway broch and the Standing Stones of Callinish, key archaeological sites and a must-see for any general tour of the Outer Hebrides. Recent sightings considered, we may head to a small nature reserve which occasionally holds Red-necked Phalarope - a truly special bird! Overnight in Stornoway.
Day 3 - Monday - Lewis
We head to the remote south western corner of Lewis, completely different to the flat peatlands of the day before. This rocky, rugged coastline, indented with sealochs and some stunning beaches, is an unexplored gem. We take minor roads down to Uig, a superb spot for Golden and White-tailed Eagles. Here we will take to the water in a RIB to explore the coastline and sealochs thoroughly. With luck we may connect with cetaceans and perhaps our first Otter and Seals. Superb wildlife amid some of the best scenery in the British Isles! Overnight in Stornoway.
Day 4 - Tuesday - Harris
Harris is a scenic gem, rightly lauded as one of the most beautiful islands in Europe. Although conjoined with Lewis and not a true island, Harris definitely has a different feel to Lewis, and offers a full range of rugged habitats and long sweeping beaches and dune systems. We spend a full day exploring, including a walk on the famous picture postcard beach at Luskentyre. A haven for Golden Eagles, we should see them well today, and also have good chances of Raven, Peregrine and perhaps a fleeting Merlin. Overnight in Harris.
Day 5 - Wednesday - Harris and Berneray
Today we head by ferry to the southern half of the Outer Hebrides. Our ferry takes a slow journey through islets in the Sound of Harris, a superb spot for White-tailed Eagle and divers. We spend the rest of the morning on Berneray, which offers many of the famous white beaches associated with the Outer Hebrides, and we hope for a sunny day to bring out the full colours of the glorious landscape. This will be our first encounter with true machair, which is essentially low intensity agriculture on a sandy substrate. Management has changed little over the centuries, and the flora reflects this. We head south in the afternoon, stopping at a few key sites in North Uist before reaching our hotel late afternoon. Overnight on Benbecula.
Day 6 - Thursday - North Uist and Benbecula
We take our time today to fully explore some of the best natural locations of the Outer Hebrides, especially Balranald RSPB reserve. Famous for its nesting waders, rich machair and seascapes, this is a true gem and is frequently mentioned as the favourite stop in many of our Hebridean adventures. Benbecula also offers a good range of habitats, with more wetlands and bays, offering good birding, and the chance of a scarce passage wader or tern species. A superb day out at one of our favoured wildlife locations. Overnight on Benbecula.
Day 7 - Friday - South Uist and Eriskay
We work our way down South Uist today, featuring crags, glens and sealochs on the east coast, and within just a few miles, rich croftland and pasture right down to an unbroken twenty mile sandy beach. World class scenery with great wildlife throughout! We have chances of Corncrake, though are more likely just to hear them. If we have not seen Otter so far, then South Uist offers lots of opportunities, and it is probably the most reliable spot for Hen Harrier too. In the afternoon we continue south to Eriskay, another stunning island, now joined to South Uist by causeway. Home of the real 'Whisky Galore', we take a wander to explore the history and flora of this stunning place. Overnight on Benbecula.
Day 8 - Saturday - Benbecula to Barra and Mingulay
We take the morning ferry from Eriskay across the broad Sound of Barra before boarding our chartered boat for our trip to Mingulay. This is a very weather dependent trip, with the aim being a circumnavigation of the spectacular cliffs and seabird colony followed by a landing and gentle exploration of this remote island, housing just a seasonal warden and volunteers. This trip is superb for seabirds and general scenery, this promises to be an exciting afternoon on the water and a highlight of the trip. Overnight on Barra.
Day 9 - Sunday - Barra and Vatersay
A gentle exploration of two very different isles, connected by causeway. With a circular route around the island, Barra offers shelter and interest whatever the weather, and is truly stunning. The rich white sand backed by vibrant green croftland dotted with outcrops of rock make this one of the most photogenic destinations in Scotland. Overnight on Barra.
Day 10 - Monday - Barra to Nethy Bridge
After breakfast we take the ferry from Barra across the Minch, extremely rich waters with good chances of Minke Whale or perhaps a Basking Shark en-route. The ferry heads in to the Inner Hebrides and close to Mull before arriving in Oban mid-afternoon, from where we head back to Nethy Bridge, arriving early evening.
Please note: all itineraries are given as a guide only. Actual holiday content may vary according to the judgement of your guide, and elements beyond our control (eg weather).
What's included in your holiday price
Nine nights comfortable accommodation at 4 centres. All rooms are en-suite. Single guests are never expected to share, though a single supplement is payable as above. Single guests might be upgraded to double room accommodation at no extra charge.
Full Scottish breakfast, packed lunch, and a delicious dinner. Meals are included from Dinner on the first day until breakfast on the final day.
10 days wildlife watching.
Guidance from a professional Group Leader.
All transport by comfortable minibus.
All ferry fees and boat trips, including chartered boats and all ferries from Harris and Lewis, Harris to Berneray, Eriskay to Barra and Barra to Oban
We offer a courtesy drop off service to Aviemore the following morning at the end of the trip.
A checklist specifically prepared for your holiday to record your sightings and notes.
What's not included in your holiday price
Transport to Nethy Bridge.
Extra night in Nethy Bridge area before and after your holiday. This can be arranged for you if requested at time of holiday booking.
Meals, accommodation and transport outwith the holiday as described above.
Insurance, drinks and other items of a personal nature.
More holiday information
Accommodation is en-suite, in comfortable hotels.
Food There is a choice of evening meal, and vegetarian, vegan and other diets are welcome. Breakfast may be chosen from a full Scottish menu. You don't need flasks for hot drinks.
Walking will be mostly light, with some of the terrain uneven, rocky or boggy, with a few stiles to negotiate. Weather permitting we may be allowed to land on Mingulay which requires stepping aboard a small boat and stepping on to the beach. This is of course optional.
Weather Expect a wide variation in weather conditions. Blazing sunshine and rain are equally likely, and you will probably experience a bit of everything. Bring waterproofs, walking boots or shoes and warm clothing. Hat and gloves essential for boat trips. Strong winds can be a feature on the islands.
Biting insects may be encountered. A good repellent is recommended, just in case.
Group size maximum 7 clients per guide.
Optics. You should bring binoculars. A telescope will be useful, though your Guide will carry a scope for group use. A camera would be useful too!
Getting here is easy!
BY CAR/RAIL This holiday departs from our Hotel in Nethy Bridge. You may leave your vehicle securely parked free of charge. Nethy Bridge is approximately 13 miles from Aviemore, our closest mainline station with regular links from the south.
BY AIR. Flights to Inverness from regional and London airports. There is a rail link from Inverness railway station to Aviemore.
* Insurance, drinks and other items of a personal nature.
WHY CHOOSE HEATHERLEA FOR YOUR SCOTTISH ISLAND ADVENTURE?
Heatherlea is THE company for top quality birding holidays in Scotland, chosen by more and more birders each year. Relax and enjoy first-rate birding with Scotland's best guiding team, as we do all the planning! Our fully inclusive guided holidays concentrate on the real experience, and we take time to ensure that each of our guests enjoys everything we do. Above all, we make it our business to show key wildlife to you.
These popular holidays are carefully designed to explore the beautiful and wildlife-rich Scottish islands and far west coast. Many itineraries are unique, designed to give you the best of island wildlife at the best time of year. All are run at a leisurely pace, though we might move a little faster when rare migrants and vagrants are in our sights!
We have been organising birding and wildlife holidays for over 30 seasons, and have a highly experienced and capable team. We also offer a telephone and email service outside normal office hours.
This holiday has a maximum ratio of 7 clients per guide, putting the emphasis on personal service, and helping you get the best possible experience.
Heatherlea are Mainland Scotland's FIRST '5-Star Wildlife Experience!' This is the highest available grading, classified as 'exceptional' by visitScotland.
Single guests are never expected or invited to share.
Our holidays often include things which others might invite you to pay yourself, for instance packed lunch and tips to hotels.
Heatherlea hold full Tour Operator Insurance for your added protection.
Heatherlea is a limited company, registered in Scotland. We are also registered to pay VAT, which is included in your holiday price as quoted on this page.
Once your holiday is confirmed in writing by us, we promise not to surcharge the price for any reason.
Enjoy an excellent birding and wildlife holiday with Heatherlea.
Mainland Scotland's FIRST '5-Star Wildlife Experience!'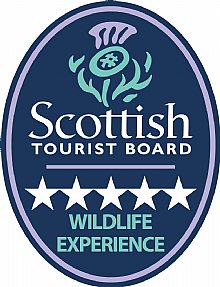 'Exceptional'
Visit Scotland
Trip Reports