Mull, Iona and the Treshnish Isles
Eagles, Otters and much more as we explore Mull, Iona, Staffa and Lunga.
| | |
| --- | --- |
| Prices: | £1495 PP, £160 single supplement. Deposit £200. 2020 prices TBC. |
| Dates: | 14 May - 18 May 2019, 12 May - 16 May 2020 |
| Guides | Rob Jordon |
| More Info | |
Overview
Mull is a wildlife paradise, becoming ever more popular with birdwatchers. It's easy to see why, with more Golden and White-tailed Eagles than anywhere else in Britain, Hen Harrier, Short-eared Owl, Raven and a range of northern moorland species. During this holiday we take our time to thoroughly explore the island, and we also visit the enthralling island of Lunga, with its seabird colonies at point-blank range, and the fascinating islands of Staffa, and Iona, which have strong cultural resonances and also play home to key wildlife during the time of our visit. The moorland and fields of Mull hold many waders, including Snipe, Curlew, Lapwing, and Oystercatcher, and we also intend to spend time Otter watching. All this amongst magnificent scenery, featuring towering mountainous cliffs, picturesque strandlines, rocky foreshores and beautiful pristine beaches.
Itinerary
Join this holiday from Oban and meet the group on Mull, or travel with us from Nethy Bridge.
Day 1: Tuesday - Arrival and first explorations of Mull
We transfer from The Mountview Hotel to our base on Mull by minibus and two ferries, or you can join by taking the ferry from Oban, and we will greet you at the ferry terminal on Mull. Should you travel with us from Mountview Hotel, watch out on the way for Black Guillemot, Eider, Red Deer and Hooded Crow, with perhaps our first view of eagles and otters. Spring on Mull offers outstanding scenery in rapidly changing weather conditions, and we use our knowledge of the island to find the best spots for the day. Both Golden and White-tailed Eagle are high on our agenda, though Hen Harrier are also targeted. Moorland and fields hold lots of waders, including Snipe, Curlew, Lapwing, and Oystercatcher, and we also expect to spend time Otter watching. Wonderful scenery, good company and fantastic birding before we transfer to our hotel and settle in.
Day 2: Wednesday - Treshnish Isles boat trip: Staffa and Lunga
We enjoy a spectacular boat trip, visiting the Isle of Staffa, where we have enough time to visit Fingal's Cave and also scan for the few Great Skua which sometimes breed here, as do a few Puffin. Next, on to the tiny isle of Lunga to visit the fabulous auk colony on the cliffs of Harp Rock, facing west across the ocean. Many thousands of Guillemot, Razorbill, Kittiwake and Shag are present, with Black Guillemot, Manx Shearwater and perhaps tiny Storm Petrel, Great Skua, Arctic Tern and 'real' Greylag Goose offshore. On Lunga, the 'Puffin experience' is perhaps the best in the British Isles, as we pass right by the burrows (the birds are inquisitive, and a careful birder can enjoy views from a few feet). Further along auks, Shag and gulls can be safely appreciated at eye level just yards away. Photographers will love this spectacle! A quiet walk away from the main cliffs and we may hear Twite singing. Our boat returns to harbour in time for us to keep birding as we return to our hotel.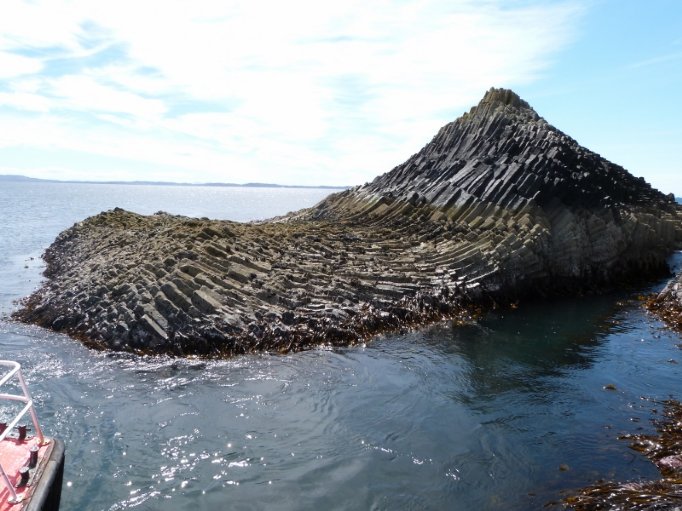 Day 3: Thursday - Iona and the Ross of Mull
Today we travel to the Ross of Mull, where sea watching can be productive, and our absorbing day's birding should again include both eagle species. Any lingering Great Northern Diver will be superb in summer finery, Gannets, terns, gulls and auks fly through the narrow Sound, and as we travel down the peninsula, Raven, Stonechat, Hooded Crow and Greylag Geese should all be seen. Across the narrow Sound lies Iona, and we take the ferry by foot to spend some time on this lovely little island, dominated by its imposing Abbey. On Iona at this time the grassy fields hold Corncrake, and there could be as many as 20 males calling. Hearing Corncrake on Iona is easy, catching sight of these elusive birds is not so straightforward! The grasses grow quickly in May, and even small patches can hold Corncrake without letting us catch a glimpse, even though we can approach at very close quarters. We do however have a few favoured spots which have been productive in recent years, and we work the public roads to find places where the experienced eyes (and ears!) of your Guide can often produce a sighting. We can't guarantee Corncrake on this holiday, but we have excellent chances during this day. There are also many passerines and seabirds to be found on Iona, and if you wish to visit the Abbey, you will have time to do so.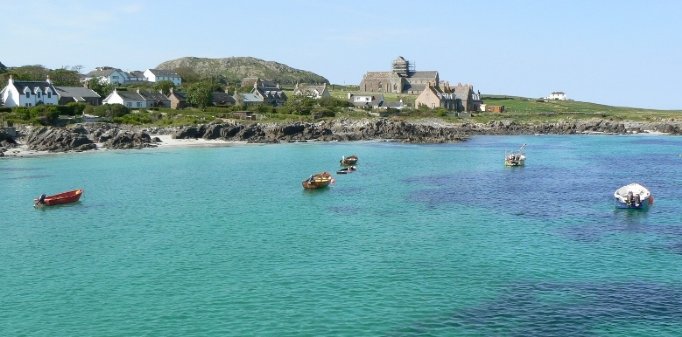 Day 4: Friday - Exploring back roads in the north
A full day on Mull to visit some of the lesser known places, including a remote glen where three or more eagle territories can be watched simultaneously. Redpoll and Hen Harrier are also frequently seen here. Quieter areas inland may produce Dipper, and the deciduous woodlands are worth investigating for warblers and possibly flycatchers. The first of the orchids may be flowering, and rare Marsh Fritillary butterfly are possible too. Throughout the day we may see eagles virtually anywhere, and a full, leisurely day with the wildlife of this entrancing island will produce thrilling and memorable sightings as we thoroughly explore 'Magical Mull'!
Day 5: Saturday - Return to the Mainland via Morvern
Another morning around Mull to round up, then return by minibus and ferry. If travelling with us to Nethy Bridge, you will investigate quiet backroads on the west coast where eagles, Twite, waders in summer plumage and moulting Great Northern Diver can again be expected.
Please note: all itineraries in this brochure are given as a guide only. Actual holiday content may vary according to the judgement of your guide, and elements beyond our control (eg weather).
This holiday can be combined with:
MAINLAND SCOTLAND
High Season across the Highlands.
Trip Information
Field Notes
Expect a wide variation in weather conditions. Blazing sunshine, rain and cold winds are all possible, and you will probably experience a bit of everything. Biting insects not expected this early in the season. Please bring walking boots or shoes, fully waterproof clothing and a small rucksack. Conditions on boat trips are invariably colder than those on dry land, so bring warm clothing! Please note that depending on tide, the landing on Lunga may be on slippery boulders. The walking on Staffa and Lunga is on rough and at times steep paths and care is needed. Guests can of course remain on the boat if they do not wish to land.
What's included in your Mull, Treshnish and Iona holiday price
Four nights comfortable hotel accommodation on Mull. We will carefully select your hotel from our personally inspected shortlist of hotels where birders are welcome and the hospitality is special. Guests are never expected to share. Full details with your joining pack. Rooms are en-suite, with TV and hospitality tray.
Full Scottish breakfast and dinner from Tuesday evening till Saturday morning, packed lunch Tuesday - Saturday.
Boat trip to Staffa/Lunga. Please note in adverse weather conditions boat trips may be cancelled and rescheduled.If the weather is extremely poor for the whole trip certain excursions may not be possible.
All transfers between Nethybridge and Mull by comfortable minibus and Calmac ferry. Drivers can leave vehicles safely parked at The Mountview Hotel.
Guidance from a professional Group Leader.
Courtesy bus service to transport in Aviemore on departure.
What's not included in your Mull, Treshnish and Iona holiday price
Insurance, drinks and other items of a personal nature.

Extra night in Nethybridge area at end of holiday. This can be arranged for you if requested at time of holiday booking.

Collection from Aviemore on arrival.
WHY CHOOSE HEATHERLEA FOR YOUR SCOTTISH ISLAND ADVENTURE?
Heatherlea is THE company for top quality birding holidays in Scotland, chosen by more and more birders each year. Relax and enjoy first-rate birding with Scotland's best guiding team, as we do all the planning! Our fully inclusive guided holidays concentrate on the real experience, and we take time to ensure that each of our guests enjoys everything we do. Above all, we make it our business to show key wildlife to you.
These popular holidays are carefully designed to explore the beautiful and wildlife-rich Scottish islands and far west coast. Many itineraries are unique, designed to give you the best of island wildlife at the best time of year. All are run at a leisurely pace, though we might move a little faster when rare migrants and vagrants are in our sights!
We have been organising birding and wildlife holidays for over 25 seasons, and have a highly experienced and capable team. We also offer a telephone and email service outside normal office hours.
This holiday has a maximum ratio of 7 clients per guide, putting the emphasis on personal service, and helping you get the best possible experience.
Heatherlea are Mainland Scotland's FIRST '5-Star Wildlife Experience!' This is the highest available grading, classified as 'exceptional' by visitScotland.
Single guests are never expected or invited to share.
Our holidays often include things which others might invite you to pay yourself, for instance packed lunch and tips to hotels.
Heatherlea hold full Tour Operator Insurance for your added protection.
Heatherlea is a limited company, registered in Scotland. We are also registered to pay VAT, which is included in your holiday price as quoted on this page.
Once your holiday is confirmed in writing by us, we promise not to surcharge the price for any reason.
Enjoy an excellent birding and wildlife holiday with Heatherlea.
Mainland Scotland's FIRST '5-Star Wildlife Experience!'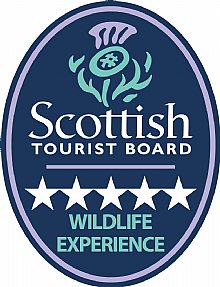 'Exceptional'
Visit Scotland
Please note: all itineraries are given as a guide only. Actual holiday content may vary according to the judgement of your guide, and elements beyond our control (eg weather).