Solway Firth
A winter wildfowl spectacular on the Solway Coast of Dumfries and Galloway!
Dates

09 Nov - 14 Nov 2019
07 Nov - 12 Nov 2020 **

Guides
Max Group Size
7
Duration
6 Days
Prices

£1295 PP, £100 single supplement.

Deposit £200

**(£1395 PP, £100 single supplement. Deposit £200)
A vast, internationally important area for wildfowl, the Solway Firth offers great birding. Flocks of Barnacle, Pink-footed and Greenland White-fronted Geese, great raptor watching particularly Hen Harrier and Red Kite, waders, ducks and much more including good numbers of wintering Whooper Swan and a local population of Willow Tit make this an absorbing short holiday. Meet us in Dumfries, and we will take you to Caerlaverock, Loch Ken and the Ken-Dee Marshes to see geese in tens of thousands, as numbers peak in mid-November. Rarities may include Red-breasted or Snow Goose, and Whooper Swan, Pintail, Gadwall, Golden Plover, Merlin and Peregrine are all regular visitors.
The local Red Kite feeding station has close viewing areas, and birds can be seen soaring, perched and flying in to food. Elsewhere we will search for Hen Harrier and perhaps Barn Owl. Waders and seaduck are present on large numbers at the coast, and we visit key places such as Luce Bay, Loch Ryan, the Nith estuary and the Wig to collect Common Scoter, Long-tailed Duck, Slavonian Grebe, Purple Sandpiper, and many more. Five nights in a very comfortable country house hotel, all travel, access fees, and the services of your Heatherlea guide make this a perfect late-autumn break.
This holiday starts and ends in Dumfries.
Day 1: Sat 10 November Arrival and first birding
The holiday begins at lunchtime at Dumfries or you may choose to meet us at our hotel. After we assemble, we may look locally for Goosander and Dipper and then it's off to RSPB Mersehead for an initial look at the flocks of geese. We might have time to walk to both hides on the reserve and get our list off to a good start, where we should see hundreds of Barnacle Geese and many species of duck. Wintering birds here include good numbers of Pintail and Snipe, whilst feeders often hold Reed Bunting, Yellowhammer and Tree Sparrow. With a Starling roost nearby, raptors often pass through, with Merlin, Sparrowhawk, Hen Harrier and Peregrine seen here regularly. The Starling roost changes location so we have to be lucky to connect with the big murmurations, though we should see numbers of birds as the light fades.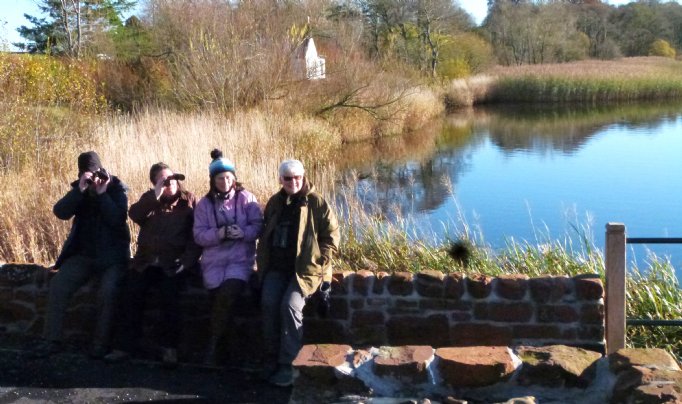 Day 2: Sun 11 November Loch Ryan and Luce Bay
A day travelling westwards, where our early destinations may include the coast around Wigtown to see Pink-feet, Snipe and Rock Pipit, and Stairhaven via Luce Bay. Loch Ryan is superb for seawatching, and the road that encircles it guarantees good sightings whatever the tide, the light and the weather. On the open sea we hope to find flocks of Scaup, Common Scoter and Common Eider, with handfuls of Long-tailed Duck, Black Guillemot, Red-breasted Merganser and exceptionally upto three species of diver and four species of grebe! There is always something to look at with maybe the odd rarity mingled in. Waders today should include Purple Sandpiper, Turnstone, Knot, Dunlin, Bar-tailed Godwit and Ringed Plover, and we will endeavour to find the Pale-bellied Brent Geese that winter here in small numbers. We close the day with a vantage point over a large area of rough grassland, where Hen Harrier, Merlin and the odd Short-eared Owl roost. If weather conditions allow we should gain views of several birds.
Day 3: Mon 12 November Caerlaverock
The most northerly and remote reserve of the WWT, Caerlaverock should be alive in November with tens of thousands of geese. We aim to spend the whole day here, with perhaps a stop on the River Nith to overlook Kirkconnell Moss NNR on the outward or return journey. At Caerlaverock the fields are often full of geese before you even arrive at the reserve, with the entire breeding Barnacle Goose population of Svalbard wintering here! Caerlaverock is a birders paradise, a true nature reserve with no exotic wildfowl collections or other distractions. Here we wander around the four observatories, four towers and about twenty small hides on the reserve, where we scour these flocks for rarities including Red-breasted Goose, Richardson's Cackling and Snow Goose, or perhaps something truly special like a Lesser White-fronted Goose. We will attend at least one of the daily wild swan feeds, when the spectacle of numbers of Whooper Swan flying in to feed is something to both see and hear! Other wildfowl should include Pintail, Teal, Wigeon and Shelduck, and waders should include Golden Plover and Black-tailed Godwit. Rare ducks and waders are perfectly possible with Green-winged Teal and Scaup likely targets. Feeders here often feature Tree Sparrow and Yellowhammer, with large flocks of passerines likely. If the tide is particularly high, wader numbers can be into the thousands on the coast here as the mud disappears and birds are forced to come into the grassland or wheel around in great flocks. These concentrations often attract Hen Harrier and Peregrine which move through regularly. We may also visit the saltmarshes or 'merse' habitat and rocky coast to add to our birdlist depending on available daylight - Caerlaverock often enthrals us all day!
Day 4: Tues 13 November Ken Dee Marshes and the Galloway Hills
The Ken-Dee Marshes offer expansive views across the River Dee and Loch Ken, and are host to many exciting winter visitors, including Greenland White-fronted and Greylag Geese. Local trails hold resident Willow Tit and Red Squirrel to interest us, and other open country passerines might include Tree Sparrow, Linnet and Stonechat. Later we visit the local Red Kite feeding station, where you can expect a very close first-hand experience of these beautiful and gregarious birds as they come in to feed. If weather allows after the Kite feed, we head into the Galloway hills where perhaps the major prize is the locally scarce Golden Eagle, though Merlin and Peregrine might be found. At lower altitudes, Siskin, Dipper, Grey Wagtail, Redwing and Fieldfare and Common Crossbill are found.
Day 5: Wednesday 14 November The Solway Coast
Today sees us making a thorough exploration of the Solway Coast, from the Crook of Baldoon through to Southerness. With so many birding sites within easy reach, we will take a close look at the tide and weather forecast before making a call on what order to visit sites. Wader numbers should be high today, with numbers of Knot, Bar-tailed Godwit and Grey Plover amongst many other species. Our coastal forays will be interspersed with visits to sheltered lochs, with a good list of wildfowl and small birds expected.
Day 6: Thurs 15 November Round-up
A round-up of anything we might have missed. This may see us return to the coast, or nearby woods or lochs, depending on luck with the weather or any known rarities. The holiday concludes late morning in Dumfries.
This holiday can be combined with:
MAINLAND SCOTLAND
Short Breaks.
Please note: all itineraries are given as a guide only. Actual holiday content may vary according to the judgement of your guide, and elements beyond our control (eg weather).
Expect a wide variation in weather conditions, which can be wild and unpredictable. Sunshine, rain and strong winds are all possible, and you will probably experience a bit of everything. Biting insects are not expected. Please bring walking boots or shoes, weatherproof clothing and a small rucksack. At many of the reserves the trails can be muddy and even waterlogged at times, so if the forecast is wet during or in the days running up to the holiday then wellies are definitely recommended. The holiday will be run at a relaxed pace, with fabulous birdwatching in a spectacular setting! There will be short to moderate (1 to 4 mile) walks some days.
What's included in your 'Solway Firth' holiday price
• Five nights comfortable en-suite hotel accommodation. We choose from our personally inspected shortlist, where birders are welcome and the hospitality is special. Guests are never expected to share. All rooms are en-suite. Full details with your joining pack.
• Full Scottish breakfast and dinner from Saturday evening til Thursday morning, packed lunch daily.
• All transfers by comfortable minibus. Drivers can leave vehicles safely parked at the hotel near Dalbeattie. All transfers to and from rail links in Dumfries.
• Guidance from a professional Group Leader.
What's not included in your 'Solway Firth' holiday price
• Insurance, drinks and other items of a personal nature.
Why choose Heatherlea for your Scottish birding holiday?
Heatherlea is THE place for top quality birding holidays in Scotland, chosen by more and more birders each year. Stay in our own three star Small Hotel, and enjoy first-rate birding with Scotland's best guiding team. Relax and enjoy yourself, as we do all the planning! Above all, we make it our business to show key wildlife to you. Our fully inclusive guided holidays concentrate on the real experience, and we take time to ensure that each of our guests enjoys everything we do.
We have been organising birding and wildlife holidays for 27 seasons, and have a highly experienced and capable office team. We also offer a telephone and email service outside normal office hours.
Our 'Mainland Scotland' holidays based at Mountview Hotel have a maximum ratio of 7 clients per guide, putting the emphasis on personal service, and helping you get the best possible experience.
We are a small company, run BY birders FOR birders. Come and see!
Heatherlea are Mainland Scotland's FIRST '5-Star Wildlife Experience!' This is the highest available grading, classified as 'exceptional' by visitScotland.
There is no single supplement. Single guests are never expected or invited to share.
Our holidays often include things which others might invite you to pay yourself, for instance loan of Swarovski binoculars, packed lunch and tips to hotels.
We offer a courtesy transfer between our Hotel and Aviemore rail/bus links on Saturdays.
Heatherlea hold full Tour Operator Insurance for your added protection.
Heatherlea is a limited company, registered in Scotland. We are also registered to pay VAT, which is included in your holiday price as quoted on this page.
Once your holiday is confirmed in writing by us, we promise not to surcharge the price for any reason.
Enjoy an excellent birding and wildlife holiday with Heatherlea.
Mainland Scotland's FIRST '5-Star Wildlife Experience!'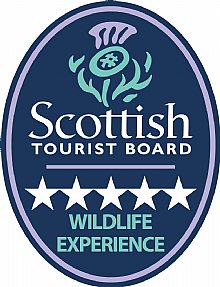 'Exceptional'
Visit Scotland