Orkney and the Flow Country
Birding and wildlife in the far north of Scotland
Dates
Max Group Size
7 per guide
Duration
8 Days
Prices

£1695 pp, £125 single supplement.

Deposit £200
A brand new late spring birding trip from Heatherlea, combining the wildlife highlights of Orkney with the key sites and wildlife of the far north of the Scottish Mainland, including a tour around the Flow Country of Caithness and Sutherland. Timed so that breeding birds are on territory, with an excellent chance of scarce migrants too, this is a birding adventure in a really underwatched corner of the country!
Highlights will include several visits to seabird colonies, densely packed and huddled in, with most birds about to lay eggs. We will also see good numbers of nesting waders and waterfowl, with scarce northern species such as Red-throated Diver, Black-throated Diver, Hen Harrier, Great Skua, Arctic Skua, Golden Eagle, Black Guillemot, Twite and a lot more to keep us on our toes. The first of the flowers and butterflies will be out too, with Small Blue butterfly a target for the lepidopterists and Scottish Primrose for the botanists!
Offshore we have good chances of cetaceans, and we have timed this trip to coincide with peak Orca movements. The Pentland Firth has been the most reliable single site for Killer Whale sightings for the last few years, especially around late May. With visits to 5 key headlands for seawatches, two ferry crossings and an excellent information grapevine, we have every chance. Consolation prizes are Minke Whale, Risso's Dolphin, White-beaked Dolphin and Harbour Porpoise. The longer we look, the more we see!
Please note that this is a brief highlights tour of Orkney aimed at birders. For those that want a more detailed look at Orkney, including all the main archaeological sites and some of the outer isles, please see our popular Orkney Island Explorer and Orkney in High Summer holidays.
Day 1: Saturday - Nethy Bridge to the North Sutherland coast
We meet early at the Mountview Hotel in Nethy Bridge before heading north. It is a good few hours scenic drive across the Black Isle, into Easter Ross and into East Sutherland, where we can make a few birding stops for Hen Harrier and other upland birds. We then visit Loch Fleet NNR where we would hope to see Eider, Red-breasted Merganser, Common Seals and perhaps an Osprey, with late migrant waders very possible. We head back inland to Lairg, and then slowly work our way north, checking lochs and open country for key birds, like Red and Black-throated Diver, Golden Eagle and Greenshank. We continue north and arrive in Tongue, giving us a few hours to explore the Kyle of Tongue, good for waders and Otters. We check-in to our fine hotel and enjoy our first dinner and checklist. A long day but some stunning scenery and hopefully a few good birds already! Overnight Tongue, North Sutherland.
Day 2: Sunday – The Flow Country and Strathy Point
Today we head east and make a large loop through the area known as The Flow Country, taking minor roads through vast wilderness areas. The majority of the Flows are of course inaccessible, they are a floating bog with not even a track across them, but we will cover the edge of many good sections and enjoy the Forsinard RSPB reserve, with its excellent new trail and observation tower. We will make stops in open areas to scan the bogs and heath, hoping to pick up raptors and some of the nesting waders from the roadside. The scenery here is absolutely stunning, quite unlike anywhere else in the British Isles.
In the afternoon we loop back round to the coast, taking a walk down to the end of Strathy Point, a walk of just under a mile. Strathy Point sticks a long way out into the Pentland Firth and has relatively deep water just offshore, perfect for seeing cetaceans and seabirds at close quarters. Strathy has an excellent reputation for Risso's Dolphin, Minke Whale and Orca, and we hope for calm conditions to view. In a strong wind the seabird passage is heavy to there is always something to see whatever the weather. We shall also look here for the diminutive Scottish Primrose, hopefully out in its first flowering on the coastal heath, but that is totally dependent on the weather in the weeks beforehand. From Strathy we loop back along the north coast to Tongue. Overnight Tongue
Day 3: Monday – Loch Hope and Loch Loyal
Today we head south west and look inland at the vast wilderness of Sutherland. With empty single track roads, we will stop frequently to scan the open landscape. Key targets today are Golden Eagle, Cuckoo, Black-throated Diver, Goosander, Dunlin and Greenshank, but it will probably be the scenery and landscape that leaves a lasting impression. This is wild country, completely off the tourist route, and often just driven through in a few hours. We hope to show you that it deserves more time and respect! If weather is unkind or if we see our target species early, we will head to Loch Eriboll a little further to the west to look for Otter and Great Northern Diver, with Golden Eagle possible here too. Overnight Tongue.
Day 4: Tuesday – Broubster Leans and on to Orkney
We head east this morning along the north coast road, visiting Broubster Leans RSPB reserve to look for wetland birds and raptors. We will loop back round via Loch Calder and Loch Watten to see what freshwater birds we can find, with exciting migrants possible on these large water bodies. The back roads here can prove good for passage waders and farmland birds too. We continue along the north coast, taking in key birding sites such as St John's Pool, where we hope to see nesting waders, terns and ducks in good numbers, with a chance of rarities. We finish our Mainland birding with a thorough check of Dunnet Bay – good for divers and seaduck, with scarce gulls often in the roost. We will check the dunes here for Small Blue butterfly too – weather permitting of course.
We then head to Scrabster in good time to catch our ferry to Orkney. On the crossing we should hope to see seabirds, with Black Guillemot, Puffin, Great Skua all likely, with the full suite of British seabirds probable on this trip. We pass close to Hoy on the ferry, allowing good views of the spectacular seastack, the Old Man of Hoy. We arrive into Stromness and head to our lovely hotel. Overnight Orkney.
Days 5 & 6: Wednesday & Thursday – Orkney Mainland
A tremendous couple of days as we explore Mainland Orkney to see waders, raptors and seabirds. In total we stay 3 nights on Orkney Mainland, the largest of the Orkney Isles. We hope to find beautiful Black-tailed Godwit among as many as eleven breeding wader species, and aim to see both Hen Harrier and Short-eared Owl quartering the wetlands and rough pasture. With the sound of Skylark and Meadow Pipit all around, we may be able to add Twite to our lists at coastal spots, with numerous Wheatear, Rock Pipit and Orkney Wren too! We will visit at least one seabird colony on our adventure here, with Marwick Head and the Brough of Birsay our popular choices, with scores of Guillemot, Razorbill, Fulmar, Kittiwake and Puffin, with numerous marauding Great and Arctic Skuas overhead.
Otters can be found at a few key spots, with high numbers of Seals around the coast. Birding wise, rare migrants are likely too, and we will search for our own whilst keeping an ear to the grapevine. Typical migrants at this time include Red-backed Shrike, Wryneck and many vagrants such as Rustic Bunting and Icterine Warbler. Tide and weather will influence our choice of sites, but if the weather is challenging there are numerous hides on key RSPB reserves where we can watch in comfort. Both nights Orkney.
Day 7: Friday – South Ronaldsay and Duncansby Head
We have a few hours in the morning to wrap up any missed species, or if the winds are favourable we can head to likely migrant spots in East Mainland, Burray or South Ronaldsay. Late morning we head to the ferry and return to the Scottish Mainland. This ferry takes us through the strongest of the tidal currents of the Pentland Firth, where there is extremely rich feeding for birds and cetaceans alike. We have seen Orca on three occasions from this ferry in the past few years so our eyes will be peeled!
Once back on the Mainland we head straight for John O'Groats and up to Duncansby Head – one of the best seawatching spots in the British Isles, not for seabirds but for cetaceans! If nothing is showing we will explore the seabird colony here, a bustling auk colony in particular with Great and Arctic Skuas a constant threat, along with Peregrine, Raven and Hooded Crow. We will spend a few hours here and hope that we connect with dolphins, porpoises or something much bigger. We have seen Orca twice from here in recent years. Late afternoon we head west for a night in Thurso.
Day 8: Saturday – Return to Nethy Bridge via Easter Ross
We leave Thurso after breakfast and head south. If conditions are good for spotting cetaceans we may stop in at Noss Head near Wick to scan out from there. Noss Head is also a good migrant trap too, and we will check the pools and sparse cover carefully. We continue south, and will look carefully at the weather, tides and sightings so far on the holiday to plan an excellent last day to the trip in Easter Ross. If tide is kind we may stop in at Inver Bay, a massively underwatched wader spot where rarities are more than possible. We then head up to the top of the Fearn Peninsula to Tarbat Ness. One look at a map tells you why this spot is so special – the Ness sticks miles out into the Moray Firth – all seabirds, waders and cetaceans have to pass it and tired migrants are drawn in by the large lighthouse and cover. Anything is possible here! Mid-afternoon we head for home, aiming to be back at the Mountview Hotel for 5:30pm.
Please note: all itineraries are given as a guide only. Actual holiday content may vary according to the judgement of your guide, and elements beyond our control (eg weather).
Expect a wide variation in weather conditions, which can be wild and unpredictable, with temperatures perhaps averaging around 15 degrees Celsius. Sunshine, rain and strong winds are all possible, and you will probably experience a bit of everything. Biting insects are possible, but this is very early in the season and are not expected as a major problem. Please bring walking boots or shoes, waterproof clothing and a small rucksack. Hat and gloves are essential for boat trips and exposed coastal locations (which is essentially everywhere in Orkney and much of the North Coast!). The holiday will be run at a relaxed pace, with time for exploring historical sites, photography and botany as well as fabulous birdwatching in a spectacular setting! There will be short to moderate (1 to 3 mile) walks most days, often over rough, uneven or soft ground with a few stiles to climb over. All walks are of course optional.
What's included in your 'Orkney and the Flow Country' holiday price
• Seven nights comfortable en-suite hotel accommodation. We choose hotels from our personally inspected shortlist, where birders are welcome and the hospitality is special. Guests are never expected to share. Full details with your joining pack. All rooms are en-suite.
• Full Scottish breakfast and dinner from Saturday evening till Saturday morning, packed lunch daily.
• All transfers by comfortable minibus. All ferry transfers. Drivers can leave vehicles safely parked at The Mountview Hotel. We offer a courtesy drop off on the morning of departure to Aviemore too!
• Guidance from a professional Group Leader.
What's not included in your 'Orkney and the Flow Country' holiday price
• Extra night in Nethybridge area at beginning and end of holiday. This can be arranged for you if requested at time of holiday booking.
• Transfers from rail links in Aviemore on arrival.
• Insurance, drinks and other items of a personal nature.
WHY CHOOSE HEATHERLEA FOR YOUR SCOTTISH ISLAND ADVENTURE?
Heatherlea is THE company for top quality birding holidays in Scotland, chosen by more and more birders each year. Relax and enjoy first-rate birding with Scotland's best guiding team, as we do all the planning! Our fully inclusive guided holidays concentrate on the real experience, and we take time to ensure that each of our guests enjoys everything we do. Above all, we make it our business to show key wildlife to you.
These popular holidays are carefully designed to explore the beautiful and wildlife-rich Scottish islands and far west coast. Many itineraries are unique, designed to give you the best of island wildlife at the best time of year. All are run at a leisurely pace, though we might move a little faster when rare migrants and vagrants are in our sights!
We have been organising birding and wildlife holidays for over 30 seasons, and have a highly experienced and capable team. We also offer a telephone and email service outside normal office hours.
This holiday has a maximum ratio of 7 clients per guide, putting the emphasis on personal service, and helping you get the best possible experience.
Heatherlea are Mainland Scotland's FIRST '5-Star Wildlife Experience!' This is the highest available grading, classified as 'exceptional' by visitScotland.
Single guests are never expected or invited to share.
Our holidays often include things which others might invite you to pay yourself, for instance packed lunch and tips to hotels.
Heatherlea hold full Tour Operator Insurance for your added protection.
Heatherlea is a limited company, registered in Scotland. We are also registered to pay VAT, which is included in your holiday price as quoted on this page.
Once your holiday is confirmed in writing by us, we promise not to surcharge the price for any reason.
Enjoy an excellent birding and wildlife holiday with Heatherlea.
Mainland Scotland's FIRST '5-Star Wildlife Experience!'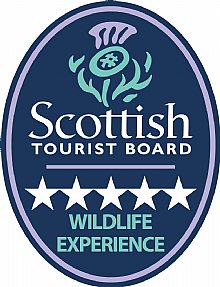 'Exceptional'
Visit Scotland
Trip Reports