Islands on the Edge
A grand tour of the Inner and Outer Hebrides, from Berneray, North & South Uist, Benbecula, Eriskay, Barra and Vatersay to Tiree and Coll!
| | |
| --- | --- |
| Prices: | £1995 PP, £195 single supplement. Deposit £200. 2020 prices TBC. |
| Dates: | 25 May - 1 Jun 2019, 8 Jun - 15 Jun 2019, 23 May - 30 May 2020, 6 Jun - 13 Jun 2020 |
| Guides | Mark Warren, Toby Green |
| More Info | |
Overview
This eight-day, eight-island tour is something really different, including the very best birdlife, sealife, flora and local history, as we visit North Uist, South Uist, Benbecula, Berneray, Barra and Eriskay plus three nights on Coll and Tiree. With the machair grasslands coming into full bloom, Corncrake rasping, Snipe drumming, Redshank, Arctic and Little Terns vociferously guarding their territories, and Basking Sharks, Common Seals and a variety of cetaceans around the white sandy shorelines, this holiday is a wonderful celebration of Scottish island wildlife. The islands also hold a wide variety of interesting and rare flora, including Hebridean orchid species and sub-species.

Itinerary
Day 1: Saturday - Nethy Bridge to Benbecula
We depart Nethybridge in the morning and cross the famous Skye Bridge, travelling across the island to the ferry point at Uig. Upon arrival on North Uist, we head straight to our accommodation on Benbecula, perhaps picking up first Short-eared Owl or Hen Harrier as we drive. We should have time to look at a few beaches or wetlands before close of play, there are sure to be plenty of waders around. Overnight Benbecula.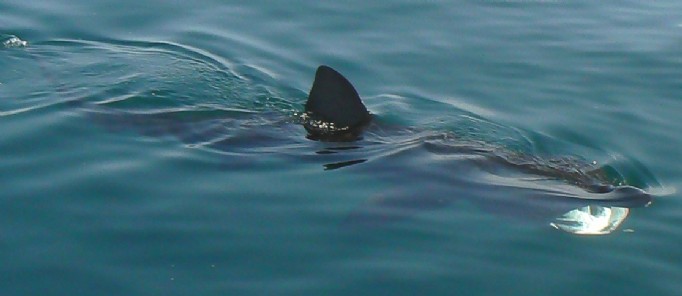 Day 2: Sunday - North Uist and Berneray
The stunning Outer Hebrides in summer! Over these few days we aim to see Otter, Golden Eagle, White-tailed Eagle, Hen Harrier, Short-eared Owl, Red-necked Phalarope, terns, skuas, auks and waders, with more opportunities for Corncrake, Great Northern Diver, Common Redpoll, and Black Guillemot. Rarities could include Ring-necked Duck, American Wigeon, a lingering Glaucous or Iceland Gull, or Snowy Owl. All the islands have different features, and we shall enjoy the beauty of each as we explore the machair and crofting meadows. Our target islands today are North Uist and Berneray, aiming to give everyone picture postcard views with iconic wildlife sightings too! When the sun shines on Berneray, it is one of the most beautiful places on Earth! Overnight Benbecula.
Day 3: Monday - South Uist and Benbecula
Today we start by looking around our small link island of Benbecula, with excellent chances of seeing numbers of breeding and migratory waders. We then head south on to South Uist, aiming to see Divers, Eagles and a good assemblage of nesting waders and wildfowl. South Uist has high mountains and sealochs, but also has rough pasture, rich machair and long sweeping beaches, meaning you can cover a range of diverse habitats in a short space of time, giving plenty of chances to spot the iconic wildlife and take in the picture-postcard views. Overnight Benbecula.

Day 4: Tuesday - South Uist and Eriskay and across to Barra
We bid farewell to Benbecula and South Uist and head across to Eriskay for a short tour of this stunning island, and catch the ferry onward to the island of Barra. En route we hope to see more cetaceans, sharks, auks, divers, and diving Gannets. We travel round the island before dinner, and afterwards may visit a beautiful machair beach, walking amongst rare orchids, listening to Corncrake, and possibly seeing Otter playing in the long evening, with seals wailing on the skerries offshore. Overnight Barra.
Day 5: Wednesday - Barra & Vatersay to Tiree
We spend a few more hours on Barra, perhaps visiting the causeway linked island of Vatersay, a good place for Corncrake and Twite. We then catch the late morning ferry across to Tiree, again crossing incredibly rich waters. Our chances of cetaceans on this trip are very good!
Tiree is home to more calling male Corncrakes than anywhere else in Britain, and we will fully explore the variety of habitats on this under-visited outpost. Tiree has a nationally important population of breeding waders, Lapwing, Oystercatcher, Redshank, Snipe and Ringed Plover are all in evidence. Pintail is a rare breeder, and rare sounds at night could include the buzzing songs of Grasshopper Warbler, the bizarre calls of Water Rails, the liquid "wet-my-lips" song of a Quail and the "whip-lash, tap-drip" calls of a Spotted Crake. Overnight Tiree.
Day 6: Thursday - Tiree
We continue to explore Tiree, traditionally the most fertile Hebridean island, seeking out Corncrake, waders and ducks across the 12-mile long landmass. On the surrounding sea, auks, shearwaters, divers, Eiders and terns can be seen feeding, and an increasing number of Basking Sharks are beginning to gather in the unspoilt bays. We enjoy the machair grasslands, which will just be beginning to come into bloom, creating a lush carpet of colour around the island, which due to its lack of height is one of the sunniest, and least rain-soaked places in Britain! Overnight Tiree.
Day 7: Friday - Tiree and Coll
We get the mid morning boat from Tiree to Coll. We spend the rest of the day exploring the island of Coll, spending time listening for Corncrake, and searching for Basking Shark and Otter along the coasts, and enjoying the tranquillity of this picturesque island. Overnight Coll.
Day 8: Saturday - Return to the Mainland
After a final tour of Coll in the morning, we take the lunchtime boat back to Oban, with many more wildlife opportunities on our cruise through the Sound of Mull, flanked by the Ardnamurchan Peninsula and the Isle of Mull.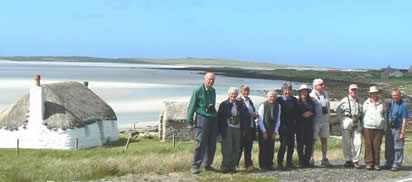 Please note: all itineraries are given as a guide only. Actual holiday content may vary according to the judgement of your guide, and elements beyond our control (eg weather).
This holiday can be combined with:
MAINLAND SCOTLAND
High Season across the Highlands, Highlands and Orkney, The 'Outer Limits' in summer.
SCOTTISH ISLAND ADVENTURES
Outer Hebrides in spring. Fair Isle in Spring for birders, Southern Hebrides
Trip Information
Field Notes Expect a wide variation in weather conditions. Cold winds and rain are possible. Bring warm clothing, waterproofs, and walking boots or shoes. Hats and gloves essential for the ferry crossings throughout. Walking will generally be easy, with mostly short walks on uneven, occasionally boggy and rocky ground. Bring binoculars and a telescope if possible. A camera may be useful too! You don't need flasks for hot drinks or wellies. Biting insects might be encountered.
What's included in your 'Islands on the Edge' holiday price
Seven nights comfortable accommodation on Coll, Tiree, Barra and Benbecula. Please note that on the smaller islands accommodation is very limited and can be somewhat basic with en-suite accommodation not always guaranteed.
Full Scottish breakfast, packed lunch, and a delicious dinner.
Eight days wildlife watching with guidance from a Heatherlea Group Leader.
All transport by comfortable minibus. All access and ferry fees.
Checklist to record sightings and notes.
What's not included in your 'Islands on the Edge' holiday price
Insurance, drinks and other items of a personal nature.
WHY CHOOSE HEATHERLEA FOR YOUR SCOTTISH ISLAND ADVENTURE?
Heatherlea is THE company for top quality birding holidays in Scotland, chosen by more and more birders each year. Relax and enjoy first-rate birding with Scotland's best guiding team, as we do all the planning! Our fully inclusive guided holidays concentrate on the real experience, and we take time to ensure that each of our guests enjoys everything we do. Above all, we make it our business to show key wildlife to you.
These popular holidays are carefully designed to explore the beautiful and wildlife-rich Scottish islands and far west coast. Many itineraries are unique, designed to give you the best of island wildlife at the best time of year. All are run at a leisurely pace, though we might move a little faster when rare migrants and vagrants are in our sights!
We have been organising birding and wildlife holidays for over 25 seasons, and have a highly experienced and capable team. We also offer a telephone and email service outside normal office hours.
This holiday has a maximum ratio of 7 clients per guide, putting the emphasis on personal service, and helping you get the best possible experience.
Heatherlea are Mainland Scotland's FIRST '5-Star Wildlife Experience!' This is the highest available grading, classified as 'exceptional' by visitScotland.
Single guests are never expected or invited to share.
Our holidays often include things which others might invite you to pay yourself, for instance packed lunch and tips to hotels.
Heatherlea hold full Tour Operator Insurance for your added protection.
Heatherlea is a limited company, registered in Scotland. We are also registered to pay VAT, which is included in your holiday price as quoted on this page.
Once your holiday is confirmed in writing by us, we promise not to surcharge the price for any reason.
Enjoy an excellent birding and wildlife holiday with Heatherlea.
Mainland Scotland's FIRST '5-Star Wildlife Experience!'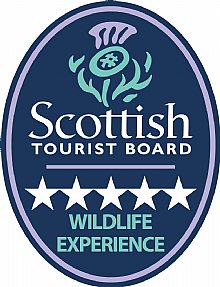 'Exceptional'
Visit Scotland
Please note: all itineraries are given as a guide only. Actual holiday content may vary according to the judgement of your guide, and elements beyond our control (eg weather).