NEW!

Up Helly Aa - Shetland in Winter
Dates
Destination
Duration
7 Days
Focus
Max Group Size
7
2021 Price

£1745 pp

£195 single supplement.

Deposit £300
Rugged Shetland is a wild and beautiful place at all times of year, and this brand new trip explores the Isles in winter, including hardy wildlife and the Isles unique Viking heritage. The Up Helly Aa Viking Fire Festival is famous the world over, a real spectacle which will be a feature of this holiday as we take in cultural experiences, marvel at the parades and enjoy local music and storytelling.
Birdlife here at this time of year is hardy, and we focus on coastal wildlife. Wildfowl will feature, and we'll search local goose flocks for scarcer species such as Tundra and Taiga Bean and White-fronted (both races). Birdwatching in sheltered bays and off the coasts we aim to see Great Northern Diver, Slavonian Grebe, Long-tailed Duck and Eider, Black Guillemot (Tysties), Purple Sandpiper and Turnstone. Glaucous and Iceland Gull occur anywhere the fishing industry is active, and there is a chance of Little Auk too. Passerines are scarce at this time but we should see Twite and Rock Pipit, with Snow Bunting and Waxwing possible too, while raptors are likely to include dashing Merlin and speedy Peregrine. Shetland is renowned for rarities and in recent winters White-billed Diver, Pied-billed Grebe, Lesser Scaup, Ring Necked Duck, King Eider, Surf Scoter, Brunnich's Guillemot, Snowy Owl and Gyrfalcon have been recorded.
On the moors a few Red Grouse might stand out from the heather and Mountain Hare can be found on some of the higher hills. It's a great time of year to look for Otter as individuals wander the coast and lochs in search of food. Cetaceans are fast becoming a feature of a Shetland winter with Humpback, Fin and Killer Whale becoming more regular in recent times. We'll be keen to follow up on any reported animals and may well see dolphins, Harbour Porpoise, Common and Grey Seal too. With dark skies and little light pollution, winter can also be one of the best periods to witness the stunning Aurora Borealis – there can be no guarantees of course, but with luck on our side we might get a show!
Meet us in Shetland, join us at Aberdeen Airport or travel free by minibus from our hotel in Nethy Bridge to Aberdeen airport. Flights to/from Shetland are not included in the holiday price. We can arrange these for you at cost.
Day 1 Saturday - Arrival
Transfer to Shetland via Aberdeen, arriving Sumburgh. We may have time for a few hours of birding en-route to our accommodation, perhaps with a visit to the Shetland catch in Lerwick or following up on any cetacean news.
Day 2 Sunday - Mainland Shetland
Today we head off into north-west Mainland, a corner of Shetland which can feel vast and desolate yet which offers superb wildlife encounters in stunning scenery. The basalt cliffs at Eshaness are dramatic, and a must-see with the wild Atlantic lashing at their base. Twite, Rock Pipit and often Snow Bunting can be found feeding on the short turf, as Raven and Pergrine patrol the skies and seabirds including Gannet pass by offshore. Eider, Long-tailed Duck, Great Northern Diver and wintering auks occupy sheltered voes and inlets, and Turnstone and Purple Sandpiper may be found on the shore. Shorelines are great for Shetland's thriving Otter population and this is one of the best areas to search for them. Grey and Common Seal should both be seen today, and we look for Mountain Hare in white pelage standing out on dark moorland where snow rarely settles. Any goose flocks we encounter will be checked for rarer species while the fish and mussel farms can attract interesting gulls. Shetland can be a great place to see the Northern Lights and if conditions are favourable we will get out to a suitable dark sky location in the hope of seeing the Aurora.
Day 3 Monday - Unst and Yell
We catch the morning ferry for Yell continuing via a second ferry to Unst. Here we'll spend the day exploring the most northerly part of Shetland, another prime location for Otter. Any suitable bays will be checked, and we'll be on the lookout for wildfowl, divers, grebes, Black Guillemot and Little Auk in sheltered bays. Hardy Whooper Swan and geese may be found in the fields while freshwater lochs on the islands can hold diving ducks which might include Smew, Ring-necked Duck and Lesser Scaup. A look around the Viking longhouse and replica ship at Haroldswick should help get us in the mood for the next day's festivities!
Day 4 Tuesday - Up Helly Aa festival
Today sees the arrival of Up Helly Aa, an elaborate Viking fire festival held annually in Lerwick, and a celebration of Shetland's history and culture originating as long ago as the 1880's. We spend the day on the streets, beginning with the morning parade of chief guizer Jarl and the Jarl Squad. A galley (longship) is built annually, impressive in design but ultimately doomed so now is the time to admire it. During the main part of the day a range of activities will be available, from a look around the fantastic Shetland museum (where the Jarl Squad visit during the afternoon), to birding at Shetland catch once more. As darkness falls we'll return to the streets as a mass of torches are lit and the evening parade gets into full swing. A wonderful spectacle of light and sound as Norse songs cascade all around and the glow from flames bounce off the buildings. Depending on how you feel, there may be the chance to continue our enjoyment of the festival into the night with local music!
Day 5 Wednesday - Sumburgh and Loch Spiggie
After a busy night, a little lie in before birding around South Mainland. Sea-watching from Sumburgh Head may produce Little Auk and if conditions are calm perhaps cetaceans. A range of waders at Pool of Virkie will help to boost our trip total as will a time at nearby Loch of Spiggie. The largest freshwater body in the south, Whooper Swans and geese can often be found here or in adjacent fields. Hunting Hen Harrier or Merlin are possible, while recent rarities have included Pied-billed Grebe. Scatness, Grutness and Vest Voe of Sumburgh also have potential at this time of year and may be visited today.
Day 6 - Thursday - Scalloway and South Mainland
Our last full day and we head slightly further north to explore Scalloway, Shetland's ancient capitol until 1708. The harbour isn't as busy as it used to be, but we should find gulls, Black Guillemot and Eider and the fabulous museum and castle are must-visit sites. Tingwall loch and valley offers good wildlife watching, as does the Kergord area where we may add new species including Red Grouse if missed earlier. We may choose to spend the last of our time searching for known rarities or Waxwings or mop up anything we might have missed before a final evening and meal together at our comfortable hotel.
Day 7 Friday - Departure
Any opportunity for final birding will depend on flight times but if we have an hour or two spare we'll visit local sites before returning to Sumburgh Airport where our holiday ends. Return travel to Nethy Bridge to your vehicle or connect with trains is available, please check and confirm with our office.
Please note that we do not visit Mousa, Noss or Fetlar on this itinerary, please see the Shetland Island Explorer or Shetland and Orkney holidays for these spring and summer experiences.
This holiday can be combined with:
MAINLAND SCOTLAND
NEW! Birders Blast or Short Breaks
Thanks to Chris Hughes for use of Up Helly Aa fire festival pictures
Please note: all itineraries are given as a guide only. Actual holiday content may vary according to the judgement of your guide, and elements beyond our control (eg weather).
Expect a wide variation in weather conditions as Shetland can at times be wild and unpredictable, with temperatures of perhaps 5 to 10 degrees Celsius. Sunshine, rain, strong winds and some snow are all possible, and you will probably experience a bit of everything. Wind can be fairly constant on many days. Biting insects are not expected. Please bring fully waterproof walking boots or wellies, fully waterproof clothing, gloves, hat, plenty of warm clothes and a small rucksack. The holiday will be run at a relaxed pace, though if a rare bird is found nearby or if we need to catch a ferry we may need to pack up at short notice! There will be short to moderate (1 to 3 mile) walks most days. Chosen walks will be on mostly good ground, but please note that birds are often found in inconvenient locations that may involve climbing stiles and gates, or walking over wet or rocky ground in order to see them. All excursions are of course optional. This is a group holiday with fixed accommodation points, large road distances (by road, top to bottom is 90 miles!) and limited ferries.
What's included in your 'Up Helly Aa - Shetland in Winter' holiday price
• Six nights comfortable en-suite hotel/guest house accommodation on Shetland. We choose from our personally inspected shortlist, where birders are welcome and the hospitality is special. Guests are never expected to share. All rooms are en-suite. Full details with your joining pack.
• Full Scottish breakfast and dinner from Saturday evening till Friday morning, packed lunch daily.
• All transfers by comfortable minibus. All ferries and other boat trips. Drivers can leave vehicles safely parked at The Mountview Hotel. We offer a courtesy drop off to transport links in Aviemore on the morning of departure.
• Guidance from a professional Group Leader.
What's not included in your 'Up Helly Aa - Shetland in Winter' holiday price
• Flights to and from Shetland
• Extra night in Nethybridge area at beginning and end of holiday. This can be arranged for you if requested at time of holiday booking.
• Transfers from rail links in Aviemore.
• Insurance, drinks and other items of a personal nature.
WHY CHOOSE HEATHERLEA FOR YOUR SCOTTISH ISLAND ADVENTURE?
Heatherlea is THE company for top quality birding holidays in Scotland, chosen by more and more birders each year. Relax and enjoy first-rate birding with Scotland's best guiding team, as we do all the planning! Our fully inclusive guided holidays concentrate on the real experience, and we take time to ensure that each of our guests enjoys everything we do. Above all, we make it our business to show key wildlife to you.
These popular holidays are carefully designed to explore the beautiful and wildlife-rich Scottish islands and far west coast. Many itineraries are unique, designed to give you the best of island wildlife at the best time of year. All are run at a leisurely pace, though we might move a little faster when rare migrants and vagrants are in our sights!
We have been organising birding and wildlife holidays for over 30 seasons, and have a highly experienced and capable team. We also offer a telephone and email service outside normal office hours.
This holiday has a maximum ratio of 7 clients per guide, putting the emphasis on personal service, and helping you get the best possible experience.
Heatherlea are Mainland Scotland's FIRST '5-Star Wildlife Experience!' This is the highest available grading, classified as 'exceptional' by visitScotland.
Single guests are never expected or invited to share.
Our holidays often include things which others might invite you to pay yourself, for instance packed lunch and tips to hotels.
Heatherlea hold full Tour Operator Insurance for your added protection.
Heatherlea is a limited company, registered in Scotland. We are also registered to pay VAT, which is included in your holiday price as quoted on this page.
Once your holiday is confirmed in writing by us, we promise not to surcharge the price for any reason.
Enjoy an excellent birding and wildlife holiday with Heatherlea.
Mainland Scotland's FIRST '5-Star Wildlife Experience!'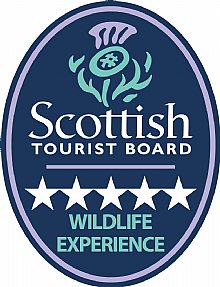 'Exceptional'
Visit Scotland