Southern Hebrides from Colonsay to Islay
A relaxed six-day tour of the Southern Hebrides: Colonsay, Islay and Jura.
| | |
| --- | --- |
| Prices: | £1945 PP, £275 single supplement. Deposit £200. 2020 prices TBC. |
| Dates: | 2 Jun - 8 Jun 2019, 31 May - 6 Jun 2020 |
| Guides | Mike Coleman |
| More Info | |
Overview
In this little visited part of Scotland's Hebridean archipelago lie fascinating and diverse islands, hosting stunning wildlife as spring turns to summer in the Inner Hebrides. On this unique holiday we make a leisurely journey through these enchanting islands and their wildlife.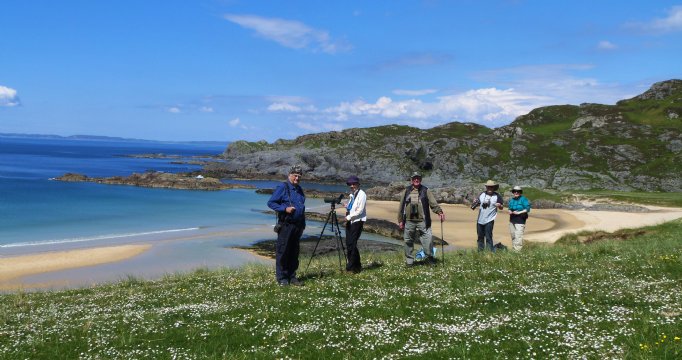 Primarily a relaxed pace natural history trip, there will still be plenty of opportunity to visit archaeological and cultural sites, whilst there will be plenty of scope for photography. The long Spring days are perfect for this trip, giving us lots of daylight so that we can remain flexible with the itinerary to work with the changeable weather and tides.
Itinerary
Sunday: transfer to Kennacraig
We transfer from Nethy Bridge to Kennacraig, where you may choose to join the holiday, before we cross by ferry to Islay. We dine at leisure on the ferry this evening before heading to our comfortable base for the next 3 days.
Monday & Tuesday : Islay and Jura
We make a thorough exploration of Islay, home to around 100 species of breeding birds. We take a cliff walk around the southern tip at the Oa, with views to Rathlin, Northern Ireland and the Mull of Kintyre. We search tidal lochs for ducks and waders, and look for Otter among seaweed strewn bays. Inland habitats give us a good chance of Raven, Hooded Crow, Peregrine and Golden Eagle. Other raptors found on Islay include Merlin, Buzzard, Kestrel, Sparrowhawk, quartering Hen Harrier, and the occasional White-tailed Eagle. We also visit the Rhinns area of south-west Islay, and the dunes and beaches of Saligo and Machir Bay, to see breeding waders and farmland birds as we maximise our stay here. If we are lucky we may find several Marsh Fritillary butterflies on the wing.

One of these days we make the short journey across the Sound of Islay to Jura. The island has a wilderness feel, dominated by the twin peaks of the 'Paps of Jura'. We look for Otter, raptors (yet more chances of Hen Harrier, Golden and White-tailed Eagle) and are almost certain to spot Red Deer (there are approximately 5000 here!).

Wednesday, Thursday & Friday: Colonsay and Oronsay
These fascinating islands are full of birdlife, yet little visited by tourists. Our first ever visit here is a major feature of this new Hebridean adventure, and we spend three nights in comfortable accommodation as we make a thorough exploration.
Colonsay holds a variety of habitats, including ancient and cultivated woodland, moorland and peat bogs, meadows and cultivated farmland, machair and coastal flats, pristine beaches and offshore islands. In these varied environments we will find a wealth of wildlife, as we thoroughly explore the islands by vehicle and on foot.

We explore stunning deserted beaches, looking at Wheatear, Twite and Chough. Croft land should prove good for farmland birds including Corncrake and Stonechat. Overhead we watch for Golden Eagle, Peregrine and possibly Merlin, and Otter frequent the seaweedy coasts.

We visit the gardens of Colonsay House, good for warblers and migrants as well as woodland flora and fauna, and famous as one of the finest rhododendron gardens in Scotland. As well as the first emerging orchids, there should be a variety of wildflowers on the machair with carpets of bluebells, primrose and ransoms all present in the verges and understorey.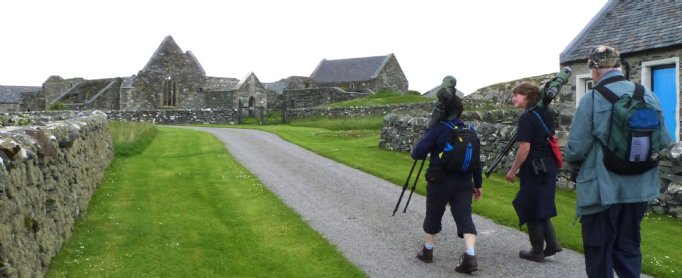 We walk across the sandy tidal causeway (called The Strand) to the RSPB farmed and managed island of Oransay. The island has been designated as both a Site of Special Scientific Interest (SSSI) and a Special Protection Area (SPA) for its Chough and Corncrake populations. Other important breeding birds include Lapwing, Redshank, Twite, Snipe, Skylark and Linnet. If time and tide allow, we will visit the historic ruins of a 14th century Augustinian priory, one of the best preserved pre-Reformation churches in Scotland. To fully appreciate the island, we will walk up to four miles when we visit Oransay.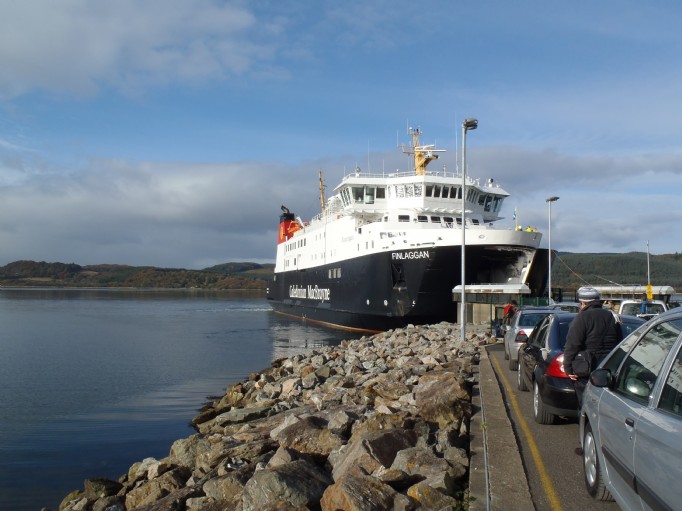 Saturday: Return to Nethy Bridge
After breakfast and our last morning on Colonsay we return to the mainland, returning to Nethy Bridge via Oban, arriving early evening.
This holiday can be combined with:
MAINLAND SCOTLAND
High Season across the Highlands, Highlands and Orkney.
SCOTTISH ISLAND ADVENTURES
Shetland Island Explorer. Islands on the Edge
Trip Information
Field Notes Expect a wide variation in weather conditions. Cold winds and rain are possible. Bring warm clothing, waterproofs, and walking boots or shoes. For the trip to Oransay, we cannot guarantee vehicular access so we may have to wade ankle deep for short sections across the Strand. Crocs or similar footwear are advised for this! Walking will generally be easy, but there will be occasional stiles and uneven, often wet, rocky ground. Bring binoculars and a telescope if possible. A camera may be useful too! You don't need flasks for hot drinks or wellies. Biting insects might be encountered though aren't expected to be a problem this early in the season.
What's included in your 'Southern Hebrides' holiday price
Six nights comfortable accommodation on Islay and Colonsay.
All ferry transfers to and from Islay, Jura and Colonsay.
Full Scottish breakfast, packed lunch, and a delicious dinner.
Seven days wildlife watching with guidance from a Heatherlea Group Leader.
All transport by comfortable minibus. All access fees. Drivers can leave vehicles safely parked at The Mountview Hotel. We also offer a courtesy drop off to Aviemore on morning of departure.
Checklist to record sightings and notes.
What's not included in your 'Southern Hebrides' holiday price
Extra night in Nethy Bridge before or after the trip. This can be arranged for you if requested at time of holiday booking.
Insurance, drinks and other items of a personal nature.
Collection from Aviemore.
WHY CHOOSE HEATHERLEA FOR YOUR SCOTTISH ISLAND ADVENTURE?
Heatherlea is THE company for top quality birding holidays in Scotland, chosen by more and more birders each year. Relax and enjoy first-rate birding with Scotland's best guiding team, as we do all the planning! Our fully inclusive guided holidays concentrate on the real experience, and we take time to ensure that each of our guests enjoys everything we do. Above all, we make it our business to show key wildlife to you.
These popular holidays are carefully designed to explore the beautiful and wildlife-rich Scottish islands and far west coast. Many itineraries are unique, designed to give you the best of island wildlife at the best time of year. All are run at a leisurely pace, though we might move a little faster when rare migrants and vagrants are in our sights!
We have been organising birding and wildlife holidays for over 25 seasons, and have a highly experienced and capable team. We also offer a telephone and email service outside normal office hours.
This holiday has a maximum ratio of 7 clients per guide, putting the emphasis on personal service, and helping you get the best possible experience.
Heatherlea are Mainland Scotland's FIRST '5-Star Wildlife Experience!' This is the highest available grading, classified as 'exceptional' by visitScotland.
Single guests are never expected or invited to share.
Our holidays often include things which others might invite you to pay yourself, for instance packed lunch and tips to hotels.
Heatherlea hold full Tour Operator Insurance for your added protection.
Heatherlea is a limited company, registered in Scotland. We are also registered to pay VAT, which is included in your holiday price as quoted on this page.
Once your holiday is confirmed in writing by us, we promise not to surcharge the price for any reason.
Enjoy an excellent birding and wildlife holiday with Heatherlea.
Mainland Scotland's FIRST '5-Star Wildlife Experience!'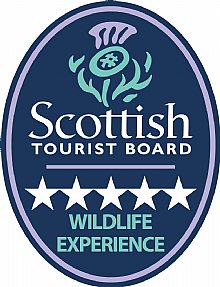 'Exceptional'
Visit Scotland
Please note: all itineraries are given as a guide only. Actual holiday content may vary according to the judgement of your guide, and elements beyond our control (eg weather).