Shetland in Spring for birders
Join us for an exciting birding tour of Shetland - targeting rare migrants!
| | |
| --- | --- |
| Prices: | £1645 PP, £250 single supplement. Deposit £200. 2020 prices TBC. |
| Dates: | 11 May - 18 May 2019, 9 May - 16 May 2020 |
| Guides | Mark Warren |
Overview
May is a great time for birding on Shetland, we have carefully timed this holiday so that we can enjoy superb birding during the long days of late Spring. This is an exciting experience, as we often alter our plans depending on new arrivals, using our excellent local contacts and latest information to be able to adapt our schedule at short notice. Extreme rarities can arrive at any time and we will be 'on the ball' to seek these birds. Migrants arrive almost daily (often in 'falls' of hundreds of birds), with many in their finest breeding colours. Typical scarce birds at this time of year include Red-backed Shrike, Bluethroat, Common Rosefinch, Wryneck, Rustic Bunting and Subalpine Warbler, with lots of overshoots expected from the Mediterranean. If the winds shift round to the fabled south east then birds of Eastern Europe or further afield could be expected. The potential rarity list incorporates a good range of the migrants of the Northern Hemisphere, and birds from Siberia are as possible as birds from North America. Lots of our time will go into finding our own rarities, with a real team approach to uncovering our own birds. In quieter periods of migrant birding we will be entertained by densely packed seabird colonies, full of auks (including thousands of Puffins) and wonderful Gannetries. At this time of year there are good numbers of nesting waders too, with Snipe, Redshank, Lapwing, Curlew, Oystercatcher and Ringed Plover at amazing densities. Rare nesting birds include Red-throated Diver, Red-necked Phalarope, Whooper Swan and Whimbrel, and passerines include large numbers of Twite, Rock Pipit and Wheatear; a feast of birding!
This holiday is best suited to birders. If a rarity turns up, or we need to spend time finding and identifying a 'tricky' bird, this takes precedent over other considerations. Historical sites, shops and cultural aspects take a backseat on this particular holiday in favour of more birding. Our Shetland Island Explorer and Shetland and Orkney holidays are more suited for those wanting a more general tour of Shetland. This holiday runs back to back with Fair Isle in Spring for birders, allowing guests to do both itineraries.
*Please note that the single supplement price for this departure in 2019 can be reduced significantly if singles are willing to share a bathroom with one other person for a limited part of the tour.

Flights to/from Shetland are not included in the holiday price. We can arrange these for you at cost price.
Itinerary
Day 1 - Saturday 11th May - Arrival and transfer to Unst
Transfer to Shetland via Aberdeen arriving Sumburgh around lunchtime. From here we may investigate any rarities immediately available, or head directly to Sumburgh Head for our first of several encounters with Puffins and a whole suite of nesting seabirds, with regular Arctic and Great Skua. Sumburgh Head is a superb cetacean watching spot, and one of the best land-based watchpoints for Killer Whales in Europe. Mid-afternoon we will transfer up to Unst for the first of 4 nights.
Day 2 - Sunday 12th May - Unst
Birding on Britain's most northerly inhabited isle is truly special - we are closer to the Arctic Circle than we are to London and the breeding birdlist reflects that. We spend time at Hermaness NNR today, a truly iconic destination with good numbers of nesting seabirds, including Great and Arctic Skua on the moorland, alongside nesting waders such as Golden Plover, Snipe and Dunlin. Once at the cliffs we have an incredible view onto a bustling gannetry and seabird colony. At these clifftop locations we often encounter migrant passerines, often completely out of their normal context, with Short-toed Lark and Red-throated Pipit annual at this time of year.
Day 3 - Monday 13th May - Fetlar
Today we head across to Fetlar, known as the Garden of Shetland. This green, relatively low-lying island has a very high density of nesting waders in the rich pastures, and is famous for its nesting Red-necked Phalaropes, which return around this time. We will spend time looking for these iconic birds, as well as exploring the many pools and wetlands for migrant waders or ducks. Trees and cover are at a premium on Fetlar, so many passerines are often out in the open or much easier to find, with stock fences a favoured perch for Shrikes and Buntings. Fetlar is also a superb Otter spot, and we spend time today looking for them at favoured spots along its long coastline.
Day 4 - Tuesday 14th May - Unst
We spend the day birding on Unst, working favoured haunts (depending on the wind direction) to look for any migrants that may have dropped in. As cover is so limited, it will be very clear if there has been a fall, often comprised of pipits, warblers and chats, which we will enjoy in their own right whilst working carefully through for hidden rarities. Birders will have heard the site names many times, and Norwick, Skaw, Westing and Baltasound all have enormous lists of rarities found in spring.
Day 5 - Wednesday 15th May - Mainland
Today we head south from Unst, across Yell, and work our way down Mainland Shetland. With an excellent road network we can quickly move around to all corners of the mainland, so we can plan our days meticulously according to the weather, tides and previous sightings. Having this level of freedom gives us a great chance of boosting our birdlist, and covering favoured corners not often visited by other groups or birders.
Day 6 - Thursday 16th May - Mainland
Today we explore north-west Mainland, a truly vast and extremely rugged corner of Shetland. We will take time to bird many of the voes and inlets, looking for passage seaduck and divers, that should include Great Northern Diver. White-billed Diver and King Eider are annual and we will make sure we check everything we come across for these northern iconic rarities! The cliffs at Eshaness are a must-see, and the short turf here is often to the liking of migrant passerines and waders, perhaps a late Snow Bunting or Lapland Bunting, or a 'trip' of Dotterel. If the conditions are good for a seawatch we will tuck ourselves in and have a scan, as there is the possibility of passage Pomarine and Long-tailed Skua in favourable onshore winds as they coast past Shetland.
Day 7 - Friday 17th May - Mainland
We will cover the best birding areas in South and Central Mainland today, taking in gardens, croftland, wetlands and shorelines amid stunning scenery. Rarities are the top target, and our track record is enviable here!
Day 8 - Saturday 18th May - Mainland and departure
Depending on flight times, we usually have a few hours to target any species missed, or perhaps take another look at Sumburgh Head or the Loch of Spiggie before heading to Sumburgh for our flights south.
Please note that we do not visit Mousa or Noss on this itinerary, please see the Shetland Island Explorer or Shetland and Orkney holidays for these experiences later in summer.
This holiday can be combined with:
MAINLAND SCOTLAND
Birding the Highlands in May, High Season across the Highlands.
SCOTTISH ISLAND ADVENTURES
North Ronaldsay in Spring for birders, Outer Hebrides in Spring, Fair Isle in Spring for birders.
Trip Information
Expect a wide variation in weather conditions, which can be wild and unpredictable, with temperatures perhaps averaging around 14 degrees Celsius. Sunshine, rain and strong winds are all possible, and you will probably experience a bit of everything. Wind can be fairly constant on many days. Biting insects are not expected. Please bring fully waterproof walking boots or wellies, fully waterproof clothing, gloves, hat and plenty of warm clothes and a small rucksack. The holiday will be run at a relaxed pace, though if a rare bird is found nearby or if we need to catch a ferry we may need to pack up at short notice! There will be short to moderate (1 to 3 mile) walks most days. Chosen walks will be on mostly good ground, but please note that rare birds are often found in inconvenient locations that may involve climbing stiles and gates, or walking over wet or rocky ground in order to see them. All excursions are of course optional!
Please note that this is a group holiday with fixed accommodation points, large road distances (by road, top to bottom is 90 miles!) and limited ferries so there will be occasions where we will not go for a rare bird that has been found, regardless of the level of rarity. At the same time, if we attempt a twitch, it may require a ferry crossing and time spent in the minibus, with no guarantee of seeing the bird of course! These are frequently short-notice changes of itinerary based on the information at hand. The guides have choices to make, and their decision is final in these circumstances.
What's included in your 'Shetland for Birders in Spring' holiday price
• Seven nights comfortable en-suite hotel/guest house accommodation on Shetland. We choose from our personally inspected shortlist, where birders are welcome and the hospitality is special. Guests are never expected to share. All rooms are en-suite. Full details with your joining pack.
• Full Scottish breakfast and dinner from Saturday evening till Saturday morning, packed lunch daily.
• All transfers by comfortable minibus. All ferries and other boat trips. Drivers can leave vehicles safely parked at The Mountview Hotel. We offer a courtesy drop off to transport links in Aviemore on the morning of departure.
• Guidance from a professional Group Leader.
What's not included in your 'Shetland for Birders' holiday price
• Flights to and from Shetland
• Extra night in Nethybridge area at beginning and end of holiday. This can be arranged for you if requested at time of holiday booking.
• Transfers from rail links in Aviemore.
• Insurance, drinks and other items of a personal nature.
WHY CHOOSE HEATHERLEA FOR YOUR SCOTTISH ISLAND ADVENTURE?
Heatherlea is THE company for top quality birding holidays in Scotland, chosen by more and more birders each year. Relax and enjoy first-rate birding with Scotland's best guiding team, as we do all the planning! Our fully inclusive guided holidays concentrate on the real experience, and we take time to ensure that each of our guests enjoys everything we do. Above all, we make it our business to show key wildlife to you.
These popular holidays are carefully designed to explore the beautiful and wildlife-rich Scottish islands and far west coast. Many itineraries are unique, designed to give you the best of island wildlife at the best time of year. All are run at a leisurely pace, though we might move a little faster when rare migrants and vagrants are in our sights!
We have been organising birding and wildlife holidays for over 25 seasons, and have a highly experienced and capable team. We also offer a telephone and email service outside normal office hours.
This holiday has a maximum ratio of 7 clients per guide, putting the emphasis on personal service, and helping you get the best possible experience.
Heatherlea are Mainland Scotland's FIRST '5-Star Wildlife Experience!' This is the highest available grading, classified as 'exceptional' by visitScotland.
Single guests are never expected or invited to share.
Our holidays often include things which others might invite you to pay yourself, for instance packed lunch and tips to hotels.
Heatherlea hold full Tour Operator Insurance for your added protection.
Heatherlea is a limited company, registered in Scotland. We are also registered to pay VAT, which is included in your holiday price as quoted on this page.
Once your holiday is confirmed in writing by us, we promise not to surcharge the price for any reason.
Enjoy an excellent birding and wildlife holiday with Heatherlea.
Mainland Scotland's FIRST '5-Star Wildlife Experience!'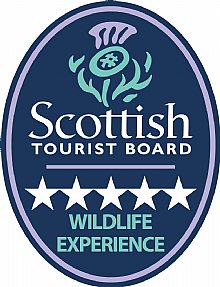 'Exceptional'
Visit Scotland
Please note: all itineraries are given as a guide only. Actual holiday content may vary according to the judgement of your guide, and elements beyond our control (eg weather).