Orkney Island Explorer - June
A grand tour of Orkney, visiting Westray, Hoy, Burray, Rousay, Mainland and both North and South Ronaldsay!
| | |
| --- | --- |
| Prices: | £1895 PP, £150 single supplement. Deposit £200. 2020 prices TBC. |
| Dates: | 1 Jun - 8 Jun 2019, 30 May - 6 Jun 2020, 13 Jun - 20 Jun 2020 |
| Guides | Mark Warren |
| More Info | |
Overview
This holiday is a wide-ranging exploration of Orkney, and is a trip dedicated to these fabulous islands. The focus is on natural history, but scenery and archaeology are important too, as we visit some of the outlying islands by ferry and plane to complete a great experience. Target birds breeding on the moors and wetlands include Hen Harrier, Short-eared Owl, Black-tailed Godwit, Twite, and a wide range of seabirds, waders and wildfowl. Anything can turn up on North Ronaldsay, and offshore we have a good chance of Otter, Minke Whale and other cetaceans.

On Mainland Orkney, Hen Harrier and Short-eared Owl will be settling to breed, and Peregrine and Merlin hunt along the meadow fringes. Eight species of duck, including locally uncommon Shoveler and Pintail are found, with a number of waders, include breeding Black-tailed Godwit, Snipe, Water Rail and Greylag Goose. We visit seabird cliffs on several occasions, with a full range of seabirds present, including Gannet, Puffin, Guillemot, Razorbill, Fulmar, Black Guillemot and Shag.

We will visit Marwick Head and Brough of Birsay,with other RSPB reserves throughout the isles, as well as using our mobile minibus hide as we explore moorlands. A key feature of this thorough exploration of the Orkneys will be island hopping, and we visit Westray, Rousay and Hoy, three very different islands which hold incredible historical sites as well as seabirds, waders and more. The final part of our holiday will be a two night visit to North Ronaldsay, where we explore the island to find passage migrants as well as getting a more intimate feel of one of our favourite places enjoying the unique feel of this enchanting small island. Your 'Islander' flights to and from the island may be a highlight of the trip!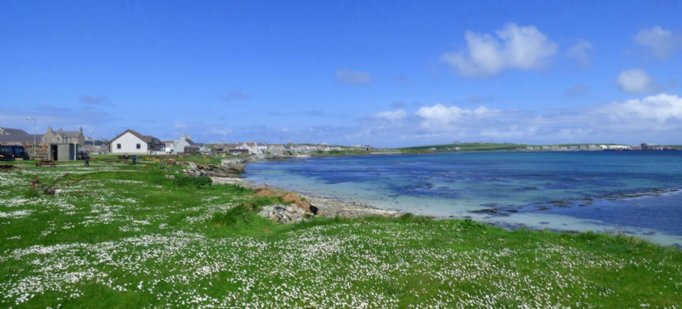 We also visit some of the finest prehistoric archaeological sites in Britain during our stay. The settlement of Skara Brae is a must-see, and we also visit Maes Howe, Scapa Flow, the Churchill barriers, the 6-metre high Standing Stones of Stenness and the 5000-year-old Ring of Brodgar, amongst other interesting sites, especially on Rousay. We also visit the 'Tomb of the Eagles' if time allows. Travel by minibus from and returning to Nethy Bridge is included, but you can meet us at another point on route if you wish to have a longer stay, perhaps with our Shetland trip!
The holiday will be run at a relaxed pace, with time for exploring historical sites, photography and botany as well as fabulous birdwatching in a spectacular setting! There will be short to moderate (1 to 5 mile) walks every day, often over rough, uneven or soft ground with several stiles to climb over. Weather can be wild and unpredictable, but temperatures will average around 15 degrees Celsius.
Itinerary
Saturday - Nethy Bridge to Orkney
We depart Nethy Bridge in the morning, aiming to be on Orkney by mid-afternoon. Depending on recent sightings a couple of stops will be made on the way up, perhaps at Golspie and Loch Fleet NNR. We take the ferry across the Pentland Firth, which offers us great views of the north coast of the Mainland and of Orkney as we arrive. These waters have a strong tidal current and offer rich fishing for birds and cetaceans alike. We can expect to see auks, Gannet, gulls, tern and perhaps a few Great Skua during the ferry journey. On arrival we will take time to visit the Stones of Stenness and Ring of Brodgar before we transfer to our hotel and settle in.
Sunday - West Mainland
Our first day is a gentle introduction to all that is great about Orkney in summer. We take a scenic drive down quiet lanes, using our bus as a mobile hide to get intimate views of waders and their chicks, and with luck Hen Harrier and Short-eared Owls on the moorland fringe. Taking in the RSPB reserves of Birsay Moors, The Loons and Marwick Head we will build up a healthy species list of breeding birds, and hope to see rare breeders including Black-tailed Godwit, Pintail and Whooper Swan amongst the abundant common waders and wildfowl. At Marwick Head we will walk up to the Kitchener Memorial above the spectacular seabird colony where we will encounter good numbers of auks. If the tides allow, we will also take a walk around Brough Head looking at seabirds which should include confiding Puffins.

Monday - Westray
The ferries allow us about six hours on Westray, with a 75 minute crossing each way. We take our minibus onboard to ensure we have sufficient time to take leisurely coastal walks at either end of the island. Westray is seldom visited by birders or indeed visitors to Orkney, but we will show you all the avian delights of this undiscovered gem! Westray is the best place in Orkney to catch up with Corncrake, and it has also has a healthy breeding population of waders and seabirds. At Noup Head in the north-west we take in the Gannetry (the only accessible colony on the islands), and other seabirds in a clifftop walk. This section of coast is one of the best for cetaceans in all Orkney, and we hope we get calm conditions to scan for Minke Whale, Dolphins and Porpoise, and perhaps something truly special, like a passing pod of Orca. If weather conditions allow, a ciff-top walk on this RSPB reserve is highly recommended. Another excursion will be a shorter walk at the Castle O'Burrian in the south-east corner where we hope to encounter Puffins and Twite!

Tuesday - Hoy
Today we visit the rugged island of Hoy, which has a totally different feel to the rest of Orkney. Taking the minibus on the ferry across Scapa Flow, we have around six hours on Hoy, which gives us lots of options. If the weather allows, a walk out to the cliffs above the infamous seastack The Old Man of Hoy is well worth doing, providing stunning views of the spectacular seacliffs of St John's Head too. Wildlife on the way might include Red Grouse and Mountain Hare and will definitely include Great Skua which may well provide us with a closer than desired view if we stray too close to one of the nests! The botany here is good too, with several orchids and other restricted range species. The walk is five miles return and is the longest of the week, with an altitudinal climb from Rackwick Bay of 300 ft (c.100m). We shall also explore the Rackwick Valley and admire the glacial features of this stunning landscape. We hope to add to our raptor sightings too, as these sheltered valleys hold several pairs of Hen Harrier and Merlin. In the last few years the return of the White-tailed Eagles (the first in over 100 years) was noted on Hoy, with luck we may see them over the valley. A curiosity in the valley is the 5000 year old archaeological remains of the rock-cut tomb called the Dwarfie Stane which the nimble can clamber into. If time allows we will take a look at the Scapa Flow Visitor Centre at Lyness, close to our ferry point, which mainly focuses on the strategic importance of the Scapa Flow throughout the two World Wars.

Wednesday - Rousay and West Mainland
Today we take the short ferry hop over to Rousay. The second hilliest island after Hoy, its slopes are dominated by thick heather which is the perfect home for nesting raptors. For the archaeologists amongst us, there will be a visit to Taversoe Tuick, an unusual two-storied cairn, and of course the superb Midhowe Cairn and Broch. We will leave Rousay in the afternoon, and finish the day on the mainland near the Broch of Gurness near Evie where we will overlook the Eynhallow Sound, looking for Black Guillemot, Red-breasted Merganser and perhaps a late-staying Great Northern Diver. There will be time to look round the Broch and village site itself too.

Thursday & Friday - Mainland and North Ronaldsay
The morning will be spent visiting historical sites across Mainland, with unforgettable visits to Maes Howe chambered cairn and Skara Brae, two of the finest archaeological sites in NW Europe. In the afternoon we head out to the far-flung outpost of North Ronaldsay, a Heatherlea favourite, explored on this holiday for the first time during the breeding season. We search for late spring migrants, which at this time in previous years have included Paddyfield Warbler, Nightjar, Marsh Warbler, Golden Oriole, Red-backed Shrike, Citrine Wagtail and Common Rosefinch amongst commoner passage birds. With suitable weather, we should see Observatory staff ringing migrants and breeding birds. June has proved to be fruitful in terms of Orca sightings, so we will keep our eyes on the sea too! With the curiosity of the sheep dyke that encircles 90% of the coastline, keeping the sheep outside on the seaweed (too much grass is toxic to this rare breed!), and several historical buildings and ruins, North Ronaldsay really has something for everyone. To reach North Ronaldsay, we shall take an exhilarating short flight from Kirkwall, which gives us a stunning view of all Orkney. Almost flat, with the highest point being just 20 metres above sea-level, the island lends itself to great walking around the coast or along the good roads. We stay here for two nights in the comfortable Observatory, returning to mainland Orkney on Saturday.
Saturday - North Ronaldsay to Orkney Mainland, ferry to Mainland Scotland and drive home
Today we make our return flight to the Orkney Mainland and head south, leaving Orkney late afternoon, having spent our final hours taking in the isles of Burray and South Ronaldsay, with famous sites being the Italian Chapel (decorated with scrap materials by Italian prisoners of war in WW2) and the Churchill Barriers (causeways linking the islands). Our Orkney saga ends by taking the ferry across the Pentland Firth for one last chance of cetaceans and seabirds. Once back on the mainland, we head south, and depending on our ferry time, we may stop at one of the pretty seaboard villages of Sutherland on the way back for a fish and chip supper. The holiday ends on our return to Nethy Bridge in the early / late evening, depending on ferry times.
This holiday can be combined with:
MAINLAND SCOTLAND
High Season across the Highlands, Highlands and Orkney,
Trip Information
Expect a wide variation in weather conditions, which can be wild and unpredictable, with temperatures perhaps averaging around 15 degrees Celsius. Sunshine, rain and strong winds are all possible, and you will probably experience a bit of everything. Biting insects are possible, but not expected as a major problem. Please bring walking boots or shoes, waterproof clothing and a small rucksack.Hat and gloves are essential for boat trips and exposed coastal locations (which is essentially everywhere in Orkney!). The holiday will be run at a relaxed pace, with time for exploring historical sites, photography and botany as well as fabulous birdwatching in a spectacular setting! There will be short to moderate (3- 8 mile) walks every day, often over rough, uneven or soft ground with several stiles to climb over. Walks on Rousay are on relatively steep grassy paths.
What's included in your Orkney Islands Explorer' holiday price
• Five nights comfortable en-suite hotel accommodation. We choose hotels from our personally inspected shortlist, where birders are welcome and the hospitality is special. Two nights en-suite accommodation at North Ronaldsay Observatory. Guests are never expected to share. Full details with your joining pack. All rooms are en-suite.
• Full Scottish breakfast and dinner from Saturday evening till Saturday morning, packed lunch daily.
• All transfers by comfortable minibus. All ferries and other boat trips. Drivers can leave vehicles safely parked at The Mountview Hotel. We offer a courtesy drop off on the morning of departure to Aviemore too!
• Return flight from Kirkwall to North Ronaldsay.
• Guidance from a professional Group Leader.
What's not included in your 'Orkney Islands Explorer' holiday price
• Extra night in Nethybridge area at beginning and end of holiday. This can be arranged for you if requested at time of holiday booking.
• Transfers from rail links in Aviemore on arrival.
• Insurance, drinks and other items of a personal nature.
WHY CHOOSE HEATHERLEA FOR YOUR SCOTTISH ISLAND ADVENTURE?
Heatherlea is THE company for top quality birding holidays in Scotland, chosen by more and more birders each year. Relax and enjoy first-rate birding with Scotland's best guiding team, as we do all the planning! Our fully inclusive guided holidays concentrate on the real experience, and we take time to ensure that each of our guests enjoys everything we do. Above all, we make it our business to show key wildlife to you.
These popular holidays are carefully designed to explore the beautiful and wildlife-rich Scottish islands and far west coast. Many itineraries are unique, designed to give you the best of island wildlife at the best time of year. All are run at a leisurely pace, though we might move a little faster when rare migrants and vagrants are in our sights!
We have been organising birding and wildlife holidays for over 25 seasons, and have a highly experienced and capable team. We also offer a telephone and email service outside normal office hours.
This holiday has a maximum ratio of 7 clients per guide, putting the emphasis on personal service, and helping you get the best possible experience.
Heatherlea are Mainland Scotland's FIRST '5-Star Wildlife Experience!' This is the highest available grading, classified as 'exceptional' by visitScotland.
Single guests are never expected or invited to share.
Our holidays often include things which others might invite you to pay yourself, for instance packed lunch and tips to hotels.
Heatherlea hold full Tour Operator Insurance for your added protection.
Heatherlea is a limited company, registered in Scotland. We are also registered to pay VAT, which is included in your holiday price as quoted on this page.
Once your holiday is confirmed in writing by us, we promise not to surcharge the price for any reason.
Enjoy an excellent birding and wildlife holiday with Heatherlea.
Mainland Scotland's FIRST '5-Star Wildlife Experience!'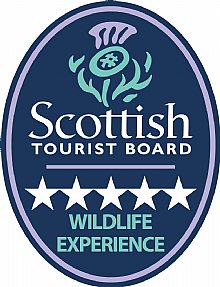 'Exceptional'
Visit Scotland
Please note: all itineraries are given as a guide only. Actual holiday content may vary according to the judgement of your guide, and elements beyond our control (eg weather).