Coll and Tiree in Summer
A leisurely exploration of two contrasting Inner Hebridean islands
| | |
| --- | --- |
| Destination | |
| Focus | |
| 2023 Dates | |
| Duration | 6 Days |
| 2023 Price | Price TBC |
| Max Group Size | 7 per guide |
A High Summer holiday to two very special Hebridean Islands. We have timed this trip so that the islands are at their botanical best, the machair being at full bloom with a suite of scarce plants throughout it. These islands are good for birding year round, and a good birdlist can definitely be expected in summer. Both Coll and Tiree have a high density of nesting waders, with most in post-breeding flocks, though some may still be breeding, including Corncrake. This late in the season, sightings of Corncrake are rare due to the tall grass and a reduction in the amount of calling and territorial behaviour, though we still have a chance! Migrant waders will also be returning from the north, with chances of rarities in the mixed flocks.
Out in the bays and from the ferries we have excellent chances of seabirds, along with seals and sea mammals. This is a key time of year for Basking Shark, and in the right conditions we have a good chance of seeing one from land or boat. We will pick out sites carefully based on the tide, wind and weather so that we can have a slow-paced natural history based exploration, with the best chances of key wildlife.
Please note this holiday starts in Oban
Day 1: Monday - Oban to Coll
We leave Oban on the early ferry and the emphasis will be on seeing seabirds and sealife which may include Basking Shark. The waters around Coll and Tiree hold some of the highest numbers of Basking Shark in the British Isles, and this holiday is right at the start of the key period for seeing them. If the conditions are not ideal for sharks then we may see Skuas, Storm Petrel or Manx Shearwater with many auks and commoner seabirds present whatever the weather.
We arrive on Coll and look for Otter and also breeding Hen Harrier as we go, but the main focus will be on the Machair plants and also chances of Corncrake. The Machair has an abundance of Orchids with Pyramidal and Frog being key target species, Common Centaury, Field Gentian and Grass of Parnassus will also be sought in a myriad of commoner wildflowers. Overnight Coll.
Day 2 : Tuesday - Full day on Coll
Coll is stunning, and often missed out on many tours of the Hebrides. Our love of the island is clear and we believe you cannot do Tiree without Coll, it is a must see place! We visit several lovely bays and may well see non breeding waders already returning south but still sporting summer plumage, including Sanderling and both Godwits. Walks through the Machair over white sand beaches will be a big part of the day too, with rare invertebrates like Great Yellow Bumblebee and the Red-shanked Carder present in the wildflowers. At the end of the day we take the short ferry crossing over to Tiree for the first of four nights.
Days 3 - 5: Wednesday - Friday - Tiree
Tiree is a stunning island with a big sky feeling. We head to some of the key birding sites looking for several key species, Tiree holding the densest UK population of Corncrake and although not easy to see this late in the year there should still be several birds calling. The flower-rich Machair is stunning, with many areas to check but the key site is the Maze, where an abundance of plants including Pyramidal and Frog Orchids are present along with Lesser Meadow Rue, a scarce plant in the British Isles. We will also explore some of Tiree's beautiful long sweeping beaches, with good numbers of waders present, perhaps with a Red-throated Diver offshore. Tiree is also the core site for Red-shanked Carder Bee which we will spend time looking for if the weather is sunny and calm. There are several land based sites to sea watch for Basking Shark so if conditions allow we will spend some time scanning for these impressive animals. One evening after dinner, we offer an optional drive (weather permitting) to Kilkenneth, to listen for Spotted Crake and Corncrake, finishing around midnight.
Many of the fields here are great for migrant waders too, and we should see numbers of Golden Plover, Ringed Plover, Oystercatcher and Redshank, with chances of a range of species. Typical scarce migrants in July include Lesser Yellowlegs, Pectoral Sandpiper, Ruff, Little Stint and Curlew Sandpiper, with much rarer birds possible on this underwatched isle. Terns and Gannets will still be present out in the bays, with chances of both Arctic and Great Skua on the look out for a bird with a fish to chase - always exciting! We continue our search for Otter here too if we have not been successful thus far. Great days on a truly special island!
Day 6 : Saturday - Tiree and return to Oban
Birding the south and west of the island and looking again for any of the plants missed. Then departure back to Oban again looking for sealife including Dolphins and White-tailed Eagles down the Sound of Mull - we have an excellent record here! The holiday ends on our return to Oban.
Please note: all itineraries are given as a guide only. Actual holiday content may vary according to the judgement of your guide, and elements beyond our control (eg weather).
Expect a wide variation in weather conditions. Cold winds and rain are possible. Bring warm clothing, waterproofs, and walking boots or shoes. Hats and gloves essential for the ferry crossings throughout. Walking will generally be easy, with mostly short walks on uneven, occasionally boggy and rocky ground. Bring binoculars and a telescope if possible. A camera may be useful too! You don't need flasks for hot drinks or wellies. Biting insects might be encountered.
What's included in your 'Coll and Tiree in Summer' holiday price
Five nights comfortable accommodation on Coll & Tiree, with the first night Coll and then four nights Tiree. Please note that on the smaller islands accommodation is very limited and can be somewhat basic with en-suite accommodation not always guaranteed.
Full Scottish breakfast, packed lunch, and a delicious dinner.
Six days wildlife watching with guidance from a Heatherlea Group Leader.
All transport by comfortable minibus. All access and ferry fees.
Checklist to record sightings and notes.
What's not included in your 'Coll and Tiree in Summer' holiday price
Insurance, drinks and other items of a personal nature.
Any additional nights in Oban before or after the holiday.
WHY CHOOSE HEATHERLEA FOR YOUR SCOTTISH ISLAND ADVENTURE?
Heatherlea is THE company for top quality birding holidays in Scotland, chosen by more and more birders each year. Relax and enjoy first-rate birding with Scotland's best guiding team, as we do all the planning! Our fully inclusive guided holidays concentrate on the real experience, and we take time to ensure that each of our guests enjoys everything we do. Above all, we make it our business to show key wildlife to you.
These popular holidays are carefully designed to explore the beautiful and wildlife-rich Scottish islands and far west coast. Many itineraries are unique, designed to give you the best of island wildlife at the best time of year. All are run at a leisurely pace, though we might move a little faster when rare migrants and vagrants are in our sights!
We have been organising birding and wildlife holidays for over 30 seasons, and have a highly experienced and capable team. We also offer a telephone and email service outside normal office hours.
This holiday has a maximum ratio of 7 clients per guide, putting the emphasis on personal service, and helping you get the best possible experience.
Heatherlea are Mainland Scotland's FIRST '5-Star Wildlife Experience!' This is the highest available grading, classified as 'exceptional' by visitScotland.
Single guests are never expected or invited to share.
Our holidays often include things which others might invite you to pay yourself, for instance packed lunch and tips to hotels.
Heatherlea hold full Tour Operator Insurance for your added protection.
Heatherlea is a limited company, registered in Scotland. We are also registered to pay VAT, which is included in your holiday price as quoted on this page.
Once your holiday is confirmed in writing by us, we promise not to surcharge the price for any reason.
Enjoy an excellent birding and wildlife holiday with Heatherlea.
Mainland Scotland's FIRST '5-Star Wildlife Experience!'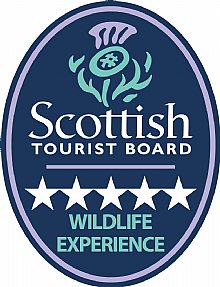 'Exceptional'
Visit Scotland
Trip Reports