Southern Scotland Coast to Coast
Winter birding in southern Scotland
| | |
| --- | --- |
| Destination | |
| Focus | |
| Max Group Size | 7 per guide |
| More Info | 2020 Special offer - prices held! The 2019 price of £1595pp is currently available on 2020 dates. |
A winter holiday exploring the breadth of southern Scotland. We start in the west in Dumfries and Galloway and work northeast, making stops in Clyde and Forth before visiting Lothian and Borders, all excellent at this time of year! Wildfowl will feature heavily and there is no better place than the internationally important Scottish coast and Solway Firth to witness impressive spectacles of wintering geese and ducks. In fact, all species and races of British geese are possible on this holiday, and a special target will be Taiga Bean Goose, now a recognised species in its own right. Waders and gulls will be very important, as will raptors, and we'll visit a Red Kite feeding station as well as searching for Golden Eagle and Goshawk in the hills; with Merlin, Peregrine, Hen Harrier and Short-eared Owl all possible on the coasts.
As well as wildfowl, wader and seabird spectacles, the Lothian coastline can often offer a number of species unavailable in other areas of Scotland. Sites such as Musselburgh, Aberlady Bay and Tyninghame are renowned for top quality birding, especially in winter. Red and Black-necked Grebe, Surf Scoter, Shore Lark, Water Pipit and Black Redstart are found here more often than anywhere else and will be top targets. If it's a Waxwing-winter we'll make every effort to find flocks, and try to see any known rarities such as Great Grey Shrike too. With around 110-120 species possible, this is a winter holiday with absorbing birding, and ideal to get your yearlist off to a flying start.
KEY MOMENTS at our round-up - which will be yours?
Taiga Bean Geese at their most numerous wintering site in the UK
Supreb Lothian birding where scarce Red-necked Grebe, Shore Lark and Water Pipit may be seen
Red Kite at a busy feeding station
Willow Tit in Dumfries and Galloway, a scarce species in Scotland
Please note this holiday starts and ends in Dumfries
Day 1: Thursday 23 January - Arrival and local birding in Dumfries and Galloway
Our holiday starts at Dumfries at lunchtime where we meet at our hotel or pickup from the rail station depending on individual travel arrangements. With the group assembled, after lunch we head straight out locally to the excellent RSPB Mersehead reserve. We shouldn't have to wait long before we see (and hear) our first Barnacle Geese – hundreds of them winter at this internationally important part of the Solway Firth. Plenty of other wintering wildfowl and waders will be on show here too whilst feeding stations, hedgerows and sensitively farmed fields can hold a plethora of winter passerines such as thrushes, finches, Tree Sparrow and buntings. Twite can also occur, particularly out on the saltmarsh where there is also the chance of a passing Merlin, Peregrine, Hen or Marsh Harrier. As light fades, we hope to see the impressive Starling murmuration and subsequent roost, just as Barn Owls will be coming out to hunt.
Day 2: Friday 24 January - West to Loch Ryan and Luce Bay
Loch Ryan and Luce Bay are large coastal bays within touching distance of Stranraer, and both are simply superb for wintering seabirds. A number of excellent viewpoints can provide good views at both sites and a big range of species is likely. On the water we should see large flocks of seaduck such as Scaup, Common Scoter and Eider, with smaller numbers of Red-breasted Merganser, Long-tailed Duck and Black Guillemot. All three divers are possible but Red-throated along with Great Crested and Slavonian Grebes are especially numerous while the wintering flock of Pale-bellied (Siberian) Brent Geese has increased in number in recent winters. Common waders will be well represented and may well include scarcer Purple Sandpiper or Greenshank, and we should also see Little Egret here as they continue their northward expansion. Mediterranean, Iceland and Glaucous Gulls might be encountered and there is always the chance of a rarity in this area. We search Goose flocks, a large wintering group of Greenland White-fronted Geese being the primary target, and endeavour to finish overlooking a large grassland area where Hen Harrier and Short-eared Owls roost.
Day 3: Saturday - Galloway Forest and Hills
Today we venture inland for a day based around the Galloway Forest and Loch Ken. Ken Dee Marshes RSPB is an excellent wintering site, with a regular flock of Greenland White-fronted Geese a big draw. A series of trails, hides and feeding stations offer a varied outlook on the reserve and a target here will be Willow Tit. We will no doubt have seen a few Red Kites before we head for the hills and open clearings of the Forest to search for raptors. Hen Harrier, Merlin and Peregrine are regularly seen in open moorland with Raven and small numbers of Red and Black Grouse also present in this habitat. Golden Eagle is also possible though scarce, with a re-introduction programme currently in place to help boost numbers. It's the time of year when Goshawks start to display over the dense forest and we'll hope to pick up Common Crossbill, Siskin and Redpoll too or possibly a Dipper. Early-afternoon and we'll witness the spectacular Red Kite feed at a local station, with unrivalled close views of this gregarious raptor. A varied and enjoyable day for sure!
Day 4: Sunday - Caerlaverock and the Solway Coast
World famous and the most northerly of WWT reserves, many thousands of Barnacle Geese winter here post-breeding in Svalbard. There's a vast range of things to do, with four towers and in excess of twenty hides to choose from without the distraction of a wildfowl collection – a true wild bird reserve! We scour the flocks for rare Red-breasted Goose, Snow Goose or one or other of the 'real' Canada Geese. Other wildfowl should include Wigeon, Teal, Pintail and Shoveler with Green-winged Teal and American Wigeon rarer possibilities - both have been regularly recorded. We will attend the daily Whooper Swan feed, a spectacle worth seeing and hearing and a great chance to involve ourselves in the important work of the WWT. Waders out on the flats or on the pools will likely include Black and Bar-tailed Godwits, Curlew, Lapwing, Golden and Grey Plover, Dunlin and a few Ruff and Snipe. Such a volume of birds attracts raptors and hunting Hen Harrier, Peregrine or Merlin may be encountered. We will likely visit the River Nith in the heart of Dumfries itself, where Dipper, Grey Wagtail and Goosander show well. There's also the outside chance of Otter here too while further down towards Glencapel, wildfowl and waders are abundant, including large numbers of Pintail. A local woodland has also been good for Willow Tit in recent years so if time allows we might try our luck and hope to see Nuthatch and other affiliated species too.
Day 5: Monday - Transfer to the Lothian Coast with birding en route
Lots of options today, but we start by targeting any rarities in the Dumfries area or Solway specialities we might have missed. This could include a visit to inland lochs such as Milton, Auchenreoch or Carlingwark, each having attracted rarities in recent years such as Ring-necked Duck, Smew, Bittern and Ring-billed Gull. Sites on the Solway coast such as Southerness or Caresthorn might be an option too.
After four nights in the southwest we head north-east, and make a special effort to find the regular Clyde/Forth flock of Taiga Bean Geese, elevated to full species status in 2018. This area holds up to 90% of the UK wintering population. Skinflats RSPB is an internationally important area on the Forth estuary, and large numbers of Pink-footed Geese congregate here (recently bringing two Snow Geese with them) and there are usually good numbers of other wintering birds. If we arrive in Lothian in time to do some birding we'll head straight for the coast, there's a vast range of sites to choose from. We stay in Lothian for three nights.
Day 6: Tuesday - Lothian coast
Birding on the southern side of the Firth of Forth, we visit the Lothian coast, where a number of top birding sites are available. We will follow tips from our local birding network, though Musselburgh will likely be our first port of call. Often highlighted as one of Scotland's premier birding sites, a number of lagoons can be checked for wildfowl and waders while offshore can offer great views of sea duck such as Common and Velvet Scoter, Long-tailed Duck and Eider. At the mouth of the River Esk, Surf Scoter and King Eider regularly occur, divers and grebes may feature, and this stretch of coastline is perhaps the best place in Scotland for Red-necked Grebe. Farmland holds buntings, Skylark and Tree Sparrow, and there's a good chance we'll add Grey Partridge here while cold conditions can force Water Rail, Woodcock and even Jack Snipe out into the open. A walk out on to the saltmarsh will hopefully bring us Twite and we'll also look out for coastal nivalis Snow Bunting, Water Pipit, Black Redstart and if we're lucky, rare Shorelark. In the afternoon we'll perhaps visit Aberlady Bay, another fantastic site with excellent potential. We'll check goose flocks which might yield Tundra Bean or Eurasian White-fronted, both more likely here in Lothian than on the west coast. White-winged Gulls are likely and with so much potential prey, raptors such as Merlin, Peregrine and Short-eared Owls will be active in the area.
Day 7: Wednesday - Lothian or Borders
There are plenty of sites available on the Lothian coast; Tyninghame, John Muir Country Park, Dunbar, Barns Ness, Skateraw, Torness and Thorntonloch to name a few. We'll choose depending on success with our target species so far and if we've done well for wetland and coastal birds, might opt to travel farther south and into Borders. Sea-watching for Little Auks is an option at St Abbs or Eyemouth if conditions are favourable, and White-billed Divers have wintered off here recently. Birding inland is also an option, and we might search for a wintering Great Grey Shrike at a known location. If rarities are available we'll go for them, while Waxwing and Hawfinch irruptions have grabbed the attention of local birders in recent years. Another distinct possibility is Black-necked Grebe, rare in Scotland but becoming regular on Lothian lochs of late. Whatever we do, it'll be an enjoyable final day on new ground for Heatherlea groups.
Day 8: Thursday - Return travel
We drive back to Dumfries in the morning to connect with southbound trains and to return vehicle owners to their cars. NB please do not book rail travel from Dumfries before 1pm, as we need to travel there in the morning. you might choose to make the return train journey from the Lothian area (Dunbar or Edinburgh), though please check with our office before making arrangements.
Please note: all itineraries are given as a guide only. Actual holiday content may vary according to the judgement of your guide, and elements beyond our control (eg weather).
Expect a wide variation in weather conditions, which can be wild and unpredictable. Sunshine, rain and strong winds are all possible, and you will probably experience a bit of everything. Biting insects are not expected. Please bring walking boots or shoes, weatherproof clothing and a small rucksack. At many of the reserves the trails can be muddy and even waterlogged at times, so if the forecast is wet during or in the days running up to the holiday then wellies are definitely recommended. The holiday will be run at a relaxed pace, with fabulous birdwatching in a spectacular setting! There will be short to moderate (1 to 4 mile) walks some days.
What's included in your 'Southern Scotland in Winter' holiday price
• Seven nights comfortable en-suite hotel accommodation. We choose from our personally inspected shortlist, where birders are welcome and the hospitality is special. Guests are never expected to share. All rooms are en-suite. Full details with your joining pack.
• Full Scottish breakfast and dinner from Saturday evening till Saturday morning, packed lunch daily from Sunday to Friday.
• All transfers by comfortable minibus. All transfers to and from rail links in Dumfries.
• Guidance from a professional Group Leader.
What's not included in your 'Southern Scotland in Winter' holiday price
• Insurance, drinks and other items of a personal nature.
Why choose Heatherlea for your Scottish birding holiday?
Heatherlea is THE place for top quality birding holidays in Scotland, chosen by more and more birders each year. Stay in our own three star Small Hotel, and enjoy first-rate birding with Scotland's best guiding team. Relax and enjoy yourself, as we do all the planning! Above all, we make it our business to show key wildlife to you. Our fully inclusive guided holidays concentrate on the real experience, and we take time to ensure that each of our guests enjoys everything we do.
We have been organising birding and wildlife holidays for 30 seasons, and have a highly experienced and capable office team. We also offer a telephone and email service outside normal office hours.
Our 'Mainland Scotland' holidays based at Mountview Hotel have a maximum ratio of 7 clients per guide, putting the emphasis on personal service, and helping you get the best possible experience.
We are a small company, run BY birders FOR birders. Come and see!
Heatherlea are Mainland Scotland's FIRST '5-Star Wildlife Experience!' This is the highest available grading, classified as 'exceptional' by visitScotland.
There is no single supplement. Single guests are never expected or invited to share.
Our holidays often include things which others might invite you to pay yourself, for instance loan of Swarovski binoculars, packed lunch and tips to hotels.
We offer a courtesy transfer between our Hotel and Aviemore rail/bus links on Saturdays.
Heatherlea hold full Tour Operator Insurance for your added protection.
Heatherlea is a limited company, registered in Scotland. We are also registered to pay VAT, which is included in your holiday price as quoted on this page.
Once your holiday is confirmed in writing by us, we promise not to surcharge the price for any reason.
Enjoy an excellent birding and wildlife holiday with Heatherlea.
Mainland Scotland's FIRST '5-Star Wildlife Experience!'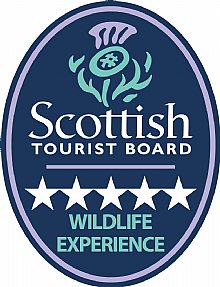 'Exceptional'
Visit Scotland
Trip Reports