Shetland and Orkney
A highlights tour of both Shetland and Orkney! Visiting Fetlar, Yell, Unst, Mainland Shetland, Mousa, Mainland Orkney, Burray and South Ronaldsay.
Destinations
Focus
2021 Dates
Duration
9 Days
2021 Price

£2295 pp

£310 single supplement.

Deposit £200

Max Group Size
7 per guide
Join Heatherlea on this fabulous holiday as we explore the most northerly parts of Britain. We start with a thorough tour of Shetland, moving onto a highlights tour of Orkney, witnessing some of the most impressive scenery and wildlife in the country as well as indulging in the culture, history and archaeology of these ancient lands. A truly fantastic experience in the long northern summer. We visit large seabird colonies, show you Red-necked Phalarope and Storm Petrel up-close at their breeding sites, watch Otter and seals, and have a chance of cetaceans such as Orca and Minke Whale. There is a good chance of rarities such as King Eider or Red-backed Shrike, and we make the most of the long daylight hours available in the 'Land Of The Simmer Dim' to enjoy the fabulous scenery, history and archaeology all around.
*Please note that the single supplement price for this departure in 2020 can be reduced significantly if singles are willing to share a bathroom with one other person for a limited part of the tour.

Flights to/from Shetland are not included in the holiday price. We can arrange these for you at cost price.
Join this holiday at Aberdeen Airport, or travel with us by minibus from Nethy Bridge.
Day 1: Saturday - Arrive in Shetland and explore South Mainland
We fly Aberdeen – Sumburgh and transfer to our comfortable base. We explore South Mainland, including a seawatch at Sumburgh Head where we will see Puffins, other seabirds, and have a chance of Minke Whale, Harbour Porpoise and White-beaked Dolphin, or possibly even an Orca. A visit to freshwater lochs should produce Red-throated Diver and skuas, breeding Snipe, Redshank, Lapwing and Curlew, 'real' Rock Dove, Black Guillemot (known as 'Tysties' in these parts). Shetland Wren can also be expected. If the weather allows, we make a late evening visit to the Storm Petrel colony at the broch on the Island of Mousa, for a naturally spectacular sight and sound show! Overnight Sumburgh.
Day 2: Sunday - Head to Yell and Unst.
Today we head north, birding around Mainland Shetland and then taking ferries through Yell to reach the northernmost part of Britain on Unst, which will be our base for the next three days. We take time exploring Yell, a great place for breeding birds and Otters, and we hope to have our first views today of these enigmatic mammals. Arriving onto Unst we target any rarities nearby before heading up to Baltasound to check the waders on the sealoch. If time allows we will also visit the spectacular moonscape of the Keen of Hamar NNR, where endemics like Edmonston's Chickweed are found, along with many orchid species. Overnight Unst
Day 3: Monday - Fetlar
We take the ferry to Fetlar, where we spend the rest of the day. We will have topped up our list with seabirds on the crossings and at the ferry terminals, but the main delights are on Fetlar itself. Numbers of the Red-necked Phalarope have really dropped off and sightings have decreased in recent years, but sightings can be at really close quarters and are often the highlight of the week. With a supporting cast of Red-throated Diver, Whimbrel, Golden Plover, Great Skua, Arctic Skua and Twite we are sure for a good day. We have a good chance of Otter along the shoreline too. Known as the garden of Shetland, Fetlar is wonderfully fertile with superb flowers and a high density of breeding birds. Overnight Unst.
Day 4: Tuesday - Unst
Today we visit the world renowned Hermaness NNR and seabird colony. A walk through the world's second largest Great Skua colony takes us to the northernmost cliffs of the British Isles. The moorland itself should give us close Dunlin, Golden Plover, Snipe and Skylark too. From the 400ft high cliffs, we overlook the lighthouse of Muckle Flugga (Britain's most northerly point!) with around 140,000 breeding seabirds below us, with Gannets the most obvious feature! The sight, sound and smell of thousands of Gannets is something to behold! Overnight Unst.
Day 5: Wednesday - Unst to South Mainland
We leave our base on Unst and travel south taking in more of northern Shetland mainland on the way. We will search some of the many shorelines for Otters, visit several migrant hotspots and catch up with breeding Whimbrel and other waders. We will visit Lerwick and Scalloway, the two main towns of Shetland, with a chance to explore on foot a little to soak up the history and culture. Natural history walks are available in both towns too - Orca being seen in Bressay Sound from time to time - and migrant birds in the woodland cover of established gardens. Other sites today may include the fertile Tingwall valley with lochans frequently holding breeding Whooper Swans and rare ducks. In the evening we also have another chance to visit Mousa if the weather was unsuitable on Saturday. Overnight South Mainland.
Day 6: Thursday - South Mainland
Today we explore more of the South Mainland, with lots of options for walks and natural history whatever the weather. A visit to Sumburgh Head will produce more seabirds including confiding Puffin, other auks and more skuas. The Pool of Virkie is always productive if checked at the right tide, where we will check the shorelines for passage waders and gulls and visit some of the freshwater lochs in search of wildfowl. If the weather is kind, a walk along the tombolo of St Ninian's Isle is well recommended. We also hope to allow time to visit the superb archaeological site of Jarlshof, a site that covers 3,500 years of history. Overnight South Mainland.
Day 7: Friday - Northmavine (North-west Mainland Shetland)
Our final day on Shetland. We explore more of north western Mainland, perhaps including the rugged and remote Ronas Voe and the cliffs at Eshaness, searching for rarities or anything we might have missed before we catch our late afternoon ferry from Lerwick. We take dinner on the ferry, with the option of birding from the decks in the twilight or 'Simmer Dim', we arrive in the Orcadian capital, Kirkwall, late on Friday night before making the short transfer to our hotel. Overnight West Mainland.
Day 8: Saturday - Orkney Mainland
A later start after a late finish, but we do have lots to pack in on the highlights tour of Orkney, visiting spots where anything can happen! Hen Harrier and Short-eared Owl quarter the fields and moorlands in search of Orkney Vole, and Peregrine and Merlin hunt along the meadow fringes. Eight species of duck, including breeding Shoveler and Pintail, a similar number of waders, including the ubiquitous Snipe, Water Rail, and Greylag Goose can be found on inland pools. We will also visit some of the finest prehistoric archaeological sites in Britain. The six-metre high Standing Stones of Stenness and the 27 out of 60 stones that remain of the 5000 year old Ring of Brodgar, are close to our hotel. The settlement of Skara Brae is of course a 'must-see' whilst on Orkney. We also visit Maes Howe, considered to be one of the finest architectural achievements of prehistoric Europe, and one of Orkney's largest and finest chambered cairns. We continue to search for wildlife around Orkney, with more breeding waders, divers and ducks inland, as well as having a good chance of Brown Hare, both Common and Grey Seal and with luck Otter. Overnight West Mainland.
Day 9: Sunday - Orkney - Aberdeen
Before our late afternoon flight from Kirkwall to Aberdeen, we pass Scapa Flow, scene of First World War naval tribulations, the Churchill barriers, erected to protect Britain during the Second World War, and the Italian Chapel, built by POWs during the war. We explore both the archaeology and wildlife on the island of South Ronaldsay, and round-up any rarities en route to the airport.
Please note: all itineraries are given as a guide only. Actual holiday content may vary according to the judgement of your guide, and elements beyond our control (eg weather).
Field Notes Expect a wide variation in weather conditions. Blazing sunshine, rain and strong winds are all possible, and you will probably experience a bit of everything. Biting insects not expected. Please bring walking boots or shoes, weatherproof clothing and a small rucksack.Hat and gloves essential for boat trips and exposed coastal locations. The walk to Mousa Broch is around half a mile over undulating and uneven terrain, and is taken in low light. The walk to Hermaness is around 4 miles in return over undulating terrain with a few steeper slopes.
What's included in your Shetland & Orkney holiday price
Eight nights comfortable en-suite hotel accommodation. We choose hotels from our personally inspected shortlist, where birders are welcome and the hospitality is special. Guests are never expected to share. Full details with your joining pack. Rooms are en-suite, with TV and hospitality tray.
Full Scottish breakfast and dinner from Saturday evening until Sunday morning, packed lunch daily.
Admission where applicable to archeological sites including Scara Brae and Maes Howe.
All transfers by comfortable minibus. All ferries and other boat trips. Drivers can leave vehicles safely parked at The Mountview Hotel.
Guidance from a professional Group Leader.
What's not included in your Shetland & Orkney holiday price
Extra night in Nethybridge area at beginning and end of holiday. This can be arranged for you if requested at time of holiday booking.
Insurance, drinks and other items of a personal nature.
Flights outwards from Aberdeen to Sumburgh, and return from Kirkwall to Aberdeen. We will organise flights for you, the cost of the return flight is around £200.
Car parking at Aberdeen airport if you join us there.
WHY CHOOSE HEATHERLEA FOR YOUR SCOTTISH ISLAND ADVENTURE?
Heatherlea is THE company for top quality birding holidays in Scotland, chosen by more and more birders each year. Relax and enjoy first-rate birding with Scotland's best guiding team, as we do all the planning! Our fully inclusive guided holidays concentrate on the real experience, and we take time to ensure that each of our guests enjoys everything we do. Above all, we make it our business to show key wildlife to you.
These popular holidays are carefully designed to explore the beautiful and wildlife-rich Scottish islands and far west coast. Many itineraries are unique, designed to give you the best of island wildlife at the best time of year. All are run at a leisurely pace, though we might move a little faster when rare migrants and vagrants are in our sights!
We have been organising birding and wildlife holidays for over 30 seasons, and have a highly experienced and capable team. We also offer a telephone and email service outside normal office hours.
This holiday has a maximum ratio of 7 clients per guide, putting the emphasis on personal service, and helping you get the best possible experience.
Heatherlea are Mainland Scotland's FIRST '5-Star Wildlife Experience!' This is the highest available grading, classified as 'exceptional' by visitScotland.
Single guests are never expected or invited to share.
Our holidays often include things which others might invite you to pay yourself, for instance packed lunch and tips to hotels.
Heatherlea hold full Tour Operator Insurance for your added protection.
Heatherlea is a limited company, registered in Scotland. We are also registered to pay VAT, which is included in your holiday price as quoted on this page.
Once your holiday is confirmed in writing by us, we promise not to surcharge the price for any reason.
Enjoy an excellent birding and wildlife holiday with Heatherlea.
Mainland Scotland's FIRST '5-Star Wildlife Experience!'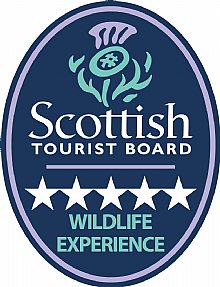 'Exceptional'
Visit Scotland
Trip Reports