Shetland Island Explorer - May/June
A thorough tour of the Shetland Isles, including visits to Unst, Fetlar, Yell, Noss, Mousa and Mainland.
| | |
| --- | --- |
| Prices: | £1895 PP, £295 single supplement. Deposit £200. 2020 prices TBC. |
| Dates: | 18 May - 25 May 2019, 25 May - 1 Jun 2019, 16 May - 23 May 2020, 23 May - 30 May 2020 |
| Guides | Scott O'Hara |
Overview
Shetland is the most northerly place in Britain, rugged, windswept and wild, at its best for exploration in May and June, when the long, long evenings give way only to an ethereal twilight, known here as the 'simmer dim'.
On this holiday you will stand on the very far north of Unst, with views to the lighthouse at Muckle Flugga, the most northerly of all Britain's islands. Another day, you will stand by the lighthouse at Sumburgh, Shetland's most southerly tip, with views across to Fair Isle. In-between, our time is devoted to these islands of rolling hills, jagged sea-cliffs and secluded sheltered havens for wind-blown birds.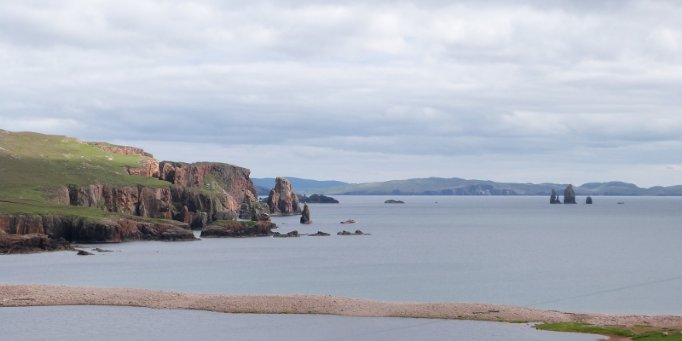 You will see some of the biggest seabird colonies in Britain: Gannet, Puffin, Guillemot, Razorbill and Black Guillemot number over half a million birds in total. Kittiwake and both Common and Arctic Tern are harassed by marauding Great and Arctic Skua, and Rock Pipit, 'Shetland' Wren, and breeding summer visitors including Wheatear, Meadow Pipit and Twite add to the spectacle at the seabird cliffs.
We take you to see some of the rarest and most difficult to observe breeding birds in Britain. Freshwater lochs host Red-throated Diver, wildfowl and waders. Two birds of national significance are Whimbrel, which number several hundred pairs, and Red-necked Phalarope, which still breed in very small numbers on Fetlar. The colony of Storm Petrel on Mousa is another highlight and is often listed as the top wildlife experience in Scotland. Shetland is a very good place to see both Otter and Grey Seal, and Dolphins, Harbour Porpoise, and possibly rarer cetaceans all possible. We take two dedicated wildlife boat trips plus several scheduled ferries as we cover the birdlife of at least six islands. You will visit Fetlar, Mousa and Noss (non-landing), as well as extensive birding on Unst, Yell and Mainland. Truly a holiday for the 'island explorer' in every birdwatcher.

This is a dedicated natural history holiday, though we are relaxed and will not be out 'dawn till dusk'. We will also take in all flora and fauna we encounter, with the first orchids just appearing as we arrive. A visit to Shetland should also incorporate some of the fascinating historical, cultural and archaeological heritage, with plenty of opportunity for scenic photography as we go. With hotels in some of the best wildlife locations, those who wish to enjoy early or late wanders will not be bored! We will witness some of the most impressive scenery and wildlife in the country; this is a fantastic experience in the long, northern summer.
Although we may take a look at rare birds if they are convenient and nearby, this is not a 'Birders' holiday to Shetland. This is a general and slow paced holiday to Shetland with a natural history focus. We offer spring and autumnal birders tours to Shetland each year and these holidays may be more suitable for the birders. See Shetland in Spring for birders and Shetland in Autumn for birders.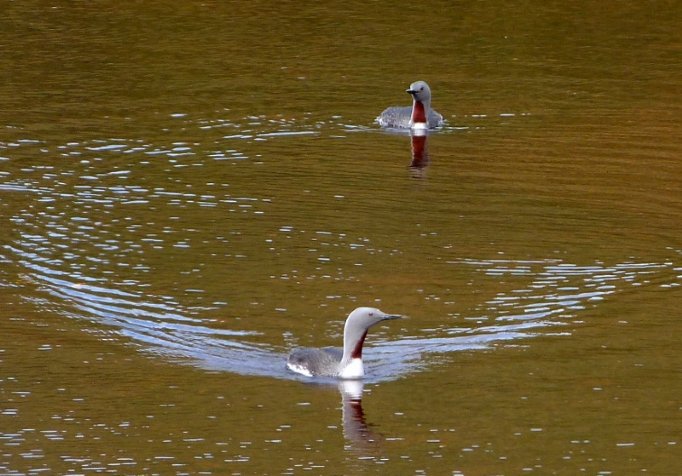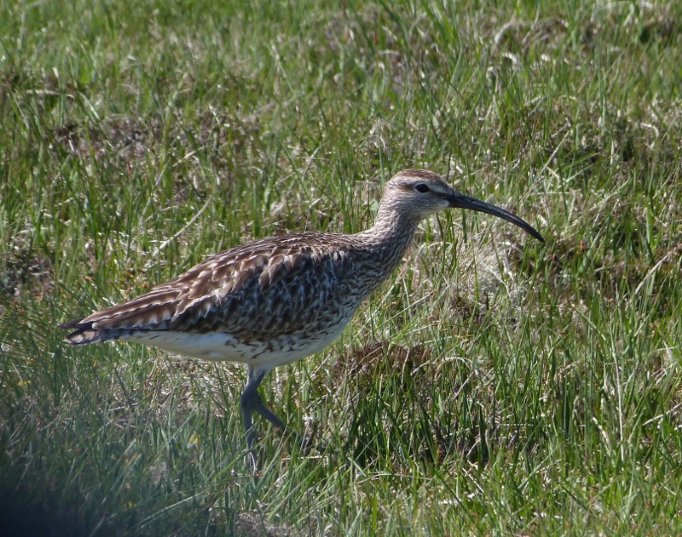 *Please note that the single supplement price for this departure in 2019 can be reduced significantly if singles are willing to share a bathroom with one other person for a limited part of the tour.

Flights to/from Shetland are not included in the holiday price. We can arrange these for you at cost price.
Itinerary
Join this holiday via Aberdeen, or travel with us from Nethy Bridge.
Day 1 - Saturday
We fly Aberdeen – Sumburgh. We head north to our base on the Island of Unst, heading through north Mainland and Yell. Overnight Unst.
Day 2 - Sunday FETLAR
We take the ferry to Fetlar, known locally as the Garden of Shetland for its relative fertility. We aim to spend at least 6 hours on this charming small island. We will have topped up our list with seabirds on the crossings and at the ferry terminals, but the main delights are on Fetlar itself. Here dainty Red-necked Phalarope can be seen at really close quarters, and Red-throated Diver, Whimbrel, Golden Plover, Great Skua, Arctic Skua and Twite breed. We have a good chance of Otter along the shoreline too. Overnight Unst.
Day 3 - Monday HERMANESS
At Hermaness, a walk through the world's second-largest Great Skua colony takes us to the northernmost cliffs of the British Isles. From the 400ft high cliffs, we overlook the lighthouse of Muckle Flugga and around 140,000 breeding seabirds! We also look for Orchids and Edmondston's Chickweed (Shetland Mouse-ear), one of the world's rarest plants, endemic to Shetland. We will also visit a replica Viking longboat and longhouse, as well as taking in Britain's most northerly everything, from the famous bus-stop to the lesser known village of Skaw - a great spot for migrant birds too! Overnight Unst.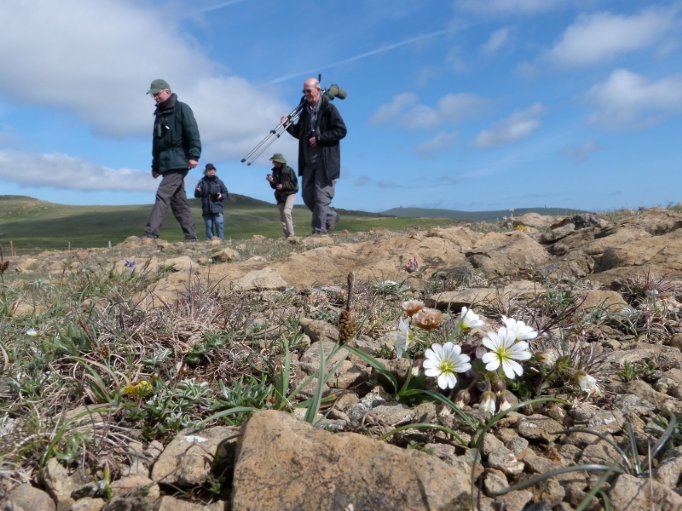 Day 4 - Tuesday MAINLAND and NOSS
We leave our base on Unst and travel south arriving in Lerwick before lunchtime with a bit of free time if needed to souvenir hunt, with the local knitwear high on the list! We then board our vessel and head northeast, past the coastline of Bressay and towards the sights and sounds of Noss National Nature Reserve. Noss is home to over 100,000 pairs of breeding seabirds. We sail close to the sandstone cliffs on the east side of the island which provide rocky ledges and nooks for thousands of Gannet and Guillemot and hundreds of Kittiwake, Puffin, Razorbills, Black Guillemot and Shag, whilst the moorland interior is home to Bonxies and a few Arctic Skuas (NB This is a non-landing cruise). Overnight Sumburgh.
Day 5 - Wednesday MAINLAND and MOUSA
Heading north across Mainland, We will spend a couple of hours exploring the remoter parts of Mainland, which have breeding Red-throated Divers, Whooper Swans and scarce breeders on inland lochs, and where outlying headlands are some of the best places to see Harbour Porpoise and occasional Dolphins, Minke Whale and Orca. These back roads will see us held upin Shetland traffic jams, with Shetland Ponies and Shetland Sheep slowing our progress along the single-track roads! We will also explore the north east Mainland, a favoured Otter watching point, with numerous Tern colonies and Seal haulouts. Today we make a late evening visit to the Storm Petrel colony on Mousa, a spectacular sight and sound show! Overnight Sumburgh.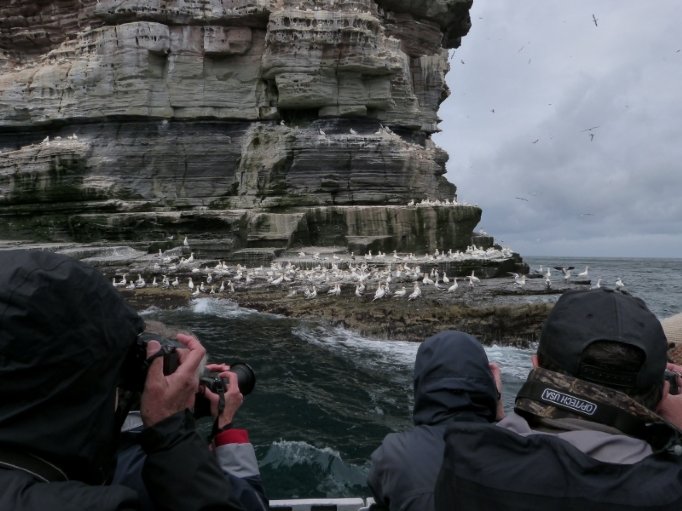 Day 6 - Thursday SOUTH MAINLAND
If the Mousa trip went ahead as planned, we will have a later start, and a relaxing day gently exploring the South Mainland, including a seawatch at Sumburgh Head where we will see Puffins and other seabirds at close quarters, and have a chance of seeing Minke Whale, Harbour Porpoise and cetaceans, with Orca possible at this time of year. A visit to local freshwater and sea lochs should produce Red-throated Diver and skuas, breeding Whimbrel and Curlew, 'real' Rock Dove, Black Guillemot and Shetland Wren. We will also take several shorter walks around stunnings sandy beaches and headlands, checking sites for migrant birds too. Overnight Sumburgh.
Day 7 - Friday NORTH MAINLAND
Our last full day on Shetland, we head north, exploring the ancient old capital, Scalloway. Scalloway was home of the intrepid Shetland Bus operation, running covert missions to occupied Norway in the Second World War, but these days is the home of most of the fishing fleet. Heading north, we look in at the freshwater lochs of Tingwall before thoroughly exploring the north-west mainland. Here we will look at Urafirth, Hillswick, Ronas Voe and have a scenic walk and seawatch at Eshaness, where the Atlantic Ocean hammers into the stunning, rugged coastline. Nesting waders will be in great abundance today, along with the commoner small birds of Shetland. Overnight Sumburgh.
Day 8 - Saturday
After breakfast and depending on flight times, we should have a few hours to explore South Mainland, visiting the superb tombolo of St Ninian's Isle and exploring the Jarlshof archaeological site. We depart from Sumburgh to Aberdeen by air.
Please note: all itineraries are given as a guide only. Actual holiday content may vary according to the judgement of your guide, and elements beyond our control (eg weather). Disclaimer; in poor weather it may not be possible to deliver boat trips as stated, though we will do everything within reason to reschedule.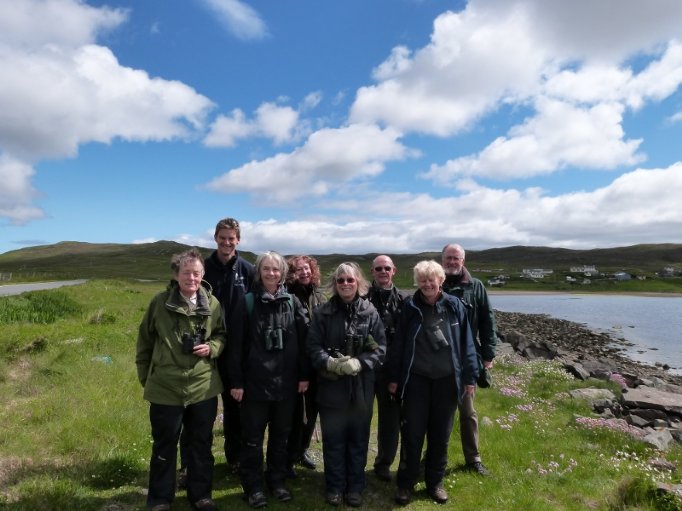 This holiday can be combined with:
MAINLAND SCOTLAND
High Season across the Highlands, Highlands and Orkney.
SCOTTISH ISLAND ADVENTURES
Fair Isle in Spring for birders, Outer Hebrides in Spring, Southern Hebrides.
Trip Information
Accommodation is en-suite, in comfortable hotels.
Food There is a choice of evening meal, and vegetarian, vegan and other diets are welcome. Breakfast may be chosen from a full Scottish menu. You don't need flasks for hot drinks.
Walking will be moderate, although at times will be uphill and on rocky, uneven and at times, wet terrain. Walking at Hermaness requires a reasonable level of fitness. Rare birds often turn up at inconvenient locations and may require gates and stiles to be climbed (optional!). The walk to Mousa Broch is around half a mile over undulating and uneven terrain, and is taken in very low light. A small torch may be useful.
Weather Expect a wide variation in weather conditions. Blazing sunshine and rain are equally likely, and you will probably experience a bit of everything. Bring waterproofs, walking boots or shoes and warm clothing. Strong winds are a feature in Shetland on many days.
Biting insects are unlikely to be encountered.
Group size maximum 7 clients.
Optics. You should bring binoculars. A telescope will be useful, though your Guide will carry a scope for group use. A camera would be useful too!
Getting here is easy!
BY CAR/RAIL You may join this holiday at our Hotel in Nethy Bridge, and leave your vehicle securely parked free of charge. Transfer to and from Aberdeen Airport on the first and last day of the holiday is free of charge, subject to availability.
BY AIR The group will meet at Aberdeen Airport. As an alternative you may meet the group at Sumburgh Airport (Shetland) or at our first hotel on Sunday afternoon.
What's included in your 'Shetland Island Explorer' holiday price
* Seven nights comfortable accommodation on Shetland. All rooms are en-suite. Single guests are never expected to share, though a single supplement is payable as above. Single guests might be upgraded to double room accommodation at no extra charge.
* Full Scottish breakfast, packed lunch, and a delicious dinner. Meals are included from Dinner on the first day until breakfast on the final day.
* Six full days wildlife watching.
* Guidance from a professional Group Leader.
* All transport by comfortable minibus.
* All ferry fees and boat trips, including chartered boat to Noss, Storm Petrel boat trip to Mousa, and ferry access.
* A checklist specifically prepared for your holiday to record your sightings and notes.
What's not included in your 'Shetland Island Explorer' holiday price
* Transport to Aberdeen, unless you join us in Nethy Bridge.
* Flights Aberdeen - Shetland - Aberdeen.
* Meals, accommodation and transport outwith the holiday as described above.
* Insurance, drinks and other items of a personal nature.
WHY CHOOSE HEATHERLEA FOR YOUR SCOTTISH ISLAND ADVENTURE?
Heatherlea is THE company for top quality birding holidays in Scotland, chosen by more and more birders each year. Relax and enjoy first-rate birding with Scotland's best guiding team, as we do all the planning! Our fully inclusive guided holidays concentrate on the real experience, and we take time to ensure that each of our guests enjoys everything we do. Above all, we make it our business to show key wildlife to you.
These popular holidays are carefully designed to explore the beautiful and wildlife-rich Scottish islands and far west coast. Many itineraries are unique, designed to give you the best of island wildlife at the best time of year. All are run at a leisurely pace, though we might move a little faster when rare migrants and vagrants are in our sights!
We have been organising birding and wildlife holidays for over 25 seasons, and have a highly experienced and capable team. We also offer a telephone and email service outside normal office hours.
This holiday has a maximum ratio of 7 clients per guide, putting the emphasis on personal service, and helping you get the best possible experience.
Heatherlea are Mainland Scotland's FIRST '5-Star Wildlife Experience!' This is the highest available grading, classified as 'exceptional' by visitScotland.
Single guests are never expected or invited to share.
Our holidays often include things which others might invite you to pay yourself, for instance packed lunch and tips to hotels.
Heatherlea hold full Tour Operator Insurance for your added protection.
Heatherlea is a limited company, registered in Scotland. We are also registered to pay VAT, which is included in your holiday price as quoted on this page.
Once your holiday is confirmed in writing by us, we promise not to surcharge the price for any reason.
Enjoy an excellent birding and wildlife holiday with Heatherlea.
Mainland Scotland's FIRST '5-Star Wildlife Experience!'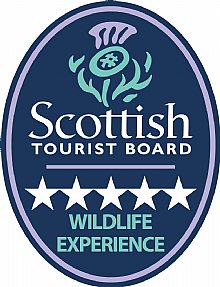 'Exceptional'
Visit Scotland
Please note: all itineraries are given as a guide only. Actual holiday content may vary according to the judgement of your guide, and elements beyond our control (eg weather).