Birds and Mammals featuring Perthshire
Highland birds and mammals including Beaver, Pine Marten and Otter, in Strathspey, Angus and Perthshire.
Destination
Focus
2022 Dates
Duration
8 Days
Guides
2022 Price

£1495 pp

No single supplement.

Deposit £300

Max Group Size
7
More Info

This holiday can be seen as a companion to our 'Birds and Mammals featuring the islands of Eigg and Muck' tour, which takes place the following week.
SPECIAL OFFER! Early Birder discount - Book Now for 2023 and Save £150!
An exciting new summer holiday, targeting Pine Marten, European Beaver and Highland birdlife. We divide our time between Strathspey and under watched Angus and Perthshire, with a daytrip to the spectacular west coast. Dedicated evening visits to a Pine Marten hide and a Beaver viewpoint give us good chances of connecting with these key species, and we also hope to see Otter, Mountain Hare, Red Squirrel, seals, cetaceans and commoner mammals too. Highland birds might include Crested Tit, Scottish Crossbill, White-tailed Eagle, Slavonian Grebe and Black-throated Diver amid spectacular surroundings.
In Angus and Perthshire, we seek Ptarmigan at close quarters, Black and Red Grouse, Ring Ouzel, Wheatear and raptors perhaps including Golden Eagle and Goshawk. On the coast, Little Gull can be present in high numbers and we search through tern flocks for post-breeding Roseate and Little Tern. Montrose Basin is a famous birding destination, and late summer is a good time to see returning wader flocks on migration (perhaps holding a rarity), with many still in summer plumage. Moulting Common and Velvet Scoter flocks can often contain a Surf Scoter and we also search for Osprey, Dipper, Whinchat and Common Crossbill in the extensive Perthshire forests.
KEY MOMENTS at our Friday round-up - which will be yours?
European Beaver and Pine Marten at a specialist viewpoint/hide.
Otter playing on the rocks of a West Coast sea loch as eagles soar overhead.
Returning waders, Little Gull and perhaps Roseate Tern on the Angus coast.
Ptarmigan and Black Grouse in rarely visited areas.
Day 1: Saturday - Arrival and briefing
Arrival, welcome, dinner and briefing. Don't forget our courtesy collection service from Aviemore.
Day 2: Sunday – Local birding
Strathspey is a wonderful place for many target species, and we begin in local woods for Red Squirrel, Crested Tit and the last summer breeders including Tree Pipit, Redstart and Spotted Flycatcher. Scottish Crossbill are found in our forests too and with both Common and Parrot Crossbill also possible, separation of these three species can pose a real identification challenge! Later we visit local lochs for Slavonian Grebe, Grey Wagtail, Common Sandpiper and Goldeneye with Brown Hare, Red, Roe and Sika Deer all possible in local fields. After dinner, we may head out after dark to look for Daubenton's, Common and Soprano Pipistrelle Bat, with Badger and Fox also possible on a night drive.
Day 3: Monday – Deeside, Angus and into Perthshire
We drive east through Deeside, then south skirting the edge of the Cairngorms, into Angus with wildlife stops along the way. Moorland in this area is good for Red and Black Grouse, and we may see the latter from the roadside or as birds return to known lekking sites. Golden Eagle, Hen Harrier, Merlin, Peregrine, Kestrel and Short-eared Owl may be seen over moorland, and Goshawk may be encountered around Sitka Spruce plantations. If weather conditions are favourable we can take a scenic walk in the hills for Ptarmigan, Ring Ouzel and Wheatear. Mountain Hare, Brown Hare, Red Deer and Roe Deer are likely and crossbills, Lesser Redpoll and Siskin may be abundant in forestry. Later in the day, Lintrathen or Loch of Kinnordy are likely destinations, where Osprey, Water Rail and breeding wildfowl including Gadwall and Shoveler might feature, and Otter might also be seen. After dinner our attention is focused on European Beaver and Pine Marten, with dedicated visits to a hide and viewing area for these elusive mammals. The group will split, with one small party looking for Martens tonight, the other for Beaver, changing over tomorrow. Please note there is roughly a 2 mile walk to get to the Beaver watching location. It is over relatively good ground although a reasonable level of fitness is required.
Day 4: Tuesday – Montrose Basin and the Angus coast
Today we visit a range of exciting coastal sites. Montrose Basin is renowned for passage waders, and among those we may see are Black-tailed and Bar-tailed Godwit, Curlew, Whimbrel, Redshank, Greenshank, Knot, Sanderling, Dunlin, Common Sandpiper and Turnstone. This is a good time of year for scarcer species, and we work through the flocks for Curlew Sandpiper, Little Stint or Spotted Redshank, with the possibility of rarities such as Lesser Yellowlegs or Pectoral Sandpiper. Later we visit Lunan Bay where we look for moulting Common and Velvet Scoter (Surf Scoter may also be present) and check the surrounding farmland for Corn Bunting and Tree Sparrow. Good numbers of Little Gull and occasional Roseate Tern tag onto post-breeding flocks and we will visit harbours and known roosting sites. After a great coastal experience, we return to our hotel in good time for our second evening excursion for Pine Marten and European Beaver, with clients changing places from the previous evening.
Day 5: Wednesday – Perthshire Forests and return to Nethy Bridge
Different habitats await today, including River Tay and local forests. Osprey are frequently seen at freshwater lochs, Dipper and Grey Wagtail favour flowing rivers and streams and on woodland walks we hope to see Common Crossbill, Siskin, Lesser Redpoll, Treecreeper, Chiffchaff and Red Squirrel. Forests in this area support perhaps the highest concentration of Honey Buzzard in the UK, and though notoriously elusive, if time allows we watch from viewpoints where our guides have seen the birds previously. We return to Nethy Bridge in good time for dinner.
Day 6: Thursday - The Wild West Coast
With mountains rising straight from the sea, the Highland scenery will be both stunning and dramatic on our west coast circuit. Always an exciting day, we scour the hills for Golden and White-tailed Eagle, where Red Deer (and Mountain/Feral Goat) break the skyline. In sheltered bays, we look for Otter and Common and Grey Seal while notable birds include Black Guillemot, Slavonian Grebe, seaduck, Red-throated and Black-throated Diver, Twite and Rock Pipit. From coastal viewpoints we look for cetaceans, Minke Whale being possible, though Common Dolphin, Bottlenose Dolphin and Harbour Porpoise are more likely.
Day 7: Friday – Round up day
We watch the weather and take stock of progress during the week before settling on the day's activity. Local birding , or visit the Black Isle or Moray Coast are all possibilities with resident Bottlenose Dolphin a target if we head for the sea again. In farmland habitats, we may come across Red Fox with Grey Partridge, Tree Sparrow, Corn Bunting and Yellowhammer perhaps featuring on the birdlist.
Day 8: Saturday - Departure
Breakfast and departure. Don't forget our courtesy return service to Aviemore.
This holiday can be combined with:
MAINLAND SCOTLAND
Highlands and Wester Ross, Birds and Mammals featuring Muck and Eigg, Highlands and Outer Hebrides
SCOTTISH ISLAND ADVENTURES
Orkney in High Summer
Please note: all itineraries are given as a guide only. Actual holiday content may vary according to the judgement of your guide, and elements beyond our control (eg weather).
What's included in your holiday price
Five nights comfortable accommodation at The Mountview Hotel, VisitScotland rated 3 Star. All rooms are en-suite, with TV and hospitality tray. There is no single supplement, and guests are never expected to share. Single guests may be upgraded to double room accommodation at no extra charge.
Two nights comfortable en-suite hotel accommodation in Angus or Perthshire close to evening mammal sites.
Full Scottish breakfast, a substantial packed lunch, and a delicious dinner.
Six full days wildlife watching.
Guidance from a professional Group Leader.
All transport by comfortable minibus.
All estate access, hide fees.
A checklist specifically prepared for your holiday to record your sightings and notes.
Courtesy bus service to and from transport in Aviemore.
What's not included in your holiday price
Insurance, drinks and other items of a personal nature.
More holiday information
Accommodation at Mountview Hotel can be seen here. In Perthshire we select from a range of comfortable Hotels. All accommodation is en-suite.
Food - There is a choice of evening meal, and vegetarian, vegan and other diets are welcome. Breakfast may be chosen from a full Scottish menu. You don't need flasks for hot drinks.
Walking will be mainly light, although hill walking for Ptarmigan can be strenuous and may need us to cover some distance. There is roughly a 2 mile walk to get to the Beaver watching location. It is over relatively good ground although a reasonable level of fitness is required.
Weather - Expect a wide variation in weather conditions. Blazing sunshine, wind and rain are equally likely, and you will probably experience a bit of everything. Bring waterproofs, walking boots or shoes and warm clothing for evening excursions.
Biting insects are unlikely to be encountered, though we recommend you bring insect repellent as a precaution.
Group size maximum 7 clients per guide.
Optics - Telescopes will be useful, and you should bring binoculars. We have a limited number of top quality Swarovski binoculars, which you may borrow at no charge (subject to availability). A camera would be useful too!
Getting here is easy!
BY CAR Travel north to Perth. Take A9 signposted Inverness to exit north of Aviemore. Follow signs northeast through Boat of Garten to Nethy Bridge (ten miles). In Nethy Bridge, drive through the village, over the River Nethy, and you will see our sign 200 metres ahead on the right.
BY RAIL Don't forget our courtesy collection service from Aviemore on Saturdays at 16:30 and 19:30, but please let us know at least 48 hours in advance! The best train to Aviemore is the 'Highland Chieftain' on the East Coast Line. This leaves London Kings Cross at 12.00, arriving Aviemore at 19.28. We recommend you connect with this service if possible. Our pickup also works well with the 16:19 arrival from Edinburgh. In general, rail travel via Edinburgh is easier than via Glasgow, where a trip across the city between stations is needed, often followed by a change at Perth. Return trains leave Aviemore at 07.25, 08.29 (fast train to London –recommended), 09.24. 10:27 and 11.23. However we can only make 2 journeys to Aviemore on Saturday morning, so you may be taken to Aviemore a little earlier. Rail enquiries: 0845 7484950, www.nationalrail.co.uk.
BY AIR Flights to Inverness are becoming available all the time, for latest info call our office. Currently direct flights to Inverness are available from: Belfast, Dublin, Amsterdam, Birmingham, Jersey (all Flybe), London Gatwick, London Luton and Bristol (all Easyjet). A new service has just been launched with daily service to London Heathrow with British Airways. Guests arriving in Inverness airport can then take a taxi to Nethy Bridge, or take the Airport Flyer bus to Inverness, from where they can take the train to Aviemore where we can collect you. Our courtesy collection service is at Saturdays at 16:30 and 19:30, but please let us know which at least 48 hours in advance! We will be able to meet the 15:51 and 18:46 trains departing from Inverness that arrive at 16:34 and 19:24 respectively.
Why choose Heatherlea for your Scottish birding holiday?
Heatherlea is THE place for top quality birding holidays in Scotland, chosen by more and more birders each year. Stay in our own three star Small Hotel, and enjoy first-rate birding with Scotland's best guiding team. Relax and enjoy yourself, as we do all the planning! Above all, we make it our business to show key wildlife to you. Our fully inclusive guided holidays concentrate on the real experience, and we take time to ensure that each of our guests enjoys everything we do.
We have been organising birding and wildlife holidays for 30 seasons, and have a highly experienced and capable office team. We also offer a telephone and email service outside normal office hours.
Our 'Mainland Scotland' holidays based at Mountview Hotel have a maximum ratio of 7 clients per guide, putting the emphasis on personal service, and helping you get the best possible experience.
We are a small company, run BY birders FOR birders. Come and see!
Heatherlea are Mainland Scotland's FIRST '5-Star Wildlife Experience!' This is the highest available grading, classified as 'exceptional' by visitScotland.
There is no single supplement. Single guests are never expected or invited to share.
Our holidays often include things which others might invite you to pay yourself, for instance loan of Swarovski binoculars, packed lunch and tips to hotels.
We offer a courtesy transfer between our Hotel and Aviemore rail/bus links on Saturdays.
Heatherlea hold full Tour Operator Insurance for your added protection.
Heatherlea is a limited company, registered in Scotland. We are also registered to pay VAT, which is included in your holiday price as quoted on this page.
Once your holiday is confirmed in writing by us, we promise not to surcharge the price for any reason.
Enjoy an excellent birding and wildlife holiday with Heatherlea.
Mainland Scotland's FIRST '5-Star Wildlife Experience!'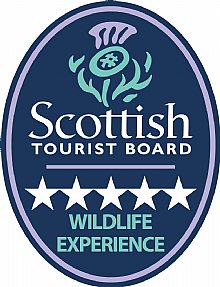 'Exceptional'
Visit Scotland