Toby Green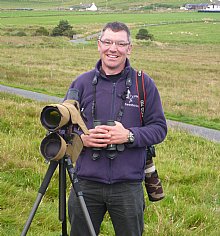 Toby is a very experienced Scottish birder, who first joined us in 2013. He lives in Carrbridge, and when not guiding he is out and about exploring and birding the area. Always very popular with our groups and his fellow guides, Toby is a top birder with a great sense of humour and endless enthusiasm. We know you will enjoy birding with him! Toby leads across Scotland, with trips throughout the year all over the Highlands and Islands. You can also join Toby on many overseas adventures.
Toby joined Heatherlea as a guide in 2013, though he has been birding in Scotland and overseas for over 30 years. He has been Warden on two Scottish reserves, was local WeBS coordinator, has been involved in Hen Harrier and Black Grouse survey work and heavily involved in ringing and satellite tracking of the Loch of the Lowes Ospreys.
Through hillwalking, mountaineering and climbing, Toby has gained a great appreciation and love of the Scottish landscape and is a Munro completist (climbing all Scottish mountains over 3000ft). He is also a keen cyclist, having cycled many of the Alps passes plus Lands End to John O'Goats to raise money to fund Osprey satellite trackers. Toby also enjoys skiing, photography, moth trapping and more recently botany - spurred on by his wife!
In addition to birding in Scotland, Toby has birded in many overseas countries including Goa, Cyprus, Seychelles, Spain, Costa Rica, South Africa and migration hotspots across Europe.
Follow this Guide
A great birding and wildlife tour in a wide range of habitats

Prices from £5495 pp

Duration: 18 Days

Birding in the wetlands, forests and mountains of two wildlife rich countries

Prices from £1895 pp

Duration: 8 Days