Rob Jordan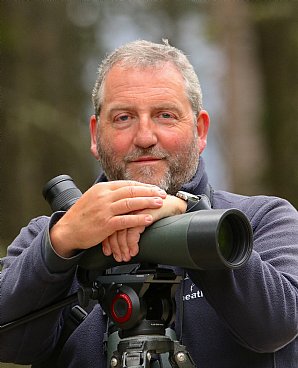 Rob was born and still lives in Northumberland, and had a varied career with Northumbria Police. His interest in Nature saw him become Force Wildlife Officer, managing a team investigating wildlife crimes, and becoming the Force spokesman on all wildlife matters.
Rob has been a dedicated wildlife photographer for over 45 years, and so far has received five awards in the prestigious Wildlife Photographer of the Year competition, including Category win, Category runner-up and Highly Commended three times. Rob was also selected as one of twenty best Wildlife Photographers working in UK for the acclaimed 2020VISION photo project – connecting People with Nature. Seabirds are a favourite subject, and the Farne Islands and Bass Rock are not far from his home. He has done extensive work in Sutherland on Greenshank, Red Throated Diver and Merlin.
Rob has recently decided to retire from guiding duties with Heatherlea. We thank him for his hard work over seven seasons, and of course wish Rob the very best for his future projects and ambitions.