Rob Jordan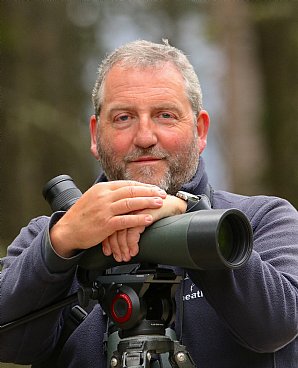 Top photographer Rob loves guiding and sharing his experiences with others, and has been leading Heatherlea groups for many years. With his Geordie humour and careful personal attention, he is a favourite with Heatherlea clients.
He's loved birds since he was young – a passion encouraged by his lifelong friendship with Eric Bird MBE, a renowned filmmaker and photographer.
Rob was born and still lives in Northumberland, and had a varied career with Northumbria Police. His interest in Nature saw him become Force Wildlife Officer, managing a team investigating wildlife crimes, and becoming the Force spokesman on all wildlife matters.
Rob has been a dedicated wildlife photographer for over 45 years, and so far has received five awards in the prestigious Wildlife Photographer of the Year competition, including Category win, Category runner-up and Highly Commended three times. Rob was also selected as one of twenty best Wildlife Photographers working in UK for the acclaimed 2020VISION photo project – connecting People with Nature. Seabirds are a favourite subject, and the Farne Islands and Bass Rock are not far from his home. He has done extensive work in Sutherland on Greenshank, Red Throated Diver and Merlin.
He's visited places as diverse as India for Tigers (Bandhavgarh, Agra, Delhi), southern Turkey (Dalyan, Antalya), Eastern (Lake Neusiedl) & Southern (Gross Glockner, Worthersee) Austria, Italy, Switzerland (Bernese Oberland), Bulgaria, The Gambia, Florida (three times including during Hurricane Charlie!), France (Brittany, La Brenne, Normandy, & Camargue), Spain (Extremadura, Andalucia & Ebro Delta), Mallorca, Israel (Eilat), Madeira, Montenegro and Australia (South). A photography commission took him to the Seychelles for the tourist board. He has been beyond the Arctic Circle 5-6 times, including northern Sweden, Norway and Finland. Our 2019 holiday will be his third visit to the Svalbard archipelago.
Small offshore islands are a great attraction and he's visited many across the world and off the Scottish west and north coast, including St.Kilda. Mull is a particular favourite – he even honeymooned there – although his new wife was unaware at the time of the opportunities the island holds for photographing Otters!
Follow this Guide
£1395 pp, No single supplement. Deposit £200

A real adventure! Birding the Highlands in peak migration time including a two night stay on the Outer Hebrides!

£1395 pp, No single supplement. Deposit £200

A real adventure! Birding the Highlands in peak migration time including a two night stay on the Outer Hebrides!

£4795 pp, £125 single supplement. Deposit £500