NEW!

Vietnam
A comprehensive first time tour covering endemics, near-endemics and other speciality birds of southern and central regions
Destination
Focus
2022 Dates
Duration
21 Days
Guides
2022 Price

£4995 pp

£495 single supplement.

Deposit £1000

pre-flight airport hotel and lounge are inc.

2024 Dates
Duration
20 Days
Guides
2024 Price

Price TBC

Max Group Size
12
Free Bird Guide

FREE copy of Birds of Vietnam with every room booked on this holiday.
Vietnam is attracting more and more attention as a birding destination, and its unique and exotic avifauna of over 850 species make it an enticing destination. The country boasts many endemics and near-endemics, and on this tour we concentrate on key birding sites in the southern and central parts of the country to see around 350 species with 9 possible endemics and 25+ near endemics and endemic subspecies.
In the south there are important areas of lowland evergreen and semi-evergreen forest at Cat Tien National Park, and we enjoy three days here to see pheasants, pittas, woodpeckers, broadbills, babblers and much more. Montane evergreen forests on the Dalat Plateau are home to several endemics and many distinctive local subspecies, and we also enjoy three full days here. In central Vietnam there are more opportunities for endemic and near-endemic species, including recently discovered Chestnut-eared Laughing-thrush. Other uncommon birds include Rufous-faced Warbler, Pale Blue Flycatcher, Grey-headed Parrotbill and Black-crowned Barwing, only discovered in 1996.
We begin, and end with a little orientation and sightseeing in Ho Chi Minh City (also known as Saigon) though exceptional birding is of course the key focus of the tour!
Enjoy your complimentary pre-flight overnight hotel before your holiday begins. Full details from our office! Read more about our Pre-flight Service here!
Day 1: Mon 21 November 2022 - London Heathrow - Ho Chi Minh City
After relaxing in our complimentary VIP Airport Lounge, we fly on an overnight flight. Your pre-flight hotel at Heathrow gives additional opportunity to relax before your long journey.
Day 2: Tue 22 November - Arrive Ho Chi Minh City (Saigon)
We arrive at Ho Chi Minh City's Tan Son Nhat International Airport at 0600 hrs and transfer to our downtown hotel to drop luggage. We then take a guided tour of downtown Ho Chi Minh City visiting the former Presidential Palace, the French colonial Notre Dame Cathedral and the old Saigon Post Office. Our guide will point out any birds we see, including common species of the region and perhaps some wintering flycatchers and thrushes. After lunch we enjoy birding at the Botanical Garden, where more common species might include Eastern Spotted Dove, Zebra Dove, Plaintive Cuckoo, Coppersmith Barbet, Eastern Black-naped Oriole, Scarlet Minivet, Brown Shrike, Black and Ashy Drongo, Sunda Pied Fantail, Common Iora, Common Tailorbird, Sunda Yellow-vented and Streak-eared Bulbul, Asian Brown Flycatcher, Ornate Sunbird and Scarlet-backed Flowerpecker. Overnight at the Bong Sen Annex Hotel, Ho Chi Minh City.
Day 3: Wed 23 November - Ho Chi Minh City to Cat Tien National Park
We depart Ho Chi Minh City after breakfast for Cat Tien National Park, 150 km to the north. The largest remaining area of lowland tropical forest in southern Vietnam, Cat Tien National Park contains a mix of primary and secondary evergreen and semi-evergreen forest with large areas dominated by grassland and bamboo, a result of wartime defoliation and post-war logging. The park is accessed via the Dong Nai River and on arrival we take a ferry across the river to the park HQ accommodation area. Cat Tien boasts an incredible diversity of birds and mammals. Endangered birds include Germain's Peacock-pheasant, Green Peafowl and elusive Orange-necked Partridge while the mammal list includes Leopard Cat, Lesser Mousedeer, Gaur and three beautiful primates - Black-shanked Douc Langur, Silvered Langur and Buff-cheeked Gibbon. Overnight for four nights at Cat Tien National Park HQ Guest House.
Days 4, 5 & 6: Thu 24, Fri 25 & Sat 26 November - Cat Tien National Park
We have three full days to enjoy some wonderful birding at Cat Tien National Park. There are excellent trails starting right at the park headquarters, and with no outside vehicles permitted in the park we will use jeeps to access areas further afield such as Crocodile Lake and the Ta Lai grasslands. The 5 km walk through semi-evergreen forest to Crocodile Lake can be an excellent place to look for Germain's Peacock-pheasant as well as two of the park's other star birds, near-endemic Blue-rumped and Bar-bellied Pitta, while the beautiful Siamese Fireback can often be seen on an early morning drive. Among the many other avian treats to be found at Cat Tien are Indochinese Frogmouth, Great-eared Nightjar, Grey-headed and Lesser Fish-eagle, Great and Wreathed Hornbill, Banded and Stork-billed Kingfisher, Red-vented Barbet, Heart-spotted, Pale-headed, Black-and-buff, Great Slaty and White-bellied Woodpecker, Collared Falconet, Dusky, Black-and-red and Banded Broadbill, Golden-crested Myna and Grey-faced Tit-babbler. Large waterbirds including Lesser Adjutant and Asian Woollyneck are commonly seen in more open areas, particularly in the vicinity of Crocodile Lake, where Asian Golden Weaver can also be found breeding in lakeside reeds. Large flocks of doves, pigeons and parakeets of various species can often be seen in the grassland areas in the late afternoon.
Day 7: Sun 27 November - Cat Tien National Park to Di Linh
There is time for some final early morning birding at Cat Tien National Park before heading up Highway 20 to Di Linh. A short drive from the town we visit Deo Suoi Lanh, exploring an excellent area for Black-hooded, White-cheeked & Orange-breasted Laughing-thrushes and the near-endemic Black-headed Parrotbill. After an afternoon of birding, we return to Di Linh town where we stay at Ivory Falls Villas for one night.
Day 8: Mon 28 November - Di Linh to Dalat
A second, this time early morning visit to Deo Suoi Lanh could give us other exciting Dalat Plateau specialities including Blue Pitta, Indochinese Green Magpie, Spotted Forktail and Green Cochoa. Later we continue along Highway 20 to the cooler climes of Dalat itself. Situated at an elevation of 1,500 m, the former French hill station and honeymoon capital of Vietnam, Dalat, will be our base for exploring the high ground. The Dalat Plateau is one of Vietnam's five Endemic Bird Areas (EBAs) as defined by BirdLife International and is home to several endemic and near-endemic bird as well as some very distinct and endemic subspecies. As well as being a popular tourist destination Dalat's temperate climate makes it one of the major vegetable and flower growing areas in the country and the city boasts some wonderful restaurants. Overnight for three nights at Dreams Hotel, Dalat
Days 9 & 10: Tue 29 & Wed 30 November - Dalat Plateau
The habitat on the Dalat Plateau is a mix of coniferous (dominated by Benguet Pine), montane evergreen and secondary forest. The montane evergreen forest extends up to 2,287 m on Mount Bi Doup and 2,167 m on nearby Mount Lang Bian, the second and third highest peaks on the plateau respectively. The long list of endemic and near-endemic species and subspecies found in this area includes Lowe's Green-pigeon, Red-vented, Necklaced and Annam Barbet, Dalat Shrike-babbler, Annam Minivet, Yellow-crowned Green Magpie, Langbian Tit, Annam Grasshopper-warbler, Brown-backed Bulbul, Grey-crowned Tit, Indochinese Fulvetta, Black-headed Parrotbill, Black-crowned Fulvetta, Annam Streaked and Indochinese Wren-babbler, Vietnamese Cutia, Orange-breasted, Black-hooded, White-cheeked and beautiful and skulking Collared Laughing-thrush, White-spectacled Sibia, Plain Minla, Grey-crowned Crocia, Yellow-billed Nuthatch, Langbian Lesser Shortwing, Langbian and Annam Sunbird and Vietnamese Greenfinch.
Other specialities of the Dalat area include Bar-backed Partridge, Silver Pheasant, Yellow-vented Green-pigeon, Hodgson's Frogmouth, Spot-bellied Eagle-owl, Rusty-naped and Blue Pitta, Maroon and Slender-billed Oriole, Indochinese Cuckoo-shrike, Burmese Shrike, White-faced Jay, Manipur Treecreeper, Dark-sided Thrush, Green Cochoa, Large Niltava, Rufous-browed Flycatcher and Spotted Forktail and Red Crossbill. There are several excellent birding sites all within a short drive of Dalat including Mount Lang Bian and Tuyen Lam Lake, both of which have a mix of coniferous forest at lower elevations with montane evergreen at higher elevations. Other areas to explore in the vicinity include the forested valley en-route to the village of Ta Nung, and some of the more accessible areas of Bi Doup-Nui Ba National Park.
Day 11: Thu 1 December - Dalat to Yok Don National Park
We leave Dalat and drive north to Yok Don National Park, arriving around lunchtime. We will have time to explore the banks of the Srepok River and the dry deciduous forests of the National Park. Several of Yok Don specialities are not easily seen elsewhere in Vietnam, and we spend the afternoon looking for Fulvous-breasted, Rufous-bellied & Black-headed Woodpecker, Alexandrine & Blossom-headed Parakeet, White-rumped Pygmy-falcon, Rufous Treepie, Small Minivet and Burmese Nuthatch. Overnight at Yok Don National Park for one night.
Day 12: Fri 2 December - Yok Don – Mang Den
After some early morning birding at Yok Don, we continue driving north, ascending up to the newly established hill resort town of Mang Den, on the Kontum Plateau. Mang Den is the perfect base from which to explore the surrounding areas of montane evergreen forest. The number one target for birders here is the recently-discovered and near-endemic Chestnut-eared Laughing-thrush which despite uncontrolled logging in the area is thankfully still fairly common. The Kontum Plateau shares several specialities with the Dalat Plateau to the south including near-endemic Indochinese Wren-babbler, Black-hooded Laughing-thrush and Yellow-billed Nuthatch. Vietnamese endemic Grey-crowned Crocias, once thought to be restricted to the Dalat Plateau, was also recently discovered here. Overnight at T&T Hotel, Mang Den for two nights.
Days 13 & 14: Sat 3 & Sun 4 December - Mang Den
We have two further days exploring the birding delights around Mang Den. As well devoting time searching for and hopefully obtaining good views of Chestnut-eared Laughing-thrush, other interesting species that may be encountered include Pale-capped Pigeon, Austen's Brown Hornbill, Stripe-breasted Woodpecker, Rusty-naped Pitta, Ratchet-tailed Treepie, White-winged Magpie, Rufous-faced Warbler, Yellow-billed Nuthatch, Black-hooded Laughing-thrush, Indochinese Wren-babbler, Grey-crowned Tit, Grey-headed Parrotbill, and Pale Blue-flycatcher.
Day 15: Mon 5 December - Mang Den to Lo Xo/Kham Duc
​​​​​​​There is time for some morning birding at Mang Den before we drive north for four hours to the Lo Xo Pass. Once there, we explore roadside scrub and remnant patches of forest in the vicinity of Lo Xo Pass where the recently discovered and near-endemic Black-crowned Barwing may be found. Other possibilities at Lo Xo include White-winged Magpie, White-cheeked, Black-hooded and Red-tailed Laughing-thrush, Red-tailed Minla and Green-tailed Sunbird, while White-capped and Plumbeous Water-redstart can occur along the river below the pass. Later, we travel a short distance to the small town of Kham Duc where we stay overnight at Be Chau Giang Hotel for one night.
Day 16: Tue 6 December - Kham Duc/Lo Xo to Bach Ma National Park
If needed, we will return to Lo Xo Pass for birding targets before continuing northwards to Bach Ma National Park. Our journey will skirt the coast of Central Vietnam, and roadside birding stops near to the shore might yield recently split White-faced Plover and patchily distributed Light-vented Bulbul. We expect to arrive at Bach Ma in the afternoon with time for some birding once checked into our accommodation, which boasts spectacular views of Mount Bach Ma towering above the forests! Overnight at the Summit Guest House, Bach Ma National Park for one night.
Day 17: Wed 7 December - Bach Ma National Park to Phong Nha-Ke Bang National Park
Encompassing a range of habitats including cultivation, secondary, scrub, lowland evergreen forest and above 900 m, spectacular montane evergreen forest, Bach Ma National Park supports a wide variety of birdlife. We have a full morning to search for key species including Rufous-throated and Green-legged Partridge, Silver Pheasant, Hodgson's Frogmouth, Austen's Brown Hornbill, Blue-rumped and Bar-bellied Pitta, Long-tailed and Silver-breasted Broadbill, Ratchet-tailed Treepie, White-winged Magpie, Indochinese Green Magpie, Annam Sultan Tit, Indochinese Wren-babbler, Lesser Necklaced, Masked and Black-throated Laughing-thrush and White-gorgeted Flycatcher. In the afternoon we depart north to Phong Nha-Ke Bang National Park, where we stay for two nights at Saigon Phong Nha Hotel.
Day 18: Thu 8 December - Phong Nha-Ke Bang National Park
The habitat at Phong Nha-Ke Bang is a mix of limestone forest, remnant lowland evergreen forest and areas of cultivation. Species we look for here includes two near-endemic limestone specialists - Sooty Babbler and the recently described Limestone Leaf-warbler. Other interesting birds at the park include Tonkin Partridge, White-bellied Green-pigeon, Brown Fish-owl, Austen's Brown Hornbill, Red-collared Woodpecker, Blue-rumped and Bar-bellied Pitta, Ratchet-tailed Treepie, White-winged Magpie and Indochinese Wren-babbler. In addition to some unique bird species Phong Nha-Ke Bang is also home to two very rare primates, beautiful Red-shanked Douc Langur and the range-restricted Ha Tinh Langur and there is a fairly good chance of coming across both these species while birding here.
Day 19: Fri 9 December - Phong Nha-Ke Bang National Park to Hue
We leave Phong Nha-Ke Bang National Park after breakfast and drive to Hue, the former imperial capital of Vietnam. After checking in at our centrally located hotel we will take in the some of the cultural highlights of Hue with visits to the Imperial Citadel from where the Nguyen Dynasty of emperors ruled Vietnam between 1802 and 1945, followed by the impressive mausoleum of Emperor Tu Duc with its landscaped gardens and lakes. Birds that could be seen during the afternoon's sightseeing at this time of the year may include wintering warblers, thrushes and flycatchers as well as the more common resident species. Overnight at Midtown Hotel, Hue.
Day 20: Sat 10 December – Hue – Ho Chi Minh City - UK
After breakfast there will be further time to explore the city or local birding options, before we transfer to Hue Airport for the short flight back to Ho Chi Minh City, in good time for our flight back to the UK. This will be overnight and we arrive on Day 21: Sun 11 December.
Please note: all itineraries are given as a guide only. Actual holiday content may vary according to the judgement of your guide, and elements beyond our control (eg weather).
What's included in your holiday price:
return scheduled flight from London Heathrow – Ho Chi Minh City, internal flight, airport taxes, baggage and hand luggage up to airline included limit.
airport transfers, ground transportation, entrance fees, accommodation and meals as specified.
the services of Heatherlea leaders.
The Heatherlea Pre-Flight Service offers everything you need at the airport, including hotels, car parking, airport lounges, regional flights, and upgrades. Let Heatherlea take the strain! Pre-flight airport hotel and lounge included free of charge subject to terms and conditions. Read More...
Free Field Guide! - 'Birds of Vietnam' by Richard C Craik and Le Quy Minh is included in your holiday price. One copy per room booked.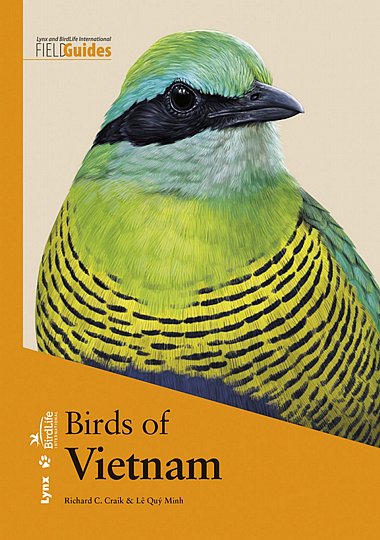 What's not included in your holiday price:
travel to and from departure airport before and after holiday, baggage above airline included limit
incidental tips, expenses of a personal nature including drinks and personal insurance.
Entry Visa
Your Leaders:
Nguyen Thanh Nhan is a well-known figure in the conservation community in Vietnam and one of the most experienced birding guides in the region.e 2007. Previously he worked at Bach Ma National Park in Central Vietnam for ten years, up until 2010. Nowadays Nhan guides clients on birding tours throughout his home nation, enthusiastically sharing his local knowledge of the region's fauna, flora and culture.
Gerard Gorman is a very well-travelled, experienced and skilled birding tour guide, and has led for Heatherlea over many years and destinations. He has birded extensively in south-east Asia, including in Vietnam. He is also well-known as an expert on woodpeckers, and is author of Woodpeckers of the World: The Complete Guide, and several other well-informed bird and wildlife books.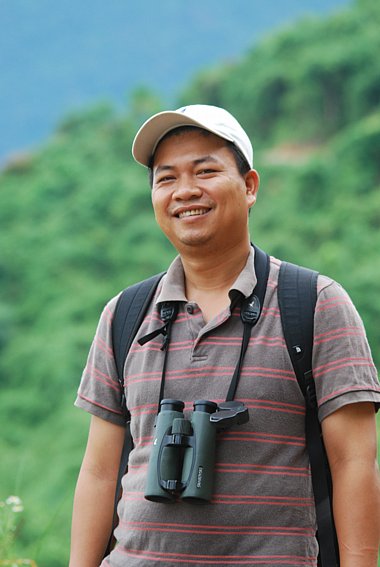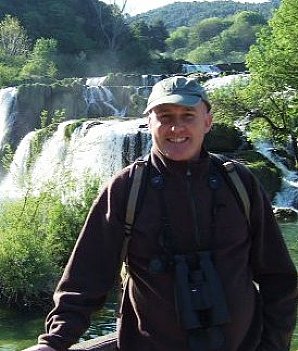 Nguyen Thanh Nhan and Gerard Gorman
More holiday information:
Accommodation: We stay at smaller hotels and guest houses. There is some variation in standard, and accommodation at national parks tend to be more basic, though all rooms have air-con or a fan and en-suite bathroom facilities. Wifi is available at all accommodations with the exception of Bach Ma National Park summit which is without wifi and mobile phone coverage. Not all our hotels have websites.
Food: Expect generous portions of typical everyday Vietnamese dishes at national parks and a wider range of both local and international dishes at Hue, Ho Chi Minh City and Dalat. Chicken, beef, pork, seafood, tofu and other vegetarian options should be available everywhere. Vietnamese cuisine comes as a very pleasant surprise to many visitors and is definitely a part of the experience not to be missed. One of the characteristics of Vietnamese food is that it is always fresh, being bought the same morning straight from the market. Food is usually prepared with a minimum of oil and served with the ubiquitous fish sauce called nuoc mam. Typical Vietnamese dishes you can expect to try include pho, a type of rice noodle soup eaten for breakfast, cha gio, deep-fried spring rolls and goi ngo sen, a delicious salad made with lotus stems, shrimps and peanuts. Due to the strong Buddhist influence in Vietnam, vegetarian food is widely available.
Walking: Generally easy/moderate. There will be some long walks along roads, tracks and forest trails over generally flat terrain with some steeper sections particularly in the Dalat area, and generally an average level of fitness is required. We take advantage of the cooler mornings and late afternoons to see birds at their most active, usually returning to our hotel for lunch and a midday break.
Weather: Midday temperatures in December are usually around 25-30 C in the south though cooler in central regions. In the mountains of the Dalat Plateau it can be considerably cooler in the evenings and a sweater or fleece may be needed. The weather in the south is generally dry and pleasant at this time of the year while there may be some rain further north in central Vietnam.
Insects: There are biting insects including mosquitoes. Before travelling consult your doctor about suitable anti-malarial medication, and on arrival take adequate precautions against mosquito bites. You may encounter leeches on forest trails especially after rain or in damp areas but a good spray with insect repellent on your boots and socks should keep them at bay.
Travel: Driving distances between various locations on the tour are mostly between 3 – 5 hours. Although distances are not so great, driving on the crowded Vietnamese roads takes far longer than in the UK.
Visa: United Kingdom citizens will need a passport valid for at least six months from date of departure and a visa to enter Vietnam. Visas are available from your nearest Vietnam embassy or consulate or on arrival with prior arrangement through https://evisa.xuatnhapcanh.gov.vn/en_US/web/guest/trang-chu-ttdt
Flights: Flights from London Heathrow.
Photos: Excellent photographic opportunities.
Photo credits; our thanks go to Vietnam Birding and photographers whose images are used on this page;
Lowland semi-evergreen forest at Cat Tien National Park (Richard Craik)
Bar-bellied Pitta (Niall Perrins)
Grey-crowned Crocias (Chris Bradshaw)
Vietnamese Greenfinch (John Barkla)
Montane evergreen forest in Central Vietnam, Black-crowned Barwing, Sooty Babbler (Le Quy Minh)
Chestnut-eared Laughingthrush (Brian Lloyd)
Langbian Sunbird, Indochinese Green Magpie, Collared Laughingthrush, Dalat Shrike-babbler, Black-throated Sunbird (Luyen Nguyen)
Blue-rumped Pitta, OB Trogon (David Bowman)
Why choose Heatherlea for your birding and wildlife holiday?
Our overseas holidays are planned with care to offer great birding and wildlife, led by capable Leaders who really look after you. Every holiday is run the 'Heatherlea Way', and we hope our Overseas Adventures remind you of the quality and care so many of you enjoy in Scotland. That means rewarding and exciting days in the field, and good quality accommodation and meals, with a real flavour of the country we are visiting. Heatherlea always seek to include the personal touches that make all the difference.
Heatherlea holidays are not 'dawn to dusk' expeditions. Our less-intensive approach is ideal for those who want to relax whilst experiencing the best wildlife watching, and wherever possible we organise early or late activity on an optional basis. We also take sensible breaks when in very hot places and regular comfort breaks on every holiday whenever possible. All itineraries are planned carefully around the best wildlife opportunities, and you won't miss out on memorable wildlife, whilst enjoying relaxed, informal days that are great fun.
The really important part of any wildlife holiday is the experience for you, our valued customer. Heatherlea invest in many things to offer you the best possible service;
We have been organising birding and wildlife holidays for over 30 seasons, and have a highly experienced and capable office team. We also offer a telephone and email service outside normal office hours.
Heatherlea overseas holidays have a maximum of 12 clients per trip, putting the emphasis on personal service, and helping you get the best possible experience.
Our holidays often include things which others might invite you to pay yourself, for instance Departure Taxes and tips to hotels.
All elements of our holidays are sold under our own licence, ATOL 6113. Under 'Flight-Plus' legislation it is a legal requirement of any tour operator to hold an ATOL licence for the supply of any overseas holiday where a flight is involved, if that holiday includes either overseas accommodation and/or car hire. It can be a criminal offence for an operator to book flights as part of a package without an ATOL licence. Heatherlea also hold full Tour Operator Insurance for your added protection.
Heatherlea is your complete wildlife holiday provider. Our 'Back Office' team can organise all your pre-flight and other travel needs. Our specialists will help you book the right services, at the best price. Book holiday extensions through us, and your ATOL protection is extended further. We don't charge extra for this service.
Heatherlea is a limited company, registered in Scotland, and registered to pay VAT (applies to all holidays within the European Union).
Free Bird Guide

FREE copy of Birds of Vietnam with every room booked on this holiday.