New Zealand
The road-trip of a lifetime, birding as a small group with the aim to see as many of the countries endemic specialities as possible!
| | |
| --- | --- |
| Destination | |
| Focus | |
| Max Group Size | 8 |
Free Bird Guide

FREE copy of Field Guide to the Birds of New Zealand with every room booked on this holiday.
New Zealand is a wonderful 'bucket-list' destination, featuring some of the most unique, diverse and extraordinary wildlife on Earth. With a maximum of just 8 clients able to join this tour, you will be accompanied not only by your Heatherlea tour guide from the UK but also by an expert local ornithologist/guide to give you the best possible experience on this trip. The ratio of 'guides' to 'clients' will be very favourable and should give you a top quality trip in this sought-after birders destination!
Habitats are varied, and with the coast rarely more than a few hours drive in any direction there is as much birding interest at sea as there is on dry land. We explore coastal estuaries, volcanic lakes, the 'bush' and a variety of ancient forests, island sanctuaries and enjoy four dedicated pelagic trips for close and personal views of seabirds.
On this comprehensive birding holiday, we tour the length and breadth of the country aiming to see as many of the key avian endemic species as possible. With over 60 to target, and a bird-list potentially exceeding 150 species all told, with each new destination comes new exciting birds. We visit as spring turns to summer, when species are especially active in their breeding cycle be it singing, nest building or busy foraging and feeding young. Being in the right place at the right time is paramount, and overnight stays have been chosen at locations close to our target birds – we have every chance of success!
North Island is a great place to start, and we may even see our first endemics such as Tui and New Zealand Bellbird just a stones throw from the city of Auckland! Rarer targets in the first half of our tour include Brown Teal, Blue Duck, New Zealand Dotterel, Wrybill, North Island Kokako, North Island Saddleback, Long-tailed Cuckoo, New Zealand Kaka, Red-crowned and Yellow Crowned Parakeet, New Zealand Falcon, North Island Robin, New Zealand Fernbird, Whitehead and colourful Stitchbird. If lucky we will encounter prehistoric looking South Island Takahe, which have been introduced to a number of North Island and mainland sanctuary sites as part of their country wide recovery programme.
As New Zealand's most iconic bird, seeing a kiwi always features highly on everyone's wish list when visiting the country. And of the four species we target (with an outside chance of hearing the fifth), two of them – North Island Brown Kiwi and Little Spotted Kiwi are possible in the early stages of this trip. But be warned, this group of birds are rarely easy and it can take a big effort to see them. Night-time excursions in quiet places are our best chance, and we may also encounter Morepork (an owl) during our attempts. The archipelago is equally famous for its seabirds, and while many of its commoner species (including endemics) may be seen from shore, it is at sea where we have great chances of close encounters. On two dedicated pelagic trips into the Hauraki Gulf we hope to see endangered Black Petrel, scarce Pycroft's Petrel and the jewel in the crown – the recently re-discovered New Zealand Storm Petrel.
Crossing the Cook Strait, a new range of species and some quite incredible scenery await us on South Island. With two more pelagics planned, seabirds will again feature highly. Our first will be off Kaikoura – reputedly the albatross capital of the world, and with Northern and Southern Royal, Gibson's Wandering, Salvin's, Buller's, Black-browed and White-capped Albatross all possible the hype is justified! As we travel around this the largest of New Zealand's islands, other seabird endemics (from either land or sea) may include Hutton's Shearwater, Westland Petrel, Yellow-eyed and Fiordland Crested Penguin, King, Spotted, Foveaux and Otago Shag.
Working our way from the east coast to the wild west, and then through the Southern Alps to Invercargill, new species will often feature as we travel. With few roads and some long driving days, birding can at times seem more limited though we make time for all the important birds. Possible are Okarito Brown Kiwi (the rarest of the five species), critically endangered Malherbe's Parakeet, plus Weka, Kea, South Island Saddleback, South Island Robin, Riffleman, New Zealand Rock Wren, Yellowhead and Brown-creeper, A two night stay on Stewart Island will also boost out tour tally, and gives us a good chance to see South Island Brown Kiwi on a night time excursion. As our tour nears to its end we enter the Mackenzie Basin, where with views of Mount Cook we search the braided rivers for Black Stilt – the world's rarest wader.
Birding remains the priority throughout, though mammals 'collected' along the way might include endemic New Zealand Fur Zeal, New Zealand Sea-lion and Hector's Dolphin. Sperm and Bryde's Whale, both of which can occur at this time of year are also possible while there is also a chance of Tuatara, an endemic reptile with links to the Dinosaurs! Time for tourist activities will be limited, though a cruise of Milford Sound is a must for any visitor to the country. Your guides will also be sure to point out any prime photo opportunities as we travel from the high north to the far south, on the birding road trip of a lifetime!
Also, we are happy to make personalised arrangements for you under our ATOL licence, and you may extend your holiday before or after, and arrange flights to any destination as part of your trip. To design the bespoke ANZAC holiday of a lifetime, contact our office!
Enjoy a complimentary pre-flight overnight hotel before your holiday begins.
Days 1 & 2: Wed 23 & Thurs 24 October 2024 - Heathrow - Auckland
We plan to depart on an afternoon flight, taking two flights of around 10-12 hours each transiting via an airport in either the Middle East or far East. More details closer to time of departure, though please allow some flexibility – we may actually leave on the latter date!
Day 3: Fri 25 October - Arrive Auckland
Today we concentrate on meeting at our Auckland hotel to relax and acclimatise. If time allows we may take a short drive westward to nearby estuarine locations such as Ambury or Mangere, for a 'head-start' on native species and passage coastal migrants.
Day 4: Sat 26 October – Muriwai and Tawharanui
Travelling north and away from the city, one of our first stops will be at Muriwai less than an hour away. A bustling Australasian Gannet colony is located here, which alongside White-fronted Tern, Kelp, Red-billed Gull and Variable Oystercatcher can be watched from the cliffs. Later we visit the Tawharanui peninsula, one of New Zealand's acclaimed 'sanctuary reserves' equipped with a two-mile predator proof fence. In wetland and mangrove areas we have chances of Paradise Shelduck, White-faced Heron, Masked Lapwing, Pukeko, elusive Banded Rail, Sacred Kingfisher and if lucky Brown Teal, a scarce endemic. Time exploring the bush may give us more endemics such as Tui, New Zealand Bellbird, New Zealand Fantail, Grey Warbler, Whitehead and perhaps North Island Saddleback. A great day in the field! Overnight Warkworth for two nights.
Day 5: Sun 27 October - Hauraki Gulf pelagic
New Zealand is justifiably famous as the seabird capital of the world, and there is no better way to observe them than with a pelagic trip to the Hauraki Gulf. Seabirds here must be seen to be believed and among those we hope to encounter are Buller's, Fluttering, Little and Flesh-footed Shearwater, Cook's and (endangered endemic) Black Petrel, Fairy Prion and Common Diving-Petrel. Delicate White-faced Storm-Petrel can be attracted to our chumming station in good numbers, Wilson's Petrel is possible and the ultimate prize would be recently rediscovered New Zealand Storm-Petrel. Cetaceans may be seen with several active pods of Bottle-nose and Common Dolphin patrolling the coastline and Bryde's Whale more frequent at this time of year.
Day 6: Mon 28 October – Coastal Northland and Kiwi Excursion
We spend the morning exploring estuaries and tidal lagoons for a range of species, including rare breeding (with a NZ population of less than 50 birds!) Australasian Fairy Tern. A few Caspian Tern are likely and we expect to encounter (Northern) New Zealand Dotterel, Pied Stilt and flocks of migrant Bar-tailed Godwit and (Red) Knot. Roosting Pied, Little Pied and Little Black Shag are all possible as is Australasian Little Grebe at inland pools. Wildfowl may include Australasian Shoveler, Grey Teal and rare Pacific (Grey) Duck with Swamp Harrier a common bird hunting the farmland. Later we travel north to Kerikeri where we stay for the next two nights, heading out after dinner to look for Northern Brown Kiwi.
Day 7: Tue 29 October – Marsden Bay Pelagic
A second pelagic out into the famed Hauraki Gulf will optimise our chances to see all the desired seabirds which frequent this special stretch of the water. While many species will be a repeat of our earlier trip, there will almost certainly be some differences as we explore a new section of the gulf. This second opportunity allows for weather and sea conditions and with our eyes well trained, careful scrutiny of any passing Pteradroma petrel gives us a higher chance of identifying scarce Pycroft's Petrel. Even rarer species can occur, especially after storms and other surprises at sea could include Grey-faced Petrel or even our first albatross, of which White-capped (Shy) Albatross is the most regular.
Day 8: Wed 30 October - Tiritiri Matangi Island
Today we visit one of New Zealand's most iconic conservation successes - Tiritiri Matangi Island. This predator-free island has been extensively planted with native trees by voluntary workers to establish large areas of regenerating forest. A natural sanctuary surrounded by the sea, a variety of endangered endemic species including North Island Saddleback, North Island Kokako, Stitchbird, New Zealand Pigeon, Red-crowned Parakeet and prehistoric looking South Island Takahe have been successfully reintroduced here as part of New Zealand's re-wilding program. We walk along well-maintained trails on the lookout for North Island Robin and commoner species, and staying on once day tippers have left gives us a better chance to see elusive Spotless Crake on pools.
An overnight stay on Tiritiri Matangi is a unique experience and by doing so we have chances of a special encounter with Little Spotted Kiwi. And though our accommodation is on the basic side in shared rooms within a communal bunkhouse, it is well worth the effort. Morepork, Little (Blue) Penguin and perhaps endemic Tuatara (a reptile originating in the Triassic Period around 240 million years ago) are also possible on our night walk around the island.
Day 9: Thurs 31 October - Firth of Thames
Rising early we can enjoy the dawn chorus, the musical tones of North Island Kokako a particular song to savour. Leaving the island mid-morning we head south to Miranda, on the Firth of Thames - arguably one of, if not the most important wader locations in the country! We give ourselves time to look for Southern Pied Oystercatcher, (Northern) New Zealand Dotterel and more importantly, endemic Wrybill. Large numbers of trans-equatorial Bar-tailed Godwit and (Red) Knot bring with them a range of other species, including Pacific Golden Plover, Red-necked Stint, Curlew Sandpiper and Turnstone. Rarities are possible with Sharp-tailed, Marsh and Terek Sandpiper, Whimbrel and Grey-tailed Tattler some of the more regularly recorded and we should also see Black-billed Gull and Royal Spoonbill. We stay overnight at Miranda for one night.
Day 10: Fri 1 November - Pureora Rainforest
Depending on our success around the tides on the Firth of Thames, we may revisit sites in pursuit of shorebird targets. Once satisfied we begin to travel south, the days other priority location being the Pureora forest located in the heart of North Island. The so-called 'Dinosaur Forest of Gondwana', with a few hours to explore one of the finest tracts of remnant podocarp rainforest we search for New Zealand Falcon, New Zealand Kaka, Yellow-crowned Parakeet, Long-tailed Cuckoo, Shining Bronze-cuckoo and Tomtit. After adding new species from this ancient habitat, we continue on to the town of Turangi near Lake Taupo where we stay for one night.
Day 11: Sat 2 November - Tongariro National Park
Situated within the Tongariro National Park, Lake Taupo was formed within a huge volcanic crater and is New Zealand's largest inland waterbody. With snow-capped peaks all around, the National Park is unique for its long vistas, tussock grasslands, raging rivers and still (semi-) active volcanoes. Our main birding target is the rare and endemic Blue Duck (or Whio), found on the fast-flowing rivers where New Zealand Pipit may also be seen. Black Swan and New Zealand Scaup should both be abundant on Lake Taupo, with New Zealand Grebe likely here too. Wetland, marshy habitats surrounding the lake support endemic New Zealand Fernbird although they can be notoriously elusive, and if lucky we might see Australasian Bittern.
After a morning birding we have some driving to do, journeying south towards the Whanganui region on the west coast. Spectacular scenery all around as we travel includes Mount Ruapehu, North Island's highest peak and the adjacent Mount Ngaruahoe, both of which feature in the Lord of the Rings films. Selecting our stops depending on any unseen targets, ultimately we travel to Foxton on the North shore of the Manawatu estuary where we stay for one night. And if the tides are favourable, we get straight into wader watching with chances of a range of shorebirds including new species such as Double-banded Plover.

Day 12: Sun 3 November - Manawatu Estuary and the Cook Strait
Today after a few quick birding stops along the Kapiti coast with Black-fronted Dotterel in mind, we connect with the afternoon ferry to South Island. This is a sensational trip as we set sail from Wellington Harbour across a famous short stretch of sea known as the Cook Strait before entering the Marlborough Sound on South Island. A crossing of roughly three-hours, we keep a sharp eye open for White-capped and Wandering Albatross, Northern Giant-petrel, Fairy Prion, Westland Petrel and Spotted Shag. The scenery is out of this world and never to be forgotten, with Common and Dusky Dolphin possible near evening gatherings of Fluttering Shearwater as we steam into the port of Picton, where we stay for one night.
Day 13: Mon 4 November – Blumine Island and south to Kaikoura
We enjoy a slow boat trip through Queen Charlotte Sound on the lookout for threatened endemic King (Rough-faced) Shag. We can also expect excellent views of Little (Blue) Penguin, Spotted Shag, Australasian Gannet, Fluttering Shearwater, Arctic Skua and with luck, New Zealand Falcon above the forested islands. Planning to land on Blumine Island we have a chance of encountering critically endangered Malherbe's Parakeet, one of New Zealand's rarest birds, with a population of just 700. Blumine is a safe haven for a number of other species with South Island Saddleback and ubiquitous Weka also likely, the latter often greeting us as we make our beach landing. Later we drive south, and if time allows make roadside birding stops which might include a visit to Lake Elterwater where three species of grebe are possible – New Zealand, Hoary-headed and Australian Great-crested. By late-afternoon we reach the east coast and the Pacific Ocean, and drive on to Kaikoura, once a quiet whaling town but now a bustling hub for wildlife tourism. Following the scenic road south, we watch continually for waders, gulls and terns as well as gatherings of New Zealand Fur Seal and endangered Hector's Dolphin, both of which frequent this section of the coast. We stay overnight in Kaikoura for two nights.
Day 14: Tue 5 November – Kaikoura Albatross Pelagic
Today we are in for a real treat as we enjoy New Zealand's rich marine wildlife to its fullest with an exciting boat trip from Kaikoura. Due to the depth of the Kaikoura Canyon just offshore, we can reach water 4,000m deep within half an hour, allowing us to really get amongst the seabirds and cetaceans. Although the species list varies throughout the year, in any season we can expect to see up to 15 species of seabirds, many at just a few feet away during our 2 ½ hour trip. Huge albatrosses steal the show, with Northern and Southern Royal, 'Gibson's' Wandering, Salvin's, Buller's, White-capped, and Black-browed all possible. Also likely are stunning Cape Petrel, brutal looking Northern Giant-petrel plus Westland, White-chinned and Grey-faced Petrel. Endemic Hutton's Shearwater, of which the entire population breeds in the spectacular mountains behind Kaikoura should be seen, and there is always a chance of a rarer seabird around the chum. The area is also renowned for Dusky, Hector's and Common Dolphin and we may see these during our voyage.
The afternoon will be considered 'free time' with the chance to relax a while and enjoy the town, though given the maritime nature of Kaikoura there are plenty of activities available. Costs for such are not included and you may decide to join a Whale-watching boat trip, which run regularly with a good chance of Sperm Whale. Repeating the albatross boat trip is another option as is swimming with dolphins – there is no getting bored in Kaikoura!
Day 15: Wed 6 November – Arthur's Pass
Leaving Kaikoura early, our journey carries us through the Canterbury Plains where endemic Black-fronted Tern may be found beside flowing rivers, often alongside Double-banded Plover. Travelling a route once used by the Maoris to Arthur's Pass, this route across the Southern Alps will introduce us to the vegetation and birds found in the mountainous regions of South Island. Bold Kea are a target, often cheekily scavenging for scraps close to humanity, and the forest trails give us a good chance to see Brown Creeper (Pipi) and delicate Rifleman. We stay overnight at Arthur's Pass town and after dinner may choose to head out to listen for Great Spotted Kiwi, which are notoriously elusive and by far the hardest of the genus to see!
Day 16: Thurs 7 November - Westland NP and Kiwi excursion.
This morning we have time to explore the local forests again if needed before heading over the pass and down to the wild (and often wet) west coast. Amongst this landscape Okarito Lagoon is one of the best places to see Great Egret and the southern subspecies of New Zealand Fernbird may also be found. Westland National Park is home to approximately 60 glaciers, unique in the world for their location in the middle of the rainforest and so close to the sea. The most famous are Fox and Franz Joseph Glaciers, and if the weather allows us we may have the opportunity to view the latter. We stay overnight in Franz Joseph township, and in the evening take an excursion to search for endangered Okarito Brown Kiwi, the rarest kiwi with a population estimate as low as just 400 birds.
Day 17: Fri 8 November - Lake Moeraki & Haast Pass
Near the peaceful Lake Moeraki, a delightful walk to the coast through the forest brings us onto a golden beach, where a colony of rare Fiordland Crested Penguin breed. These entertaining birds are strictly protected, though from a safe distance we can sit and watch the adults braving the crashing breakers to bring food for their hidden youngsters. Later, having ascended Haast Pass through the southern Beech forests, we can take another walk for forest species including Long-tailed Cuckoo, Rifleman, Brown Creeper, (South Island) Tomtit and perhaps rare Yellowhead. We then drive along the pass through the Alps to Lake Wanaka, where we stay in the town overnight.
Days 18 & 19: Sat 9 & Sun 10 November - Fiordland World Heritage Area
Driving through some of New Zealand's most spectacular scenery, the Fiordland World Heritage Area is both stunning and brutal the same time. Much of the region is inaccessible, raking valleys gouged by glaciers and lakes, nestling between range-upon-range of snow-capped mountains. With just one road in and out of the Eglinton Valley we have a fair amount of driving but with two days here and just a few targets, there is time to relax and take it all in as we explore. Endemic New Zealand Rock Wren is our primary target, a reclusive bird which can take anywhere from 5 minutes to 5 hours to find! A species more at home above the bush-line, and with just a handful of accessible sites our options for this primitive passerine are limited but with two days here we double our chances. Also likely in more forested areas are Kea, New Zealand Kaka (South Island subspecies), Yellow-crowned Parakeet, South Island Robin, Rifleman, Brown-creeper and Shinning Bronze-cuckoo.
On our second day we drive deeper into the Eglinton Valley to Milford Sound, arguably the most famous of destinations for the visiting tourists. And a visit here would not be complete without a cruise through the dramatic canyon on deep, icy blue waterways that flow into the Tasman Sea. During our scenic cruise we look out for Fiordland Crested Penguin with Bottle-nose Dolphin and New Zealand Fur Seal possible too. After our boat trip there may be further birding opportunities as we return through the glaciated valleys. The southern subspecies of Blue Duck is certainly worth looking out for on fast-flowing rivers, being touted as a future split. We can look for New Zealand Rock Wren again, walk trails for forest species or watch Black-fronted Tern and New Zealand Pipit at the braided rivers. Overnight at Te Anau for two nights.
Days 20 & 21: Mon 11 & Tue 12 November - Stewart and Ulva Islands and pelagic seabirds
Leaving Te Anua early-morning, we travel south to Invercargill and then onto Bluff for the morning ferry across the Foveaux Strait to Stewart Island. The South Pacific oceans support a rich diversity of seabirds and on the one hour crossing we may encounter White-capped and Salvin's Albatross, Sooty Shearwater, Common Diving-petrel, Fairy Prion and Brown Skua. With almost two full days, a range of activities and a variety of habitats to explore on Stewart Island, we may actually leave New Zealand's third largest island no sooner have we arrived. Nearby Ulva is an island sanctuary for threatened wildlife, predator free since 1997 and just a short water taxi away. Time walking the forest trails can yield fantastic views of native species including (Stewart Island) Weka, South Island Saddleback, Yellowhead, South Island Robin, Brown-creeper and Red and Yellow-crowned Parakeet. After dark we take an excursion for Southern Brown Kiwi (of the Stewart Island subspecies), and we should also here Morepork calling.
A pelagic trip into the South Pacific will also be planned, and as we steam out via Paterson Inlet we look out for Yellow-eyed and Fiordland Crested Penguin, Foveaux Shag and endemic New Zealand Sea Lion. In deeper water we have excellent chances of a wide variety of seabirds including Southern Royal, 'Gibson's' Wandering, White-capped, Salvin's, Black-browed and Campbell Albatross, Northern and Southern Giant-petrel, Broad-billed and Fairy Prion, Sooty Shearwater, Mottled Petrel, Common Diving-petrel, Brown Skua and potentially a rarity. We stay for two nights at Oban the main town on Stewart Island, so may attempt to search for kiwi again if needed.
Day 22: Wed 13 November – Invercargill to Oamaru
Bidding a fond farewell to Stewart Island, we depart on the morning ferry with further chances for seabirds as we cross the strait. Once in Bluff we have a number of local birding options and if the tides (and weather) are favourable may spend a few hours exploring the Awarua estuary for new waders. Equally, wetland sites around Invercargill can be worthy of a visit, as is Sinclair Wetlands just outside Dunedin for another chance at New Zealand Fernbird. Later, after a few hours driving we reach the rugged east coast, and if time allows will investigate rocky inlets and beaches for Otago Shag and increasingly rare Yellow-eyed Penguin. Overnight Oamaru for one night.
Day 23: Thurs 14 November – Mackenzie Basin
Working our way north along the coast we may stop for any birds or mammals seen en route, though our priority will be to head inland and into the dramatic Mount Cook National Park. Amidst spectacular mountain surroundings, we visit a number of sites within the arid Mackenzie Basin searching for the world's rarest shorebird – Black Stilt! Critically endangered with a population of just over 100 birds this can take some time as we search the lakes and braided rivers for this special New Zealand endemic. Wrybill and Black-fronted Tern also breed in the same habitats, and we watch for New Zealand Falcon too. We stay overnight within the basin at Twizel for one night, and there is no better place to finish our tour than with views of the Southern Alps, including Mount Cook, New Zealand's highest peak.
Day 24: Fri 15 November - Mount Cook NP to Christchurch
We have some time to look for Black Stilt and Wrybill again within the Mackenzie Basin in the morning, before travelling north to the city of Christchurch. We will reach the airport in Christchurch around 1pm, ready for a late afternoon overnight flight back to the UK. We expect to arrive back in the UK on Day 25, Saturday 16 November. Should you wish to 'stopover' during the return journey (not included in holiday price), please contact our office.
Disclaimer: Our excellent agents in New Zealand are constantly developing itineraries, and sometimes choose alternative sites or activities based on what we determine to be best for the tour. This itinerary should be used as a guideline subject to trip circumstances, weather, and local information. This particularly applies to weather dependent features including pelagics, but visits to land-based sites may change and other sites may be visited instead.
Please note: all itineraries are given as a guide only. Actual holiday content may vary according to the judgement of your guide, and elements beyond our control (eg weather).
What's included in your holiday price:
scheduled return flights to New Zealand. Exact route still to be determined but likely are outbound London Heathrow - Auckland and returning Christchurch to London Heathrow (with transferring via Auckland a possibility). Airport taxes and transfers are also included.
ground and boat transportation as outlined.
full-board, en-suite accommodation, including breakfast, lunch and dinner, with the exception of one night's stay on Tititiri Matangi Island. This will be in a shared bunkhouse (the only available accommodation), and our meals will be prepared by our local guide.
the services of your leaders.
field trips as specified, including entrance fees to Tiritiri Matangi, inter-island ferry transfer, National Park fees, organised Kiwi excursions (North Island Brown, South Island Brown and Okarito) and Milford Sound cruise.
four pelagic boat trips, though please be aware these are weather dependant (and optional). In the event of a cancellation every attempt will be made to re-schedule if possible.
the Heatherlea ANZAC Pre-Flight Service offers everything you need at the airport, including hotels, car parking, airport lounges, regional flights, and upgrades. Let Heatherlea take the strain! Pre-flight airport hotel and lounge included free of charge subject to terms and conditions. Read more....
Free Field Guide! - 'Birds of New Zealand' by Barrie Heather and Hugh Robertson is included in your holiday price. One copy per room booked.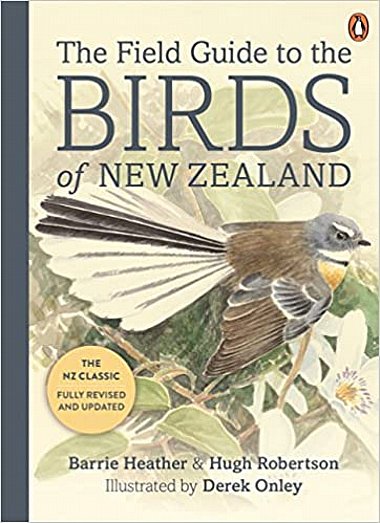 What's not included in your holiday price:
personal insurance, drinks and other personal expenses, visa costs where necessary, optional tips to local guides/other staff, and any other costs not specified as 'included'.
More holiday information:
Accommodation: Accommodation is chosen for its proximity to good wildlife viewing areas and are generally in comfortable motel/bed-and-breakfast type establishments. At most sites we accommodate all guests in en suite facilities with the exception of one night's stay on Tititiri Matangi Island. This will be in a shared basic bunkhouse (the only available accommodation), and our meals will be prepared by our local guide. These sites offer us the best chances of some very special species so we wouldn't want to miss them!

Group size: There will be a maximum of 8 clients on this departure.

Visas: You do not need a visa to enter New Zealand however, you will need to get a New Zealand Electronic Travel Authority (NZeTA) before you travel. The NZeTA costs NZD $17 if applying via the dedicated mobile app, or NZD $23 if completed online via the Immigration NZ website. You will also need to pay an International Visitor Conservation and Tourism Levy (IVL) of NZD $35 when you apply. Once issued, the NZeTA is valid for up to two years. The New Zealand immigration authorities recommend that applicants allow up to 72 hours for processing.

Meals and drinks: Breakfast generally consists of a continental style breakfast with cereal, fruit and yoghurt and tea/coffee. Full cooked breakfast is not generally possible at most locations. Lunch will generally consist of a packed lunch style meal eaten in the field, with sandwich/filled roll, fruit, and a drink. Dinner will consist of several options for main, with the choice of either an appetiser or dessert.

Pelagic's: This activity is weather dependent and there is no guarantee that we will be able to go to sea. Photographic and optical gear is at risk of salt spray so care must be taken to protect valuable items during and after the trip.

Weather: New Zealand's spring months are September to November, bringing variable temperatures, sunshine and rain. Bring comfortable clothing and anticipate a similar range of temperatures to Britain – it can be changeable due to the country being small oceanic islands with high mountains, expect some cold and windy weather in the Southern Alps, and possibly also from wind chill on marine excursions.. Rain is possible at all times. Temperatures are likely to range from 8 - 23 degrees Celsius during November.

Daily Routine: While this is not a fast-paced tour, this is still a fairly intensive birding trip. We will take advantage of the heightened birding and wildlife activity of early mornings and afternoons and enjoy some evening spotlighting excursions. Expect a lot of travelling by road, which we will break up with birding and comfort stops. There are several pelagic boat trips to enable us potentially close and personal views of sought after seabirds. Most days will start with an early breakfast followed by an excursion and then a picnic lunch to maximise time in the field. We typically then enjoy an afternoon excursion and have a bit of downtime in the late afternoon/early evening before dinner.

Walking: This itinerary is low impact and requires a low to moderate (or better) level of fitness. There is no demanding walking on this tour with the birding/wildlife locations easily accessible on foot. Guests can expect comfortable walking at the pace of a stroll and while walking is mostly on flattish trails and dirt tracks there will be the occasional hill and uneven terrain. In order to enjoy the tour to it's fullest you should be able to walk for at least 45 minutes or more on undulating terrain without significant help
Flights: Included in your holiday price are scheduled, economy seats from London- Auckland, Christchurch – London. Many of our guests may choose to spend more time in New Zealand, heading out before the trip starts and meeting us at the airport or remaining behind after to visit other parts of the country. We can arrange flights accordingly, please speak to the office for more details.
Biting insects: Although biting insects are not regularly encountered on this tour, mosquitoes (malaria free) may be present at certain places. Wasps and bees occur but are generally not a nuisance.
Photography: There should be good opportunities throughout this trip. You can find a wealth of wonderful images throughout New Zealand. If you are a serious photographer, please note this is predominately a wildlife holiday, and opportunities will be limited by wildlife considerations, though you should have lots of opportunity. Camera equipment should be packed in moisture and dust-proof bags as a precaution.
The itinerary: Whilst we aim to follow the itinerary as planned, please note that the itinerary provided should only be used as a guideline. Depending on individual trip circumstances, weather, and local information, the exact itinerary may not be strictly adhered to. The guides reserve the right to make changes to the itinerary as they see fit.
Why choose Heatherlea for your birding and wildlife holiday?
Our overseas holidays are planned with care to offer great birding and wildlife, led by capable Leaders who really look after you. Every holiday is run the 'Heatherlea Way', and we hope our Overseas Adventures remind you of the quality and care so many of you enjoy in Scotland. That means rewarding and exciting days in the field, and good quality accommodation and meals, with a real flavour of the country we are visiting. Heatherlea always seek to include the personal touches that make all the difference.
Heatherlea holidays are not 'dawn to dusk' expeditions. Our less-intensive approach is ideal for those who want to relax whilst experiencing the best wildlife watching, and wherever possible we organise early or late activity on an optional basis. We also take sensible breaks when in very hot places and regular comfort breaks on every holiday whenever possible. All itineraries are planned carefully around the best wildlife opportunities, and you won't miss out on memorable wildlife, whilst enjoying relaxed, informal days that are great fun.
The really important part of any wildlife holiday is the experience for you, our valued customer. Heatherlea invest in many things to offer you the best possible service;
We have been organising birding and wildlife holidays for over 30 seasons, and have a highly experienced and capable office team. We also offer a telephone and email service outside normal office hours.
Heatherlea overseas holidays have a maximum of 12 clients per trip, putting the emphasis on personal service, and helping you get the best possible experience.
Our holidays often include things which others might invite you to pay yourself, for instance Departure Taxes and tips to hotels.
All elements of our holidays are sold under our own licence, ATOL 6113. Under 'Flight-Plus' legislation it is a legal requirement of any tour operator to hold an ATOL licence for the supply of any overseas holiday where a flight is involved, if that holiday includes either overseas accommodation and/or car hire. It can be a criminal offence for an operator to book flights as part of a package without an ATOL licence. Heatherlea also hold full Tour Operator Insurance for your added protection.
Heatherlea is your complete wildlife holiday provider. Our 'Back Office' team can organise all your pre-flight and other travel needs. Our specialists will help you book the right services, at the best price. Book holiday extensions through us, and your ATOL protection is extended further. We don't charge extra for this service.
Heatherlea is a limited company, registered in Scotland, and registered to pay VAT (applies to all holidays within the European Union).
Trip Reports
Free Bird Guide

FREE copy of Field Guide to the Birds of New Zealand with every room booked on this holiday.