NEW!

Uzbekistan & Kyrgyzstan
A journey through the heart of the Great Silk Road.
Free Bird Guide

FREE copy of Birds of Central Asia with every room booked on this holiday.
Central Asia is a vast, sparsely-populated, remote area steeped in ancient history, with some of the most jaw-dropping scenery, abundant wildlife, and the most colourful and impressive culture on Earth.
This new and unique Heatherlea holiday will explore the rich splendour of Uzbekistan and the rugged beauty of Kyrgyzstan, all at a relaxed pace, staying in hotel accommodation throughout, and travelling between areas by a combination of modes of transport, including train – just watch as the impressive, open landscape rolls past! We will spend time in a variety of habitats from high mountains to deserts, and enjoy both the natural history and the culture of a part of the world which has remained a well-kept secret in recent history.
We will explore this important ancient cultural crossroads between east and west – the very heart of Great Silk Road - with fabled historical sites and extravagant and beautiful architecture combined with incredible meadows of spring flowers, unusual dragonflies, a huge variety of butterflies, and some very special birds, including Asian Paradise Flycatcher, Long-tailed Shrike, Rufous-naped and Yellow-breasted (Azure) Tits, White-tailed Lapwing, Ménétries's Warbler, Blue-cheeked Bee-eater, Hume's Lark, Persian Nuthatch, Finsch's and Variable Wheatears, White-throated Robin and the enigmatic Pander's Ground Jay.
We begin in Samarkand, where we combine some excellent birding (White-crowned Penduline-Tit, White-capped Bunting) with the cultural delights of the ancient city, all of which offer exquisitely, elaborately tiled, painted and carved buildings. We then head to Bukhara, one of the most important early trading centres with its wealth of historical sites, bustling traditional bazaars, turquoise blue domes and towering minarets - and extensive reedbeds and wetlands where we will add many more birds to our list! We take an early morning visit the Kyzylkum Desert, where the Ground Jay is our target, before heading to Tashkent and the lush, wooded Chimgan Hills, where we will see various raptors, tits, warblers and thrushes amongst other species. We then fly to Kyrgyzstan, where we explore Bishkek (Pallas's Gull, Masked Wagtail, Daurian Shrike, Demoiselle Crane, Pallas' Sandgrouse) and Karakol, where we head into the Tian Shan Mountains. Through rich floral meadows, and high above the tree line, we hope to see Lammergeier, Ibisbill, White-tailed Rubythroat, Altai and Brown Accentors, and the jewels in the crown - the White-browed Tit Warbler and Güldenstädt's Redstart. Along the dry zone bordering the dark blue Issyk-Kul Lake, we will see an abundance of butterflies and plants, some extraordinary, multi-coloured rock formations and geology, and some different bird species, including Mongolian Desert Finch and Rufous-tailed Rock Thrush before returning to Bishkek, and the splendid Ala-Archa National Park, with chattering tits and warblers, the highly vocal Blue Whistling Thrush, and butterflies everywhere, including seven species of Apollo!
This tour has been designed to appeal to those who enjoy a mix of focus on birding trips, with superb general wildlife, unique culture and history, awesome landscapes, and inquisitive, friendly locals. We use hotel accommodation throughout, meaning no sharing tents, and includes places with a long history of serving good cuisine to intrepid travellers – which includes (but certainly is not limited to) interesting local delicacies! There are some early mornings to give us the best chances of seeing the target wildlife at its most active, but it is generally at a relaxed pace, with some great photographic opportunities available, both of the wildlife and life in the cities. An incredible new addition to our calendar!
Enjoy your complimentary pre-flight overnight hotel before your holiday begins. Full details from our office! Read more about our Pre-flight Service here!
Day 1: Sat 8 June 2024 - Fly from London Gatwick to Tashkent.
After relaxing in our complimentary VIP Airport Lounge, we take an overnight flight over Eastern Europe and the Caspian Sea, arriving the following morning into Tashkent in Uzbekistan.
Day 2: Sun 9 June - Tashkent to Samarkand.
After arriving at Tashkent airport, we will be met by our local guides, and after a hearty breakfast, we will drive to Samarkand. En route we will hopefully have Variable Wheatear staked out for us, and will see nesting colonies of White Storks as we start to acquaint ourselves with the common birds of Uzbekistan. We should arrive in Samarkand in time for some preliminary exploration of this fabulous, historical city. Overnight: Malika Prime Hotel, Samarkand.
Day 3: Mon 10 June - Samarkand.
A more relaxing day based in and around the ancient city of Samarkand, but to avoid the midday heat, we will have an early morning start, driving out of the city to rocky, scrub and bush-covered hills of the Takhtakaracha Pass lying between Samarkand and Zarafshan, where Tamerlane roamed in centuries past, and where many travellers and caravans journeyed as a shortcut along the Silk Road. Amongst our target birds will be White-throated Robin along with Eastern Orphean Warbler and the obscure Hume's Lark. Also here are Eastern Rock Nuthatch, Finch's Wheatear, Turkestan and Yellow-breasted Tits, Asian Paradise-Flycatcher and White-capped Bunting. We return to Samarkand in time for lunch, and will wander from our hotel into the quiet, small ancient city area to explore its historical treasures. The massive Bibi-Khanym mosque (once the largest in Central Asia), The Registan, Timur's Mausoleum, the Street of Tombs and the local bazaar present a stunning and memorable "visual overload" of exquisitely elaborate tiled, painted and carved buildings. Overnight: Malika Prime Hotel, Samarkand
Day 4: Tues 11 June - Samarkand to Bukhara.
We visit wetlands on the outskirts of Samarkand for such specialties as White-crowned Penduline Tit (or spend more time immersing ourselves in the historical delights of Samarkand), before continuing our journey along the Silk Road to Bukhara. Formerly one of the most important trading cities anywhere in Central Asia, there is a rich and colourful history and an overwhelming number of historic sites of interest. The turquoise-blue domes and towering minarets of Bukhara provide a wonderful backdrop to our stay here, while the markets and covered bazaars are bustling. This is a great place to barter for a huge range of very inexpensive souvenirs such as jewellery, spices and the famous Bukhara rugs. Needless to say, we shall have some time to explore this wonderful city. Overnight: Malika Bukhara Hotel, Bukhara
Day 5: Wed 12 June - Bukhara.
We will spend the morning exploring wetlands which surround the oasis city of Bukhara. These oases can be extremely attractive to a wealth of water and marsh-loving species, and we hope for plenty of Pygmy Cormorant, Dalmatian Pelican, Glossy Ibis, an abundance of herons and egrets, Blue-cheeked Bee-eater, White-tailed Lapwing, plus perhaps scarcer finds such as Marbled Duck. The extensive reedbeds, marshy and dry scrub cover here is home to many additional smaller species of interest: Ménétrie's Warbler, Clamorous and Eurasian Reed Warblers, Rufous-tailed Bush-Robin, Pied Bushchat and Long-tailed Shrike (the latter two at the furthest west of their Asiatic range). Returning to the city by late morning, we will be able to spend more time discovering further historical delights—the Ark (the fortified citadel of the Emir within the immense city walls), the Bolo-Haouz Mosque, the 10th century Ismail Samani Mausoleum and the Char Minar with its four elaborately tiled minarets. Overnight: Malika Bukhara Hotel, Bukhara
Day 6: Thurs 13 June - Bukhara to Tashkent.
Today's birding will perhaps be one of the most memorable! A very early start must be made as we travel into the Kyzylkum Desert, where we expect to arrive just after dawn. This very special region is home to one of the most sought-after of all the birds that occur in Central Asia—the legendary Turkestan (Pander's) Ground Jay. They are best located in the cool of the early morning when they can often be found along the roadside. We will return to Bukhara for lunch followed by some relaxing local birding and/or more opportunities to take in our last sights of Bukhara, including the historic town centre with its surrounding old madrasahs, the Kalyan Minaret—a 150-foot-tall tower built in the 12th century, and also the Mir-i-Arab Madrasa and Trade Domes. In the evening we will take a train from Bukhara, arriving back in Tashkent in time for dinner. Overnight: Comfortable tourist hotel, Tashkent
Day 7: Fri 14 June - Chimgan Hills.
We plan to spend our final day in Uzbekistan discovering the Chimgan Hills. These lush, green hills will provide a perfect ending to our time in this friendly country, where Yellow-breasted Azure Tit and Rufous-naped Tit are the main attractions, and we will do more than our best to see these birds. Overhead we might see European and Oriental Honey Buzzards. The hills are set amid mixed forest, and we should find Red-rumped Swallow and House Martin as well as Common Nightingale, Hume's Whitethroat, and Greenish and Hume's Leaf Warblers. We will arrive back in Tashkent in time to enjoy a final dinner in a local traditional Uzbek restaurant. Overnight: Comfortable tourist hotel, Tashkent
Day 8: Sat 15 June - Fly to Bishkek.
After a final morning's birding in the city parks of Tashkent, we will drive to the airport and take a flight to the attractive city of Bishkek in Kyrgyzstan. If time permits, we will commence our exploration of the Bishkek area immediately. Good flocks of waterfowl are likely to be present, but Pallas's Gull, Azure Tit, Masked Wagtail, Daurian Shrike, Hume's Warbler and Demoiselle Cranes are all possible. In the afternoon we return back to our hotel where we will enjoy a lovely welcome dinner. Overnight: Comfortable tourist hotel, Bishkek
Day 09: Sun 16 June - Bishkek to Karakol.
Today we leave Bishkek behind us and drive to the largest city in eastern Kyrgyzstan - Karakol. This city was a former Soviet navy testing site where submarines were tested in the deep waters of the vast Issyk-Kul lake. We will be birding en route, travelling alongside the Issyk-Kul for much of the journey, and hoping to come across species like Pallas's Sandgrouse or the rare Pine Bunting. Overnight: Greenyard guesthouse, Karakol
Day 10: Mon 17 June - May Saz
Today we drive up the Chong Ashuu Pass - the highest pass we visit during this tour in Central Asia. At 3822 metres, we go far above the tree line and look for some special flora and fauna. On the way up, we drive through meadows full of False Helleborine, blue Jacob's Ladder, purple and blue Clustered Bellflower, and wine red Aquilegia atrovinosa. Fast-flowing rivers hold both White-bellied and Brown Dippers, Lammergeier patrol the sky, and the lush meadows are home to one of the strangest waders of the world - the elusive and enigmatic Ibisbill. Whilst popular species like White-tailed Rubythroat and Altai and Brown Accentors are quite common at these altitudes, the gorgeous White-browed Tit Warbler needs some more time, just like his colourful friend the Güldenstädt's Redstart! In the evening we return to our lovely guesthouse in Karakol. Overnight: Greenyard guesthouse, Karakol.
Day 11: Tues 18 June - Barskoon Gorge & Jeti Ögüz
Today we explore the Issyk-Kul coast and we come across blooming Sage and Central Asian Marbled White - the first flora and fauna we come across. The road leading along the lake is breathtaking, and we will stop on a few occasions just for the spectacular scenery! In the Barskoon Gorge we find many fine stands of the beautiful, lilac Primula nivalis ssp farinosa and the eye-catching Desideria flabellata with its dense heads of pale lilac flowers. In the afternoon we visit Jeti Ögüz – a famous red rock formation (the name derives from the rock formation's resemblance to seven bulls) and a legend about a khan's (a Central Asian Lord) unfaithful wife! The rock formation is a well-known landmark in Kyrgyzstan and is seen as a national symbol. On the meadows nearby, we find stands of purple Dictamnus, Bonnet Bellflower, as well as the white, Edelweiss-like Leontopodium fedtschenkoanum, blue Polygala hybrida and a few small blue Allium Caesium, and arrive back in Karakol in the evening. Overnight: Greenyard guesthouse, Karakol
Day 12: Wed 19 June - Tamga
We spend a full day exploring the very special place called Fairy Tale Canyon which consists of convoluted multicoloured clay hills and inclined strata. Interesting flowers include the fragrant, purple Sea-lavender Limonium kaschgaricum, the tough yellow Scutellaria przewalskii, the mint Lagochilus seversianus, and the dark spikes of the parasitic Cynomorium coccineum – General's Root. The birdlife is abundant with Eastern Black Redstart, Mongolian Desert Finch and Rufous-tailed Rock Thrush to name a few of the species we might come across. In the evening we return to our lovely guesthouse where we go through our daily checklist. Overnight: Greenyard guesthouse, Karakol.
Day 13: Thurs 20 June - Karakol to Bishkek
We depart Karakol for a long day heading back to Bishkek. We will make a few stops along the way, hopefully adding more species, as we enjoy the varied landscape Kyrgyzstan has to offer. We plan to arrive in Bishkek during the early evening for a lovely meal in the city centre. Overnight: Comfortable tourist hotel, Bishkek
Day 14: Fri 21 June - Ala-Archa
We spend our last full day visiting the splendid Ala-Archa National Park, located only 40km south of Bishkek. Large coniferous trees are suitable habitat for Greenish Warbler, Hume's Warbler, Rufous-naped Tit and Azure Tit, and along the white-water rivers, we search for the finest songster of the region - the Blue Whistling Thrush! Next to the birds, there are many gorgeous butterflies are on the wing - Mountain Apollo, Banded Apollo, and Clouded Apollo are just three of the seven species of Apollo alone we can encounter in the park! Overnight: Comfortable tourist hotel, Bishkek
Day 15: Sat 22 June - Fly Bishkek to London
After a wonderful holiday in Central Asia it is time for us to say goodbye. We say our farewells at Bishkek Airport from where we fly back home.
Please note: all itineraries are given as a guide only. Actual holiday content may vary according to the judgement of your guide, and elements beyond our control (eg weather).
What's included in your holiday price:
return scheduled flight from London Heathrow - Tashkent - Bishkek - Heathrow. Airport taxes, baggage and hand luggage up to airline included limit.
airport transfers, ground transportation, accommodation and meals as specified.
the services of Heatherlea leaders.
The Heatherlea Pre-Flight Service offers everything you need at the airport, including hotels, car parking, airport lounges, regional flights, and upgrades. Let Heatherlea take the strain! Pre-flight airport hotel and lounge included free of charge subject to terms and conditions. Read more....
What's not included in your holiday price:
travel to and from departure airport before and after holiday, in-flight meal, baggage above airline included limit.
incidental tips, expenses of a personal nature including drinks and personal insurance.
More information:
Accommodation: Is en-suite throughout, in comfortable, well-located hotels and guest houses. The hotels in Samarkand and Bukhara are sister properties, both are 4*, very modern, western, and clean with excellent wi-fi, and are located in the heart of their respective cities.
Food: Food is good throughout. Breakfast is usually served as a buffet, and lunch and dinner are usually traditional local dishes - some of which can be interesting! For convenience, we will take some boxed-lunches when in the field, and may take some boxed-breakfasts if we require the cool, wildlife-rich mornings to find birds before the midday heat kicks in. Vegetarian and other diets are welcome, even though the standard cuisine of Central Asia is very much based on meat. All meals will include water, and a water dispenser will be available on our bus, please bring your own water bottle so you can refill it as you need to. Local beverages (such as fermented sheep milk in Kyrgyzstan and fermented camel milk in Uzbekistan) is optional!
Walking: The holiday is not strenuous. Walking can be described as generally very easy, on roads, paths and tracks, with some gentle inclines.
Weather: Typically, temperatures range from about 14ºC in the mountains to about 30ºC in the "heat" of the day. Nights are cooler. Sunshine should be plentiful, although some rain is possible.
Insects: Biting insects can be expected at times, and we recommend a good insect repellent.
Group size: Is restricted to 12 clients maximum.
Flights: Are by scheduled airline, from London Heathrow. We may be able to offer flight arrangements from another airport and/or or quote without flights so you can make your own arrangements. If you wish to add an extension either before or after your holiday, please contact us and we will be happy to arrange this for you.
Your Leaders:
Mike Coleman
Ever-popular Mike has been with Heatherlea since 2001, and is an experienced Leader in many countries around the world. As well as living and working above the Arctic Circle and in Japan, Mike has led ornithological trips across Europe, Asia, North America and the Caribbean, and has also edited ornithological publications, most recently 'Birds of Estonia', published in 2018.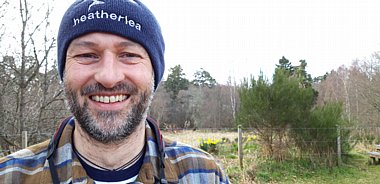 Why choose Heatherlea for your birding and wildlife holiday?
Our overseas holidays are planned with care to offer great birding and wildlife, led by capable Leaders who really look after you. Every holiday is run the 'Heatherlea Way', and we hope our Overseas Adventures remind you of the quality and care so many of you enjoy in Scotland. That means rewarding and exciting days in the field, and good quality accommodation and meals, with a real flavour of the country we are visiting. Heatherlea always seek to include the personal touches that make all the difference.
Heatherlea holidays are not 'dawn to dusk' expeditions. Our less-intensive approach is ideal for those who want to relax whilst experiencing the best wildlife watching, and wherever possible we organise early or late activity on an optional basis. We also take sensible breaks when in very hot places and regular comfort breaks on every holiday whenever possible. All itineraries are planned carefully around the best wildlife opportunities, and you won't miss out on memorable wildlife, whilst enjoying relaxed, informal days that are great fun.
The really important part of any wildlife holiday is the experience for you, our valued customer. Heatherlea invest in many things to offer you the best possible service;
We have been organising birding and wildlife holidays for over 30 seasons, and have a highly experienced and capable office team. We also offer a telephone and email service outside normal office hours.
Heatherlea overseas holidays have a maximum of 12 clients per trip, putting the emphasis on personal service, and helping you get the best possible experience.
Our holidays often include things which others might invite you to pay yourself, for instance Departure Taxes and tips to hotels.
All elements of our holidays are sold under our own licence, ATOL 6113. Under 'Flight-Plus' legislation it is a legal requirement of any tour operator to hold an ATOL licence for the supply of any overseas holiday where a flight is involved, if that holiday includes either overseas accommodation and/or car hire. It can be a criminal offence for an operator to book flights as part of a package without an ATOL licence. Heatherlea also hold full Tour Operator Insurance for your added protection.
Heatherlea is your complete wildlife holiday provider. Our 'Back Office' team can organise all your pre-flight and other travel needs. Our specialists will help you book the right services, at the best price. Book holiday extensions through us, and your ATOL protection is extended further. We don't charge extra for this service.
Heatherlea is a limited company, registered in Scotland, and registered to pay VAT (applies to all holidays within the European Union).
Free Bird Guide

FREE copy of Birds of Central Asia with every room booked on this holiday.