NEW!

China - Qinghai province and the Tibetan Plateau
Birding 'The Roof of the World'
Often described as 'The Roof of the World', the Tibetan Plateau has long held a fascination for western birders, and we are delighted to offer this spectacular tour visiting the major birding sites both here and also in Xining, the capital of Qinghai province in central China. We travel during summer, when birds are at their most active and the weather should be relatively mild among wonderful high-altitude scenery.
We begin in Xining the westernmost province of China, progressing to Chaka, the Rubber Mountain, Er La Shan Pass, Nangqian, and finally Yushu from where we transfer by air to Lhasa, the centre of the Tibetan Buddhist world for over a thousand years. There are many endemic and localised species to look for, including Szecheny's Monal Partridge, Tibetan Snowcock, Himalayan Snowcock, Tibetan Eared-Pheasant, Prince Henri's (Brown-cheeked) Laughingthrush, Giant Babax, Black-necked Crane, Ibisbill, Tibetan Sandgrouse, Tibetan Lark, Mongolian Lark, Pink-tailed Finch, Pere David's, Henri's and Blanford's Snowfinch and many more. We also plan to devote time looking for mammals including the rare and beautiful Snow Leopard. In Lhasa we enjoy both birding and cultural highlights at Potala Palace, Jokhang Temple and Barkor Street, before a dinner with traditional dancing. A truly memorable tour to 'The Roof of the World'!
Days 1 and 2: Saturday 13 and Sunday 14 June - Arrival in Xining
We fly from Heathrow via Chengdu (where we meet our local guide) to Xining, the capital of Qinghai province in central China, and transfer to a nearby hotel to rest, preparing for the exciting birding ahead.
Day 3: Monday 15 June - The Xining Hills and Dong Xia Forest Park
We get straight into quality birding, spending a full day exploring nearby sites. Within striking distance of the city, the Xining Hills are home to several key species and we search the slopes for Pale Rosefinch, Pere David's Laughingthrush, Pied Wheatear, Rufous-tailed Rock Thrush, Rufous-breasted Accentor, Godlewski's and Meadow Bunting and check off commoner species too. This should be a great start, yet with much more to see we move on to Dong Xia Forest Park, where a big target is subtly-plumaged and range-restricted Gansu Leaf Warbler. Walking in this attractive area, birds which may also make the first day's checklist include Przevalski's and Chinese Nuthatch, Crested Tit-Warbler, Grey-backed Shrike, Asian Azure-winged Magpie (recently classed as a distinct species from Iberian Magpie), White-throated Redstart, Siberian Rubythroat and perhaps Himalayan Bluetail. Elliot's and Plain Laughing-thrush may also be seen, plus Hume's Warbler, White-winged Grosbeak, Black-faced Bunting and many others. We stay overnight at Huzhu, about an hour north of Xining, for two nights.
Day 4: Tuesday 16 June - Birding around Huzhu
Nearby areas within the Quinghai and Gansu provinces offer plenty including endemics Blue-eared Pheasant and Severtzov's Grouse, though we may require an early start to see these tricky species. The forested hills and cascading valleys support a range of birds and we will explore several sites during the day. Among the species we may encounter are Blood Pheasant, Slaty-backed Flycatcher, White-throated and Hodgson's Redstart, Chestnut and Kessler's Thrush, Grey-chested Tit, Claudia's and Large-billed Leaf Warbler and Greenish Warbler.
Day 5: Wednesday 17 June - Heimahe and Koko Nor Lake
Heading west, we gain height as we reach the edge of the Tibetan Plateau. Here at an altitude of 3200 metres sits Koko Nor Lake, one of the largest in Asia, offering our first chance to add some wetland species. Black-necked Grebe, Spot-bellied and Ferruginous Duck, Pallas's and Brown-headed Gull, Whiskered Tern, Black-necked Crane and a few waders may be among the species seen. Adjacent grasslands hold Oriental Skylark, Tibetan, Mongolian, Horned and Greater and Hume's Short-toed Lark, Richard's Pipit, Eastern Black Redstart, Isabelline and Desert Wheatear, Yellow Wagtail and possibly Eastern Yellow Wagtail. Tibetan specialities such as Pere David's and Blanford's Snowfinch can also be found and after some good birding here we continue across the open landscape on the lookout for Black-eared Kite, to Chaka where we stay for the next three nights.
Days 6 & 7: Thursday 18 & Friday 19 June - Birding around Chaka
The Chaka area, made up of open plains and scrub-covered hills reaching to an altitude approaching 4000 metres hold several targets. Endemic Przevalski's Partridge and near-endemic Przevalski's Finch and Ala Shan Redstart are the main ones. Tibetan Snowcock frequent the high ground and at lower levels we look for Pallas' Sandgrouse. Other species we hope to see include Guldenstadt's Redstart, Tibetan Grey Shrike, Wallcreeper, Mongolian and Desert Finch and Pine Bunting. Not a long list, but very much a specialist one to this unique area.
Day 8: Saturday 20 June - Birding at Rubber Mountain and transfer to Gonghe
Leaving Chaka, we drive to Rubber Mountain where we will spend the morning searching for Rufous-necked, White-rumped and Tibetan Snowfinch, Rosy Pipit, Mongolian Finch, Twite, Hume's Ground Tit, Alpine Leaf-Warbler and Pink-tailed Finch, the latter being one of the main targets for the day. We then drive on to the town of Gonghe where we spend the night, and if time is on our side we can bird the adjacent areas which can be good for Magellanic Lesser Whitethroat, and Eurasian Wryneck and Hoopoe may be seen in gardens.
Day 9: Sunday 21 June - Er La Shan Pass
Driving into the hills, the landscape today will be some of the most impressive as we ascend to around 4500 metres at the Er La Shan Pass. Two important species make their home here, Tibetan Sandgrouse and Roborovski's (Tibetan) Rosefinch and we will need to hike higher to around 4800 metres to try for them. Taking it slow and steady, on the way we might come across Tibetan Snowcock, Guldenstadt's Redstart, Prince Henri's Snowfinch, Brandt's and Plain Mountain Finch. After an exciting day we transfer to Maduo for the night.
Day 10: Monday 22 June - Maduo to Nangqian
Our longest driving day, with much ground to cover as we travel deeper into the heart of Tibet. We are still passing through good habitat and our guides will consider suitable stops along the route plus impromptu ones if anything of interest is sighted. Upland Buzzard and Saker Falcon hunt the open plains and we might also pick up Hill Pigeon or Salim Ali's Swift on this leg of our journey. The wide-open countryside also yields plenty of scope to spot mammals, with Kiang (Tibetan Wild Ass), Woolly Hare, Blue Sheep and Tibetan Gazelle the most likely. Wolves are occasionally seen, no doubt attracted by the abundance of prey. After a day on the road, we will be pleased to have a more relaxing few days staying at Nangqian for the next three nights.
Day 11: Tuesday 23 June - Beizha Forest
We will be sure of some great experiences birding in this area. In the Beizha Forest we look for Szecheny's Monal Partridge, a big target and with patience we also hope to locate White-eared Pheasant and Giant Laughingthrush. With so much on offer a full day here is likely and we could also see Three-toed and Grey-headed Woodpecker, Himalayan Bluetail, White-tailed Rubythroat, Sichuan Leaf-Warbler, Brown Accentor, Three-banded and Streaked Rosefinch, Sichuan and Japanese Tit, Hodgson's Treecreeper, Tibetan Siskin, Grey-headed Bullfinch and plenty more.
Day 12: Wednesday 24 June - Kanda Shan Pass
In more open ground and at one of our highest altitudes (approaching 5000 metres) we search for endemic Kozlov's Bunting and Kozlov's Babax at an accessible location. It will be another day with spectacular views where raptors hunting high ground can include Lammergeier, Himalayan Griffon Vulture and Golden Eagle. We have a second chance of Pink-rumped Rosefinch and will look for Spotted Great Rosefinch, Himalayan Rubythroat, Stolicks's Tit-warbler and stunning, cobalt blue Grandala. A fine supporting cast includes Tibetan Partridge, Snow Pigeon, Wallcreeper, Pale Martin, Elliot's Laughingthrush, Red-fronted and Chinese-beautiful Rosefinch, Asian House Martin, Citrine Wagtail, Alpine and Robin Accentor, Daurian Jackdaw and Yellow-billed Chough. We also dedicate some time to checking mountain rivers in the Yushe area for Ibisbill, a species we very much hope to see.
Day 13: Thursday 25 June - Searching for Snow Leopard
Mammals will be our quest today, and though it will be far from easy, mysterious Snow Leopard will top the targets. A challenging day, we spend it in an area which has one of the highest densities of this elusive cat as we spend time scanning ridges and rock faces for any sign of movement. Their camouflage is just incredible and there can of course be no guarantee. Tibetan Fox, Tibetan Wolf, and rare Pallas's Cat may also be seen and we will be sure to encounter mountain birds during a day on the high slopes.
Day 14: Friday 26 June - Transfer to Yushu then fly to Lhasa
Today we transfer to Yushu for our internal flight to Lhasa, our final destination on this holiday. If time allows we will visit rivers, wetlands and marsh sites to try for Ibisbill again. Pallas's Fish Eagle might also be found with other possible additions including Ruddy Shelduck, Lesser Sand Plover, Tibetan Wagtail and the Tibetan race of Common Tern.
Days 15 & 16: Saturday 27 & Sunday 28 June - Lhasa
A mix of culture and birding as we spend our last two days exploring Lhasa. The second most densely populated area in the Tibetan Plateau at an altitude of 3490 metres, Lhasa is one of the highest cities in the world. A birding target here is Tibetan Eared Pheasant which can often be found in the grounds of a nearby monastery. The area also holds two more target species, Tibetan Blackbird and Giant Babax, and we may also see Oriental Turtle Dove, Tibetan Partridge, White-throated Dipper, Fork-tailed Swift, Eurasian Crag Martin, Asian Red-rumped Swallow, Red-billed Chough and Severtzov's Tit Warbler too. Sightseeing opportunities are plentiful and we aim to visit important Tibetan Buddhist locations including Potala Palace and Jokhang Temple and enjoy an evening of Tibetan dancing over dinner.
Day 17: Monday 29 June - Fly to Chengdu
We fly to Chengdu for our return international flight, but might also allow time for some afternoon birding around the city parks. There are a few possibilities, one option could be Huanhuaxi Park which is the largest in western Chengdu, with a varied habitat including lakes. White-breasted Waterhen, Black-capped Night Heron, Cattle Egret, Chinese Pond Heron, Vinous-throated Parrotbill, Light-vented Bulbul, Spotted Dove, Black-throated Tit, Blue-winged Minla, Russet Sparrow, Blue Magpie, Oriental Greenfinch and Yellow-billed Grosbeak may be some of the birds we see in our last birding session. We stay overnight in Chengdu.
Day 18: Tuesday 30 June - Return to the UK
Our trip comes to an end with our international flight back to the UK.
Please note: all itineraries are given as a guide only. Actual holiday content may vary according to the judgement of your guide, and elements beyond our control (eg weather).
What's included in your holiday price:
return scheduled flight from London – Chengdu and Beijing - London, airport taxes, baggage up to 20kg, hand luggage to 5kg, in-flight meal, airport transfers in China, Xi'an to Beijing airfare
twin-roomed accommodation with private en-suite bathroom and meals including breakfast and lunch, evening meal and water during the day.
the services of your Heatherlea leader and professional local guide, ground transportation.
The Heatherlea Pre-Flight Service offers everything you need at the airport, including hotels, car parking, airport lounges, regional flights, and upgrades. Let Heatherlea take the strain! Pre-flight airport hotel and lounge included subject to terms and conditions. Read more...
Free! - 'Field Guide to the Birds of China' by John MacKinnon and Karen Phillipps is included. One copy per room booked.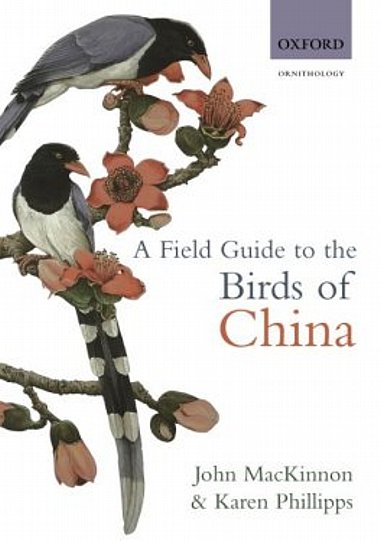 What's not included in your holiday price:
travel to and from the airport before and after the holiday, baggage above 20kg, incidental tips, drinks with meals, expenses of a personal nature and personal insurance.
More holiday information:
Accommodation Rooms are comfortable, clean and attractive with en-suite bathrooms.
Food All dinners will be inside hotels or at nearby restaurants. Food is excellent and will be local Chinese food for the majority of meals. This will vary as we travel around enjoying different Sichuan styles. There will be many different dishes of pork, chicken, fish and beef, including famous Sichuan dishes such as sweet and sour pork, kungpao chicken, fried pork with vegetable and many more. There are normally many differnet choices of vegetable dish. Many of our breakfasts and lunches are taken as picnics out in the field, though we will also take some breakfasts and lunches at our hotels or at restaurants en route. Packed breakfasts include boiled eggs, bread and jam, cake, hot drinks, fruits, nuts and chocolate bar.
Walking is generally light/moderate. There may be some uphill track and road walking, though generally an average level of fitness is required.
Biting Insects Never normally a problem; bring a good repellent just in case.
Clothing and Weather We recommend a mixture of light and warm clothing as temperatures will vary from place to place. Gloves and hat are advised especially when at altitude with daily maximum temperature at around 15C. Chengdu and other lowland areas could reach low 30's Celsius at times with a range of temperatures between the two extremes. Weather may be hot, particularly in Bejing. Please bring waterproof clothing, it hopefully won't be needed but rain is possible at any time.
Your Leaders:
Dave Pullan is a very experienced Heatherlea Leader and birder in Asia, having completed 17 birding trips in total (Thailand, China, Japan, India) to the region, including three birding visits to China, including the area around Bejing and The Great Wall. Dave is a top birder whose skills include useful experience of many Asian bird families/groups/habitats and calls.
Tang Jun has been guiding birding tours in Chengdu since 1999, and is a very experienced Leader throughout the country. Tang has a particular interest in Pheasants, Parrotbills and Laughingthrushes, three of the key families on our tour, and is also a keen bird photographer, many of his images appearing in Chinese biology handbooks and magazines. He is the main photograph author of "A Field Guide to the Birds of Qinghai & Tibet Plateau" published by China National Geography. Tang's latest book is about the thirteen Pheasant species at Balangshan, one of the key sites of Sichuan birding, and on our 2019 itinerary. The owner of our Chinese agent company, and vice-chairman of Chengdu Birdwatching Society, we are delighted that Tang can join us personally on this tour.
Why choose Heatherlea for your birding and wildlife holiday?
Our overseas holidays are planned with care to offer great birding and wildlife, led by capable Leaders who really look after you. Every holiday is run the 'Heatherlea Way', and we hope our Overseas Adventures remind you of the quality and care so many of you enjoy in Scotland. That means rewarding and exciting days in the field, and good quality accommodation and meals, with a real flavour of the country we are visiting. Heatherlea always seek to include the personal touches that make all the difference.
Heatherlea holidays are not 'dawn to dusk' expeditions. Our less-intensive approach is ideal for those who want to relax whilst experiencing the best wildlife watching, and wherever possible we organise early or late activity on an optional basis. We also take sensible breaks when in very hot places and regular comfort breaks on every holiday whenever possible. All itineraries are planned carefully around the best wildlife opportunities, and you won't miss out on memorable wildlife, whilst enjoying relaxed, informal days that are great fun.
The really important part of any wildlife holiday is the experience for you, our valued customer. Heatherlea invest in many things to offer you the best possible service;
We have been organising birding and wildlife holidays for over 30 seasons, and have a highly experienced and capable office team. We also offer a telephone and email service outside normal office hours.
Heatherlea overseas holidays have a maximum of 12 clients per trip, putting the emphasis on personal service, and helping you get the best possible experience.
Our holidays often include things which others might invite you to pay yourself, for instance Departure Taxes and tips to hotels.
All elements of our holidays are sold under our own licence, ATOL 6113. Under 'Flight-Plus' legislation it is a legal requirement of any tour operator to hold an ATOL licence for the supply of any overseas holiday where a flight is involved, if that holiday includes either overseas accommodation and/or car hire. It can be a criminal offence for an operator to book flights as part of a package without an ATOL licence. Heatherlea also hold full Tour Operator Insurance for your added protection.
Heatherlea is your complete wildlife holiday provider. Our 'Back Office' team can organise all your pre-flight and other travel needs. Our specialists will help you book the right services, at the best price. Book holiday extensions through us, and your ATOL protection is extended further. We don't charge extra for this service.
Heatherlea is a limited company, registered in Scotland, and registered to pay VAT (applies to all holidays within the European Union).
Trip Reports
Free Bird Guide

FREE copy of Birds of China with every room booked on this holiday.