New! South-West Australia
Fascinating birding in a rich corner of Australia's largest state
Free Bird Guide

FREE copy of Birds of Australia with every room booked on this holiday.
This part of Western Australia is isolated from the rest of the continent by both desert and sea, and this 'island effect' makes it rich in wildlife, and therefore of great interest both to the birder and more general naturalist. Over 500 bird species have been recorded, including 18 endemics, many near endemics, and a range of resident, migratory and highly sought-after species, making it a 'must visit' destination for the global birder! This is predominantly a birding tour, focused on the south-western corner where most of the endemics are present, and we pursue a large birdlist. There will be a number of unusual mammals (mostly marsupials), which we find time to locate, though as a secondary focus.
Our target birds endemic to South-western Australia are Carnaby's (Short-billed) and Baudin's (Long-billed) Black Cockatoo, Western Corella, Western Rosella, Red-capped Parrot, Noisy Scrub-bird, Red-winged Fairy-wren, Western Spinebill, Gilbert's (White-naped) Honeyeater, Western Wattlebird, Western Bristlebird, Western (Rufous) Field-wren, Western Thornbill, Black-throated (Western) Whipbird, Western Shrike-tit, Western Whistler, White-breasted Robin and Red-eared Firetail. Near-endemics also targetted include Rufous Treecreeper, Blue-breasted Fairy-wren and Western Yellow Robin, There are many subspecies and races found here, and also a great number of other birds of interest. These include Emu, Black Swan, Little Penguin, Black-browed, Shy and Indian Yellow-nosed Albatross, Soft-plumaged and Great-winged Petrel, Hutton's, Short-tailed and Flesh-footed Shearwater, Royal Spoonbill, Australian Pelican, White-bellied Sea-eagle, Black-fronted and Red-kneed Dotterel, Terek and Sharp-tailed Sandpiper, Fairy Tern, Laughing Kookaburra, Rainbow Bee-eater, Zebra Finch, and many many more, including difficult to see Painted Buttonquail and Black-tailed Native-hen. We also plan to visit the 'mound' of the Malleefowl, hoping to glimpse this distinctive bird (the only surviving member of its genus) and if lucky witness part of its unique breeding behaviour.
Mammals include Western Brush (Kwoora) and Tammar Wallaby, Southern Brown (Quenda) and Western-barred (Marl) Bandicoot, Brush-tailed Possum, Short-beaked Echidna, Numbat, Brush-tailed (Woylie) and Burrowing (Boodie) Bettong, both Rufous (Mala) and Banded (Mernine) Hare-wallaby, and the curious Bilby. While this is predominantly a birding tour, there will also be numerous frogs, reptiles and plants of interest, as we make a thorough yet relaxed exploration of this fascinating corner of Australia.
Days 1 and 2: Sun 6 and Mon 7 October 2024 - UK to Perth
We fly London to Perth overnight and transfer to our comfortable city hotel to relax after travelling. After a long journey there are no birding activities planned, though our local guide will meet us at the hotel for a short briefing. Overnight Perth for one night.
Day 3: Tue 8 October - Perth to Cheynes Beach
After breakfast we board our vehicles and travel to Cheynes Beach on the south coast of Western Australia. Despite being mainly a travel day, our birding stops en-route will already be targeting endemics and South Western specialities. The first of these may be Western Wattlebird and Gilbert's Honeyeater, both of which are possible at the Darling Range before we continue to the Beaufort River to look for Pink-eared Duck, Elegant Parrot, Brown-headed Honeyeater, Rufous Songlark, White-winged Triller with perhaps Painted Buttonquail and Black-tailed Native-hen too. Rocky Gully near Kojonup, gives us our first chance to see Western Corella and Baudin's Black Cockatoo, and we have further chances of the latter along with Scarlet Robin near Mount Barker. We hope to arrive at Cheynes Beach late afternoon, and once settled can have a short search for Noisy Scrub-bird and other local specialities nearby. Overnight Cheynes Beach for three nights.
Day 4: Wed 9 October - Cheynes Beach and Waychinicup Inlet
A pre-breakfast stroll will give us more chances of Noisy Scrub-bird and also Western Bristlebird, two key endemics of the region. Staying local after breakfast, along the beach and in coastal scrub we look for Rock Parrot, Black-throated Whipbird, White-breasted Robin, Red-winged and Splendid Fairy-wren, Western Wattlebird, Western Spinebill, Red-eared Firetail, Southern Emu-wren, Brush Bronzewing, Brown Quail, Sooty Oystercatcher and Pacific Gull. Relocating to Waychinicup Inlet, further possibilities include Red-eared Firetail, Gilbert's Honeyeater, Carnaby's and Baudin's Black Cockatoo, Swamp Harrier and White-bellied Sea-Eagle. We have good chances of mammals too, both by day and night, and tonight's evening spotlight excursion may unearth Southern Brown Bandicoot and Bush Rat along with several species of frog and reptile.
Day 5: Thur 10 October - Stirling Range and Albany
This morning we drive inland to the Stirling Range National Park, a special protection area for many endangered and key species in South-west Australia. Here we look for Emu, Hooded Plover, Carnaby's Black Cockatoo, Elegant and Regent Parrot, Purple-crowned Lorikeet, Western Yellow Robin, Scarlet Robin and Restless Flycatcher. We may also encounter Crested Shrike-tit, Australian Owlet-nightjar, Square-tailed Kite, Little Eagle, Rufous Songlark, Southern Emu-wren and Western (Rufous) Field-wren during our time here. The area is also superb for wildflowers, with 1,500 plant species recorded within its boundaries, of which 87 are restricted to the National Park.
After lunch, we travel south to the Albany coast for more chances of our endemic targets and perhaps Buff-banded Rail and stunning Fairy Tern too. Other seabirds and a few waders are also likely, and we have the option of visiting another site for Western Bristlebird and Blasck-throated Whipbird if we still haven't seen them. On our return to Cheynes Beach, another chance to look for nocturnal birds and mammals by spotlight may be offered after dinner.
Day 6: Fri 11 October- Fitzgerald River NP and Jerramungup
Leaving Cheynes Beach, we travel east to Fitzgerald River National Park to look for Chestnut Teal, Black-fronted Dotterel, Black-throated Whipbird, Shy Heath-wren and Western (Rufous) Field-wren. After lunch we drive to Jerramungup for a true 'outback adventure'!
We plan to visit a Malleefowl nesting mound, a curious nest of sand and rotting vegetation, inside a depression scraped between stunted trees. By collecting organic material to fill it, the male creates a mound up to two feet above ground level, full of sticks, leaves, bark and sandy soil. He regulates the temperature of the mound while incubating the eggs, and defends it for the rest of the year. This gives us our best chance of viewing this distinctive and elusive bird, the only surviving member of its genus.
Other key species here include Banded Lapwing, Purple-gaped and Tawny-crowned Honeyeater, Southern Scrub-robin, Crested Bellbird, White-browed Babbler, Spotted Pardalote and Blue-breasted Fairy-wren. There is also a high chance of seeing Western Brush Wallaby and other mammals close to our base in Jerramungup where we stay for one night.
Day 7: Sat 12 October- Wagin Lakes, transfer to Narrogin
We have the opportunity to revisit the Malleefowl 'mound' before breakfast for a second chance if needed to see this unique bird. Later we return to areas of the Stirling Range again for key species, before continuing to Gnowangerup, Katanning and then to Wagin. The latter destination hosts several lakes, where we may see Banded Stilt, Red-necked Avocet, Hooded Plover, Black-fronted and Red-kneed Dotterel, Pallid Cuckoo, Horsfield's Bronze-Cuckoo, Chestnut-rumped Thornbill, Mistletoebird, Red-capped Robin and Mulga Parrot. We expect to arrive Narrogin late afternoon and may have time for a mammal excursion before dinner. Overnight Narrogin for two nights.
Day 8: Sun 13 October - Dryandra State Forest, Narrogin
This will be a long yet productive day, exploring the wildlife of the Dryandra State Forest to its fullest. Key bird targets include Bush Stone-curlew, Painted Button-quail, Carnaby's Black Cockatoo, Elegant Parrot, Rufous Treecreeper, Blue-breasted Fairy-wren, Western Thornbill, Yellow-plumed, Brown-headed, Gilbert's and White-eared Honeyeater, White-browed Babbler, Varied Sittella, Jacky Winter, Scarlet, Hooded and Red-capped Robin, Western Yellow Robin, and Crested Shrike-tit. Mammals will also feature, and we search for Numbat in the late afternoon and then after an early dinner take a walk in an important and successful conservation area where (within an extensive fenced enclosure to deter predators) we may encounter Bilby, Boodie, Rufous and Banded Hare-wallaby and others. As we return to our hotel after dark, we will spotlight for Tawny Frogmouth and a variety of mammals including Brush-tailed Possum, Short-beaked Echidna, Western Brush Wallaby, Tammar Wallaby and Woylie.
Day 9: Mon 14 October- Narrogin to Perth
A flexible morning, our activities depending on the species we might not have yet seen. Before returning to Perth, we have options near Narrogin for Regent Parrot, Hooded Robin, Crested Shrike-tit, Red-eared Firetail, Baudin's Black Cockatoo, White-fronted Chat, Rufous and Brown Songlark, Gilbert's Honeyeater, Western Wattlebird and Fairy Tern. After time driving, the afternoon will be spent around the Perth wetlands for species including Blue-billed, Pink-eared, Musk and Freckled Duck, Australasian Shoveler, Hoary-headed Grebe, Nankeen Night-Heron, Yellow-billed Spoonbill, Buff-banded Rail, Australian and Spotless Crake, Swamp Harrier and Australian Hobby. After an enjoyable final afternoon birding, we travel to our accommodation in the city where we stay for one night, expecting to arrive late-afternoon.
Day 10: Tue 15 October - Depart Perth
This morning we depart Perth and fly back to the UK overnight, arriving on Day 11, Wed 16 October.
Our thanks go to Keith Kennedy for many of the images used in the Gallery.
Please note: all itineraries are given as a guide only. Actual holiday content may vary according to the judgement of your guide, and elements beyond our control (eg weather).
What's included in your holiday price:
scheduled return flights from London - Perth, Airport taxes and transfers.
ground transportation in comfortable, air conditioned vehicles outlined.
full-board accommodation throughout, including breakfast, lunch and dinner, plus meals on two overnight flights.
the services of your leader/s.
field trips as specified.
The Heatherlea Pre-Flight Service offers everything you need at the airport, including hotels, car parking, airport lounges, regional flights, and upgrades. Let Heatherlea take the strain! Pre-flight airport hotel and lounge included free of charge subject to terms and conditions. Read more...
Free Field Guide! - 'Birds of Australia' by Graham Pizzey and Frank Knight is included in your holiday price. One copy per room booked.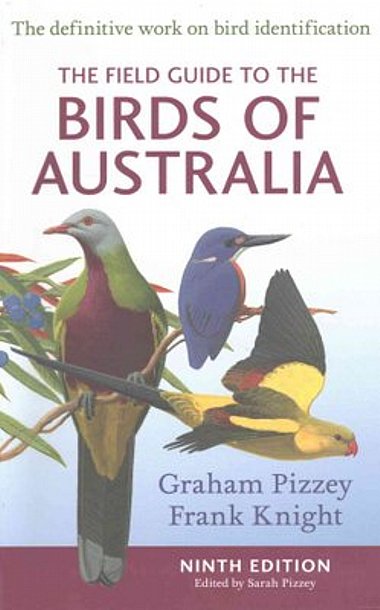 What's not included in your holiday price:
personal insurance, drinks and other personal expenses, visa costs where necessary, optional tips to local guides/other staff, and any other costs not specified as 'included'.
More holiday information:
Flights: Many of our guests may choose to spend more time in Australia, heading out before the trip starts and meeting us at the airport or remaining behind after to visit other parts of Australia. We can arrange flights accordingly, please speak to the office for more details.
Visas are required for all travel to Australia. The requirements for these have been updated in recent years. British citizens can obtain the following types of electronic visitor visa: An online e-Visitor visa direct from the Department of Immigration & Citizenship. There is no visa application charge or service fee for this.
Accommodation: This has been chosen for its proximity to good wildlife viewing areas. During the trip we sat at hotels and/or comfortable cabin/bed-and-breakfast type establishments. Please note accommodation at Jerramungup is of a more basic "outback style", though with en suite bathrooms but it is an essential stop-over to give us good chances for seeing Mallefowl.
Health: You should seek medical advice before travelling, and although there are no compulsory inoculations required, please ensure that any relevant vaccination you may require is up to date. Please visit the below sites for further details and discuss with your Travel Nurse or GP Practitioner before you travel.
Meals and drinks: Breakfast generally consists of a continental style breakfast with cereal, fruit and yoghurt and tea/coffee. Full cooked breakfast is not generally offered at most locations. Lunch will generally consist of a packed lunch style meal eaten in the field, with sandwich/filled roll, fruit, and a drink. Dinner usually consists of several options for main with the choice of either an appetiser or dessert. Drinks (soft and alcoholic) are generally not included but at lunches and breakfasts juice may be made available.
The itinerary: Whilst we aim to follow the itinerary as planned, please note that the itinerary provided should only be used as a guideline. Depending on individual trip circumstances, weather, and local information, the exact itinerary may not be strictly adhered to. The guides reserve the right to make changes to the itinerary as they see fit.
Weather: The tour runs in late spring. Temperatures at this time of year can vary although mild to warm weather can be expected. Sunny days are followed by mild tropical evenings and average temperatures range from 17 - 26°C. Days are dry but can be windy.
Daily Routine: While this is not a fast paced tour, we will take advantage of the heightened birding and wildlife activity of early mornings and afternoons and enjoy some evening spotlighting excursions. On travel days we will do our best to break longer journeys with comfort stops. Most days will start with an early breakfast followed by an excursion and then a picnic lunch to maximise time in the field. We typically then enjoy an afternoon excursion and have a bit of downtime in the late afternoon/early evening before dinner. Many excursions are optional.
Biting insects: Although biting insects are not regularly encountered on this tour, mosquitoes (malaria free) may be present at certain places. Wasps and bees occur but are generally not a nuisance. There are a number of species of biting ants (jack jumpers and inchmen) that can inflict painful bites however incidents with these insects on tour are extremely unusual.
Walking: There is no demanding walking on this tour with the birding/wildlife locations easily accessible on foot. Guests can expect comfortable walking at the pace of a stroll and while walking is mostly on flattish trails and dirt tracks there will be the occasional hill and uneven terrain.
Why choose Heatherlea for your birding and wildlife holiday?
Our overseas holidays are planned with care to offer great birding and wildlife, led by capable Leaders who really look after you. Every holiday is run the 'Heatherlea Way', and we hope our Overseas Adventures remind you of the quality and care so many of you enjoy in Scotland. That means rewarding and exciting days in the field, and good quality accommodation and meals, with a real flavour of the country we are visiting. Heatherlea always seek to include the personal touches that make all the difference.
Heatherlea holidays are not 'dawn to dusk' expeditions. Our less-intensive approach is ideal for those who want to relax whilst experiencing the best wildlife watching, and wherever possible we organise early or late activity on an optional basis. We also take sensible breaks when in very hot places and regular comfort breaks on every holiday whenever possible. All itineraries are planned carefully around the best wildlife opportunities, and you won't miss out on memorable wildlife, whilst enjoying relaxed, informal days that are great fun.
The really important part of any wildlife holiday is the experience for you, our valued customer. Heatherlea invest in many things to offer you the best possible service;
We have been organising birding and wildlife holidays for over 30 seasons, and have a highly experienced and capable office team. We also offer a telephone and email service outside normal office hours.
Heatherlea overseas holidays have a maximum of 12 clients per trip, putting the emphasis on personal service, and helping you get the best possible experience.
Our holidays often include things which others might invite you to pay yourself, for instance Departure Taxes and tips to hotels.
All elements of our holidays are sold under our own licence, ATOL 6113. Under 'Flight-Plus' legislation it is a legal requirement of any tour operator to hold an ATOL licence for the supply of any overseas holiday where a flight is involved, if that holiday includes either overseas accommodation and/or car hire. It can be a criminal offence for an operator to book flights as part of a package without an ATOL licence. Heatherlea also hold full Tour Operator Insurance for your added protection.
Heatherlea is your complete wildlife holiday provider. Our 'Back Office' team can organise all your pre-flight and other travel needs. Our specialists will help you book the right services, at the best price. Book holiday extensions through us, and your ATOL protection is extended further. We don't charge extra for this service.
Heatherlea is a limited company, registered in Scotland, and registered to pay VAT (applies to all holidays within the European Union).
Free Bird Guide

FREE copy of Birds of Australia with every room booked on this holiday.