China - Sichuan and Beijing
Birding and Culture
China is a vast country with an extremely varied mix of habitats, containing the broadest range of sub-tropical habitat in the world. Because of its physical size and topography China is abundant in birdlife, ranking behind only a few South American countries in terms of number of species. The Himalayas along southern Tibet divide the mainland into north and south, and into two geographic realms for fauna, Oriental and Paleaarctic. China also holds around 25 million hectares of wetlands, lakes, mudflats and salt marshes, all of which are important habitats for breeding, migrating and wintering waterfowl. Our tour will focus heavily on resident and migratory breeding birds, though we should also see a range of birds passing through on their way north. This tour concentrates on the province of Sichuan, bordered to the west by Tibet and to the east by the Red Basin, and holding more than half of Chinese endemic species, a wonderful mixture of Palearctic and Oriental birds.
We will begin in sub-tropical forests south of Chengdu, and visit important sites including Longcanggou, Erlangshan,Balangshan, Maerkang, the high plateau at Ruoergai including Baxi Forest and wetland areas, Gonggangling Forest, Tangjiahe Nature Reserve and Foping via Yangxian, as wwe gradually make our way to the city of Xi'an. Our tour is ideal for the first-time birding visitor, targetting a wide range of species as we visit many of the most important sites in Sichuan. We travel in late June and July, and expect birding to be good in Sichuan and especially at altitude during the later part of the trip, though temperatures may be high by the time we reach Beijing. On this holiday, great birding, spectacular scenery, superb cuisine and unique culture combine to make for a memorable experience.
China holds some enviable bird groups, including cranes, babblers and pheasants, with many endemics, and exotic and unusual new birds will abound. Just a few of our targets; Firethroat, Emei Liocichla, Buffy, Plained, Spotted, Snowy-cheeked and Red-winged Laughingthrushes, Marten's, Alstrom's and Bianchi's Warblers, Emei, Kloss's and Claudia's Leaf Warblers, Chinese, Golden-breasted and Grey-hooded Fulvetta, Fujian Niltava, Golden, Three-toed, Grey-hooded, Vinous-throated and Ashy-throated Parrotbill, Temminck's Tragopan, Lady Amherst's, White-eared, Blue-eared, Blood and Koklass Pheasant, Sichuan Treecreeper, Fire-capped, Pere David's, Grey-crested, White-browed, Sichuan and Rufous-vented Tits, Darjeeling and White-backed Woodpeckers, White-browed Bush Robin, White-browed and Vinaceous Rosefinch, Chinese Babax, Scaly-breasted Cupwing, Golden Bush-Robin, Gould's Sunbird, Wood Snipe, Chinese Monal, Pheasant, Grandala, Snow Pigeon, Tibetan Snowcock, Snow Partridge, Himalayan Rubythroat, White-browed Tit Warbler, Lammergier. Przewalski's Nuthatch, Sichuan Jay, Severtzov's and Crested Tit Warbler, Verreaux's Monal Partridge, Black-necked Crane, Upland Buzzard, Tibetan Lark White-rumped and Rufous-necked Snowfinch, Tibetan Wagtail, Azure-winged Magpie, Daurian Jackdaw, Kessler's Thrush, Tibetan Grey Shrike, Severtzov's Grouse and Chinese Nuthatch.
China has always held a particular fascination for Western travellers because of its ancient cultural traditions, and in Xi'an we see the world-famous Terracotta Warriors, before flying onwards to Beijing, where we visit the Great Wall and enjoy a city tour featuring the Summer Palace and the Forbidden City, all conducted with some gentle birding as we go.
Enjoy your complimentary pre-flight overnight hotel before your holiday begins. Full details from our office! Read more about our Pre-flight Service here!
Day 1: Thur 25 April 2024 - London to Chengdu
After relaxing in our complimentary VIP Airport Lounge, we leave London on a late afternoon flight, arriving at Chengdu late morning the following day.
Day 2: Fri 26 April - Chengdu
We check-in at our hotel in the city before some introductory 'easy' birding in a nearby park to allow us to acclimatise. We hope to see feeding flocks of Vinous-throated Parrotbills and obtain close views of inquisitive White-browed Laughingthrushes. Other possibilities include Chinese Blackbird, Chinese Grosbeak and both White-cheeked and Red-billed Starlings. Overnight Vegas Culture Hotel, Chengdu.
Days 3 – 5: Sat 27 - Mon 29 April - Longcanggou
After breakfast we drive south to Longcanggou (3 nights), breaking our journey from time to time to stretch our legs and look for localised species such as Swinhoe's Minivet, Dusky Fulvetta, Ashy-throated Parrotbill and Chinese Hwamei.
Longcanggou has only recently come to light as a superb alternative to Wawu Shan; its mix of woodland types gives rise to an impressive species list, and during two full days we hope to find a host of special birds. It is one of the best areas for Laughing-thrushes; some are real skulkers, some more obliging, and we will search for Buffy, Spotted and Red-winged Laughing-thrushes as well as Emei Liocichla. The area is also noted for parrotbills amongst which we hope to find Golden, Brown and, if we are lucky, rare Grey-hooded. We have our first opportunity to get to grips with a number of phylloscopus warblers such as Emei, Kloss's and Claudia's Leaf Warblers, whilst our identification skills will be tested even further as we distinguish between seicercus warblers including Alstrom's and Grey-crowned. Other possibilities include Père David's, Grey-crested and Rufous-vented Tits, Golden-breasted Fulvetta, Sichuan Treecreeper, Chinese Blue Flycatcher, Darjeeling Woodpecker, Large Hawk Cuckoo and perhaps even a stunning Temminck's Tragopan. Red Panda is one of several exciting mammals found in the area, and we have outside chances of seeing them. Driving distance (approx.) 210km, about 3 hours driving. Overnight at Hlin Forest Hotel, on the edge of Longcanggou Forest Park, for three nights.
Days 6 & 7: Tue 30 April & Wed 1 May - Luding County
After some final birding at Longcanggou we head to Luding County, a drive of around four to five hours. An early start the following day gives us the maximum time to birdwatch along the old main road near Erlangshan. This mountain is home to a number of highly sought-after birds such as Slaty Bunting, Chinese Babax, Daurian Redstart, Rufous-tailed Babbler, Black-streaked Scimitar Babbler, Barred Laughingthrush, Brown-breasted Bulbul, Godlewski's Bunting and Mrs Gould's Sunbird. We have another chance of seeing Temminck's Tragopan and will also make a special effort to find both wonderfully attractive Firethroat and majestic Lady Amherst's Pheasant, hopefully a male with a full length tail. Overnight at Luding Bridge Hotel for two nights.
Days 8 - 10: Thur 2 - Sat 4 May - Wolong
A last morning birding at Luding, then more spectacular scenery as we drive north and up into the hills towards Wolong, famous for its population of Giant Pandas (although it is highly unlikely we will see one in the wild). We drive for five to six hours to Wolong, to an altitude of 1900m, and have two full days to explore. On at least one morning we will make an early start in order to arrive before first light at a site just above the tree-line where the increasingly rare Wood Snipe is known to lek. Chinese Monal and White Eared Pheasant also occur in this area but we will need good luck to see them. The scenery at Balangshan Pass is spectacular, peaks rising to well over 4000m, a wonderful backdrop as we search for Tibetan Snowcock, Grandala, Snow Partridge, several rosefinches and both Brandt's and Plain Mountain Finches. Heading just over the pass will give us the chance to search for two more stunning passerines, Himalayan Rubythroat and White-browed Tit Warbler, and perhaps Lammergeier. Overnight at Tian Chen Hotel for 3 nights.
Days 11 & 12: Sun 5 & Mon 6 May - Maerkang
We travel up and over the Balangshan Pass, birding en route, and have lunch in a local restaurant in Rilong, a Tibetan-style town full of character. In the afternoon we continue our journey, encircled by awe-inspiring mountains, making for Maerkang at an altitude of 2700m. We have a full day in the magnificent coniferous forests on Mengbishan, above 3000m above sea level. The forest covered slopes are home to such specialities as Przewalski's Nuthatch, Sichuan Jay and Giant Laughingthrush, and we also hope to find Crested Tit Warbler, Sichuan Tit and Chinese Fulvetta. In open areas we hope to bump into family parties of Blood and Koklass Pheasants and, with luck, Verreaux's Monal Partridge. Rosefinches include Common, Chinese White-browed, Beautiful and Pink-rumped. Overnight at Jiarong International Hotel for two nights.
Days 13 & 14: Tue 7 & Wed 8 May - Ruoergai
Leaving Maerkang early in the morning, we begin yet another exciting phase of the tour as we head toward Ruoergai on the Tibetan plateau at an altitude of 3500m. Our journey, and the full day which follows, give us the opportunity to see high altitude grasslands, forests, scrubby hillsides and vast wetlands which unsurprisingly contain a very different avifauna from other areas. Beautiful Black-necked Cranes, Upland Buzzard, Tibetan Lark and both White-rumped and Rufous-necked Snowfinch inhabit fields near a lake where we may encounter a variety of wildfowl including Ferruginous Duck and Red-crested Pochard. Tibetan Wagtail and Horned Lark feed on the muddy margins, and other birds in the general area include Père David's Laughingthrush, White-browed Tit, Azure-winged Magpie, Daurian Jackdaw, Kessler's Thrush, Tibetan Grey Shrike, Saker Falcon and Oriental Skylark. Typical mammals of the grasslands include Himalayan Marmot and Plateau Pika.
In Baxi Forest we search for species difficult to find at other sites. These include Blue-eared Pheasant, Snowy-cheeked Laughingthrush, Severtzov's Grouse, Severtzov's Tit Warbler and Chinese Nuthatch. If we have time, we may visit a scrubby area where a small population of Przevalski's Rosefinches has been discovered recently; this species is the only member of its family. Overnight at Ruoergai Grand Hotel for two nights.
Day 15: Thur 9 May - Gonggangling
We have time for some final birding near Ruoergai (perhaps we will return to Baxi for most of the morning) before we begin our journey to Chuanzhusi. En-route we enjoy birding to search for White-browed Tit-warbler, Siberian Rubythroat and many more. Overnight at Minjiang Yuan Hotel for one night.
Days 16 & 17: Fri 10 - Sat 11 May - Tangjihae
We start pre-dawn at Gonggangling, where just 30km away we have an outside chance of Pere David's Owl, plus other good birds including Blue-eared Pheasant, Pere David's, Giant and Sukatschev's Laughingthrushes, Severtzov's Grouse, Three-banded, Chinese White-browed and Pink-rumped Rosefinches, Chinese and Przewalski's Nuthatches, and Godlewski's Bunting. Then we continue, with total travelling of around 280km, to Tangjiahe NR.
We have a full day inside Tang Jia He concentrating on the lower slopes and valley. A whole range of species are possible – Golden Pheasant, Temminck's Tragopan, Claudia's, Kloss's, Sulphur-breasted, Alstrom's and Marten's Warblers, Slaty Bunting, Sichuan Bush Warbler, Fujian Niltava, White-crowned Forktail, Sooty Bushtit, Yellow-bellied Tit and even a slim chance of Tawny Fish Owl. Tangjiahe is also a good site for some sought-after mammals, including Takin, Chinese Serow, Chinese Goral, Hog Badger,Tufted Deer, Reeve's Muntjac, Masked Palm Civet, Wild Boar, Swinhoe's Striped, Pere David's Rock, and Perny's Long-nosed Squirrels. Overnight at Tang Jia He Grand Hotel for two nights.
Day 18: Sun 12 May - Foping via Yangxian
Today involves a long transfer of around eight to ten hours, though we travel mostly along the expressway to Foping, located at Qinling Mountain and famous for Giant Pandas. On the way we will detour at Yang Xian to look for the iconic Crested Ibis. Overnight at Foping Shuangwei Hotel or Panda's Hotel for one night.
Day 19: Mon 13 May - The birds and Golden Monkeys of Panda Valley
After breakfast in a local restaurant, we drive 30km to Panda Valley to spend the most morning inside the valley to see Golden Monkeys and to look for birds missed during the trip so far. Little Forktail, Ellion's Laughingthrush, Moustached Laughingthrush, Spectacled Fulvetta and several others are possible. Then we continue for about three to four hours to Xi'an city. Overnight at Bell Tower Hotel for one night.
Day 20: Tue 14 May - Terracotta Warriors then fly to Beijing
The Terracotta Warriors and Horses is a superb collection of sculptures reproducing the mega imperial guard troops of Emperor Qin Shi Huang (259 - 210BC), the first emperor of the first unified dynasty of Imperial China. Being one of the most significant archaeological excavations of the 20th century and a World Heritage Site, the Terracotta Army Museum is a must-see for every visitor to Xian, and we have at least two hours in the museum. In the afternoon we fly to Beijing. Overnight at Beijing Yu Yuan Royal Garden International Hotel for three nights.
Day 21: Wed 15 May - Great Wall of China at Badaling
The Great Wall was originally constructed as an ancient military defence project, and is the key symbol of China, one of which the people are justly proud. There are many sections of Great Wall around Beijing, though most travellers choose Badaling Great Wall, the first section opened to tourists (in 1957). Badaling Great Wall is a restored section, showing us the Great Wall as it would have looked originally. There are several birds to see as we go, though the majority of the birds here will now be familiar to us, but with luck we might find the regional endemic, Beijing Babbler.
Day 22: Thur 16 May - The Summer Palace and Forbidden City
Today we concentrate on the key cultural delights of China's capital city. In the morning we visit the Summer Palace, which contains the largest and most well-preserved royal park in China. The Summer Palace greatly influences Chinese horticulture and landscape with its famous natural views and cultural interests, and has long been recognized as 'The Museum of Royal Gardens'. After lunch we drive to the Forbidden City now known as the Palace Museum, to the north of Tiananmen Square. Rectangular in shape, it is the world's largest palace complex and covers 74 hectares. Surrounded by a 52-meter-wide moat and a 10-meter-high wall are more than 8,700 rooms. At the city center of Beijing, the Forbidden City once served as the imperial palace for 24 emperors during the Ming and Qing Dynasties (1368 - 1911). We close our holiday with a big finish, a superb meal with a big cultural show, full of light, colour and dancing.
Day 23: Fri 17 May - Return to UK.
Flight back from Beijing to London
Please note: all itineraries are given as a guide only. Actual holiday content may vary according to the judgement of your guide, and elements beyond our control (eg weather).
What's included in your holiday price:
Price includes:
return scheduled flight from London – Chengdu and Beijing - London, airport taxes, baggage up to 20kg, hand luggage to 5kg, in-flight meal and ground transportation
airport transfers in China, Xi'an to Beijing airfare
the services of your Heatherlea leader and professional local guide
accommodation with private en-suite bathroom and meals including breakfast and lunch, evening meal and water during the day.
the Heatherlea Pre-Flight Service offers everything you need at the airport, including hotels, car parking, airport lounges, regional flights, and upgrades. Let Heatherlea take the strain! Pre-flight airport hotel and lounge included free of charge subject to terms and conditions. Read more....
Field Guide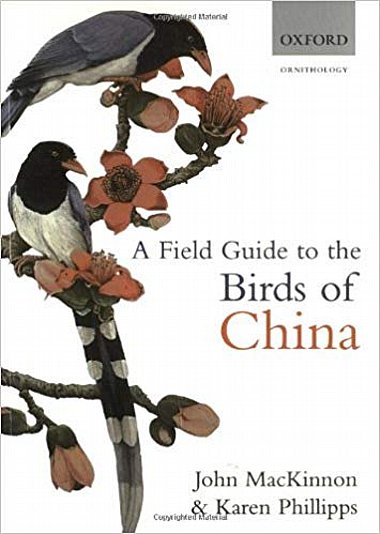 FREE! Field Guide to the Birds of China by John MacKinnon and Karen Phillipps is included in your holiday price.
What's not included in your holiday price:
travel to and from the airport before and after the holiday, baggage above 20kg.
incidental tips, drinks with meals, expenses of a personal nature and personal insurance.
More holiday information
Accommodation Rooms are comfortable, clean and attractive with en-suite bathrooms.
Food All dinners will be inside hotels or at nearby restaurants. Typically, food is served as a 'help yourself' feast, with a selection brought to the table, perfect for trying a range of different and superb dishes. Food is excellent and will be local Chinese food for the majority of meals. This will vary as we travel around as Xi'an or Beijing style is different from Sichuan style. There will be many different dishes of pork, chicken, fish and beef, including famous Sichuan dishes such as sweet and sour pork, kungpao chicken, fried pork with vegetable and many more. There are normally many differnet choices of vegetable dish. Many of our breakfasts and lunches are taken as picnics out in the field, though we will also take some breakfasts and lunches at our hotels or at restaurants en route. Packed breakfasts include boiled eggs, bread and jam, cake, hot drinks, fruits, nuts and chocolate bar.
Walking is generally light/moderate. There may be some uphill track and road walking, though generally an average level of fitness is required.
Biting Insects Never normally a problem; bring a good repellent just in case.
Clothing and Weather We recommend a mixture of light and warm clothing as temperatures will vary from place to place. Gloves and hat are advised especially when at altitude with daily maximum temperature at around 15C. Chengdu and other lowland areas could reach low 30's Celsius at times with a range of temperatures between the two extremes. Weather may be hot, particularly in Bejing. Please bring waterproof clothing, it hopefully won't be needed but rain is possible at any time.
Your Leaders:
Tang Jun has been guiding birding tours in Chengdu since 1999, and is a very experienced Leader throughout the country. Tang has a particular interest in Pheasants, Parrotbills and Laughingthrushes, three of the key families on our tour, and is also a keen bird photographer, many of his images appearing in Chinese biology handbooks and magazines. He is the main photograph author of "A Field Guide to the Birds of Qinghai & Tibet Plateau" published by China National Geography. Tang's latest book is about the thirteen Pheasant species at Balangshan, one of the key sites of Sichuan birding, and on our 2019 itinerary. The owner of our Chinese agent company, and vice-chairman of Chengdu Birdwatching Society, we are delighted that Tang can join us personally on this tour.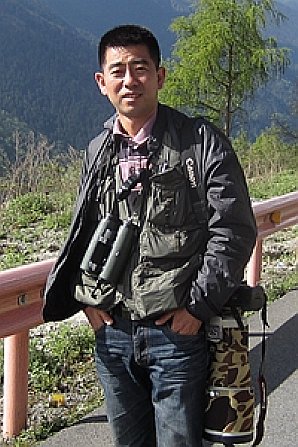 Dave Pullan and Tang Jun

Why choose Heatherlea for your birding and wildlife holiday?
Our overseas holidays are planned with care to offer great birding and wildlife, led by capable Leaders who really look after you. Every holiday is run the 'Heatherlea Way', and we hope our Overseas Adventures remind you of the quality and care so many of you enjoy in Scotland. That means rewarding and exciting days in the field, and good quality accommodation and meals, with a real flavour of the country we are visiting. Heatherlea always seek to include the personal touches that make all the difference.
Heatherlea holidays are not 'dawn to dusk' expeditions. Our less-intensive approach is ideal for those who want to relax whilst experiencing the best wildlife watching, and wherever possible we organise early or late activity on an optional basis. We also take sensible breaks when in very hot places and regular comfort breaks on every holiday whenever possible. All itineraries are planned carefully around the best wildlife opportunities, and you won't miss out on memorable wildlife, whilst enjoying relaxed, informal days that are great fun.
The really important part of any wildlife holiday is the experience for you, our valued customer. Heatherlea invest in many things to offer you the best possible service;
We have been organising birding and wildlife holidays for over 30 seasons, and have a highly experienced and capable office team. We also offer a telephone and email service outside normal office hours.
Heatherlea overseas holidays have a maximum of 12 clients per trip, putting the emphasis on personal service, and helping you get the best possible experience.
Our holidays often include things which others might invite you to pay yourself, for instance Departure Taxes and tips to hotels.
All elements of our holidays are sold under our own licence, ATOL 6113. Under 'Flight-Plus' legislation it is a legal requirement of any tour operator to hold an ATOL licence for the supply of any overseas holiday where a flight is involved, if that holiday includes either overseas accommodation and/or car hire. It can be a criminal offence for an operator to book flights as part of a package without an ATOL licence. Heatherlea also hold full Tour Operator Insurance for your added protection.
Heatherlea is your complete wildlife holiday provider. Our 'Back Office' team can organise all your pre-flight and other travel needs. Our specialists will help you book the right services, at the best price. Book holiday extensions through us, and your ATOL protection is extended further. We don't charge extra for this service.
Heatherlea is a limited company, registered in Scotland, and registered to pay VAT (applies to all holidays within the European Union).