NEW!

Borneo
An experience of a lifetime with exciting birding and mammal watching - including Orangutan!
Free Bird Guide

FREE copy of Birds of Borneo with every room booked on this holiday.
Secure your place with an initial low deposit of £500pp! Second deposit payable 12 months prior to departure.
With centuries of explorers, geographers, museum collectors, sociologists and naturalists returning from Borneo telling tales of vast, pristine jungles full of strange animals and indigenous tribespeople, it is no wonder the very word 'Borneo' is synonymous with tropical adventure. Borneo is the third largest island in the world, and has some of the oldest rainforests on the planet, stretching for miles to distant mountains shrouded in mist and rainclouds. Its rivers slowly snake through dense jungles where strange sounds emanate from endemic birds and some of the most endangered and sought-after mammals in Asia.
This adventure is designed to spend as long as possible at the best wildlife watching sites, improving our chances of seeing the widest variety of exciting and endemic bird species, and many diurnal and nocturnal mammals. Our accommodation is in the heart of the rainforest, and features well-maintained lodges with excellent reputations, some of which have won global awards for their sustainable approach to ecotourism.
Amongst the 250+ birds (including many of the 60 endemics) we may expect, highlights could include strange Bornean Bristlehead, and many hornbills, trogons, broadbills, barbets, woodpeckers, frogmouths, owls, partridges, pittas, spiderhunters, flowerpeckers, sunbirds and raptors.

Without doubt, the most sought-after mammal of Borneo is the Orangutan, though with the population having declined to around 100,000 they are increasingly hard to find. We maximise our chances by exploring four different locations where they may be found naturally, as well as the renowned rehabilitation centre at Sepilok. Borneo is fantastic for other mammals, and among those we hope to see are Borneo Pygmy Elephant, Sumatran Rhinoceros, Leopard Cat, Bornean Tarsier, Bornean Slow Loris, Lesser Oriental Chevrotain, Proboscis Monkey, Southern Pig-tailed Macaque, Maroon Langur, Muller's Gibbon, Sunda Flying Lemur, plus several species of squirrel and civet.
We explore the montane and submontane rainforest of Kinabalu National Park – Malaysia's first UNESCO World Heritage Site and one of the most important biological sites in the world, with more than 4,500 species of flora and fauna, including 326 bird and around 100 mammal species. The lowland rainforest offers different wildlife, and if we are very lucky, we might see (or smell) a flowering 'Rafflesia'! We visit Sepilok and Sukau, with their impressive canopy walkways, take two cruises down the Kinabatangan River and include a dusk visit to the Gomantong Caves where hundreds of thousands of Wrinkle-lipped Free-tailed Bats and four swiftlet species undertake a mass exodus. We head to Tabin, a rarely visited location where 250 bird species and many endangered mammals dwell including three cat and nine primate species, some of which we hope to see on a nocturnal excursion. Our final base may be the most impressive: Danum Valley is set in virgin rainforest with abundant wildlife, and we see a huge myriad of birds and new mammals - a wonderful place to conclude our memorable jungle adventure.
Enjoy your complimentary pre-flight overnight hotel before your holiday begins. Full details from our office! Read more about our Pre-flight Service here!
Day 1: Sun 10 August 2025 – UK – Kuala Lumpur
After relaxing in our complimentary VIP Airport Lounge, we fly London to Kuala Lumpur, arriving the following day.
Day 2: Mon 11 August – Arrive Kota Kinabalu and birding at Tanjung Aru
After a little rest, we take the short (c2 hours) flight to Kota Kinabalu and will soon be enjoying our first birding at Tanjung Aru and Sembulan. A special target will be Blue-naped Parrot, which is found nowhere else in Borneo. Other species we may see early in our trip include Java Sparrow, Crested Myna, Green Imperial Pigeon, Pink-necked Green Pigeon and Brown throated Sunbird. Overnight Horizon Hotel.
Day 3: Tues 12 August – Koto Kinabalu – Tambunan – Kinabalu National Park
After breakfast we depart Kota Kinabalu and head north east to Tambunan for birding in the Rafflesia Forest Reserve in the Crocker Mountains. Among possible endemics found here are Mountain and Borneo Barbet, Bornean Bulbul, Bornean Leafbird, Black-sided Flowerpecker and the highly sought after (Black-breasted) Fruit-hunter. We may also see Gold-whiskered Barbet, Long-tailed Broadbill, Mountain Imperial Pigeon, Blyth's Hawk Eagle and Pygmy White-eye and our visit may coincide with the flowering of the Rafflesia keithii, a parasitic flowering plant growing up to 1m in diameter, endemic to the Sabar region in Borneo and by which the reserve is named. Flowering only for six to seven days, and at no fixed time of year we will need to be very lucky to see this botanical wonder, though August is good time to try. Overnight Kinabalu Park, Hill Lodge for three nights.
Day 4: Wed 13 August - Kinabalu National Park
A full day birding among the delights of the Kinabalu National Park, a UNESCO World Heritage Site where iconic Mount Kinabalu, South-east Asia's highest peak, towers above the rainforest. An abundance of trails and habitats range from lowland, rhododendron and coniferous forests to alpine meadows. The park is home to over half of the species ever recorded in Borneo, and our targets include Everett's Thrush, White-throated Fantail, Yellow-breasted and Kinabalu Friendly Warbler, Mountain Leaf-Warblers, Grey-throated Babbler, Golden-naped Barbet, Tawny-breasted Parrotfinch, Borneo and Sunda Whistling Thrush, Black and Chestnut-capped Laughing Thrush, Chestnut-crested Yuhina, Temminck's Sunbird, Black-breasted Triller, Indigo Flycatcher, Whitehead's Trogon, Streaky-breasted and Whitehead's Spiderhunter, Mountain Black-eye, Bornean Stubtail (endemic), Crimson-headed and Red-breasted Partridge, Mountain Imperial Pigeon, Ochraceous Bulbul, White-browed Shortwing, Mountain Blackbird, Ashy Drongo, Short-tailed Magpie, Bar-winged Cuckoo-shrike, Whitehead's Broadbill, Blue-winged Leafbird and various other woodpeckers, warblers, trogons, bulbuls and flycatchers.
Day 5: Thurs 14 August – Poring
Today we visit Poring Hot Springs, where jungle trails and the canopy walkway offer new opportunities. Possible species here include Hose's Broadbill, Blue-banded Pitta and Dusky Munia (all endemic), plus Bornean Spiderhunter, Banded Broadbill, Diard's Trogon, Gold-whiskered Barbet, Pygmy and Everett's White-eye, Bold-striped Tit-Babbler, Rufous and White-bellied Woodpecker, Brown Barbet, Thick-Billed Spiderhunter, White-browed Shama, Siberian Blue Robin, Crested Jay, Wreathed Hornbill, Orange-bellied Flowerpecker, Scally-breasted Bulbul, Banded Kingfisher and White-fronted Falconet.
Day 6: Fri 15 August – Kinabalu – Sandakan – Sepilok
In the morning we again explore the Kinabalu National Park, searching for any of its special birds we might have missed. After lunch, we transfer east overland with a few roadside birding stops on the way. We aim to reach Sandakan on Borneo's north-east coast and the Sepilok Nature Resort in the afternoon, where we will be staying for the next three nights.
Days 7 & 8: Sat 16 & Sun 17 Aug – Sepilok Rainforest
There is much to see and do here, not least try for a glimpse of two very special mammals. Established by the Sabah Forestry department, Sepilok is famous for its successful Orangutan rehabilitation project, and these protected lands are home to between 60 and 80 which live freely in the reserve. With two full days here, we have every chance of a memorable encounter and hope to see Sun Bear too, the smallest and notably reclusive of the world's eight Bear species. We visit the Sun Bear Conservation Centre during our time in the park, learning of their important work in protecting these rare mammals, and their habitat. We may also see Bornean Slow Loris, Malay Civet and some of Borneo's fourteen species of Flying Squirrel.
Birdwatching from the reserve's impressive canopy walkway, spanning almost 350m through Sepilok's lush rainforest, will be another highlight. From 25m above the ground, views are spectacular and among new species we seek are endemic Black-crowned Pitta and Bornean Bristlehead. Also present are Rufous-collared Kingfisher, Oriental Dwarf Kingfisher, Green Iora , Scarlet Minivet, Red-bearded Bee-Eater, Greater Racket-tailed Drongo, White-bellied Munia, Lesser Green Leafbird, Indian Cuckoo, Scarlet-rumped and Red-naped Trogon, Asian Fairy Bluebird, Great Slaty Woodpecker and more.
Days 9, 10 & 11: Mon 18, Tues 19 & Wed 20 August - Sukau
Following another morning birding at Sepilok we embark on a unique transfer to Sukau via Sabah's longest river, the Kinabatangan. A journey of around 2.5 hours, we make a few brief stops for birds and wildlife, perhaps seeing our first Mugger Crocodiles before arriving at the famous Rainforest Lodge where we stay for the next three nights.
The Lower Kinabatangan is home to 210 species of birds and during our stay we take two cruises down the Kinabatangan River, and also explore the forested habitats from the wonderful lodge. The diverse range of species include Bornean Ground-Cuckoo (endemic), White Bellied and Lesser Fish Eagle, Crested Serpent Eagle, Wallace's Hawk Eagle, Crested Goshawk, White Chested Babbler, Blue-eared, Black-eared, Stork Billed and Ruddy Kingfisher, Pied Fantail, Asian Paradise Flycatcher, Great Egret, Oriental Darter, Jerdon's Baza, Brahminy Kite, Black and Yellow and Banded Broadbill, Bat Hawk, Oriental Buffy Fish Owl, Brown Wood and Bay Owl, Black-headed, Blue-headed, Blue-winged and Hooded Pitta, Common Iora, Fluffy backed Tit Babbler, Crested Fireback, Storm's Stork, Lesser Adjutant, Rhinoceros, Helmeted, Wrinkled, Wreathed, White Crowned, Oriental Pied, Bushy and Black Hornbill, Red-throated and Crimson Sunbird and many, many others.
Mammals will be searched for too, and here we have another good chance of Orangutan. We may also see Asian Elephant (of the Bornean, Pygmy subspecies), Proboscis Monkey and Long-tailed Macaque. On one evening we visit the Gomantong Caves, where at dusk hundreds of thousands of Wrinkle-lipped Free-tailed Bats and four swiftlet species (Black-nest, White-nest, Mossy-nest and Plume-toed, distinguished from one another by different nest structures) undertake a mass exodus and run the gauntlet of waiting raptors!
Days 12 & 13: Thurs 21 & Fri 22 August – Tabin Wildlife Reserve
After breakfast and birding near our lodge in Sukau, we drive overland to Lahad Datu for a lunchtime birding stop. In the afternoon we enter the Tabin Wildlife Reserve, bumping along the gravel track pausing for any roadside birds and mammals we might see. With over 220 species of birds recorded to date, Tabin offers some of the best birding in Borneo and we will have the afternoon and the entire next day to explore its trails. In our sights might be Black-backed Kingfisher, Pied Fantail, Storm's Stork, Blue-headed and Blue-banded Pitta, Black-throated and (endemic) Bornean Wren-babbler, Bulwer's Pheasant, Thick-billed, Long-billed and Grey-breasted Spiderhunter, Yellow-rumped Flowerpecker, Grey-streaked Flycatcher, Purple-throated and Plain Sunbird, Black-naped Monarch, Changeable Hawk Eagle, Ashy Tailorbird and Velvet-fronted Nuthatch.
The reserve is also home to a large and diverse number of mammals, some of which are highly endangered. Specifically created in 1984 to protect its animals, the three largest mammals of Sabah occur here - Bornean Pygmy Elephant, a Bornean subspecies of Sumatran Rhinoceros and the Banteng, a species of wild Cattle. Among many others are nine species of primate and three cats, including Sundra Clouded Leopard and Leopard Cat, and we hope to encounter them on a nocturnal excursion. We stay at Tabin Wildlife Resort for two nights.
Days 14 & 15: Sat 23 & Sun 24 August – Danum Valley
After breakfast, we drive to Lahad Datu, and after a few wildlife stops will enter the Dunum Valley after lunch. With almost two days here, we explore the trails and canopy walkway in these rich, pristine rainforests. Among the species we seek are Great-billed Heron, Oriental Honey Buzzard, Bornean and Black-throated Babbler, six species of Pitta including Giant and Banded Pitta, the huge Great Argus Pheasant, Crested Fireback Pheasant, Crested Wood and Chestnut-necklaced Partridge, Jambu Fruit-dove, Red-bearded Bee-eater, Red-napped, Diard's and Scarlet-rumped Trogon, Plaintive and Violet Cuckoo, Square-tailed Drongo-cuckoo, Raffles's and Red-billed Malkoha, Blue-rumped Parrot, Blue-crowned Hanging Parrot, Greater Coucal, Lesser Cuckooshrike, Brown-backed and Silver-rumped Needletail, Grey-rumped and Whiskered Treeswift, Fluffy-backed Tit-babbler, Fiery Minivet, Large-billed and Bornean Blue Flycatcher, Barred Eagle Owl, Buffy Fish Owl and Brown Wood-owl.
During our stay we hope to encounter Bornean Bearded Pig, and perhaps Orangutan again, which have with protection, maintained a healthy population in Danum. Other possible mammals include Greater Mouse-deer, Sambar Deer, Malay, Common Palm, Banded Palm and Masked Palm Civet, Southern Pig-tail Macaque, Red Leaf Monkey, Binturong, Bornean Tarsier (tiny, rare and very shy!) and several species of flying squirrel. Our superb lodge is well positioned deep in the rainforest, and with quality birding and mammalian encounters on our doorstep, there's no better place to conclude our Bornean adventure! Overnight Borneo Rainforest Lodge for two nights.
Day 16: Mon 25 August – Danum Valley – Lahad Datu - Kota Kinabalu
Some birding and mammal watching at Danum in the morning, before we depart for Lahad Datu, taking the afternoon flight back to Kota Kinabalu. Overnight Horizon Hotel.
Day 17: Tue 26 August – Koto Kinabalu - Kuala Lumpur - London
After the short (c2 hour) flight to Kuala Lumpur, we fly overnight to the UK arriving on Wed 27 August 2025.
Please note: all itineraries are given as a guide only. Actual holiday content may vary according to the judgement of your guide, and elements beyond our control (eg weather).
What's included in your holiday price:
return scheduled flight from London – Kuala Lumpur, internal flights, airport taxes, baggage and hand luggage up to airline included limit.
ground transportation is in comfortable, air conditioned minibus.
all park entrance fees and boat transfer from Sepilok to Sukau.
en suite accommodation and meals as specified.
the services of Heatherlea leader and experienced, local guides.
the Heatherlea Pre-Flight Service offers everything you need at the airport, including hotels, car parking, airport lounges, regional flights, and upgrades. Let Heatherlea take the strain! Pre-flight airport hotel and lounge included free of charge subject to terms and conditions. Read More...
Free Field Guide! - 'Birds of Borneo' (2nd Edition) by Susan Myers, published by Helm 2016 is included in your holiday price. One copy per room booked.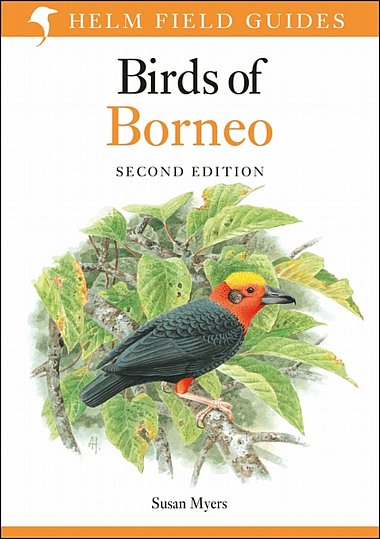 What's not included in your holiday price:
travel to and from departure airport before and after holiday, baggage above airline included limit
Camera charges on reserves
incidental tips, expenses of a personal nature including drinks and personal insurance.
More holiday information:
Accommodation: We stay at good quality hotels and eco lodges within the different parks and reserves. Most rooms are air conditioned and all have en-suite bathroom facilities.
Food: is local produce, often buffet style evening meals. On some days we take a packed breakfast to maximise our birding. Vegetarian diets are welcome in Borneo. A reusable water bottle is recommended to refill regularly through the days, and to minimise plastic waste - a venture the eco-lodges are trying to accomplish on Borneo.
Walking: Generally easy/moderate. There will be some longer walks along roads, tracks and forest trails over generally flat terrain with some steeper sections particularly in the Kinabalu National Park. Generally, an average level of fitness is required though we take advantage of the cooler mornings and late afternoons to see birds at their most active, returning to our hotel on some days for lunch and a break. There may be some short evening/night-time excursions, so a torch may be useful, especially in the darker, more forested areas.
Weather and clothing: Midday temperatures in August are usually around 25-30°C/77-86°F. In mountainous areas it can be cooler and while we expect good weather, Borneo is known for its rain showers so we advise taking clothing for all weathers. Waterproofs and good quality walking boots are recommended, and you may also wish to bring swim wear.
Insects: There can be biting insects including mosquitoes. Before travelling consult your doctor about suitable anti-malarial medication, and on arrival take adequate precautions against mosquito bites. You may encounter leeches on forest trails especially after rain or in damp areas, but a good spray with insect repellent on your boots or a pair of leech socks should keep them at bay.
Travel: Driving distances between locations on the tour vary, and are mostly between 3 – 5 hours. Once at a birdwatching location or reserve, we often stay for two or three days reducing the number of travel days.
Visa: United Kingdom citizens will need a passport valid for at least six months from date of departure. An entry Visa to Borneo is not required for UK citizens, though please check for other nationalities.
Flights: Flights from a London airport.
Photos: Excellent photographic opportunities. Please note, at the Orangutan rehabilitation centre in Sepilok, for any camera with zoom lens from 100 to 400mm, video camera or other video recording equipment there is a charge of RM10.00 (approx £2) per unit. For any camera (fixed-lens - 400mm and above) or any film-making equipment there is a charge of RM1,000.00 (approx £180) per unit. Mode of payment is cash only.
Tabin Wildlife Resort - Note that due to poor connection, it is not possible for credit/debit card transactions at the Resort. All payments are to be made in cash, though card payments can be made at the resort's office in Lahad Datu on our day of leaving.
Why choose Heatherlea for your birding and wildlife holiday?
Our overseas holidays are planned with care to offer great birding and wildlife, led by capable Leaders who really look after you. Every holiday is run the 'Heatherlea Way', and we hope our Overseas Adventures remind you of the quality and care so many of you enjoy in Scotland. That means rewarding and exciting days in the field, and good quality accommodation and meals, with a real flavour of the country we are visiting. Heatherlea always seek to include the personal touches that make all the difference.
Heatherlea holidays are not 'dawn to dusk' expeditions. Our less-intensive approach is ideal for those who want to relax whilst experiencing the best wildlife watching, and wherever possible we organise early or late activity on an optional basis. We also take sensible breaks when in very hot places and regular comfort breaks on every holiday whenever possible. All itineraries are planned carefully around the best wildlife opportunities, and you won't miss out on memorable wildlife, whilst enjoying relaxed, informal days that are great fun.
The really important part of any wildlife holiday is the experience for you, our valued customer. Heatherlea invest in many things to offer you the best possible service;
We have been organising birding and wildlife holidays for over 30 seasons, and have a highly experienced and capable office team. We also offer a telephone and email service outside normal office hours.
Heatherlea overseas holidays have a maximum of 12 clients per trip, putting the emphasis on personal service, and helping you get the best possible experience.
Our holidays often include things which others might invite you to pay yourself, for instance Departure Taxes and tips to hotels.
All elements of our holidays are sold under our own licence, ATOL 6113. Under 'Flight-Plus' legislation it is a legal requirement of any tour operator to hold an ATOL licence for the supply of any overseas holiday where a flight is involved, if that holiday includes either overseas accommodation and/or car hire. It can be a criminal offence for an operator to book flights as part of a package without an ATOL licence. Heatherlea also hold full Tour Operator Insurance for your added protection.
Heatherlea is your complete wildlife holiday provider. Our 'Back Office' team can organise all your pre-flight and other travel needs. Our specialists will help you book the right services, at the best price. Book holiday extensions through us, and your ATOL protection is extended further. We don't charge extra for this service.
Heatherlea is a limited company, registered in Scotland, and registered to pay VAT (applies to all holidays within the European Union).
Free Bird Guide

FREE copy of Birds of Borneo with every room booked on this holiday.