NEW!

Perthshire and the Highlands
Raptors with a focus on Hen Harrier, plus a wide range of Scottish special birds
| | |
| --- | --- |
| Destinations | |
| Focus | |
| Max Group Size | 5 per Guide |
| More Info | Ian Ford will be joined by another from our team if we run two groups. |
This novel holiday sees us based in rural Perthshire to see the special birdlife of this underwatched part of the UK. Raptors feature heavily, and we are privileged to visit perhaps the stronghold of breeding Hen Harrier on mainland Britain, in partnership with one of Scotland's most far-sighted and conservation-minded estates. We hope to enjoy several encounters with these beautiful birds, and the moors also hold Golden Eagle, Merlin, Peregrine, Buzzard, Kestrel, Goshawk and Sparrowhawk.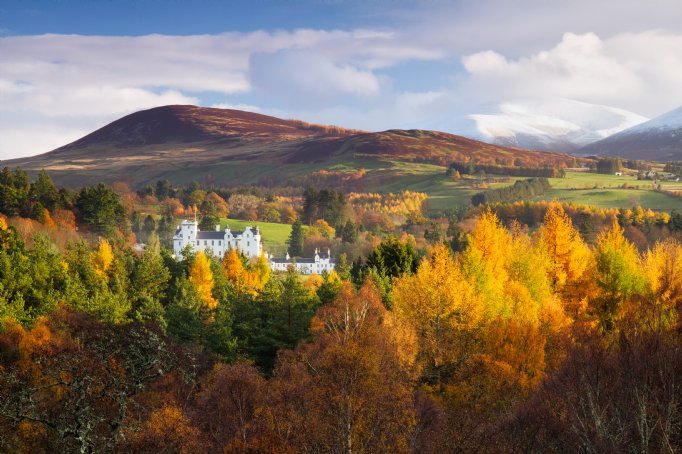 Elsewhere we visit the Ospreys at Loch of the Lowes and Loch of Kinnordy, and have chances of Honey Buzzard. We spend time in Perthshire woodlands where breeding passerines include Pied Flycatcher and a variety of warblers. A day spent at altitude gives us good chances of both Ptarmigan and Dotterel, and another day towards the east sees us visiting auk cliffs for Puffin and other breeding species. We also find time for a day in Strathspey, where Capercaillie, Crested Tit, Scottish Crossbill and Slavonian Grebe are among our targets.
We stay in a lovely Perthshire Lodge, conveniently placed for access to moorlands and travel both to the north and east, and one of our excellent Chefs from Mountview Hotel will be joining the holiday to look after our culinary needs. A very different Highland experience, and a chance to see Hen Harrier breeding freely in their natural habitat on the British mainland, at the height of summer. This holiday is firmly focused on birding, though we also enjoy insects and plants as opportunity allows.
Outline Itinerary
Day 1: Tuesday 22 June
Arrival at our accommodation north of Blair Atholl. We gather before dinner, and afterwards walk around the beautiful local habitat to look for passerines including warblers, flycatchers and Redstart, and perhaps Woodcock and bats. We hope to set moth traps for investigation on days where we are not travelling a distance, so at least three days will involve optional investigations before breakfast - dawn is early in Perthshire at this time of year!
Day 2: Wednesday 23 June
An early drive through a nearby glen for Hen Harrier, Golden Eagle and other raptors. Our partners and hosts at Atholl Estates are famous for their enlightened approach to both habitat and wildlife management, providing conservation suitable for Hen Harrier, Black Grouse, Red Grouse, Golden Eagle and a host of other important breeding upland birds including Stonechat, Whinchat, Cuckoo, and waders including Curlew, Golden Plover and Lapwing. We are privileged to offer access to this extraordinary and special Estate.
After a late breakfast we visit a second Estate location to see more of the native birdlife, watching out for Ring Ouzel, ending with a drive to Dalnaspidal and Trinafour, where we might see more raptors, Crossbill species, Siskin, Redpoll and a number of rare insects and flowers, perhaps including Mountain Ringlet butterfly.
Day 3: Thursday 24 June
We head for Killiecrankie, to search for Wood Warbler, Pied and Spotted Flycatcher, Redstart amongst other passerines, and also have chances of Red Squirrel. At Fortingall Reserve, we again target passerines and also orchids, rare flowers, and butterflies, and visit the ancient Fortingall Yew, thought to be at least 2000 years old. A local viewpoint gives us chances of Honey Buzzard. If time allows, we end with an evening return to Atholl Estates and another drive for raptor viewing.
Day 4: Friday 25 June
Today we target both Ptarmigan and Dotterel, found at altitude, though the walk towards these birds is much less demanding than in some other highland locations. We take our time, enjoying rolling Highland scenery as we walk.
Day 5: Saturday 26 June
Our longest journey, to the east coast near Arbroath, which we reach via a number of key points, perhaps including Loch of the Lowes for Osprey, Loch of Kinnordy for Osprey, Marsh Harrier, Otter and waders, and Montrose Basin for waders and other passage birds. At the Auk cliffs, we expect puffin, Guillemot, Razorbill, Kittiwake, Shag and perhaps a marauding Great Skua. Our exact itinerary will depend upon knowledge of breeding success with key species, though a varied and exciting day is in prospect!
Day 6: Sunday 27 June
A day in Strathspey, where we visit our second Private Estate of the week, to look for Capercaillie. Female birds are the most likely to be seen at this time of year. The nearby Abernethy Forest may produce Crested Tit, and breeding Slavonian Grebe are also on our target list today. If we haven't already seen Crossbill we might add Scottish to our list, and if time allows
Day 7: Monday 28 June
Our final full day allows us to return to the Atholl Estate for more raptor watching, and to round up anything we might have missed. We also visit Loch Tummel, Loch Rannoch and Schiehallion areas, with further chances of Tree Pipit, Osprey and Crossbill, plus Red-throated and Black-throated Diver on calm Perthshire waters. We hope to end with an optional evening drive back to the moorland after dinner to enjoy the evening light and perhaps see Short-eared Owl.
Day 8: Tuesday 29 June
We hope to enjoy a final early drive to the moorlands before saying goodbye. Rail passengers will be returned to Blair Atholl station.
Please note: all itineraries are given as a guide only. Actual holiday content may vary according to the judgement of your guide, and elements beyond our control (eg weather).
Expect a wide variation in weather conditions, which can be unpredictable. Sunshine, rain and strong winds are all possible, and you will probably experience a bit of everything, though June is usually warm and can be hot. Biting insects are possible, please bring a good midge repellent. Please bring walking boots or shoes, weatherproof clothing and a small rucksack. At reserves, trails can be muddy and even waterlogged at times. The holiday will be run at a relaxed pace, with fabulous birdwatching in a spectacular setting! There will be short to moderate (1 to 3 mile) walks some days, and on the day for Ptarmigan and Dotterel you should be prepared for hill walking of up to five miles, depending on birdlife.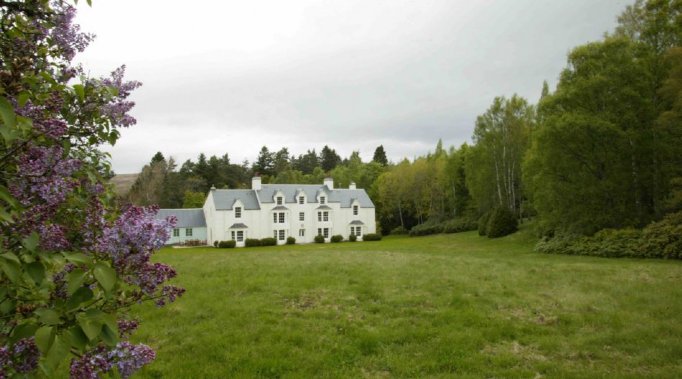 What's included in your 'Perthshire and the Highlands' holiday price
• Seven nights comfortable en-suite accommodation at Kindrochet Lodge, Perthshire and also Clachan Farmhouse. Owned by Atholl Estates and located in the peaceful Highland hamlet of Old Struan, Kindrochet blends Victorian architecture and modern renovation. The garden has a large lawn area leading out to woodland walks. Full details with your joining pack.
• Full Scottish breakfast and dinner from first evening until final morning, packed lunch daily. We will be joined at this splendid location by a member of our excellent kitchen team, chefs Ettienne and Arek would both like to join this tour, though only one of them can!
• All transfers by comfortable minibus. Collect and return to Blair Atholl railway station.
• Guidance from a professional Group Leader.
What's not included in your 'Perthshire and the Highlands' holiday price
Insurance, drinks and other items of a personal nature.
Travel to and from the meeting point
Why choose Heatherlea for your Scottish birding holiday?
Heatherlea is THE place for top quality birding holidays in Scotland, chosen by more and more birders each year. Stay in our own three star Small Hotel, and enjoy first-rate birding with Scotland's best guiding team. Relax and enjoy yourself, as we do all the planning! Above all, we make it our business to show key wildlife to you. Our fully inclusive guided holidays concentrate on the real experience, and we take time to ensure that each of our guests enjoys everything we do.
We have been organising birding and wildlife holidays for 30 seasons, and have a highly experienced and capable office team. We also offer a telephone and email service outside normal office hours.
Our 'Mainland Scotland' holidays based at Mountview Hotel have a maximum ratio of 7 clients per guide, putting the emphasis on personal service, and helping you get the best possible experience.
We are a small company, run BY birders FOR birders. Come and see!
Heatherlea are Mainland Scotland's FIRST '5-Star Wildlife Experience!' This is the highest available grading, classified as 'exceptional' by visitScotland.
There is no single supplement. Single guests are never expected or invited to share.
Our holidays often include things which others might invite you to pay yourself, for instance loan of Swarovski binoculars, packed lunch and tips to hotels.
We offer a courtesy transfer between our Hotel and Aviemore rail/bus links on Saturdays.
Heatherlea hold full Tour Operator Insurance for your added protection.
Heatherlea is a limited company, registered in Scotland. We are also registered to pay VAT, which is included in your holiday price as quoted on this page.
Once your holiday is confirmed in writing by us, we promise not to surcharge the price for any reason.
Enjoy an excellent birding and wildlife holiday with Heatherlea.
Mainland Scotland's FIRST '5-Star Wildlife Experience!'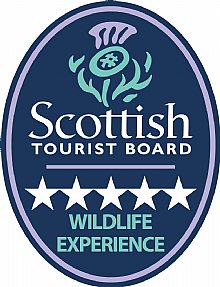 'Exceptional'
Visit Scotland